Programmatic Advertising Industry Trends for 2021

Programmatic Advertising is the leading advertising method today. Each Google update and technological improvement impacts not only publishers, advertisers, but also the industry overall.
We have collected the main 9 trends in one article, which publishers and advertisers should keep in mind for 2021.
1. Website Performance Above Everything
With Core Web Vitals becoming the official ranking factor in May 2021, publishers' website performance and user experience should become a priority. Otherwise, it can really hurt rankings, and all other efforts may be worth nothing.
Make sure that you run your site's audit by using tools like, GTmetrix or Page Speed Insights. These tools will help you detect errors faster and avoid unexpected surprises in rankings.
2. Location-Based Advertising
Today, digital advertising utilizes IP addresses to display location-specific ads such as restaurant recommendations which especially relevant for mobile users. According to Statista, mobile continues to outrank desktop for digital advertising spending for the third year in a row.
For example, consumers might receive push notifications when they're close to the shop. Beacon technology allows targeting on a micro-scale level. It does so by showing customers relevant ads at the most opportune moment. It can gain data about searchers' offline activity and track customers who ended up visiting a store after seeing a search ad. Pretty cool, right?
To prepare for this trend, publishers need to optimize their content both for local search and mobile.
3. Visual Search in Advertising
Visual search is incredibly popular. For example, 87% of Pinterest users have purchased a product because they found it on Pinterest. Today, visual search is powered by AI (artificial intelligence) to deliver the most relevant results to the user.
Advertisers can get their ads displayed next to a related product the customer was searching for. This ensures extremely precise targeting and attribution. In fact, the visual search market is expected to surpass $14,727 million by 2023.
Moreover, companies with a lot of data on users' online behavior can include local retailers in their visual search (e.g. Google and its visual search tool Google Lens). To appear in visual search, publishers should use high-quality light images, precise file name descriptions, and optimize their images for SEO.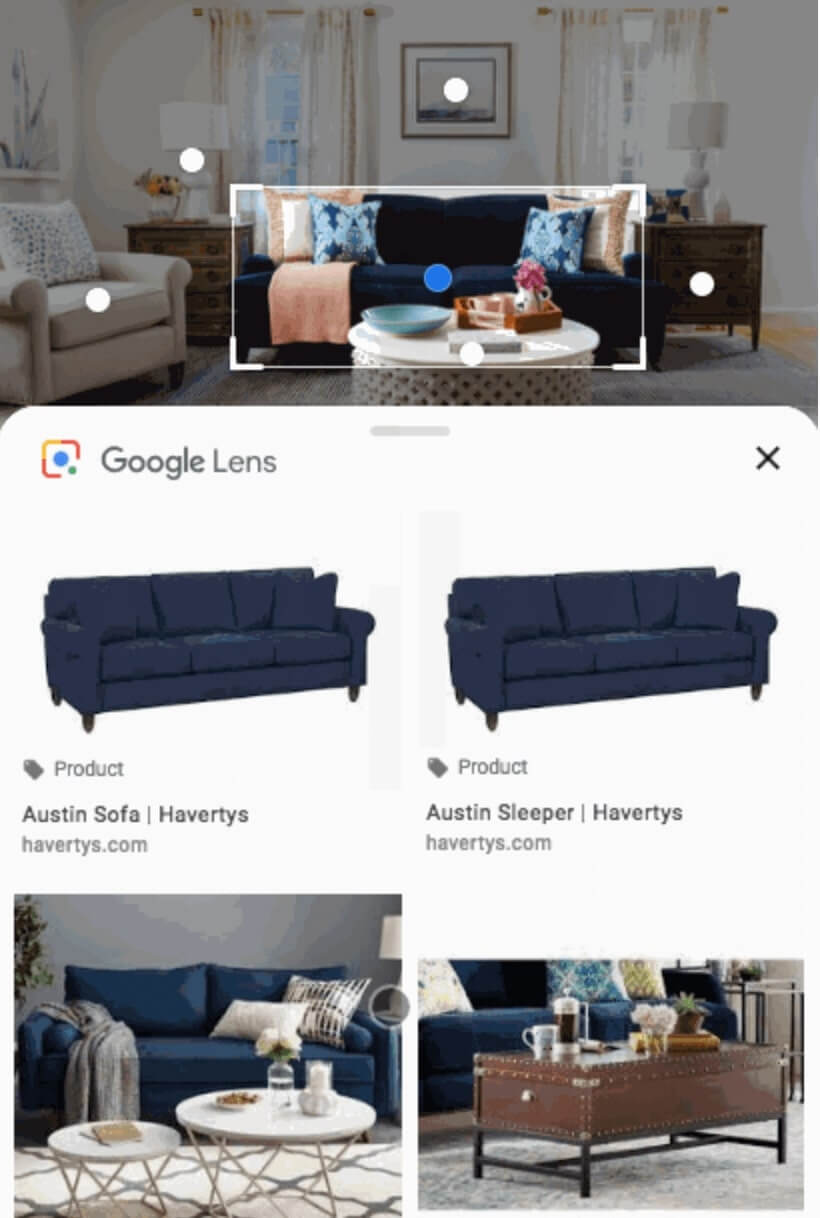 Source: Google
4. Programmatic Video Advertising
Video advertising will be one of the main trends in 2021. The main driver of this is technology. 5G connection will allow data-intensive video ads to be displayed, such as 360° panoramas and virtual reality (VR) ads.
These types of ads result in 7% more purchase intent as opposed to traditional ads. According to catchoom, the pandemic has also pushed companies to embrace these technologies and deliver the best shopping experience online. Users will see unique and engaging content in the form of ads. For programmatic, this will mean an unprecedented insight into customer behavior.
Also, personalization is key in 2021. Brands already use personalized video ads to send out promotions and invite to events, but the appeal is growing.
5. Implementing New Ad Formats
Key factors for publishers to successfully monetize their ad inventory is to adopt highly engaging ad formats that improve the ad experience, increase engagement, and, most importantly, boost ad revenue.
So far the most popular banner sizes for desktop in Google's network have been 728×90; 336×280; 300×250; 300×50; 160×600. But last year, Google launched a new ad format for desktop–interstitial ads. Previously this type of ad format was only available for mobile. Compared to banner ads, interstitial ads have higher CPM prices, and they reduce "banner blindness".
Examples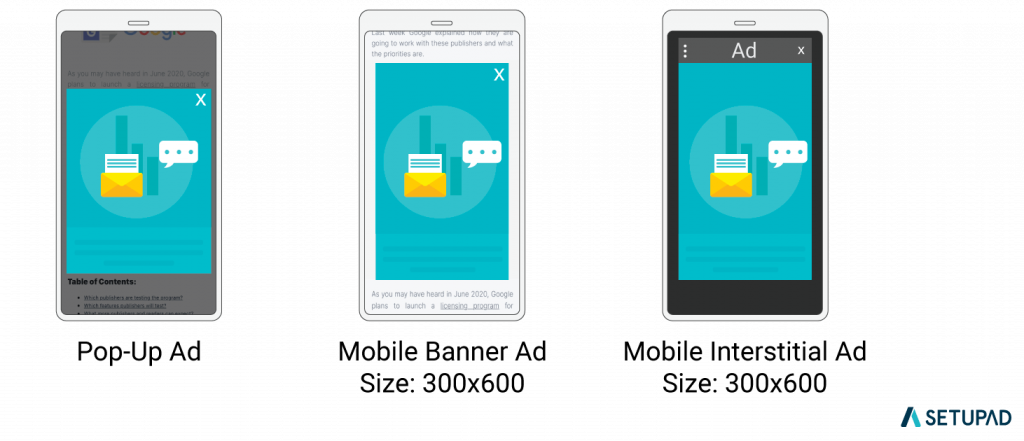 We expect to see this new ad format to become one of the most popular ones in 2021 due to its promising performance we have observed with our clients.
6. Mobile Video Advertising
Mobile-first approach does not only dominate web traffic spread, but also the advertising industry. According to Zenith, an average user will spend 100 minutes a day watching videos in 2021. Growing demand for video consumption is visible around the world, especially since COVID-19.
Most brands adapt their video ads for mobile devices making them short (not more than 15 seconds) and vertical. Cinemagraphs (photo and video hybrid) are also gaining popularity in marketing campaigns.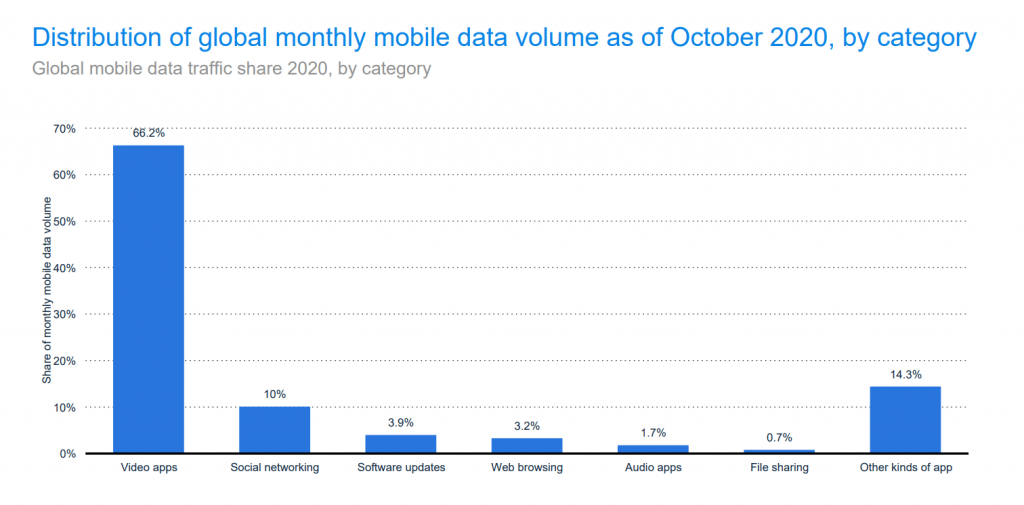 Source: Statista
For publishers, it is a great opportunity to join the trend and start creating mobile-friendly content in terms of stories. 90% of consumers trust user-generated content more than any other form of media, so now is the time to embrace it!
7. First-party Data
With the end of third-party cookies, 2021 will be the year when publishers will need to work out a first-party data strategy.
Today we see the emergence of mediator technologies such as data clean rooms that allow the exchange of data between publishers and advertisers in a privacy-compliant way.
We also see the emergence of open-source identity solutions such as Universal ID by ID5, which are available to publishers who work with header bidding. Publishers can extract the identifier and store it on a first-party cookie. In simple words, the solution allows a real-time trade between SSPs, DSPs, and DMPs using a neutral user identifier. This solves the identity problem in the absence of third-party cookie data while respects user privacy.
8. Chatbot Marketing
Chatbots have taken almost exclusive control over customer service, and this trend is not going away. Chatbots allow businesses to reduce workforce costs by 30%. Experts predict that 85% of customer interaction will be handled without human agents by 2021.
In fact, even users prefer them to humans! For example, a hotel chatbot can tell whether a room is available for specific dates within seconds. Integrating chatbots with payment services can also speed up the paying process. This saves users a lot of time.
The best part–data collected as a result of chatbot communication gives publishers and brands insight into their customer needs and preferences. Publishers with decent traffic should consider setting up a chatbot.
Check out an ultimate guide on how to write a perfect chatbot script by DigitalAdBlog.
9. Programmatic Continues to Grow
Programmatic is going to account for 86.5% of all digital ad spend in the US in 2021. The areas that will drive growth are video, social media, and mobile. However, there will be a real fight for over-the-top (OTT) and connected TV (CTV) ad inventory.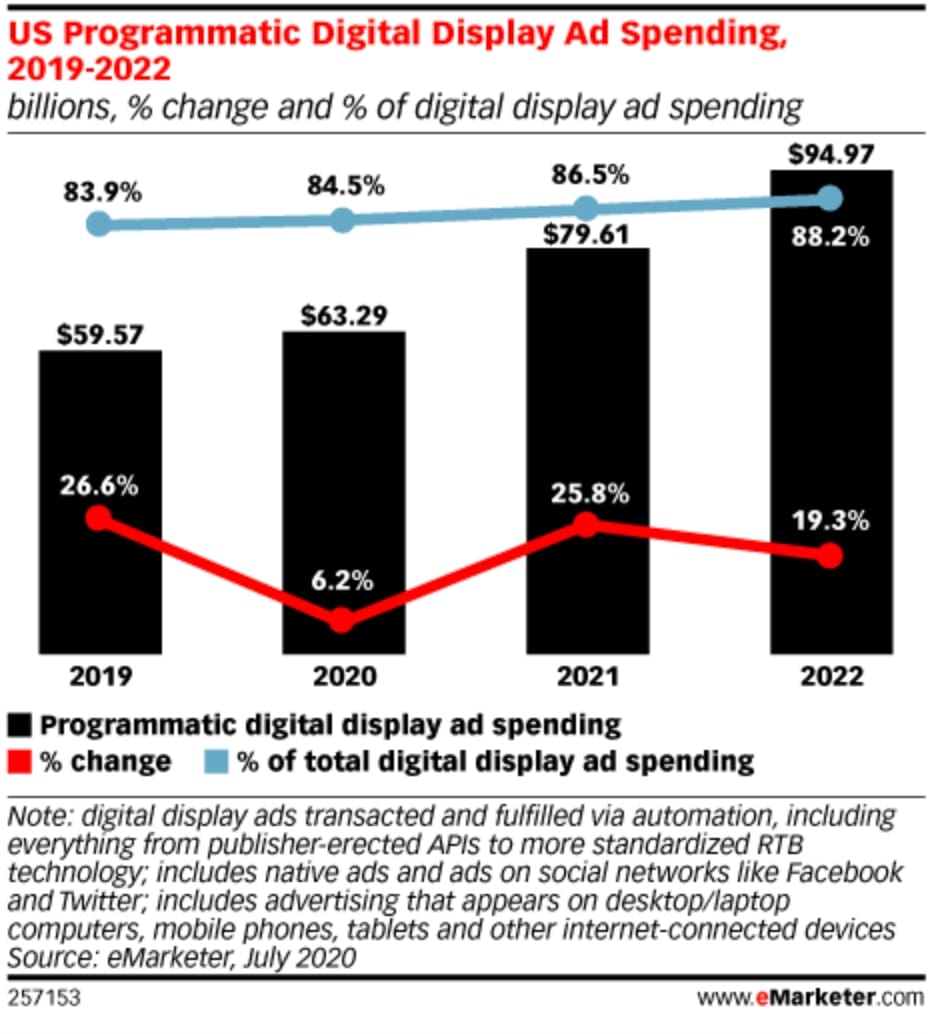 Source: eMarketer
According to Comscore, OTT streaming services like Amazon Video and Netflix reached 67% of users across homes with WiFi! What's exciting is that OTT-based ads have an average completion rate of 98%. Engaged users don't like to skip through the ads.
CTVs like Amazon Fire and Apple TV enable cross-device tracking and provide extremely targeted ads with high ad completion rates. This area of advertising grows so rapidly, 60% of those who utilize CTV are planning to increase their investments in 2021.
Conclusion
In 2021 the advertising industry is going to focus on efficiency as opposed to numbers. Meaning the main aim will be to deliver more relevant ads at the right moment and increase ROI (return on investment).
Focus on automation and machine learning will increase ad quality and relevance and decrease ad fraud risk. All trends discussed are going to present both publishers and advertisers with new opportunities.