23 Digital Advertising Trends and Stats for 2023
Programmatic advertising is the leading digital advertising method today. Each Google update and technological improvement impacts not only publishers and advertisers but also the industry overall.
We have collected 23 key programmatic advertising trends, statistics, and facts in one article, which you, as a publisher, should keep in mind for 2023.
Let's start!
Latest Google Updates for Publishers
Your website's performance should stay above everything!
1️⃣ Google has started the year strong by rolling out two significant updates–the December 2022 helpful content update and the December 2022 link spam update. We are still yet to see the full effect of these updates in 2023. (Seoroundtable, 2023)
2️⃣ The policies for both the AdSense and AdMob Programs have been revised to incorporate details about the WebView API for ads, which allows for correct support of web-based ads within apps. (Google, 2023)
3️⃣ The Webmaster Guidelines have been replaced with the Spam policies for Google web search. (Google, 2023)
4️⃣ Following the war in Ukraine, ​​Google has paused monetization of content that exploits, dismisses, or condones the war. (Setupad, 2022)
5️⃣ Google has again postponed the deprecation of third-party cookies in Chrome browser to 2024. This, therefore, gives publishers more time to prepare for their demise. (AdAge, 2022)
Programmatic Advertising Statistics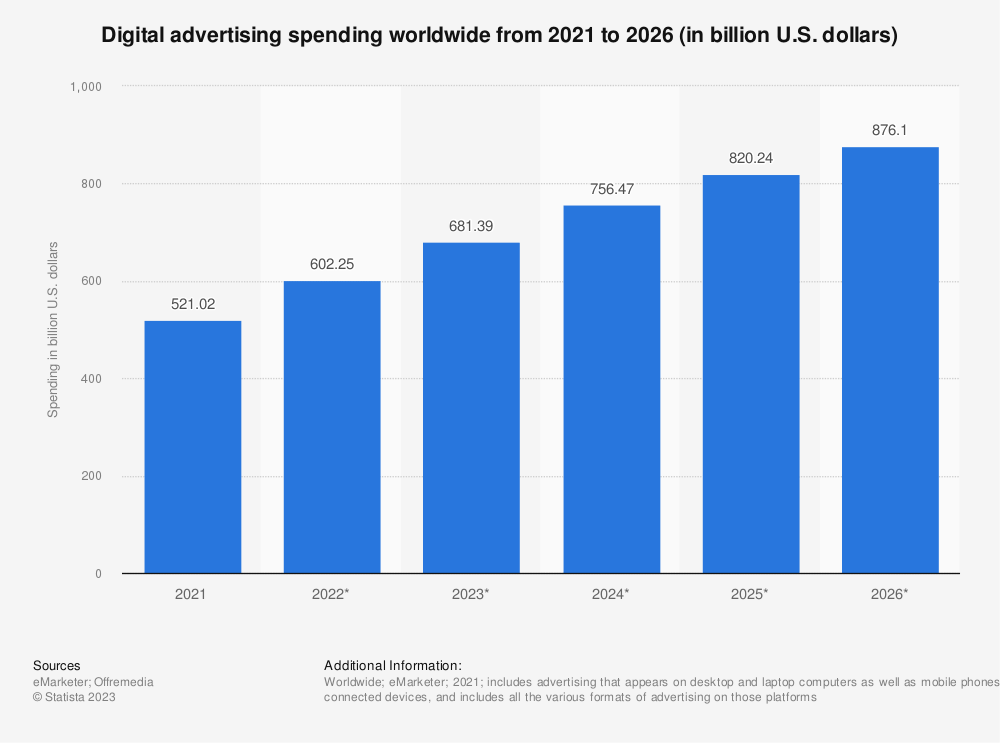 7️⃣ The ad market in Central and Eastern Europe has significantly contracted with the start of the war in Ukraine. The forecast for 2022 was reduced by $4.32 bln to reflect the current situation. However, the ad spending is expected to recover in 2023. (eMarketer, 2022)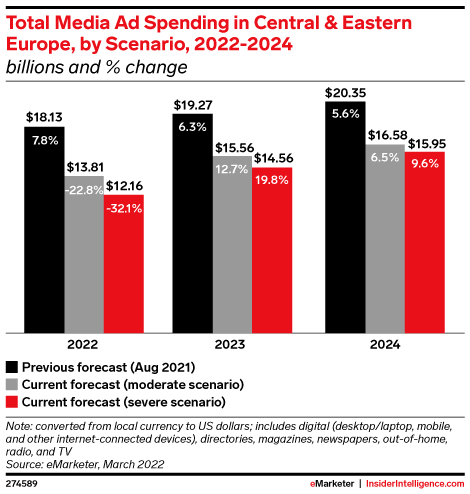 8️⃣ Recent research by IAB Europe confirms that 75% of Europeans would choose today's experience of the web (ad-supported) over the internet without targeted ads, where they would need to pay to access most sites and apps. (IAB, 2022)
🔟 According to a survey conducted among individuals responsible for making strategic decisions regarding ad technology investments, 32% of respondents identified that integrating demand-side platforms (DSPs) with other marketing tools was the most significant challenge in programmatic advertising. (Statista, 2023)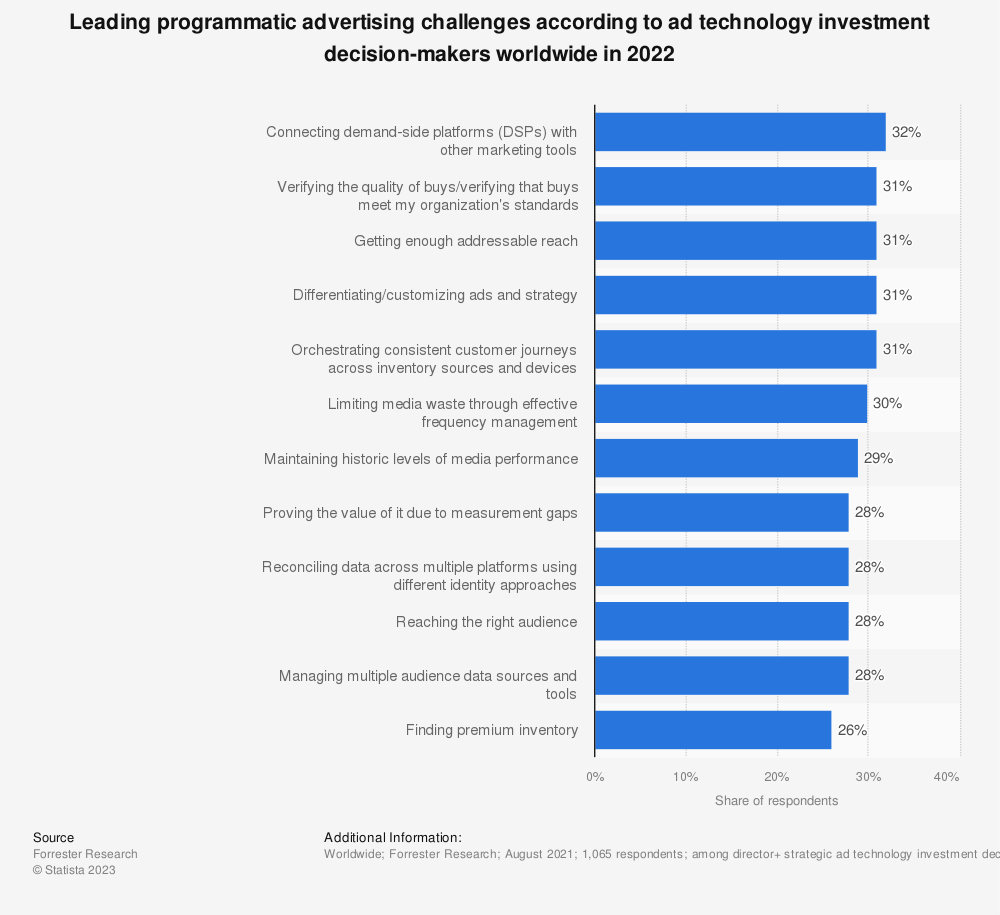 1️⃣1️⃣ According to the IAB Europe's 'Attitudes to Programmatic Advertising Report 2022', video adoption among publishers increased from 33% in 2021 to 46% in 2022. (IAB, 2022)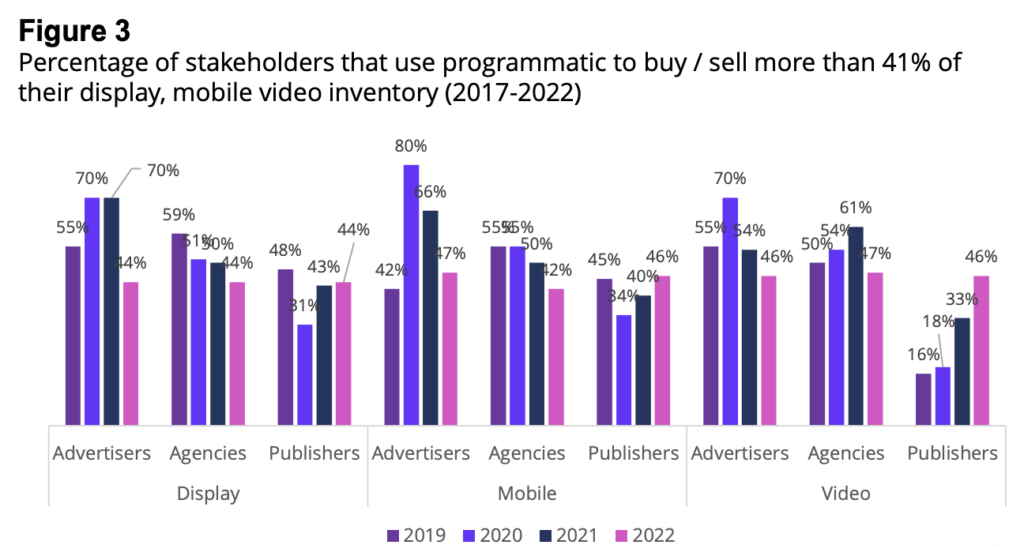 1️⃣2️⃣ One of the most important metrics in digital advertising moving forward will be ad viewability. According to the data Setupad sourced from top SSPs such as Xandr, OpenX, and Rubicon, the ideal ad viewability score should be above 70%. (Setupad, 2022)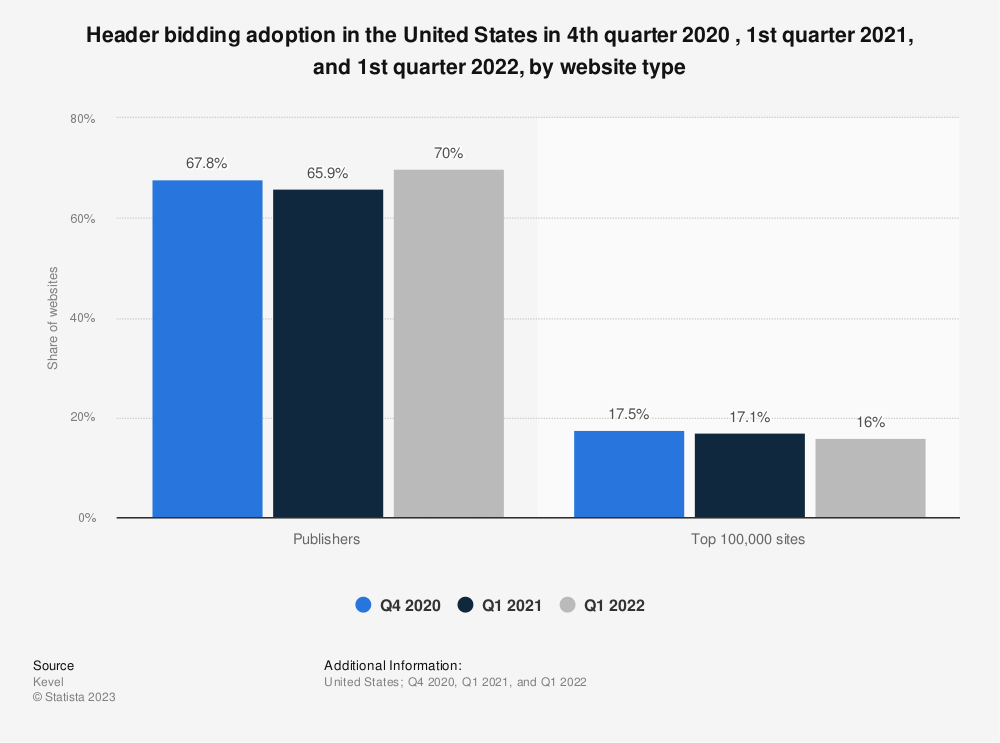 1️⃣4️⃣ Privacy Sandbox is the latest alternative to third-party cookies by Google which utilizes the latest privacy techniques, like differential privacy, k-anonymity, and on-device processing. Below is the time frame for Privacy Sandbox launching for general availability in Google Chrome.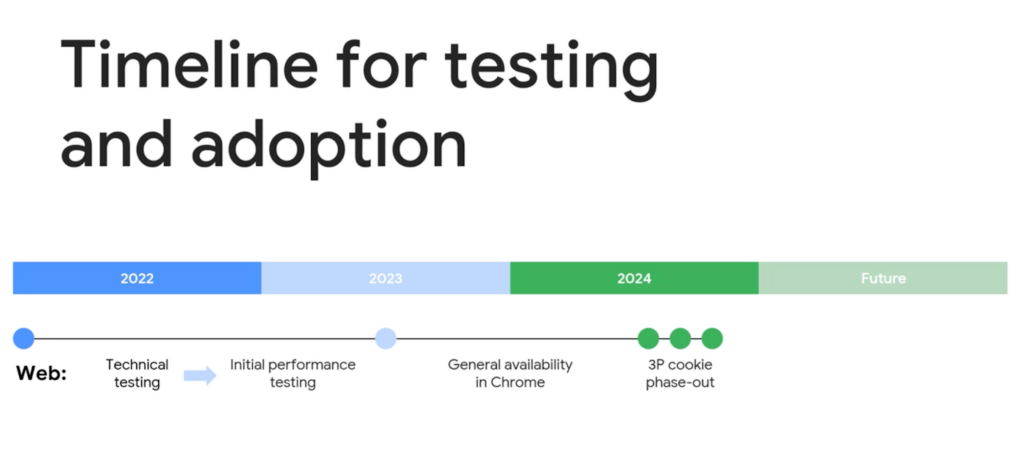 1️⃣5️⃣ Research shows that 94% of marketers surveyed as part of Econsultancy's 'Future of Marketing' report agree that privacy should be a primary factor in the design of their marketing measurement strategy. (Econsultancy, 2022)
1️⃣6️⃣ The adtech industry is heavily impacted by the presence of walled gardens. The share of ad expenditure controlled by walled gardens is expected to account for 78.3% in 2023. (Statista, 2023)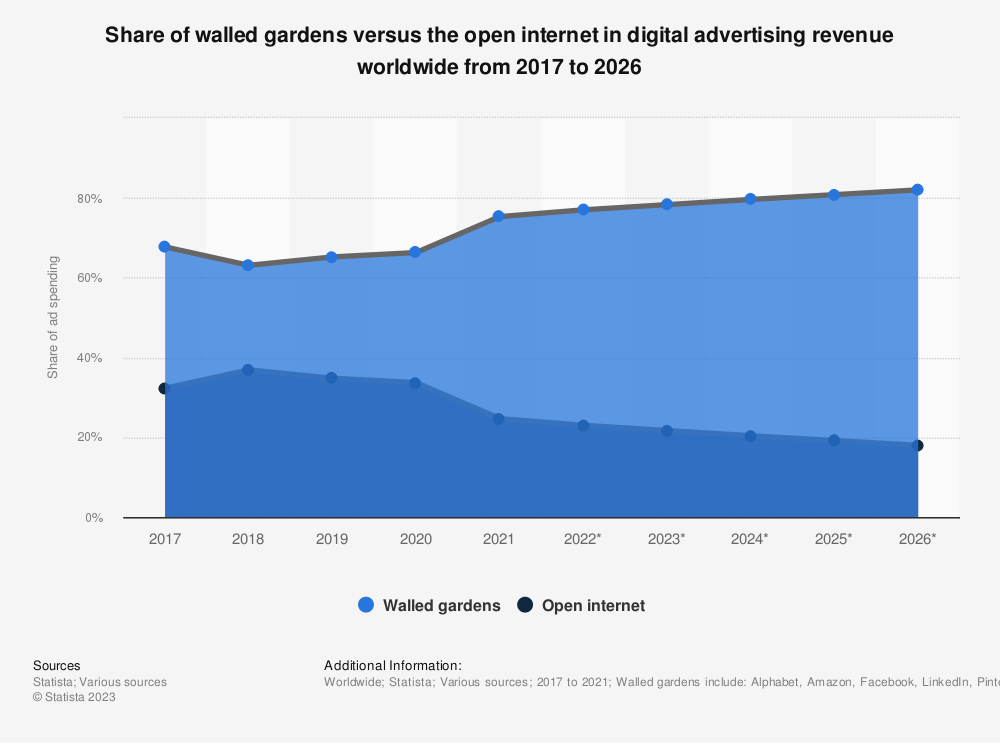 1️⃣7️⃣ Publishers may lose up to $10 billion in ad revenue as walled gardens are becoming a popular choice for ad spend. (IAB, 2022)
1️⃣8️⃣ The year 2023 will be a significant one for matters related to privacy and identity, as there will be a growing implementation of solutions on both the buyer and seller side. Currently, one-third of online ads are shown in ID-less environments, and this number is predicted to increase to 75% by 2024. (ExchangeWire, 2022)
1️⃣9️⃣ Businesses are still preparing for a cookieless world, but, according to ID5's new 'The State of Digital Identity 2022' report, 87% of marketers believe they are missing out on reaching cookieless audiences today. To remedy this and remain prepared for a world without traditional identifiers, advertisers, publishers and ad tech platforms are testing alternative solutions. (ID5, 2022)
2️⃣0️⃣ Short attention spans translate to a coming ad evolution. Viewable time is one of the most important drivers of attention and has been confirmed by studies with both video and display inventory. When the content is engaging, users read slowly and, as a result, interact with the ads more. Voluntary ads (those that users can scroll past or skip) achieve 2x better results in terms of brand lift compared to forced ads. (Teads, 2022)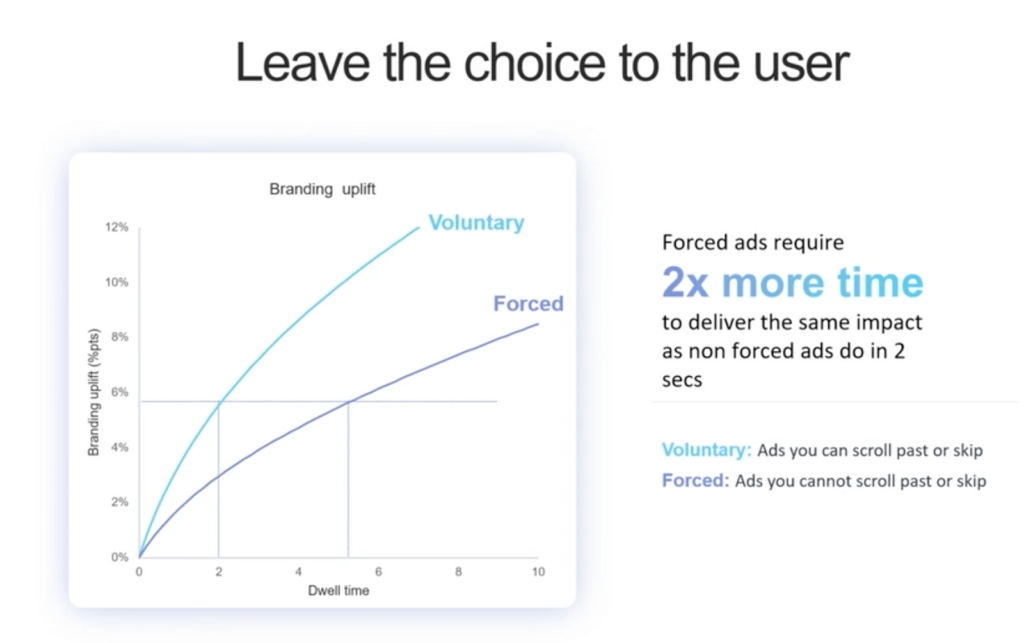 Mobile & App Advertising Statistics
Mobile-first approach doesn't only dominate web traffic spread, but also the advertising industry. However, mobile is also the dominant channel for in-game advertising by a significant margin.
2️⃣1️⃣ The global market for subscription-based gaming is projected to increase at a compound annual growth rate of 13%, which valued it at $8.25 billion in 2021. (GrandViewResearch, 2022)
2️⃣2️⃣ Global mobile advertising spending is expected to reach $446.14 bln in 2023. (Statista, 2023)
2️⃣3️⃣ In 2022, a significant achievement was made in the field of in-game advertising, as it moved closer to becoming a widely accepted advertising method. This was achieved through the efforts of a joint industry task force, which led to the publication of the IIG Measurement Guidelines by the IAB, IAB Tech Lab, and MRC. (ExchangeWire, 2022)
Bonus fact
Toms Panders, CEO at Setupad: "Seasonal opportunities in advertising are not as profound as they used to be. While we still expect to see traditional peaks in the run-up to events like Black Friday, the overall trend shows now more stable spendings across the year with a traditional dip at the beginning of every month."
Related Article: How to Prepare your Website for Seasonal Trends in AdTech?
In 2023, the digital advertising industry is going to focus on efficiency as opposed to numbers. Meaning the main aim will be to deliver more relevant ads at the right moment and increase ROI (return on investment).
Keep an eye on the trends and statistics discussed above and stay ahead of your competition.