7 Main AdTech Trends Publishers Need to Know
The most significant advancement in the advertising sector in the last three decades may be adtech. Google and Facebook now generate 10-figure revenues thanks to ad innovation, which has also helped hundreds of firms establish themselves as household names.
This article covers everything publishers need to know about adtech, its benefits, and 7 booming adtech trends right now.
What is AdTech?
Adtech is a catch-all phrase that refers to a wide range of software platforms and tools for creating and presenting targeted advertisements to prospective clients. Advertisers gather a wide range of audience data, identify the target audience, set targeting criteria, and assess the campaign's return on investment using advertising technologies.
Advertising technologies enable the personalization of advertising messages and display ads to interested audiences precisely when they are most responsive to them.
One of the best examples of such technology can be header bidding. Publishers use the sophisticated programmatic approach of header bidding, sometimes referred to as advance bidding or pre-bidding, to offer inventory to several ad exchanges at once before making calls to their ad servers. According to Statista, 76% of the websites used header bidding as a component of their ad technology stack.
Share of publisher sites using header bidding in their advertising technology stack worldwide in 4th quarter 2019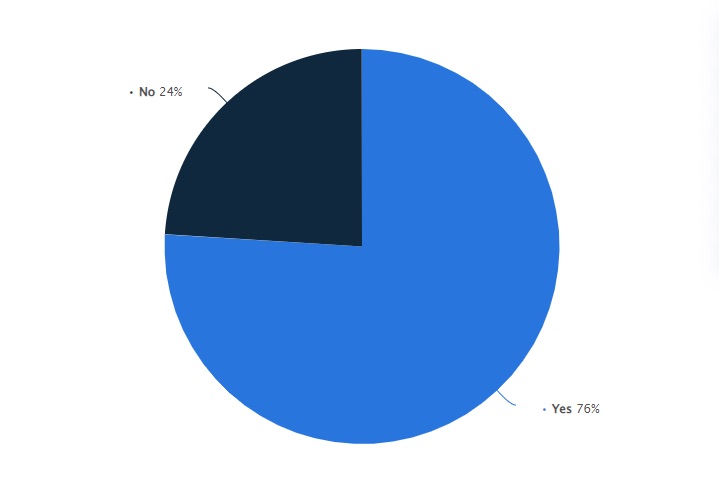 Source: Statista
The Role of AdTech in Boosting the Needed Products Through Digital Media
The main objectives of adtech are to improve the efficacy of advertising channels, analyze target audiences, manage ads, and distribute ads.
Technologies used in advertising technology are intended to:
help publishers (owners of advertising space) sell impressions at the best price (e.g., header bidding);

assist advertisers and advertising agencies in designing, customizing, measuring, and managing advertising campaigns to maximize return on investment (Agency Trading Desk);

make it easier to match publisher supply and advertiser demand across ad networks (SSPs, DSPs).
Main Pros of AdTech Development Services
Digital advertising campaigns are more accessible and more effective thanks to adtech. Thanks to recent breakthroughs like machine learning, processing massive volumes of data is no longer a barrier. The expansion of programmatic advertising and video as a digital advertising format serves as more proof of this.
Improved monitoring of the campaign
Adtech development services have given demand partners better planning and measuring options, strengthening them. Adtech products, such as ad servers, show campaign effectiveness from various angles and specify where and how the ads perform. Productivity rises, as a result, making media buying easier and faster, and eliminating the human factor.
Audience division
The "one-ad-fits-all" strategy is useless, according to professionals in marketing. Brand customers could be in different marketing funnel stages, requiring various strategies. Ad technology makes it simpler to serve various advertising to diverse audiences.
More effective use of advertising funds
Media buyers can offer ads that resonate with a target demographic at the correct moment and are more likely to result in a conversion, thanks to the insights supplied by adtech. For example, the CMP tool effortlessly obtains users' consent by gathering and storing visitor privacy preferences.
Spheres AdTech Experts are Competent In
Advertising technology is constantly evolving, and adtech devs are setting up smart automated solutions that bring the most effective results.
Artificial intelligence and machine learning. Consumer data is read and analyzed by algorithms created by adtech programmers, enabling you to fine-tune your targeting and choose pertinent advertising content. Based on computer vision, the content environment is analyzed.
Big Data. Since analytics are helpful at every point in the sales process, most advertisers allocate money to big data, also with the help of adtech consulting.
Personalization and automation of creatives. For instance, it is anticipated that software for customer experience personalization and optimization will generate more than $9 billion in global revenue by 2023. Although the percentage of marketing budgets allocated to personalization can vary, most businesses already commit more than 50% of their expenses to this endeavor.
7 AdTech Technology Trends
1. Podcast Ads
In the third quarter of 2022, podcast CPMs increased to $26 from $22 for the corresponding period in 2021, surpassing the price of streaming TV ads.
The privacy changes in the adtech sector impact mobile device IDs and third-party cookies but have no immediate impact on podcasting. Thanks to this, the CPM prices are increasing.
2. The boom in in-game advertising
A possible new area of growth for programmatic is in-game advertising, particularly with the emergence of native in-game advertising. The Interactive Advertising Bureau (IAB) has amended its rules for intrinsic in-game advertising, sometimes referred to as in-gameplay or native in-game advertising, for the first time since 2009.
3. DOOH becomes more popular
76% of companies worldwide anticipate raising DOOH advertising budgets in 2023.
4. Networks for programmatic retail media
The use of programmatic advertising by retail media networks is on the rise. For omnichannel reach in retail campaigns, retail media inventory is linked to off-site properties and third-party media.
5. Infrastructure for first-party data to start up
Google has once more postponed the removal of third-party cookies. Initially scheduled for Q2 2022, what was postponed to 2023 is now delayed until 2024. Regardless of the delay in cookie deprecation, the industry is moving into the first-party data era.
6. CTV measurement has increased
CTV advertising is typically thought of as being challenging to measure. However, linked TV advertisements may be tracked with precision virtually on par with other digital channels with the correct software stack and integrations.
7. Supply chain openness
The OpenRTB 2.6 (a communication protocol that enables real-time bidding) draft has been finalized, and the new standard is now ready for use, according to IAB Tech Lab. Both the supply and demand sides benefit from the new version's increased flexibility, particularly in the CTV and contextual advertising.
Conclusion
Advertisers and publishers are already utilizing AI and ML data analysis, programmatic TV or podcast advertising, and DOOH based on mobile location as the future of advertising technology.
The adtech toolbox elevates advertising efforts, creating a win-win situation for advertisers and publishers. Advertisers integrate the complete toolkit into a single system with advertising technology for more effective strategic planning and advertising management. Publishers benefit from more relevant advertising, higher prices, and better demand for their ad inventory.