DMEXCO 23: Recap of the Largest Digital Industry Event
DMEXCO (Digital Marketing Exposition & Conference) is the leading tech & marketing event for the digital industry in Europe that gathers more than 600 international speakers and thousands of digital professionals.
DMEXCO 23, which occurred on September 20 and 21 in Cologne, Germany, once again gathered some of the industry giants (e.g., Google, Microsoft) and covered a range of topics like the revolution of AI, sustainability, web3 and the cookieless future. 
The Setupad team took part in this event of digital innovation and gathered the main highlights and trends of the advertising industry. Let's dive in!
Privacy Sandbox (PS)
The transition away from third-party cookies is imminent, and industry leaders are actively seeking solutions that prioritize both user privacy and advertising performance. Google's Privacy Sandbox emerges as a pivotal tool in this transition, with companies like RTB House and Remerge already leveraging its technologies. 
Criteo, representing a significant player of the advertising ecosystem, emphasizes the dual responsibility of safeguarding consumer interests while ensuring optimal performance for their clients.
The overarching sentiment is clear: the industry must evolve collaboratively, prioritizing education, and sharing insights to navigate the challenges ahead.
Origin of the Privacy Sandbox (PS) Project
Google aimed to identify essential use cases for cookies and find ways to support them while enhancing privacy. The goal is to provide tools for ad tech companies to develop solutions (e.g., retargeting) without relying on identifiers that compromise user privacy and minimize data collection.
Privacy Enhancing Technologies (PETs)
PETs are central to the PS project. They aim to support businesses reliant on online advertising while respecting user privacy.
The need for Privacy Sandbox
Anthony Chaves (VP, Product Management Privacy Sandbox at Google) emphasized that digital advertising's current model, reliant on third-party cookies, needs a fundamental shift.
The downsides of these identifiers outweigh the benefits.
He mentioned that a 2022 global research study indicated that 80% of users are concerned about their online privacy.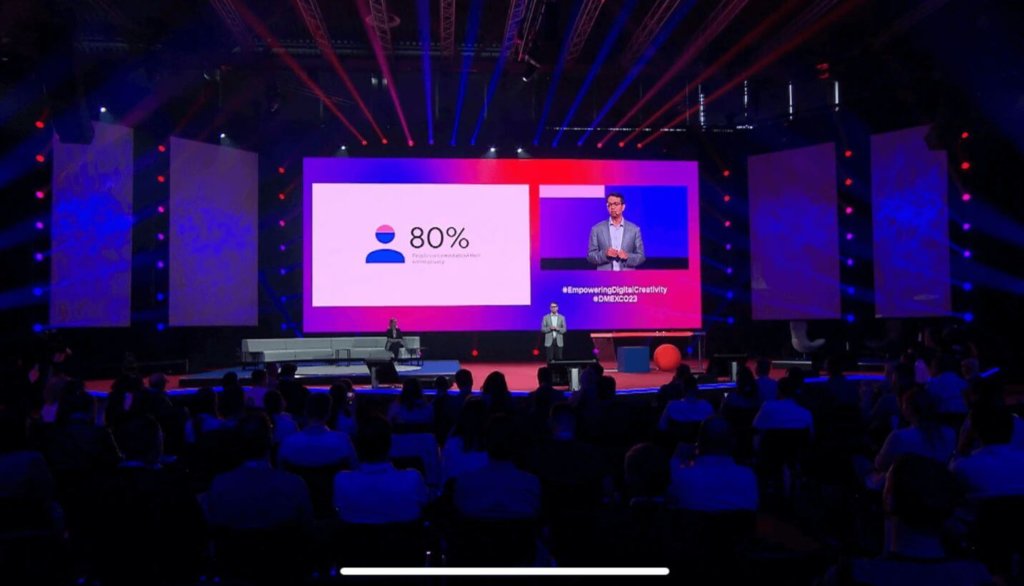 In the words of Anthony Chaves, there are:
100% Privacy Sandbox technologies available today.
Less than 100 days until 1% of third-party cookies are phased away (first step).
Less than a year for the planned sunset of third-party cookies.
0–the number of days you should wait to prepare for this change.

Source: The Privacy Sandbox 
Privacy Sandbox's Approach
Privacy Sandbox relies on the premise that privacy and performance can coexist. It offers new platform technologies (APIs) that address the use cases typically reliant on cross-site identifiers, like third-party cookies.
Note: The Privacy Sandbox technologies are currently available on all Chrome browsers (also they're in beta for Android 13).
Key facts about Privacy Sandbox
Here are the 3 key facts highlighted by Anthony Chaves regarding Privacy Sandbox:
Universal functionality for all businesses. In other words–it works the same for everyone.
It is not a standalone solution for publishers and advertisers. Ad tech providers can incorporate PS into their products alongside other privacy-safe signals (e.g., contextual and first-party data.)
Privacy Sandbox isn't another type of tracking. It enhances privacy compared to third-party cookies and other crosssite identifiers.
Additionally, during this speech it was mentioned that there are mainly 2 types of cookieless solutions available:
New kinds of cross-site IDs.
Solutions based on Privacy Enhancing Technologies (PETs) that use various methods to protect user information while providing functionality.
What are some of the existing Privacy Sandbox use cases?
Hanne Tuomisto-Inch (Director, Privacy & Chrome Partnerships EMEA at Google) highlights some cases of companies already using the PS technology, such as:
RTBhouse. Uses PS technologies for remarketing, ensuring advertisers target their desired audience accurately (we'll dive deeper into that later.)
Remerge. Collaborated with Appsflyer to develop a solution for app marketing using PS technologies on Android, without sharing sensitive user-level information.
Criteo's perspective
Brian Gleason (Chief Revenue Officer at Criteo) delved into the relevance of Privacy Sandbox for Criteo.
He emphasized the balance between consumer interests and the performance needs of their vast clientele. Brian also stressed the importance of dedicating equal effort to both–privacy and utility.
Brian said: "Criteo is making significant investments, focusing on scaled reach, precision audiences, and measurement. We also emphasize the importance of education in the industry because we have to bring so many others along this journey and share what's working while we go along with it to make sure we're prepared."
Impactful Retargeting Campaigns In the Cookieless Future
The future of retargeting campaigns in a cookieless world remains a topic of keen interest for advertisers and businesses alike. RTB House delved deep into this subject, shedding light on the evolving landscape of digital advertising, especially considering the phasing out of third-party cookies. They highlight the importance of adapting to these changes while maintaining user privacy.
Complementing their insights, Scott Friesen from Google provided a broader perspective on the direction Google is taking with its Privacy Sandbox initiative.
Companies must adapt and prioritize user trust as the digital world moves towards a cookieless future.
What is traditional retargeting?
Firstly, retargeting is a form of online advertising which targets consumers based on their previous behaviour on the web.
Historically, when users visited a website, a third-party cookie was placed on their device. This cookie allowed marketers to identify the user and their behavior when they visited other sites, enabling the delivery of personalized ads.
However, this method wasn't respectful of data privacy. The use of third-party cookies, which store user data, will no longer be viable due to privacy concerns.
Retargeting without third party cookies
Alexandra Abratanska (Project Manager at RTB House):  "Even without third party cookies, there are ways to track customers and provide personalized cross-site ads without reidentifying the user. Our focus is on Google Privacy Sandbox, particularly Google Chrome's Protected Audience API (PA API). This allows for private cross-site retargeting."
PA API primarily uses first-party data from the advertiser's website and operates based on interest groups tailored to company needs.
Alexandra mentions that all sensitive user data is stored on the user's device, ensuring no external data is shared with RTB House or Google.
The K-Anonymity requirement ensures that each interest group has more than a specified number of unique users (currently around 50, but not finalized). This ensures user anonymity within interest groups while still allowing for personalized product recommendations.
What are the RTB House's solutions?
RTB House has developed two solutions integrated into the Privacy Sandbox initiative:
Product level Turtledove (PLTD). Stores data on products users interact within their browsers to display personalized product recommendations.
Outcome-based Turtledove (OBTD). Acquires additional user signals to enhance bidding logic for more precise on-device, private ad auctions. This can track signals like user value baskets.
Both solutions aim to enhance personalization and increase bidding efficiency.
Note: "Turtledove" is a new name for the Protected Audience API (PA API).
Data Handling
All processes occur on the user's device, ensuring no data transmission to third parties.
User-level valuation remains possible, allowing for differentiated bid values based on user behavior (e.g., users browsing more expensive products have a higher bid value).
What is Google's take on retargeting?
Scott Friesen (Partner Manager Privacy & Chrome at Google): "Retargeting will persist even after the phase-out of third-party cookies. The focus is on balancing user privacy with the utility of digital advertising tools."
How to rebuild user trust in a cookieless world?
Despite the changes, users will still see retargeting and interest-based ads. Data suggests that users prefer personalized ads and engage with them more.
Scott mentions that by 2024, approximately 75% of the world's population will be under some form of user privacy regulation. Adopting PETs and technologies with built-in privacy can help rebuild user trust.
Users can benefit from personalized advertising and access free content and services.
Scott highlights that some companies might attempt to imitate third party cookies, but PS introduces additional privacy controls to limit unauthorized user tracking.
RTB House's suggestions for the cookieless future
Here are 4 tips from RTB House on how to prepare for the phase out of third-party cookies:
Prioritize user-friendly conversion paths.
Manage data efficiently and assess available first party data.
Engage in cookieless testing with partners.
Adopt privacy-compliant, long-term solutions.
Embracing a Cookieless Future: Insights and Perspectives
In a masterclass led by Alexander Weißenfels (VP DACH at Adform) and Senga Powers (Director Customer Success at Adform), industry experts delved into the impending cookieless future of digital advertising.
The transition to a cookieless world presents both challenges and opportunities. While the industry grapples with the changes, the consensus is clear: consolidation, collaboration, and innovation are crucial.
With insights from Mario Widman (Martech and Audience Manager at Johnson & Johnson) and Nico Winkelhaus (Head of Digital Marketing at Payback), the discussion revolved around the challenges, preparations, and future outlook of the advertising landscape without third-party cookies.
Key Findings from the Adform survey
Here are 5 main highlights from the Adform survey with answers from 3000 marketing decision makers globally:
48% of respondents understood how the absence of third-party cookies would impact their marketing.
57% were aware of the available solutions to replace third-party cookies, with US at 38%.
55% of respondents believed that finding a third-party cookie alternative was crucial for the success of their digital marketing campaigns.
Only 34% felt prepared for a cookieless world.
47% said that the blocking of third-party cookies by some browsers had already negatively impacted their online advertising efforts.
Expert opinions
Preparation for GDPR vs. Cookieless Future
Nico Winkelhaus (Head of Digital Marketing at Payback) highlighted that while companies had two years to prepare for GDPR regulations to come into place, most only began preparations a few months prior.
Challenges to preparation
Mario Widman (Martech and Audience Manager at Johnson & Johnson) mentioned that switching to GA4 is already eating a lot of resources therefore they can't mainly focus on the cookieless future. It's a problem related to awareness, education, and resources.  
Nico Winkelhaus (Head of Digital Marketing at Payback) pointed out the challenge of finding the right technology and the effort required to grow reach for consent.
Advice for the unprepared
Alexander Weißenfels (VP DACH at Adform) advised starting simple, testing with agency and tech partners, and not becoming overly reliant on walled gardens to maintain media diversity.
The future of IDs
Alexander Weißenfels (VP DACH at Adform) predicted a consolidation in the identity market, foreseeing the emergence of 2-3 main IDs.
Nico Winkelhaus (Head of Digital Marketing at Payback) expressed concerns over market fragmentation and the rise of monopolies and duopolies if the industry doesn't settle on a few standard IDs.
Mario Widman (Martech and Audience Manager at Johnson & Johnson) stressed the need for market consolidation to avoid an "unmanageable walled garden nightmare."
A Quantitative Deep-Dive into Floor Prices Optimization
Kean Wang (VP, Product & Strategy at Intowow) emphasized the importance of understanding the dynamics of first-price auctions and the challenges they pose for buyers regarding overpaying. To counteract the negative effects of bid shading, publishers can use floor prices. The key to effective floor pricing lies in segmentation, forecasting, and the right mindset.
Intowow's insights suggest that a successful floor pricing strategy requires a holistic approach, prioritizing responsive demand channels and balancing immediate gains with future sustainability.
Three Success Factors of Floor Pricing Performance
Segmentation. Grouping inventory into meaningful clusters.
Forecasting. Predicting future market dynamics and optimal floor prices across segments.
Mindset. The approach and attitude towards a floor pricing strategy.
Explanation of first price auctions and overpaying
In first-price auctions, the highest bidder pays exactly their bid amount. This can lead to situations where a bidder overpays. 
For example, if Bidder A bids $1 and Bidder B bids $0.40, Bidder A wins but could have won by just bidding $0.41, hence overpaying by $0.59.
Bid Shading
Due to the overpaying issue in first-price auctions, buyers and DSPs are motivated to reduce their bids to win an impression at the lowest possible price. This phenomenon is known as bid shading or bid optimization.
When bid shading becomes widespread, the average CPM (Cost Per Mille) drops, benefiting buyers but harming publishers.
Role of Floor Prices
Floor prices set the minimum price for inventory, informing buyers of the lowest acceptable bid. They encourage buyers to bid higher to ensure they win the auction.
Floor price optimization aims to balance gains and losses, sacrificing low-value bidders to maximize gains from high-value bidders.
eCPM and Sell Through Rate. As floor prices increase, eCPM rises due to distribution shift, but the sell-through rate drops because of the higher floor. The goal is to find a balance between these two metrics.
Segmentation
Inventory isn't uniform. A floor price for one traffic group might not work for another. Segmentation clusters inventory into meaningful groups.
For publishers, a reasonable strategy is to follow DSPs logic. From a very high level there are 3 main information categories that DSPs use to cluster inventory:
Physical. Geography, browser, device, unit ID, ad size, ad position.
Time. Month, day of the week, hour of the day.
Audience. Content type, content category, cookie, device fingerprint.
Intowow's Findings
The country dimension is less significant.
The browser dimension offers the first significant improvement.
The unit-level operation provides the most significant performance boost.
Mindset Tips from Intowow:
Intowow suggests 4 essential tips for effective price floor optimization:
Prioritize demand partners based on earnings.
Evaluate strategies, solutions, or vendors holistically.
Focus on responsive demand channels, prioritizing efforts around Google Ad Exchange.
Ensure a balance between short-term gains and long-term sustainability.
Programmatic Advertising in Europe: Latest Trends, Attitudes and Growth Drivers
The landscape of programmatic advertising in Europe is rapidly evolving, with significant growth in investments and a shift towards more strategic and efficient buying methods. While the industry grapples with challenges like media quality and transparency, there's a collective push towards sustainability, advanced targeting, and the integration of AI.
As the industry prepares for a post-cookie era, the focus is on leveraging data effectively and anticipating the next big trends in advertising.
Programmatic Investment Growth
A 13.9% growth in programmatic investment was observed in 2023.
The value of digital ad spend in Europe reached EUR 86bn, with a programmatic-first approach (value EUR 12.3bn). This includes a 57.9% share of display and a 52.8% video share of programmatic.
There's a notable increase in programmatic investment from the buy side. In 2022, 54% reported over 41% of their display campaigns were bought programmatically. By 2023, 30% reported over 81% of their display campaigns were bought this way.
Drivers Behind the Growth
Lisa Kalyuzhny (RVP, Advertiser Solutions, EMEA at PubMatic) emphasized the efficiency of programmatic, especially during economic downturns. The rise of marketplaces and a strategic targeting approach are significant factors.
Pete Danks (VP Product at Magnite) highlighted the uplift brought by Connected TV (CTV).
Daniel Godoy (Global Head of Programmatic Evangelist at Microsoft Advertising) pointed out the efficiency, targeting capabilities, and growth driven by CTVs. Additionally, the adoption of retail media due to its effectiveness was mentioned.
Barriers to Investment
The top barriers for advertisers and publishers include the quality of media (ad fraud, brand safety, viewability, transparency) and the political and economic environment.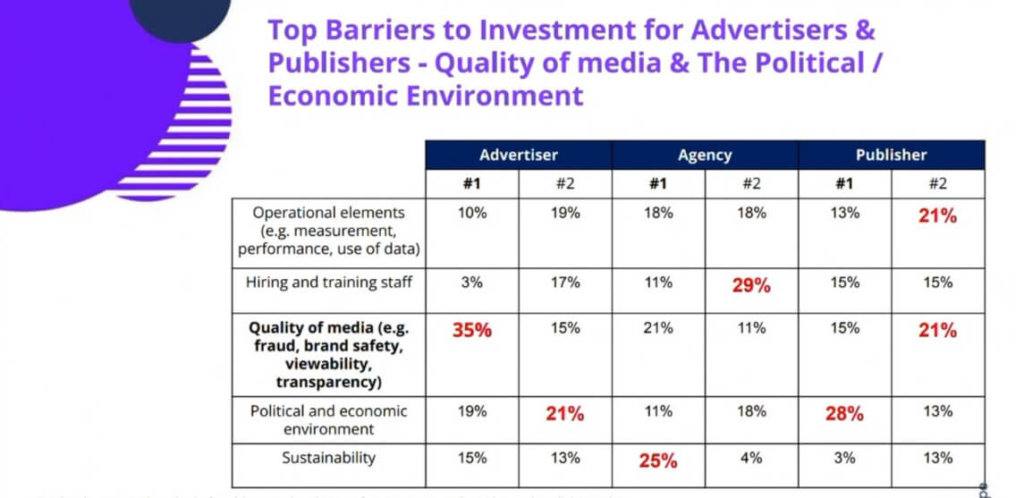 Note: Quality of media has surpassed cost as a major concern in 2023.
Quality of Media and Sustainability
Lisa Kalyuzhny (RVP, Advertiser Solutions, EMEA at PubMatic) stressed the importance of media quality for sustainability and the need for responsible advertising.
Pete Danks (VP Product at Magnite) discussed the potential of made-for-advertising (MFA) sites and the need to define industry terms.
Daniel Godoy (Global Head of Programmatic Evangelist at Microsoft Advertising) ranked sustainability, MFA, transparency, and curated content as top priorities. He also emphasized the need for transparency in the supply path.
Data Usage Trends
There's a noticeable surge in the use of both first and third-party data. A pivotal shift back to the use of 3rd party data and 1st party data is observed.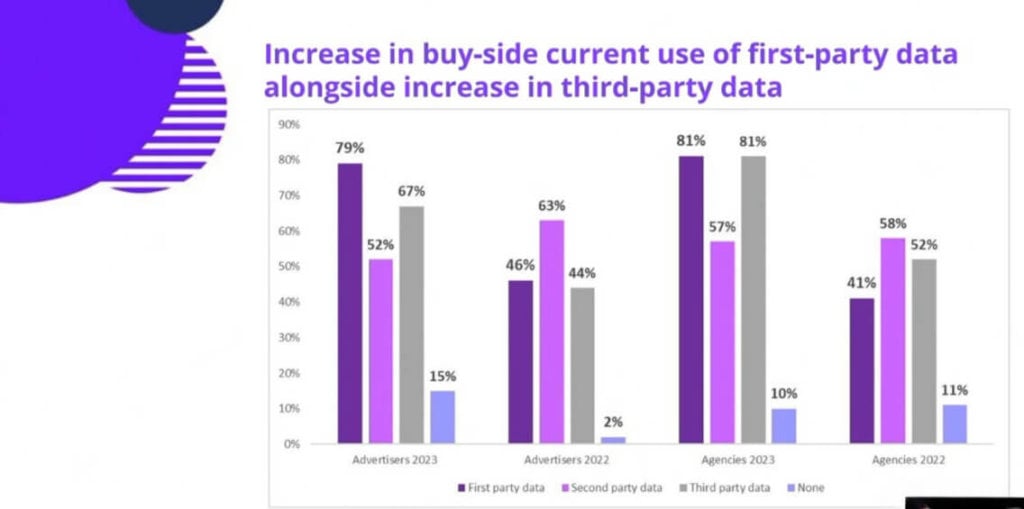 What are the main predictions for 2024?
Lisa Kalyuzhny (RVP, Advertiser Solutions, EMEA at PubMatic)–envisions growth in retail media and commerce, emphasizing the importance of a unified marketplace.
Pete Danks (VP Product at Magnite)–predicts advancements in contextual classification with AI, making contextual targeting a significant trend.
Daniel Godoy (Global Head of Programmatic Evangelist at Microsoft Advertising)–foresees sustainability, linked to quality, as a major driver.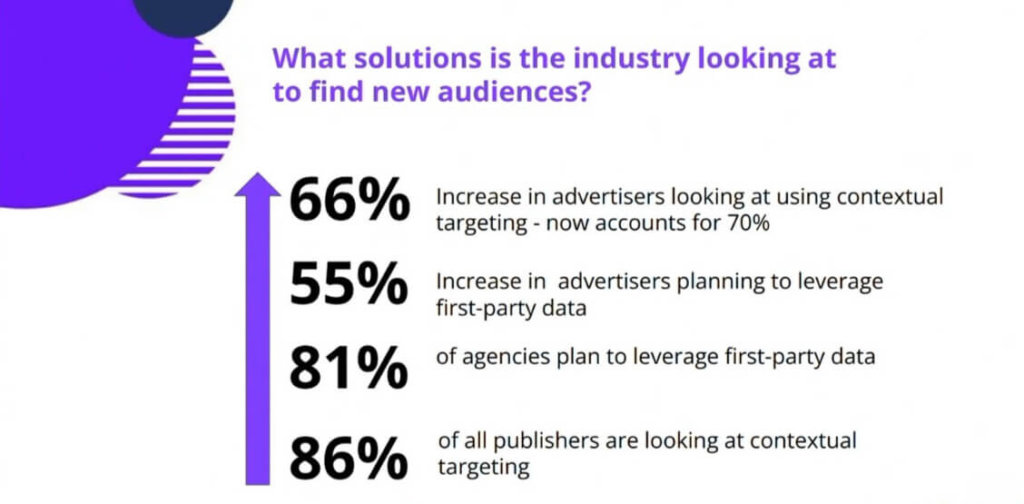 Google AI
Google AI is set to revolutionize the digital marketing landscape by emphasizing the importance of first-party data and offering tools that streamline and enhance the ad creation process.
By automating certain tasks, Google aims to empower marketers to focus on creativity and strategy, ensuring that they remain at the forefront of their campaigns.
Importance of First-Party Data
During the presentation, Gaurav Bhaya (VP & GM Google Ads, Measurement at Google), mentioned that 9 out of 10 companies believe first-party data is crucial for their digital marketing programs.
However, fewer than 1 in 3 marketers can consistently and effectively access and integrate first-party data across channels.
Google's New Product
Google is developing a product that allows users to access data from anywhere in a centralized location.
Gaurav Bhaya (VP & GM Google Ads, Measurement at Google) said: "You are not competing against AI. You're competing against other marketers using AI."
Conversational experience in Google Ads
This feature, currently in beta in the U.S. and UK, assists users throughout the ad setup process by offering suggestions and detailed insights. Advertisers have full control, approving every suggestion and having the flexibility to make changes until the ad meets their requirements.
Creativity and automation
Google Ads can now automatically generate tailored headlines and descriptions based on the content and context of a campaign. This automation pulls content from landing pages and other account contents.
Rigorous quality checks are conducted on these automatically generated assets to ensure accuracy, compliance, and proper grammar. Google plans to further leverage generative AI in the coming months to create more assets that are better tailored to users' search queries.
So what's the role of advertisers?
With AI handling the more tedious tasks, advertisers can focus on their core strengths, such as storytelling, strategic thinking, and building meaningful connections with customers.
The overarching message is that by leveraging AI, marketers can reclaim their time and return to the essence of marketing.
Leveraging AI for an Effective Social Media Strategy
In the words of Nesibe Zirzakiran (Product Marketing Manager at Brandwatch), AI has firmly established its presence in the realm of social media management, offering tools and capabilities that streamline and enhance various processes. From data analysis to content creation, AI's versatility is evident.
However, while leveraging AI's power, it's crucial to remain vigilant, ensuring that the technology aligns with brand values, complies with regulations, and resonates with the target audience.
What's the role of AI in social media?
AI has become an integral component of social media management. It plays a role in various aspects, including data analysis, content performance, paired campaigns, brand monitoring, automation, and engagement.
Utilizing AI for Insights
AI accelerates the process of analyzing and monitoring data, making it essential for an effective social media strategy. Given the vast amount of information shared across social media platforms, blogs, forums, news, podcasts, etc., AI helps in quickly navigating to relevant insights.
AI capabilities include audience analysis, theme identification, trend prediction, sentiment analysis, and summarizing extensive information.
Nesibe Zirzakiran continues to highlight the 3 more practical applications of AI in social media:
AI can generate compelling captions for posts.
AI simplifies the process of A/B testing.
AI can recommend and repurpose content, as well as personalize it for different audiences.
How to avoid AI pitfalls?
Here are 5 main points from Nesibe Zirzakiran that will help you utilize AI more effectively:
It's essential to review and confirm AI-generated content to ensure accuracy and relevance.
Actively seeking customer feedback can help refine and adjust the AI-driven strategy.
Ensuring data privacy and compliance is paramount.
Providing AI with sufficient context ensures more accurate results.
Brands should check that AI-generated content aligns with their brand voice and messaging.
The Wrap Up of DMEXCO 23
DMEXCO 23 provided a deep dive into the evolving digital advertising landscape, highlighting current trends and future projections. Central to these discussions was user privacy and the enhancement of consumer experiences in both marketing and technology realms.
The upcoming sunset of third-party cookies emerged as a pressing concern for many in the industry. However, while complete clarity on this transition might only crystallize by early 2024, it's crucial not to panic.
As the initial phase-out begins in the first month of 2024, more precise strategies for navigating a cookieless environment will emerge. Meanwhile, you can familiarize yourself with alternative IDs and targeting methods, such as contextual targeting.
Beyond cookies, the rise of AI stands out as a transformative force, offering tools to streamline and advance our daily procedures. You shouldn't fear AI, but use its power to be even better at what you do.
In the realm of programmatic advertising, media quality, sustainability, and transparency were the main topics of concern. Staying informed and flexible is paramount as the digital advertising world continues its rapid change!