The Ultimate Guide to CTV Monetization in 2023
CTV empowers publishers with ad monetization solutions and helps them gain maximum revenue.
Advertising on CTVs offers the ease of tailored, skippable ads that can be served to target audiences on their TVs and streaming devices. But simply relying on the programmatic approach isn't enough for sustainable CTV ad monetization. The same is true in the case of optimizing ad tech stacks to deliver maximum returns on CTV ad inventory.
In this blog post, we'll explain what CTV ads are, tips on the successful CTV monetization strategy, and the most popular CTV monetization models for publishers.
What are CTV Ads?
Connected TV (CTV) ads are played with video content and accessed through internet-connected devices, large-format TV screens, and apps.
Examples of CTV advertising include ads that are shown on TV shows, or live-stream shows that are viewed on streaming devices. Interactive ads are also CTV ads, which are displayed to a specific audience and allow viewers to take action. In addition to the categories of CTV video ads, it includes online video ads or in-stream ads, which run within video content on websites.
Likewise, Connected TV ad traffic can be measured and attributed through impression logs associated with viewers or households through identity resolution systems. In other words, if a user X watches a CTV ad for a pair of shoes on the Smart TV and then later makes a purchase from that brand on a mobile phone, attribution models can identify that the Smart TV and mobile phone belong to the same user X user who just saw that ad.
The CTV environment has a lot of great things to offer to publishers. Different CTV monetization models and strategies are there to suit publishers' various preferences and help them get the best results.
Will CTV Ads Thrive in 2023?
Yes, CTV will definitely thrive in 2023.
CTV advertising spend is expected to reach 43.74 billion U.S. dollars by the end of 2025.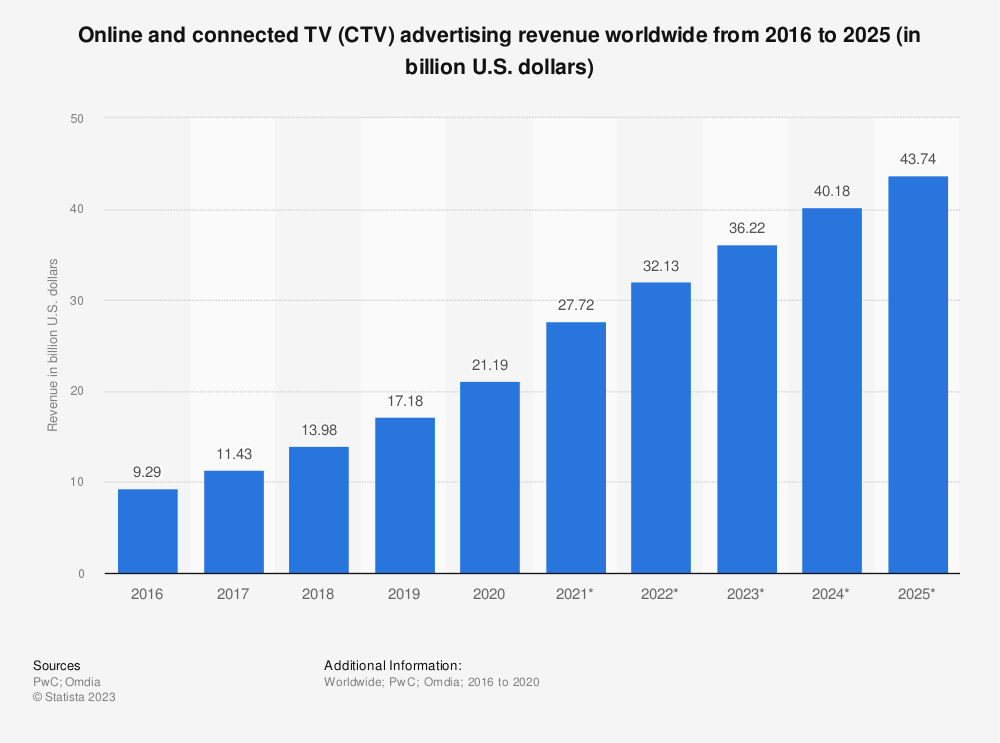 While the consequences of recession and economic downturn are profound in 2023, for CTV publishers, it won't be as scary as initially reported. It will ultimately drive innovation and ensure high ROI gains for publishers' investments. According to the IAB Buyers Survey, CTV in 2023 is poised to capture the most significant share of ad spend (22.4%).
Ultimately, CTV is one of the fastest-growing advertising platforms accountable for multiple news and digital content sources.
What are the Benefits of CTV Advertising for Publishers?
CTV helps publishers get better revenue gains and monetization returns. Let's look at the key opportunities and benefits of CTV ads for publishers.
Allows Leveraging First-Party Data
First-party data is considered the best source of information collected directly from the publishers' and advertisers' sources. When it comes to CTV ads, publishers can leverage first-party data to have insight into viewers' preferences regarding:
What type of content do they watch
When do they watch
How frequently are they watching this content
With insight into user preferences and behaviors, publishers can streamline the ad-buying process for advertisers. Usually, this data would come in the form of device IDs from ad servers and deal IDs from advertisers.
Advertising Demand
CTV ads also offer flexibility regarding the cost-per-view metric making it more affordable to reach target audiences on the big screen.
With the recent advancement in streaming devices, such as Roku, Amazon Fire TV, HBO Max, Apple TV, and Hulu, the connected TV has grown multifold in popularity. CTV viewership is growing rapidly, opening up new opportunities for publishers to maximize the ROI in an impactful way.
Ads are Served through Programmatic Auction
The Connected TV ads ecosystem is still evolving, which is why lots of publishers are using a programmatic approach to secure demand. A unified programmatic auction is a good start. But publishers also need to leverage OpenRTB demand optimization for CTV ads to further maximize ad fill rate and revenue numbers.
In addition, CTV ads allow publishers to open ad inventory on multiple ad exchanges. It eliminates the need to participate in a direct deal through an ad server, further boosting ad yield.
What are the Benefits of Connected TV Ads for Advertisers?
Here are a few of the benefits of CTV ads for advertisers:
Advanced Contextual Targeting
CTV contextual targeting plays an implicit role in ad targeting by using genre. It relies on primary contextual segments to help advertisers target the relevant content based on the genres, seasonal segments, and featured topic segments.
For example, an episode of a series on Netflix gets approved for a laptop bag commercial because it is based on a corporate drama. The CTV ads depend on the ad's relevance within the context it appears.
Real-time Measurement of Ad Campaign Performance
CTV ads help advertisers with better visibility and campaign exposure. They also allow determining the number of unique viewers from the total number of viewers. It also adds up to the number of times the ad has been shown on a smart TV or mobile phone.
Viewability is also an essential factor responsible for the success of an ad campaign. With CTV ads, advertisers can determine ad viewability based on the total number of impressions and the number of viewable impressions, as well as track viewer conversion rate and ad campaign performance in real-time.
Automated Access to Premium Ad Inventory
Online video streaming platforms such as Netflix, Amazon, Hotstar, YouTube TV, and Disney+ offer ad-supported content; hence the demand for CTV advertising inventory is extensive.
These ads provide an opportunity for better audience targeting and measurement capabilities. Besides, advertisers benefit from these vast offerings through media buying approaches, allowing them to scale and create custom deals through private and premium auction inventory.
Automated Ad-Serving For Seamless Processing of Ads
76% of ad buyers consider CTV a "must to include" in their branding budgets. According to a recent industry update, Publica CTV ad server enables audience extension strategies without including any buyer and seller. This means the advertiser working with Publica can access many buyers and sellers through a single access point enabled within the Publica UI.
Moreover, ad serving is easy with CTV ads as it allows users to decide which ads can be delivered to a particular user in the entire chain. Ad servers allow handling ad breaks and also play a role in audience targeting and processing programmatic ad placements within the pods.
What CTV Monetization Strategies Look Like in 2023?
Building an effective CTV monetization strategy is vital to growing your revenue stream. Let's look at CTV monetization strategies and discuss the potential impact on revenue growth and engagement.
Ad Podding for an Efficient CTV Monetization
Ad pods are groups of ads that can have multiple slots and increase ad relevance because of the more advertising space. It allows publishers to offer a better user experience. Ad pods also allow bidding on more than one slot per pod.
It gives publishers a better chance for higher bidding efficiency. Ad podding can quickly drive the overall RPM and give more flexibility in managing ad length.
As mentioned, ad pods give publishers a better revenue optimization opportunity. You can also choose the length of the entire pod and determine how many ads you can serve based on your users' preferences. Another benefit of ad pods is that publishers never get duplicate ads as it considers the entire pod.
CTV Ad Tech Stack for Monetization
For publishers, ad servers should be the main part of their tech stack. It decides which ad will be delivered to a particular user on the sell-side platform for connected TV advertising. Hence, the ad server role is the most crucial in the CTV monetization space. Ad servers handle audience targeting, programmatic ad placement, and ad breaks on pods.
Another crucial function of the ad server is to allow publishers to channelize their direct-sold campaigns. Publishers can also set separate rules for competitive ad campaigns, ensuring the same ads won't appear alongside the ads of competitors' brands.
A New Monetization Opportunity via Programmatic Auction
Header bidding technology and CTV are now among the most desirable ways to monetize ad inventory for many players in the ad tech industry.
Programmatic auction ensures new opportunities for publishers to achieve considerable benefits in their CTV ad monetization strategy. For example, header bidding allows advertisers to bid on any inventory. And publishers will no longer have to wait for an opportunity to get higher revenue.
Publica's CEO Ben Antier recently shared how programmatic advertising has adapted to the CTV ecosystem. And they are also allowing publishers to maximize their revenue with header bidding, programmatic ads, and unified auctions.
"Header bidding has worked incredibly well in the display, bringing significant uplift and CPM on the display web ecosystem, and can generate at least 30% of revenue uplift on a baseline of revenue and CPMs that are quite high."–Ben Antier, CEO of Publica.
However, for many publishers, direct deals are the preferred way to monetize their CTV inventory because of the direct relationships with buyers. But as programmatic header bidding entered the CTV environment, this has been increasing the revenue profitability across mobile and other channels.
CTV Ad Monetization Models – A Must-Know for Publishers
CTV ad monetization models enable publishers to build, manage, and grow their ad revenue, so they can succeed more in the advertising space. There are 4 primary CTV monetization models that publishers should be aware of:
1. Subscription Video on Demand (SVOD)
Subscription video-on-demand streaming services are based on a subscription fee. For example, Netflix and Amazon provide various ad monetization options to broadcasters for their video content. The subscription-based video-on-demand accounted for 83% of US-based consumers in 2022.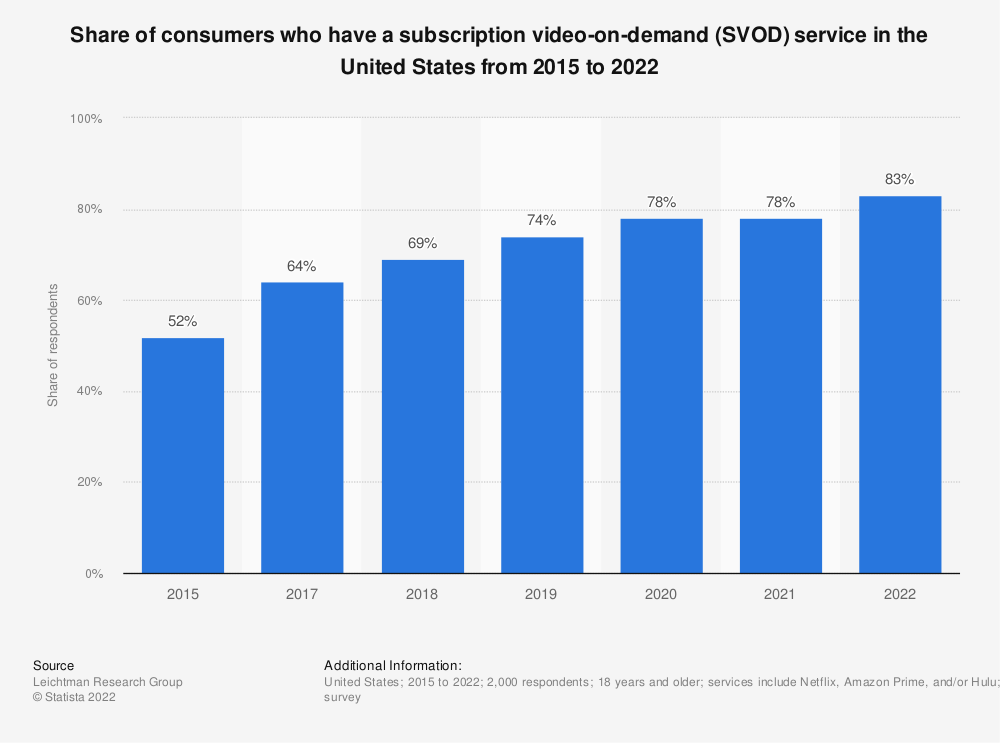 To utilize SVOD, you need to have an extensive content library based and constantly adapt your offerings based on user behavior. SVOD monetization depends on the changes in customer expectations around subscription models. Media companies that do not provide different subscription options risk alienating customers. For example, many viewers today are more willing to watch streaming media ads today rather than pay for content.
2. Advertising-Based Video on Demand (AVOD)
AVODs offer content through platforms like Hulu and Peacock. It also comes with specialized offerings on platforms like Samsung and Roku. However, similar content is also provided in the SVOD model but with ads. Unlike SVOD services, AVOD is free to consumers and generates lower revenue than SVOD and TVOD.
AVOD represents an opportunity to reach a wider audience. In fact, US AVOD viewers will reach 165 million in 2025.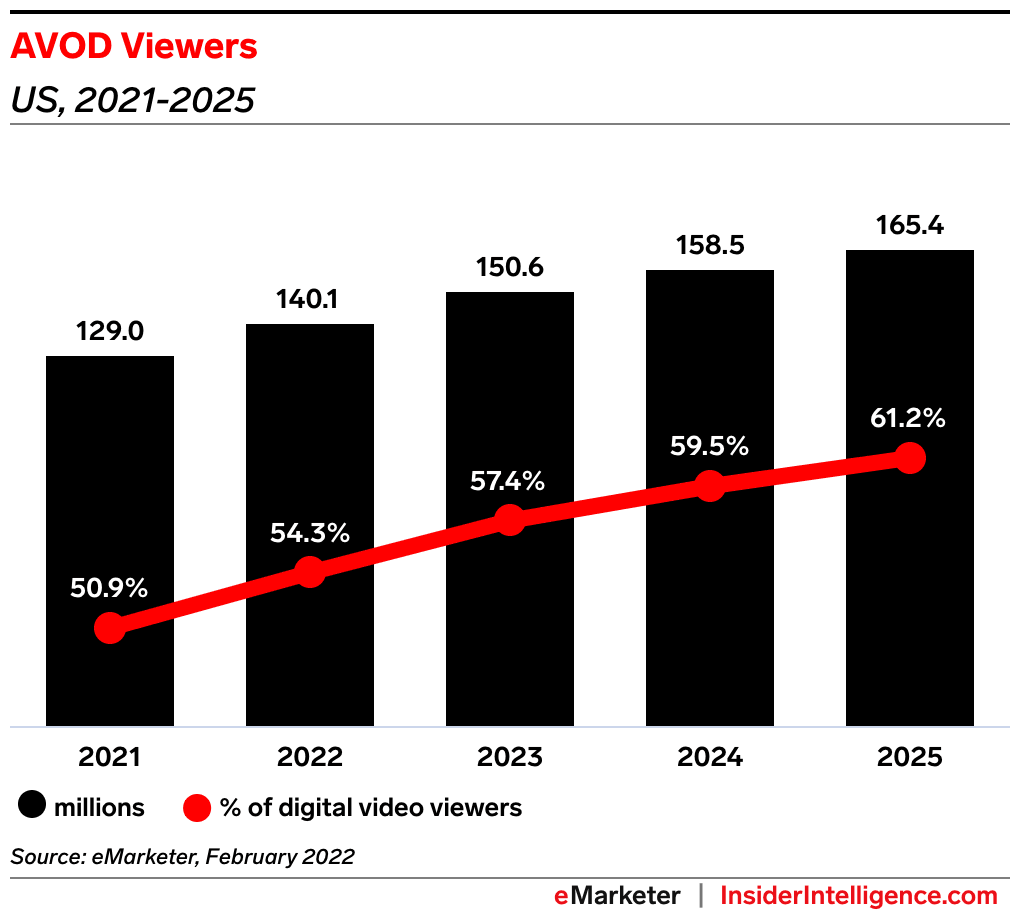 AVOD monetization model uses the mid-roll, pre-roll, banner, sponsored, paid, and post-roll ads in the video content. Instead of relying on recurring subscription fees, publishers could utilize the AVOD model.
3. Transactional Video on Demand (TVOD)
TVOD or Transactional Video on Demand allows users to purchase or rent videos on a pay-per-view basis. There are two categories where consumers can access a piece of content for a limited time and a smaller fee.
The first one is electronic sell-through (EST), which allows you to pay once to access a piece of content. The other one is download to rent (DTR), which enables consumers to buy or rent content for a limited time and a smaller fee.
TVOD services offer access to more recent and exclusive content which cannot be found elsewhere. It helps retain customers with attractive incentives. Examples of TVOD services are Amazon's video store and Apple's iTunes.
4. Hybrid Model
The hybrid model leverages the features of both SVOD and AVOD platforms. For example, YouTube is a platform where users can access free content like AVOD. However, YouTube Premium also charges a fee for access to special features such as ad-free viewing, video playing even when a user's device is locked, and ease of downloading videos for offline viewing.
Another hybrid monetization model is based on charging a fee for an ad-free subscription.
Among these four CTV monetization models, the publisher should consider one based on the type of content they create. The best model can be chosen based on the content creation budget and content publishing frequency.
Additionally, the platform supporting high-quality content and driving engagement should be considered when deciding on a CTV monetization model. Once a publisher has settled on a monetization model, they can choose the best ad monetization strategy that suits their objectives.
Final Words
Are you planning to optimize your CTV monetization strategy, or do you want to build an advanced understanding of delivering revenue uplift through a Connected TV experience?
Discovering the right tech stack goes hand in hand with identifying the right revenue optimization partner behind it. It would also be wise to embrace CTV monetization strategies to unlock the total value of content.
CTV monetization strategies will continue to change, evolve and improve. But Connected TV will always remain an essential part of publishers' ad strategies because of its flexibility and revenue uplift.