Top 11 Programmatic Advertising Trends for 2024
For programmatic professionals worldwide, their 2024 calendars will show January 1st circled frantically in red with "Chrome third-party cookie phase-out begins" scribbled in.
In the programmatic world, the year just gone was marked by preparations for the third-party cookie phase-out long promised by Google. Well, it's finally here. Advertisers will no longer be able to track customers across the web.
Google will migrate 1% of its users to Privacy Sandbox early in the year. After a testing period, the search giant aims to migrate all users by the end of 2024. Third-party cookie deprecation will fundamentally alter the programmatic landscape.
But that's not all that's happening in the ever-changing world of programmatic advertising. Let's dig into the cookie phase-out and everything else going on – scroll down to see the trends.
1. Programmatic Ad Spending On The Rise
Programmatic advertising is a lucrative industry that's continously growing. According to the latest estimates, programmatically sold advertising was worth 557 billion U.S. dollars in 2021. This figure is expected to reach 616 billion in 2024.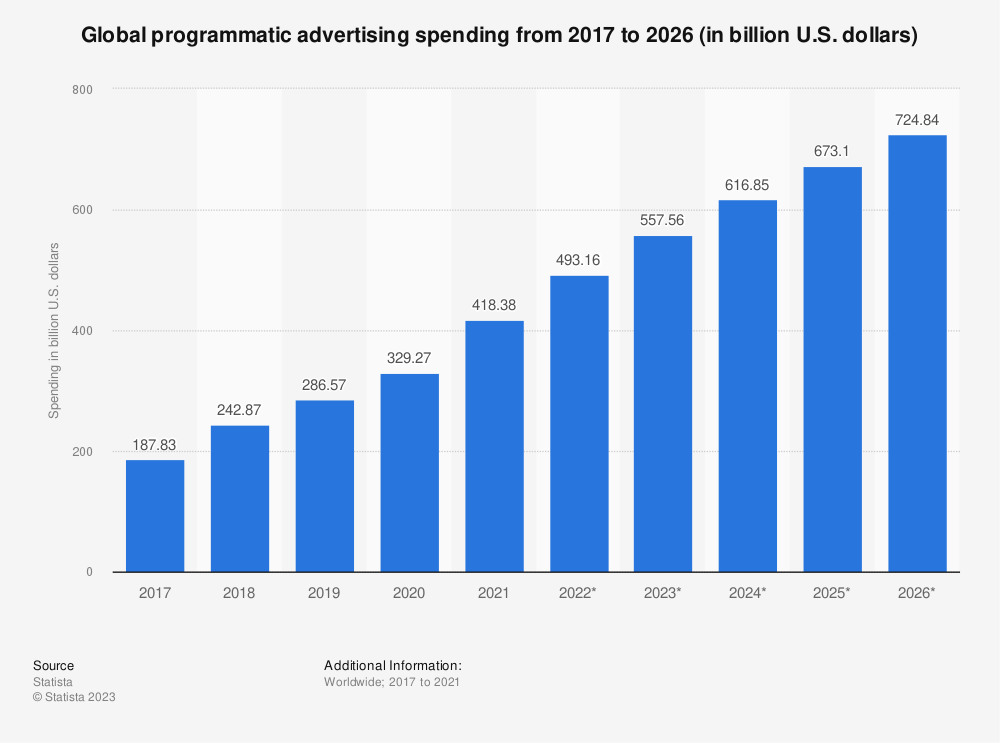 Source: Statista
Digital advertising took up 67% of the global ad revenue in 2022, and forecasts suggest it will elevate to 73 percent by 2028, reaching the 70 mark by 2024.
Despite economic recession and volatility in certain markets, it's important to recognize that digital advertising growth and spend remains unstoppable.
2. Third-Party Cookies Phase-Out
Google is a laggard in the phase-out of third-party cookies. Apple's Safari has blocked third-party cookies for several years, and Firefox has too.
But the nearly two-thirds browser market share claimed by Google Chrome (compared to Safari's 20%), alongside Google's central role in online advertising, means its phase-out will be the most impactful by far.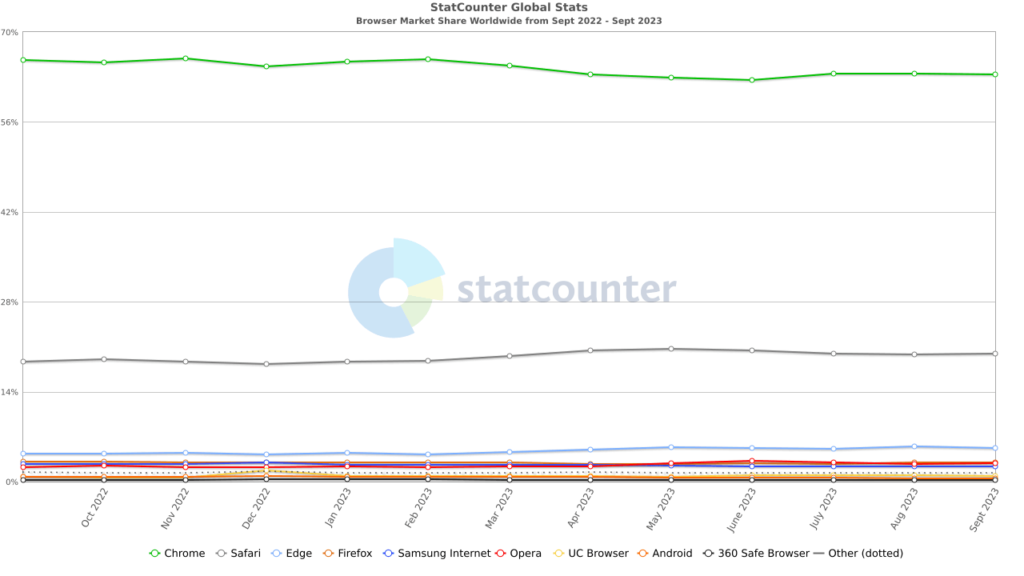 Source: Statcounter
Now, this doesn't signal the end of online advertising; far from it. After all, Google generates hundreds of billions of dollars in annual revenue from advertising. But it does signal a shift.
The implications for advertisers are three-fold:
A new focus on first-party cookies, which may require adjustments in tracking strategies and data infrastructure.
Disruptions to retargeting, frequency/recency modelling and conversion attribution.
Marketers need to learn new tools, such as Topics API.
Without third-party cookies, advertisers will need to find ways to connect a known but anonymous customer with their actual profile (an email address or number).
On the other hand, programmatic teams can lean into the benefits of first-party data, such as data depth, and deliver increasingly sophisticated personalised ad experiences.
What else has been happening in the programmatic world this past year?
3. Advent of Unified ID 2.0
Unified ID 1.0 is an open-source framework developed by the Trade Desk in 2018 in response to a signalled end to third-party cookie tracking. It provided universal cookie aggregation.
Now Unified ID 2.0 is here, featuring stronger privacy protocols. Web users have to explicitly give their email address to a publisher before they can create a unique identifier for the user. That might sound less private, but clever cryptography means the email address never enters the bid stream.
A user's preferences are shared among UID 2.0 partners, preserving cross-site targeting.
UID 2.0 can also be integrated with connected TVs and apps, which we will return to in a moment.
In 2024, we'll find out if UID 2.0 reaches general acceptance in the market as third-party cookie deprecation kicks in and agencies look to maintain cross-site targeting.
4. In-House Programmatic
Agencies have traditionally handled programmatic advertising on behalf of brands.
But in recent years, some major brands have built out their own programmatic teams as they look to, per Basis.com, "gain greater transparency into their media buys, more holistic control over their data, and greater assurance of compliance with privacy regulations."
The thing is, setting up an in-house programmatic function is difficult. It requires high technical know-how, a long lead time, and immense cross-organisation coordination. For that reason, in-house programmatic teams are the preserve of major multinationals.
Some companies are running hybrid programmatic teams. In this model, an agency acts in an advisory capacity to help a company run their own systems (a talent bolt-on). Or, they execute a programmatic strategy as designated by the advertiser (a systems bolt-on).
But even with these two models trending upwards, programmatic agencies aren't going anywhere any time soon.
5. Rise of Contextual Targeting
Contextual targeting is the practice of delivering adverts that promote products or services that are relevant to a page's content. On a car website, you would be served adverts for cars, parts, car-related experiences and so on.
It's a simple technique that long predates the internet, but it's one programmatic advertisers may fall back on in the absence of third-party cookies. If a car fanboy can't be followed around, advertisers can put their ads somewhere they're bound to find them.
New technologies have the potential to enhance contextual advertising. Sentiment analysis and related technologies can provide advertisers with a much greater understanding of a page and what reader profiles it attracts.
This can allow adverts to be contextually targeted with much greater precision. Advertisers hope that better targeting will provide an uplift to stubbornly low click-through rates and recognition.
Further, these filters can prevent a brand from being inadvertently associated with undesirable content.
6. More Live-Action Video Ads
The roll-out of 5G and faster internet generally has made video adverts more viable from a technological standpoint.
The overwhelming opinion among marketers is that video produces better engagement metrics, such as click-through, when compared to static ads. And marketers seem happy to put their money where their mouths are: in 2023, video advertising spend continued on its strong growth trajectory.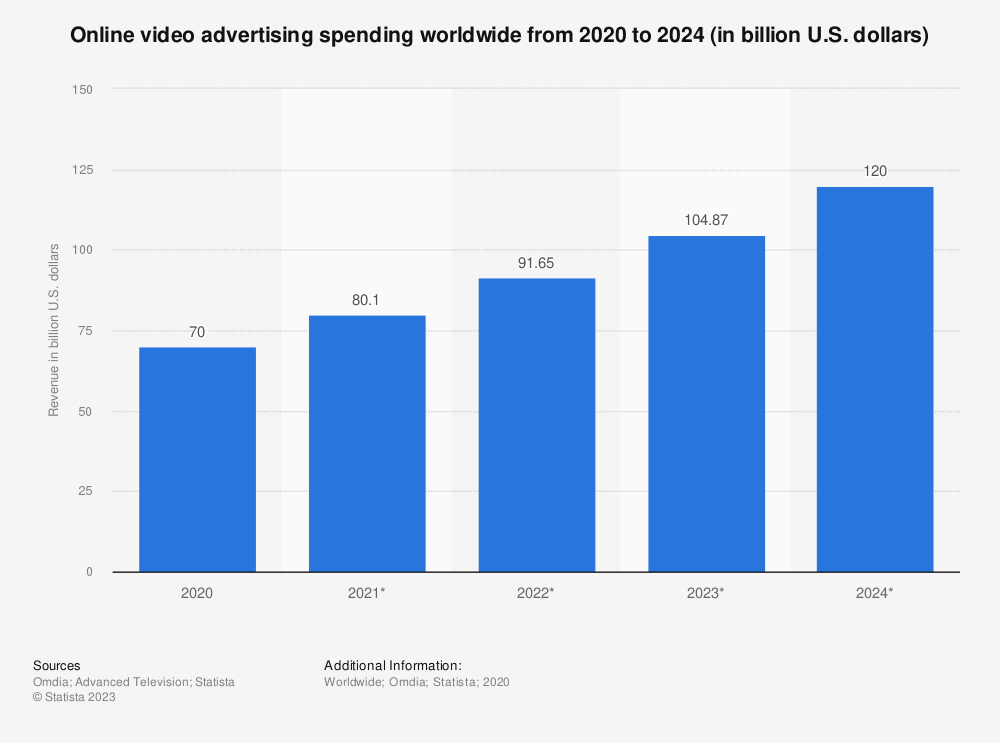 Source: Statista
7. Growth of Programmatic in CTV
When you watch a TV show on an ad-supported streaming show, the adverts you see are often delivered through a programmatic mechanism. You might have noticed that you tend to see the same adverts repeatedly, sometimes in every commercial break.
This is connected TV, or CTV for short. CTV advertising is estimated to grow by 10.4% between 2023 and 2028. It's clear that the rise of programmatic in connected television will be a top trend in 2024.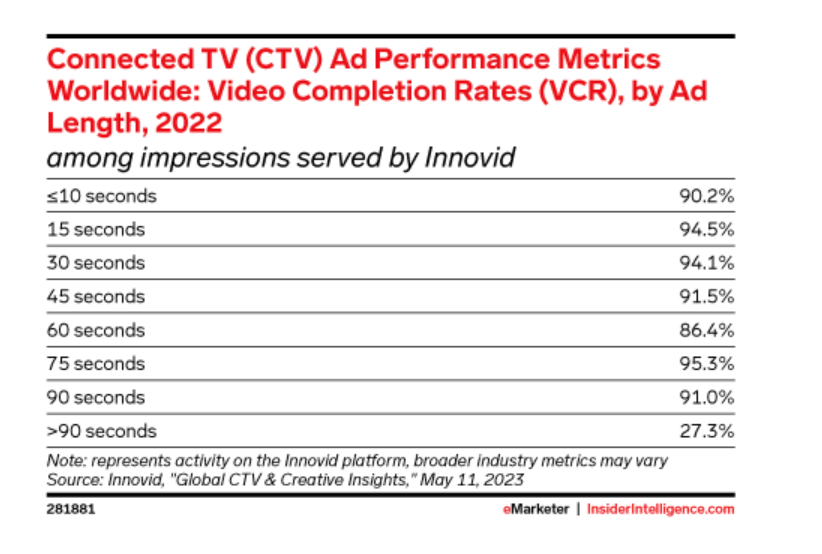 Source: Insider Intelligence
This growth will come as no surprise, with an increasing number of people shifting towards streaming services and connected TVs as their primary choice for watching television. Brands and advertisers who integrate CTV programmatic advertising into their marketing strategies will be best placed to effectively engage their desired audiences.
It's likely that consolidation among distributors, a more competitive bidding process, more connected TV users and refinements to what is rather complex technology will result in greater diversity in adverts.
And that's important because no one is happy with incessant adverts. They irritate the viewer, do the creative a disservice and are detrimental to purchasing behaviour.
So, in the coming year, look out for signs of the CTV sector getting its house in order. There's a huge market there that's not being addressed properly.
And advertisers see CTV's potential. According to Statista, the overwhelming majority of marketers worldwide plan to increase CTV advertising spend.
8. More In-App Ads
Similar to CTV, programmatically delivered in-app adverts took steps forward in 2023. In-app advertising has been hugely successful, supporting nearly 95% of free-to-play mobile games.
The sector is interesting because certain apps, particularly games and gamified apps, can be structured to entice users to actively choose to watch an advert. Take the popular language-learning app Duolingo, for example. If you run out of lives for that day, you can choose to watch an advert to get one back and continue learning.
It's a clever system. The user understands it replaces a direct purchase, and so, they're less bothered about an unskippable 30-second advert. They know the deal. And the advertiser gets to show a long advert within a positive context.
Given that, it's unsurprising that research by Activision-Blizzard, the mobile and console gaming behemoth, found that nearly 80% of players prefer this reward-based ad delivery system. And just over 80% of mobile games feature rewarded video ads.
On the downside, attribution and measurement are real problems in in-app advertising, as mobile operating systems allow users to block tracking. But companies like AppsFlyer are working to help app companies understand their audiences and measurements better.
9. More In-Game Ads
The gaming industry has grown to epic proportions, driving revenues multiple times those of movies and music combined. Despite jumping on mobile gaming early on, the advertising industry has been slow to address the immense opportunity of in-game advertising on consoles and PCs.
In-game ads have the potential to reach a vast demographic spread across all ages, genders and household income brackets.
After a few false dawns, enough legal and investment decisions have been made that we can say in-game programmatic is finally, just about here.
The first big decisions were made in 2022 by the Interactive Advertising Bureau and Media Rating Council. They introduced new in-game ad standards, clearing the way for growth in programmatic in-game advertising.
And this year, investment has followed. Big players, such as Sony and Microsoft (the latter of which has just acquired Activision-Blizzard), announced their intention to put ads in their free-to-play offerings. On the agency side, leading adtech firm Trade Desk has set up an in-game advertising team to help realise what it sees as a £100 million per year opportunity by 2027.
Adverts can be delivered seamlessly onto in-game billboards, allowing adverts to be shown without breaking immersion. According to a study published by Anzu, a leader in programmatic in-game advertising, 70% of gamers in the UK feel either neutral or positive towards embedded in-game advertising – an encouraging statistic.
Free-to-play and freemium games will lead the charge on this. The introduction of adverts into AAA console games is a way off yet, as enticing as it may sound.
10. More Augmented/Virtual Reality Ads
Even further down the line, due to additional technical challenges and a small user base, is AR and VR advertising.
While well-heeled companies have already made branded experiences in VR, programmatic delivery of organic VR adverts into third-party VR applications is not yet on the horizon.
11. Google's Project Magi
Not satisfied with just cookie-based marketing, Google is also planning on throwing a spanner into SEO-based marketing with its new search engine, called Project Magi.
Project Magi is to replace (or augment) Google's keyword-based search engine. Its main features are conversational search results based on natural language processing, personalised results based on what it knows about you, and integrated transactions.
Here's a practical example:
You won't have to visit a website to buy some shoes; you'll be able to do it within the search results.
The implications for SEO are unclear at this stage, and less clear still for programmatic. It seems like Google intends to keep more traffic on its first-party platforms, reducing web traffic generally. Fewer visitors would impact the value of ad space on websites.
Some are predicting a gradual shift away from cost-per-click toward cost-per-acquisition as the standard metric for ad spend.
Unfortunately, no one can answer with any real confidence what Project Magi means for e-commerce and the marketing/advertising ecosystem.
Wouldn't it be great, though, if you could click on an advert for some shoes and they're guaranteed to be in stock in your size? One can dream!
The Last Word
This year in programmatic advertising has been exciting – and next year promises to be even more so. The sector's terrain is shifting rapidly, and agencies will have to rise to many challenges, not least from the impending third-party cookie deprecation.
By this time next year, we expect to see developments in first-party cookie technology, a deepening of sentiment-enhanced contextual advertising and a clearer picture of the viability of in-house programmatic.
While we might see some solutions to the in-app ads personalisation problem, what we don't expect is much movement yet on in-game advertising in the "hardcore" gaming sector. We think it will take quite some time to solve problems like immersion-breaking in a way that's acceptable to all stakeholders.