In-App Advertising Guide for Publishers
In-app advertising is an essential monetization strategy for mobile publishers, as apps are one of the most effective advertising tools for capturing the users' attention, increasing CTRs, and providing ad revenue streams for app publishers.
In this article, you'll learn what in-app advertising is, what are its benefits, and how to reach maximum ad revenue potential from apps.
What is In-App Advertising?
In-app advertising allows to deliver ads and ad campaigns on mobile apps, which includes smartphones, tablets, and wearable devices like smart watches.
In-app ads are typically delivered to users based on their location, demographic information, and interests, which can help ensure that the ads are relevant and engaging for the user.
Therefore publishers can use in-app advertising to monetize their apps, and advertisers can use it to target a specific demographic with their ads.
These ads can take the form of a banner, an autoplay video in a game, and sponsored tweets or posts on social media apps.
How In-App Advertising Works?
App owners get paid to serve ads within their apps, and publishers get to keep their content free for users. It increases the amount of downloads, and allows publishers to earn scalable revenue.
App publishers make arrangements with ad demand sources who fill inventory in exchange for a revenue share. In-app advertising is one of the three main ways app publishers make money, along with in-app purchases and subscriptions.
Why consider in-app advertising?
The time users spend on mobile apps has grown more rapidly compared to the amount of time spent on mobile web.
Data shows that in 2020 users spent more than 4 hours per day browsing the internet through their mobile devices, from which 3 hours and 35 minutes were spent using mobile apps and only 25 minutes using the mobile web.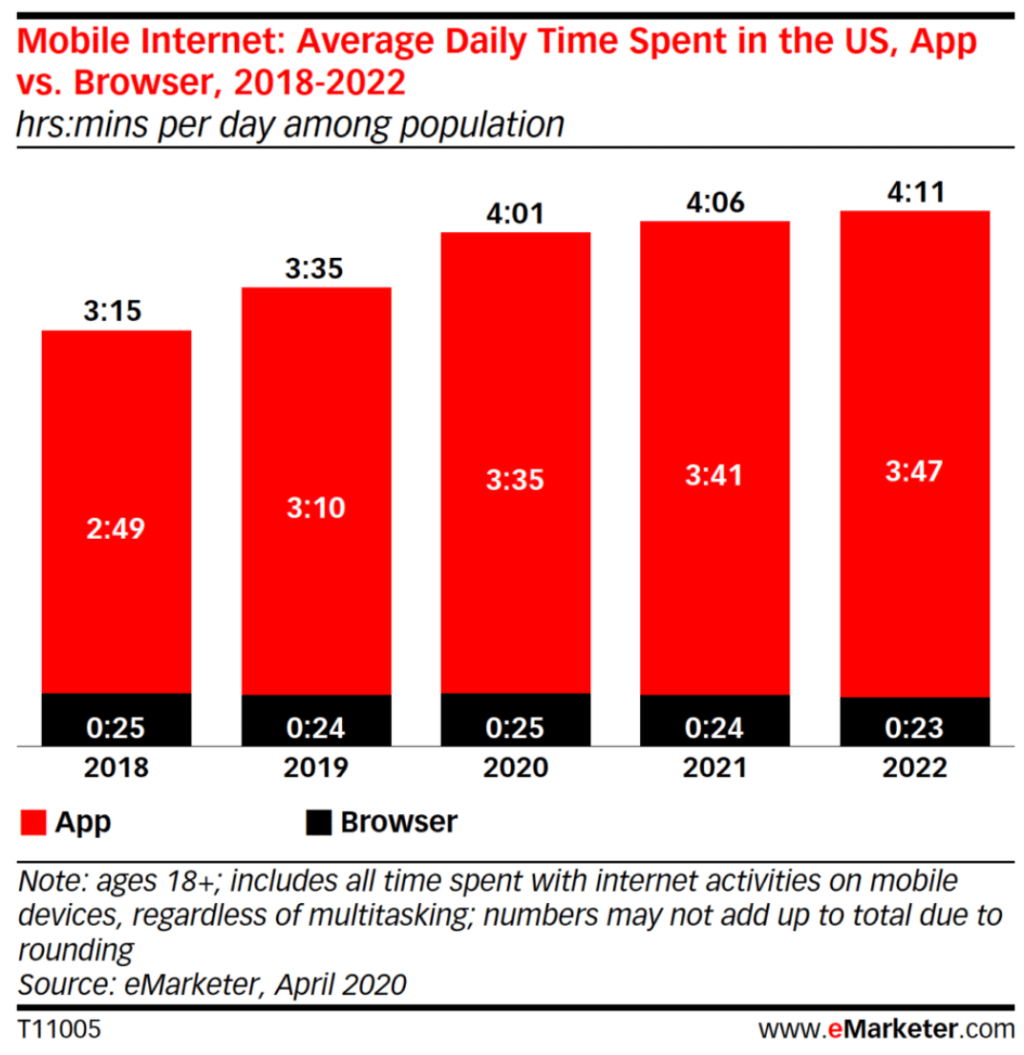 Source: eMarketer
Mobile apps are more convenient for users, as they can quickly access the necessary platform and its features with less effort and steps than through the web.
Typically, mobile apps offer a more user-friendly interface than websites, which increases the likelihood of users spending more time on apps.
In 2021, users spent 92.5% of their time browsing mobile apps and games, whereas only 7.5% was spent browsing the web. There's no doubt that in-app advertising brings many effective monetization opportunities.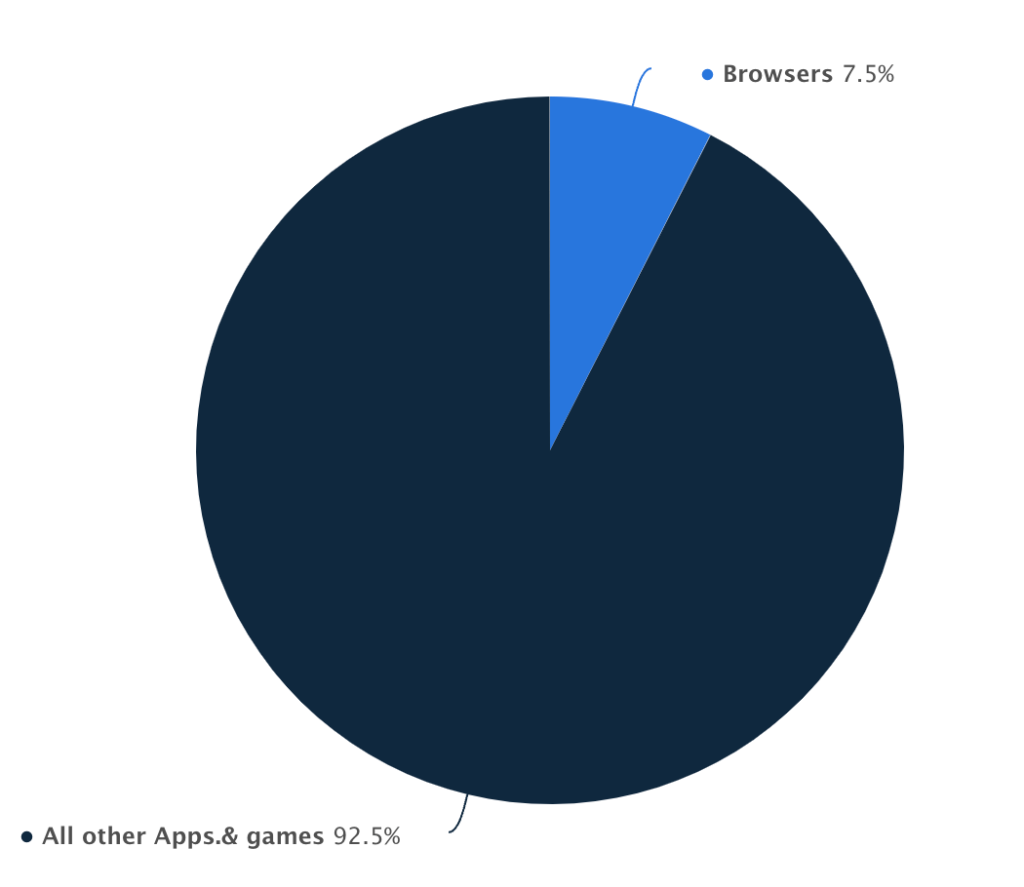 Source: Statista
However, CPMs in mobile apps are traditionally lower than on the web. That's because there isn't enough premium ad inventory and difficulties associated with effective tracking and measurement of ad campaigns. For example, the industry still lacks a scalable ad viewability solution for apps.
In-app vs. mobile web advertising
In-App Advertising
Web Advertising
Pros
• Users spend most of their time on their mobiles browsing apps rather than web.

• App environment is more forgiving, as the in-app ad formats are highly engaging and can be tweaked to fit the design of the app.
• The amount of websites is larger than the amount of mobile apps, which means there is more advertising demand.

• The web allows to use standard ad formats, which makes it easier to create ads that properly fit on both desktops and mobiles.

•Programmatic advertising is currently more developed on the web and delivers higher CPMs for publishers compared to apps.
Cons
• There's a small portion of apps dominating the market (social media and messaging apps), and users typically spend most of their time in these top apps.

• Scaling can be challenging as many networks have their own ad format requirements, which means that both time and money needs to be invested in the creative development.
• The use of mobile ad blockers is growing, which mainly affects websites.

•Ad fraud rates are 25% lower in apps compared to mobile web.
In-app pricing models
CPM (cost per mille)–publisher gets paid each time an ad receives 1000 impressions.
CPC (cost per click)–publisher gets paid each time an ad gets clicked.
CPA (cost per acquisition or action)–publisher gets paid when a customer converts through the ad by completing an action that results in a sale.
CPI (cost per install)–publisher gets paid each time a user installs the app from the ad.
How to Get Advertisers For Your App
Mobile advertising is still evolving, but there are many ways advertisers and publishers can collaborate, such as:
Direct deals–publishers and advertisers can directly negotiate ad inventory sale.
Programmatic supply-side platforms–publishers work with supply-side platforms (SSPs) to automate the management and sale of their ad inventory.
Ad waterfalls–publishers manually prioritize the demand sources. They can also be managed with the help of ad networks and supply-side platforms (SSPs).
Ad networks–create commercial relationships, working as an intermediary between large volumes of publishers and advertisers based on existing supply and demand.
Programmatic ad exchanges–through real-time bidding auctions, programmatic ad exchanges combine inventory from publishers, networks, and SSPs and pair it with the demand from advertisers.
App bidding–enables publishers to conduct simultaneous, real-time auctions between programmatic and network-based demand sources within the app itself. This can generate more revenue, and improve efficiency compared to the waterfall approach.
Hybrid solutions–can offer a combination of any of the above mentioned solutions.
In-app Advertising Benefits
There are 5 main benefits of using in-app advertising:
Mobile apps have higher conversion rates than the mobile web.
Apps have a better user experience and ad engagement.
Users spend more time on mobile apps than they do on the web.
With a move from cookies-based advertising, in-app advertising allows a more precise user targeting and can be more personalized due to the use of first-party data. However, sourcing large amounts of first-party data for small app publishers can be challenging.
Ad Formats for In-App Advertising
Interstitial ads
Interstitials are full-page ad units that are displayed in between screens while using a mobile app. When an app transitions to full-screen mode, for example upon launch, during a video pre-roll, or when a game level loads, the user is typically presented with the ad.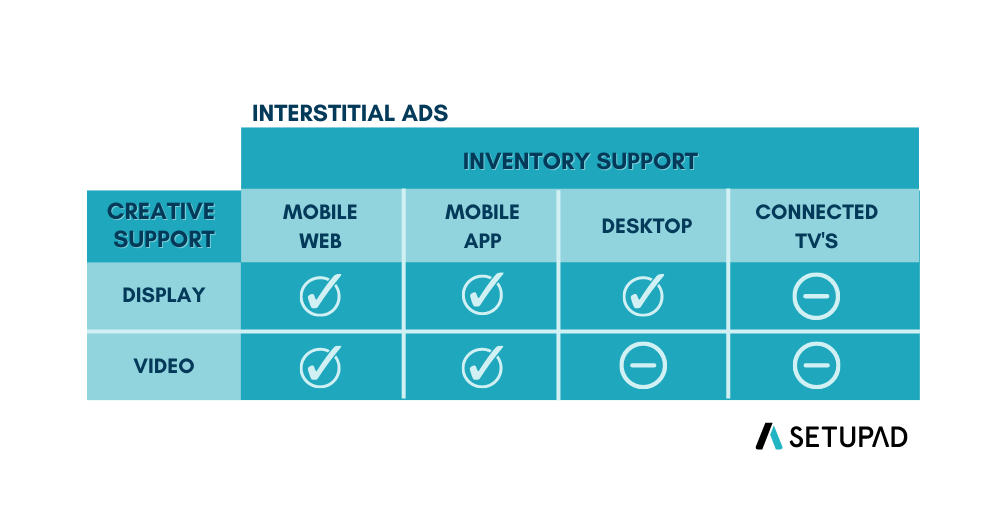 Interstitial ads have a high level of user engagement due to their size, use of rich media, and appeal to premium brands.
Therefore high CTR and conversion rates are generated.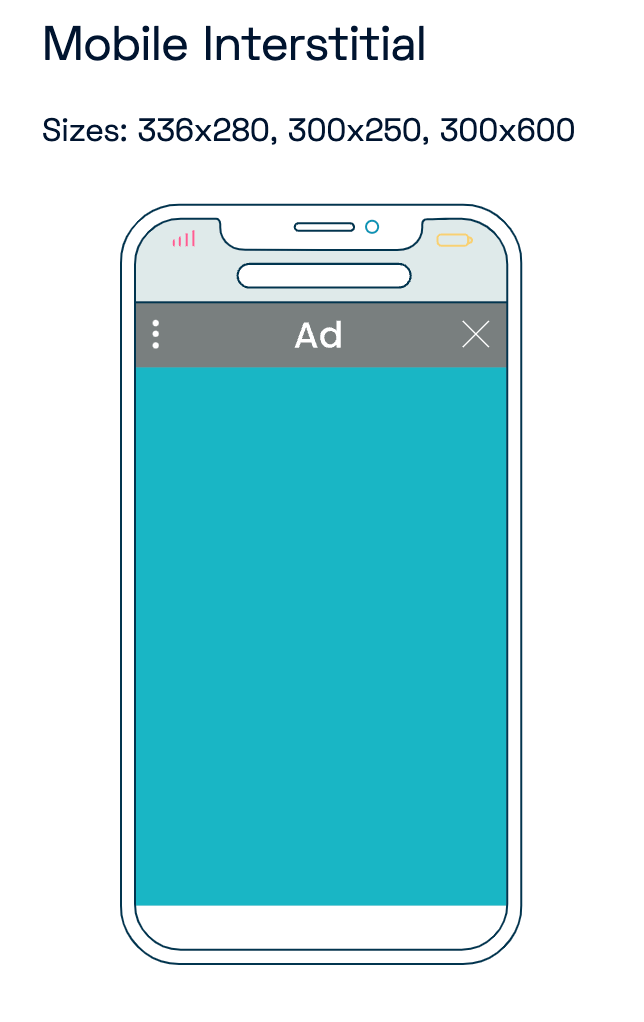 Source: Setupad
Banner ads
Banner ads are among the most popular ad formats. You can see them everywhere, from websites to mobile apps. They are the standard format for all publishers.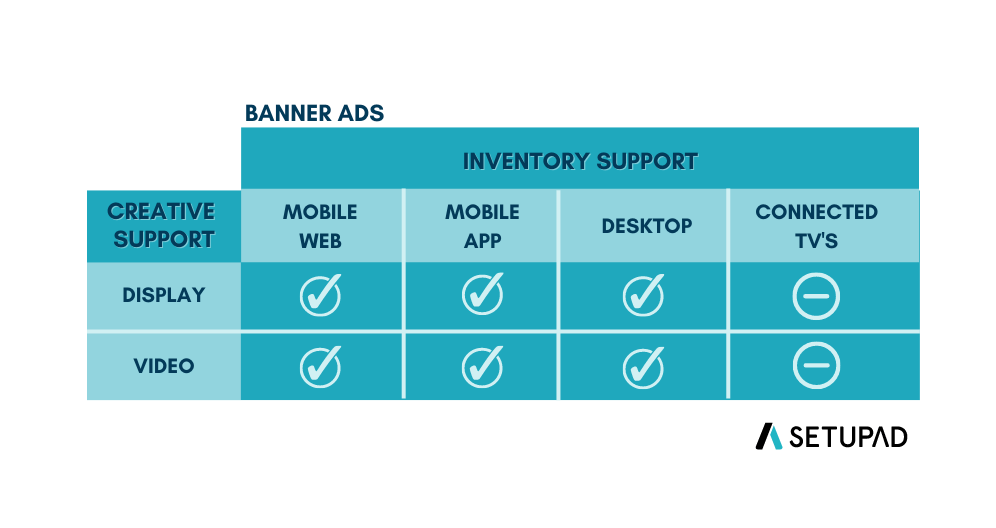 On the user's mobile device, they show up as a bar, column, or box containing text and a picture. They appear in feeds, articles or around content. They are difficult to miss, which makes them effective.
You should pay attention to where they are placed to have good engagement.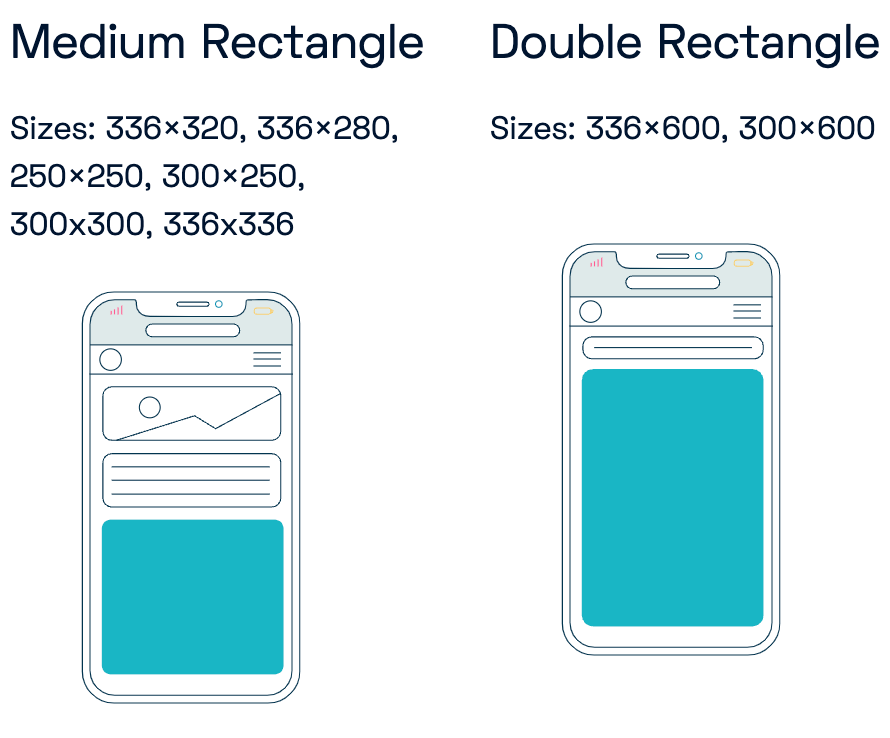 Native ads
Native ads are considered high-performing ads, as they can seamlessly blend in with the surrounding content and improve the user experience.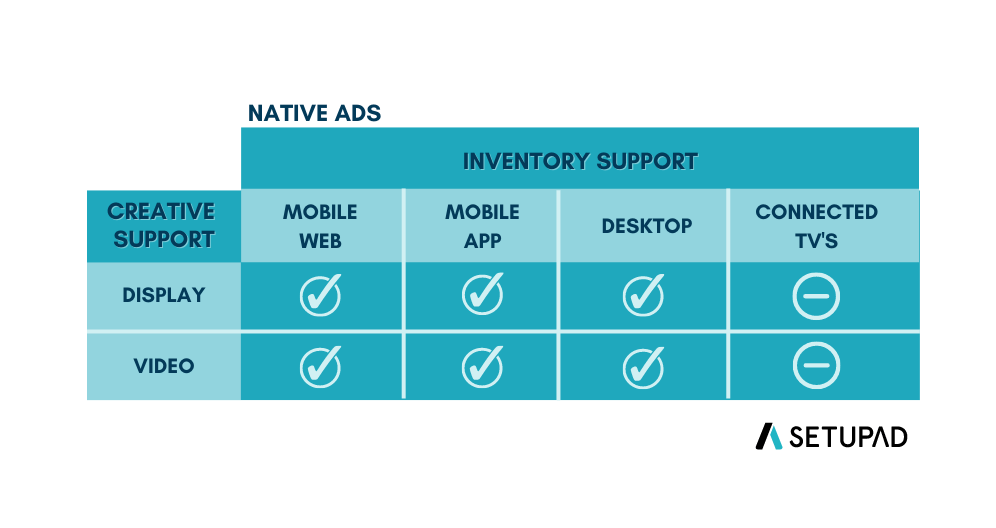 Native ads can also help to increase user engagement with the publisher's content by providing a more seamless and engaging experience.
As a result, they offer a better user experience than other ad formats because users aren't distracted by intrusive ads when reading or watching content.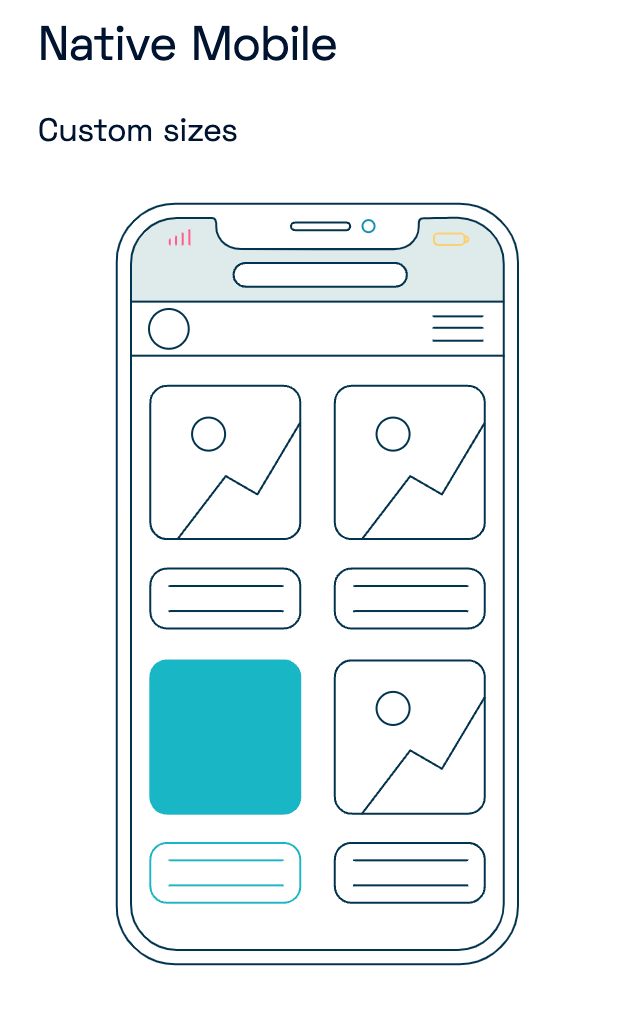 In-stream ads
In-stream ads play while a user watches video content online, or "in-stream." In-stream ads can be viewed in a full-screen view before (pre-roll), during (mid-roll), and after (post-roll) the main content.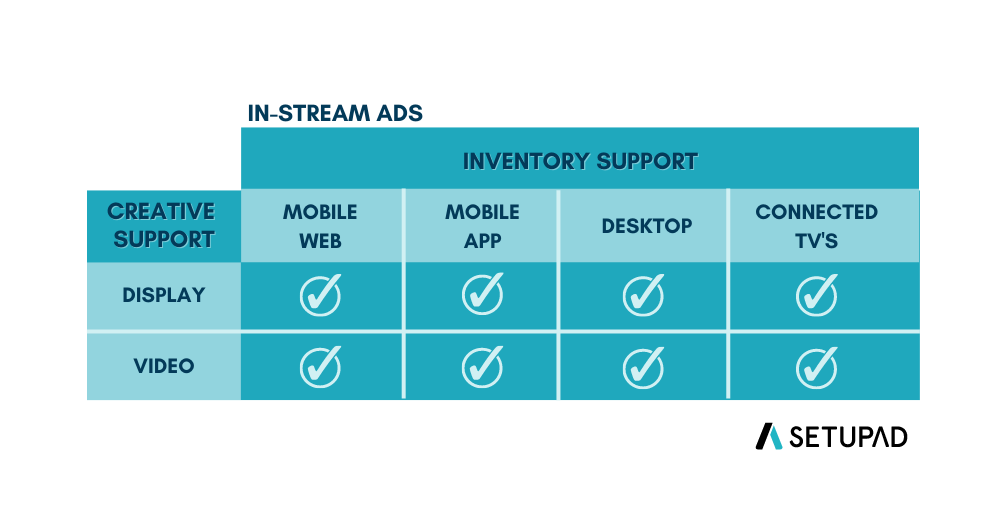 In-stream ads are efficient and provide the most relevant targeting. They can also improve the user experience as they are more engaging thanks to rich media.
Because they may appeal to both the visual and auditory senses and offer lots of space for compelling storytelling, in-stream ads are known for having a strong emotional impact on their audience.
Users can usually skip these ads after 5 seconds, however, sometimes they need to watch the full video.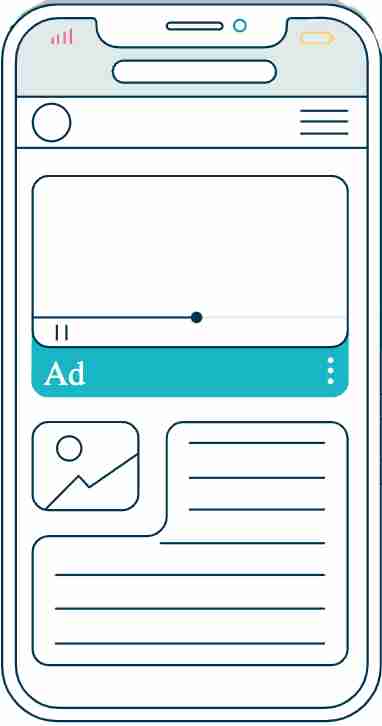 Rewarded video ads
Rewarded video ads can increase user engagement with an app or game by rewarding users for watching an ad. Users typically interact with the ad to gain benefits, such as extra lives, coins, or useful points in the app.
These ads can also increase ad revenue for the publisher. Some of the main advantages are high engagement, CTR, and conversions.
Rewarded video ads improve the user experience by giving users a choice in whether or not they want to watch an ad in exchange for a reward.
Additionally, because users choose to watch the ad, the ad is more likely to be effective, and the user is more likely to remember the advertised product or service.

Source: IAB
App open ads
App open ads are a unique ad format intended for publishers wishing to monetize their app load screens. They are served when a user opens or switches back to your app and can be closed anytime.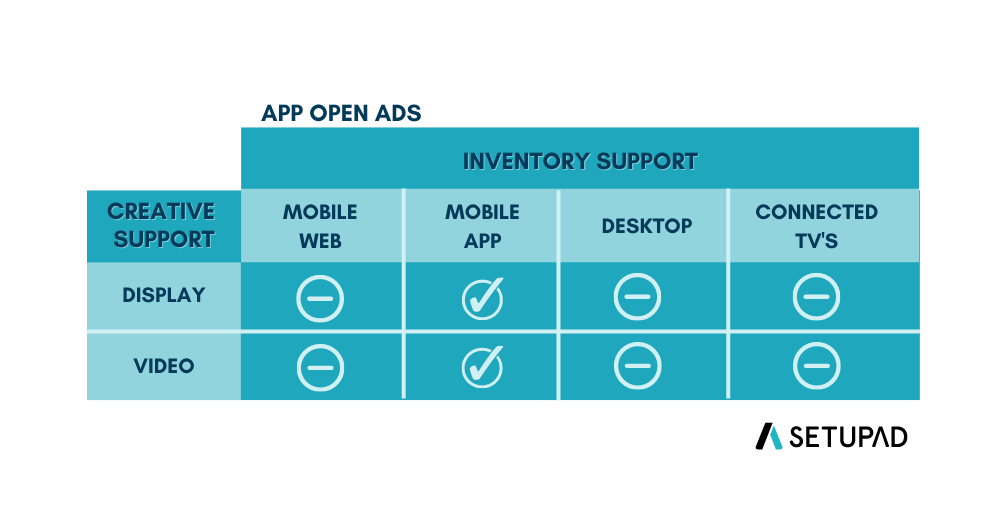 App open ads are specially designed to seamlessly integrate into the app, and the unique app open ad layout offers the best user experience for this placement.
Here are 5 tips to consider before placing app open ad units:
Ad units should only appear when the user opens or switches back to an app.
Ads should be placed on an app's splash (an introductory screen that appears while app loads in the background) or loading screen.
Don't implement ads immediately before or after app open ads, and don't implement app open ads on top of other ads (e.g., on top of content with a banner ad).
Review your app's performance and adjust the app open ads' frequency capping accordingly.
App open ads perform best with apps with a high frequency of open rate per daily user. Apps that are opened more than once every 4 hours see the highest performance from app open ads.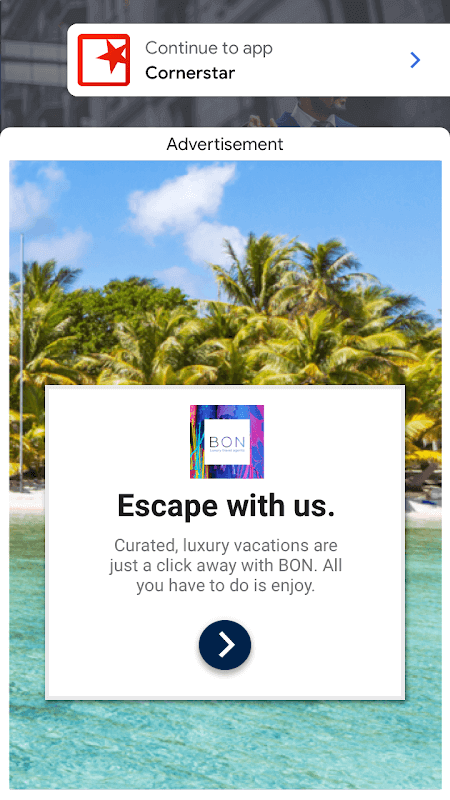 Source: Google AdMob
Mobile In-App Advertising Best Practices
We have gathered 5 best practices for you to use for effective in-app advertising:
Increase engagement with interactive video ads. They encourage users to engage with ads and complete desired actions.
If your app is in the social, news, and gaming category, you'll likely have a diverse base of engaged audiences which is appealing for advertisers.
Make use of interstitial ads, because they are effective for engaging users during ad breaks within apps.
Track, test, and analyze your ad placement, formats, headings, etc. Repeat this continuously to understand your ad performance, and make necessary adjustments if necessary.
Gain clicks and high quality conversions with rewarded video ads as they exchange the user engagement with in-app rewards.
How to Implement In-App Ads?
There are 3 steps you should take when you get started with in-app advertising:
Choose an ad network (e.g., Google AdMob)
Experiment and select the right ad format.
Choose an ad pricing model.
It's necessary to find the right balance between a variety of different criteria before you get started with in-app advertising.
The mobile advertising network you choose should work best for your app, your target audience, and the types of ads you intend to provide.
Additionally, you have to choose which ad formats to offer to advertisers, which will need some experimenting.
How to Measure the Performance of In-App Advertising Campaigns?
Typically the effectiveness of mobile advertising is measured by the number of clicks the campaign generates. It includes the already mentioned key performance indicators, such as CPA, CPC, CPI, etc.
Mobile ad networks can provide data with user behaviour analysis, which includes post-click measurements, the amount of app installs, and conversions.
This information can help advertisers to measure how many post-click downloads and first opens are generated due to in-app ads, as well as calculate the expenses for each app download.
Of course, some of the clicks might be accidental, but there are measures that can increase the chance of high-value clicks.
In this case, relevancy plays an important role, because a precisely targeted audience has a higher chance to purposely click on the ad and engage further with it.
Conclusion
Mobile app users increasingly avoid purchasing apps, therefore in-app advertising is a more viable method for monetizing your app.
Due to the high increase of the average time users spend on mobile apps compared to the web, in-app advertising has a high potential for better ad engagement and performance.
Be sure to follow our tips for in-app advertising to create an effective strategy and reap the advertising benefits of the mobile app world.
If you still have any questions, be sure to reach out to us at [email protected].