AMP ADS: What They Are and How To Get Started?

When Google launched AMP (Accelerated Mobile Pages) project in 2015, it had the idea to create a one-of-a-kind user-first mobile web experience that would support monetization opportunities for publishers and advertisers. Today AMP remains a key part of this idea, with Google continuously striving to improve it and make it more versatile.
In one of our previous articles, we talked about Google AMP, so make sure to check it out first. Today we'll cover AMP ads and how publishers can get started with them.
Table of Contents:
What are AMP or AMPHTML Ads?
AMP ads (aka AMPHTML ads) are faster and lighter ads that publishers can run in the place of traditional HTML ads. These ads are capable of loading as fast as the rest of the AMP page (≈1 second).
Much like AMP pages, these ads are built using AMP's smart open-source components. This means they're stripped down of unnecessary JavaScript (JS) to deliver a lightning-fast advertising experience. Moreover, these ads are validated before displaying, which means they're safe from malware.
The best part is that these ads can be used on both AMP and non-AMP pages, so developers only need to build them once.
How do AMP ads work?
AMP ads work similarly to standard HTML ads. The process involves 3 steps:
Publishers insert an ad slot through the amp-ad tag and define which ad network/SSPs they want to use.
AMP runtime (a piece of JS code that controls the implementation of AMP elements and manages resource loading) sends an ad request to the ad network to retrieve the ad.
The ad network sends the AMPTHML ad, and the AMP runtime begins the ad rendering.
Note, ad networks should have the capability of serving AMPHTML ad creatives. Each ad creative is validated and signed using the Fast Fetch mechanism. (discussed later)
The process is the same for both AMP/non-AMP pages.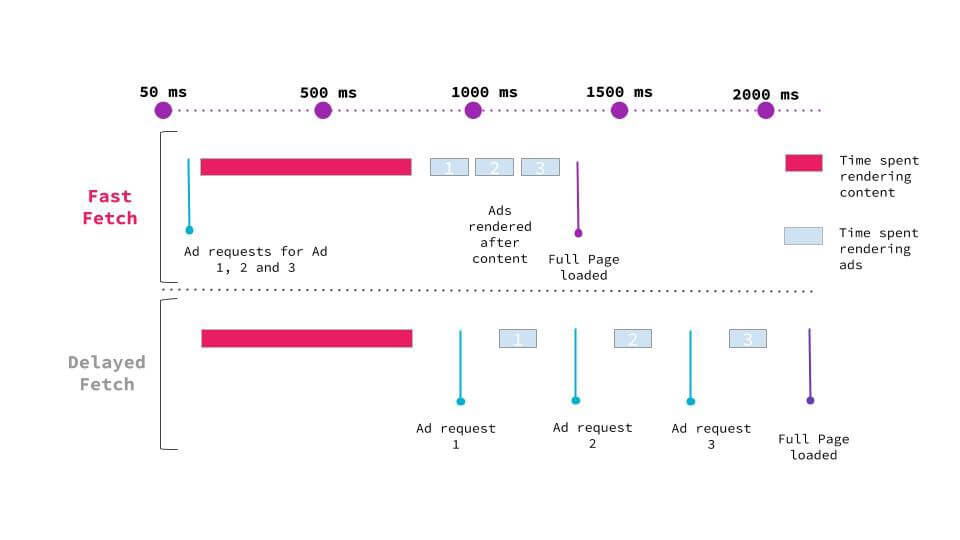 Source: amp.dev

Another thing is the Fast Fetch mechanism which is the reason why AMP ads are so fast. These ads are fetched asynchronously and only render when they are likely to be seen by the users. Because the ad request and the ad response are separated, this allows making an ad request at the earliest stage of the page lifecycle.

To put it all in numbers, Fast Fetch is 2.7 seconds faster than the traditional mechanism of requesting ads.

Below you can see the comparison of Fast Fetch vs Delayed Fetch (a traditional mechanism).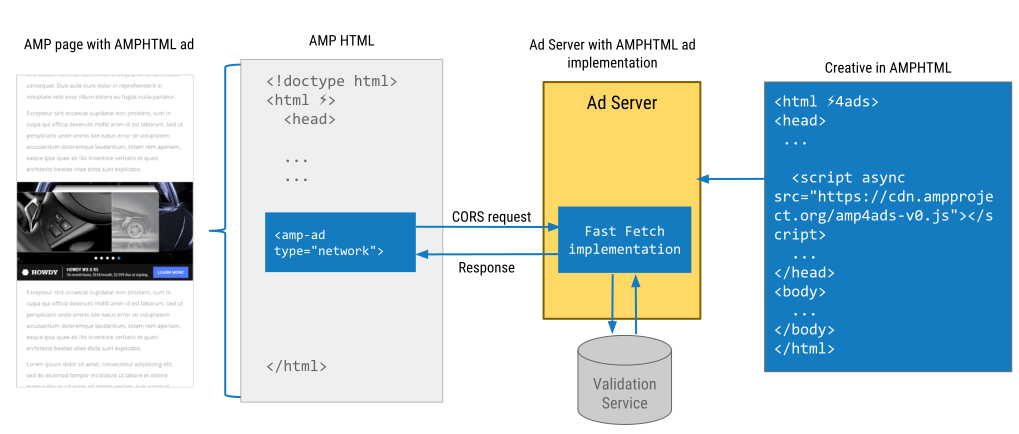 Source: amphtml
AMP Video Ads
Publishers have been historically cautious when it comes to serving video ads on their websites. This is because videos can be heavy and can potentially slow down the website. However, AMP video ads help to improve monetization without harming the speed.
AMP currently supports 16 video players, including DailyMotion, Brightcove, and others. If your player isn't supported, you can use a custom <amp-iframe> component to integrate your existing player.
According to a study, video ads on AMP pages have a 15% higher completion rate and appear 18% more frequently compared to traditional webpages, which is a huge ad revenue benefit.
Publishers can serve instream video ads using the <amp-ima-video> component, which has all the functionality of a standard video player, such as auto-play and docking on a scroll. Publishers without video content can also deliver outstream video ads by using the <amp-ad> component.
Related Article: Instream vs Outstream Video Ads
10 Benefits of AMP Ads
Let's now outline 10 main benefits of using AMP ads for publishers.
Speed: AMPHTML ads are faster than regular ads because they are requested earlier in the page lifecycle. This allows for page rendering and creative selection to happen in parallel. Moreover, these ads are stripped down of all unnecessary elements, which also greatly increases the speed.


Page latency: Slow-loading ads are the main reason publishers suffer from high page latency. However, AMPHTML ads are rendered immediately, which allows to reduce page latency significantly.


Better performance: AMP runtime manages workload prioritization to more effectively consume mobile's resources. For example, AMPHTML ads with animations will not play when not in view.


Size: AMPHTML ads also consume fewer browser resources because they're lighter in size.


Better ad viewability: Because ads load faster, they're more viewable.


Safe: AMPHTML ads are completely ad-fraud safe because AMP validates each ad creative before displaying in front of the user.


Customizable: AMPHTML ads work on both AMP and non-AMP web pages and across any device. On AMP, publishers have a chance to configure different strategies for ad loading by changing a single line of code on AMP. For example, with data-loading-strategy attribute, publishers can tweak their ad configuration for best viewability rates.


Amount of ads: Whereas publishers' HTML page and AMP page must be completely identical content-wise, this does not apply to ads. According to Google, an AMP page can have more ads than the original HTML page allowing for more flexibility and control.


Free: AMP is an open-source project which means all its product suite and resources are completely free.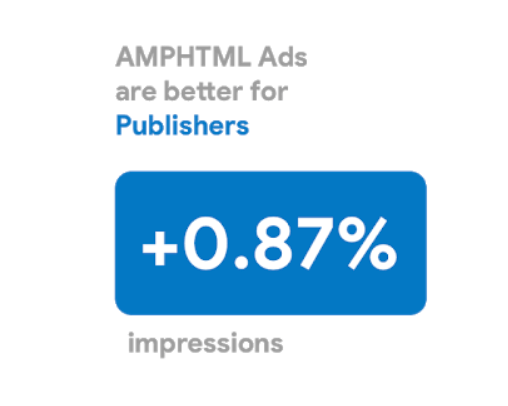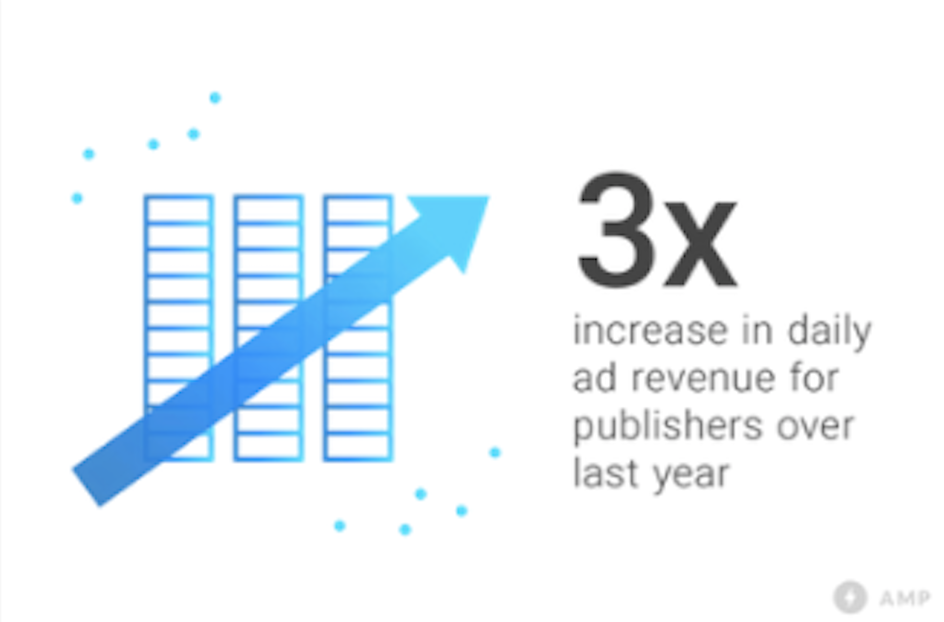 How to Get Started with AMP Ads?
Over 240 ad networks support AMP today (see the full list here). This means publishers will certainly find demand for their AMP inventory. Publishers can also sell their AMP inventory using both direct and programmatic deals.
To serve direct AMP ads, publishers will need to create ads following the AMPHTML ad specs. You can use Google Web Designer or Celtra Ad Creator tools or dedicate it to your web developer. Then you just need to deliver them through a supported ad server. There are currently 5 ad servers that offer integration with AMPHTML ads:
Google Ad Manager
TripleLift
Dianomi
Adzerk
Google AdSense
To serve AMPHTML ads through programmatic channels, publishers just need to use a supporting ad network/ad server from the following list.
Publishers using AdSense can easily start using AMP ads on their AMP pages. AMP supports all AdSense features and most ad formats, except rich media ads. To do it, all you need to do is create a display ad unit for your AMP page. See the complete how-to guide here.
Publishers using Google Ad Manager can also easily generate ad tags inside GAM without manually coding anything. AMPHTML ads can run on AMP pages (via the Ad Manager AMPHTML ad tag) and non-AMP pages (via the Google Publisher Tag).
Note, AMP does not support certain ad formats and heavy creatives, such as rich media ads like interstitials and expandables. However, you still have a pretty good choice of ad formats, for example, sticky ads and flying carpet ads.
In 2018 AMP has launched the Real-Time Config (RTC)–an alternative to traditional header bidding that works alongside the Fast Fetch mechanism. RTC was specifically designed to run inside header bidding wrappers like Prebid.js on AMP pages. RTC allows publishers to add up to 5 demand partners for each ad slot and set a timeout up to 1000ms. To use RTC, the ad network you use must also support this feature.
However, if you work with a monetization platform like Setupad, you could integrate AMP ads with a traditional header bidding wrapper. This is also the most cost-effective solution for publishers as it allows to connect more than 5 demand partners for each ad slot at the same time, which translates into higher revenue.
We at Setupad take care of the implementation process with our hybrid header bidding wrapper and amplify your revenue. Sign up today to find out more!
Setupad Mobile AMP Ad Format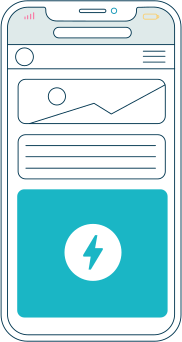 In Conclusion
Many adtech platforms, ad networks, and agencies have joined the project, while AMP pages are getting one of the best chances of scoring well with Core Web Vitals and other ranking factors.
However, in recent years AMP has been criticized for being too limited, and many industry experts predict the technology will soon fade away.
Google has faced serious allegations in recent years regarding anti-competitive practices with AMP, such as when Google would let its exchange win despite submitting a lower bid. Many suggest AMP poses a significant threat to the open web with its alleged favoritism in rankings.
This is why we see new technologies emerge that offer similar benefits but don't sacrifice functionality, such as Firebolt by Cloudflare. Therefore, the choice is always yours. However, if you can amplify your revenue without risk, why not give it a try?