Google Ad Manager vs Google AdSense | Complete Guide
Google Ad Manager and Google AdSense are products that help publishers earn money from website monetization. However, each has different features and is designed for publishers with different needs.
This article covers the main differences between Google Ad Manager (GAM) and Google AdSense. Read on to find out which platform is right for you.
What is the Difference Between AdSense and Google Ad Manager?
Google Ad Manager is a complete ad management platform that combines ad server functionality and allows publishers to manage their direct and programmatic sales across all devices. Google AdSense is an ad network through which publishers display ads from Google Ads advertisers.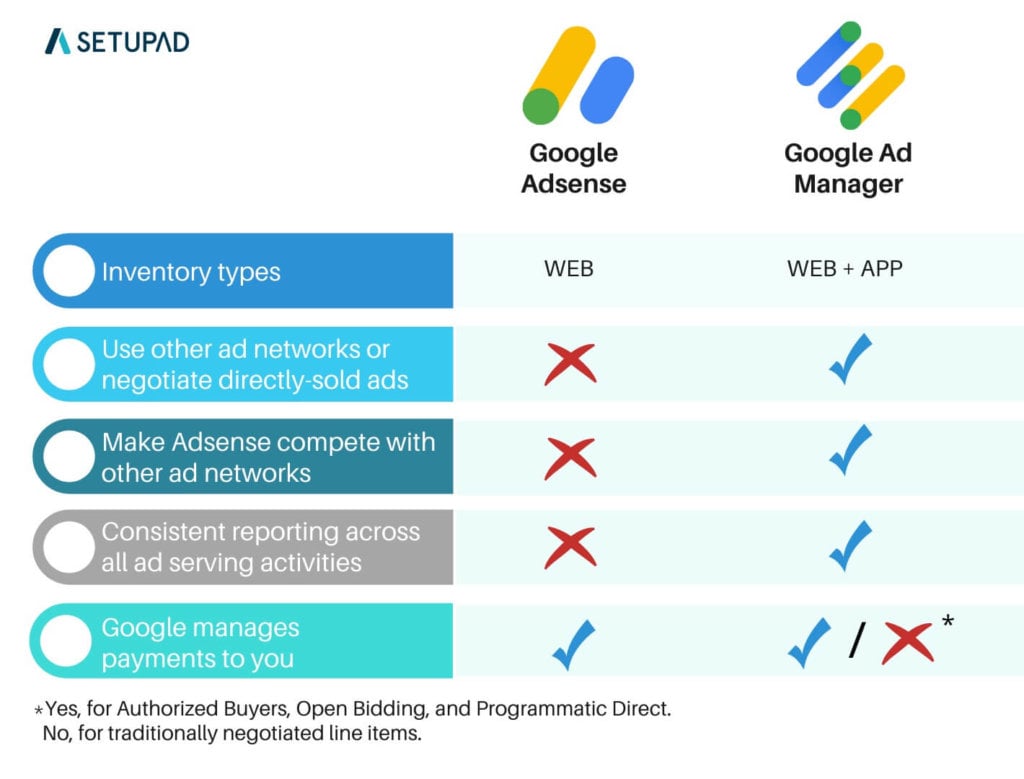 What is an Ad Server?
An ad server is a technology used by publishers, advertisers, ad networks, and ad agencies. Publishers need an ad server to sell ad inventory to advertisers directly (i.e., direct campaigns).
On top of that, it can be used to manage programmatic ads, optimize ad campaigns, and track ad performance from a single place.
What is an Ad Network?
An ad network isn't a technology but a company that sits between publishers and advertisers. It aggregates and categorizes ad inventory from publishers and offers it to advertisers who want to promote their products and charges a commission for that.
Check out our full ad server guide for a more detailed comparison between an ad server and an ad network.
What is Google AdSense?
Google AdSense is a free CPC (cost-per-click) platform for publishers to earn money from displaying ads on their websites. These ads come from Google Ads, which is a platform for advertisers.
AdSense displays programmatic ads based on publishers' website audience and content. Publishers earn money each time users click on their ads.
Google Adsense has only one demand partner–Google, which in most cases doesn't allow to reach a maximum price for selling their ad inventory as it is in header bidding.
AdSense Ad Example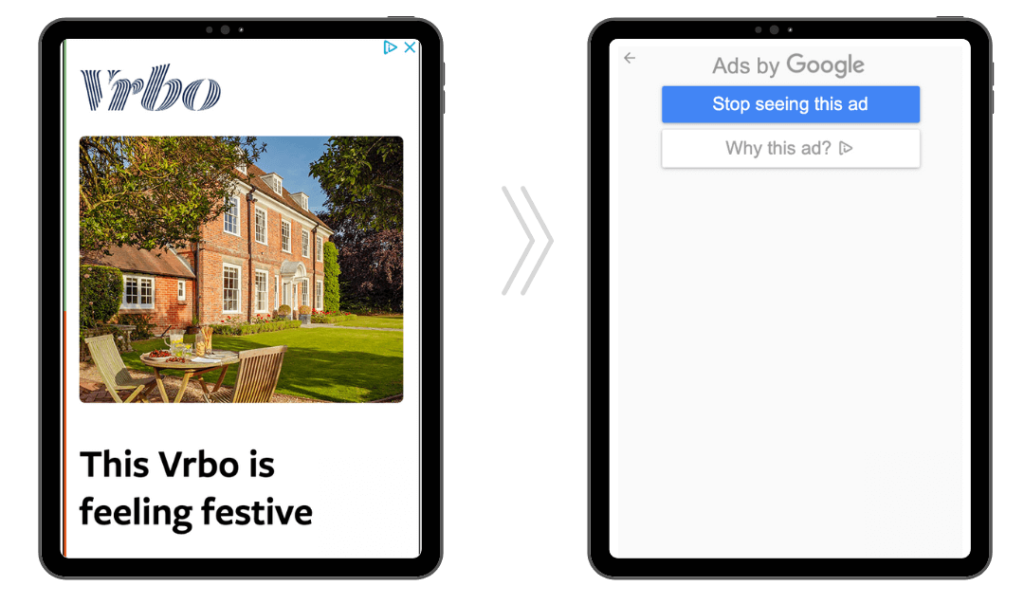 Google AdSense Benefits
It's a free, self-serve platform.
Suitable for small publishers (<100K monthly traffic).
Easy to set up, no advanced technical skills needed.
Auto Ads option allows users to easily serve ads without investing time in ad setup.
If you're looking at how to make money with Google AdSense, we have a full guide available here.
What is Google Ad Manager?
In 2018, Google rebranded a range of its advertising products to make them more straightforward for end-users.
It merged DoubleClick for Publishers (DFP) with DoubleClick AdExchange (AdX) into a unified platform: Google Ad Manager (GAM).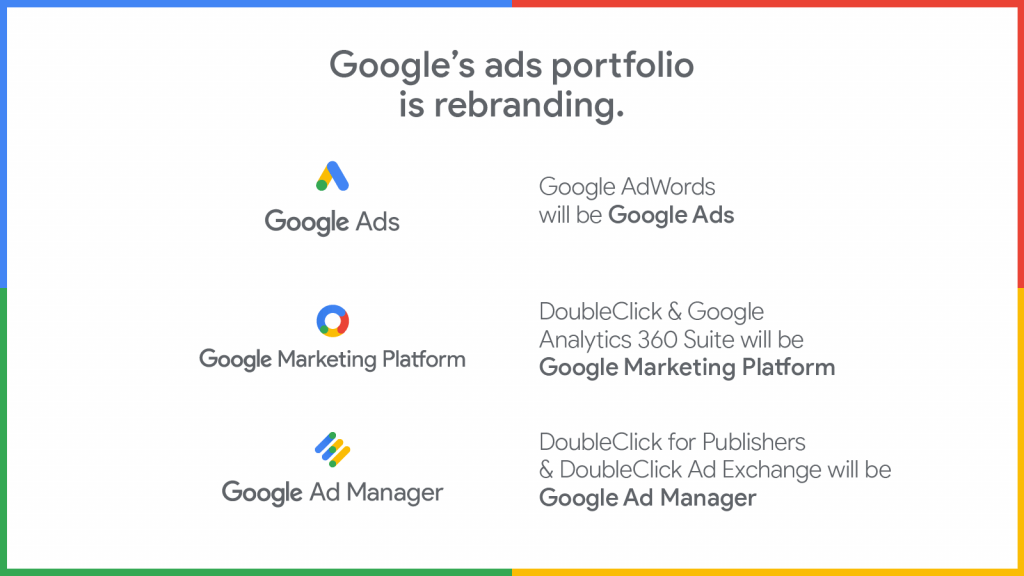 GAM is an advanced ad management platform for medium-large publishers (monthly traffic >100K) with significant direct sales. GAM allows multiple demand partners (ad exchanges, ad networks) to compete for the publisher's ad inventory in real-time, maximizing revenue for sold ad impressions.
Google Ad Manager is used for:
Ad delivery and reporting from a single platform.
Management and optimization of direct and programmatic deals, like open auction.
A wide range of targeting options (location, ad placement, inventory, etc.).
Creation and delivery of line items (files containing information about ad unit size, placement, targeting, etc.), priority setting, and frequency capping.

Google Ad Manager Benefits
A central platform: With GAM, you can monetize all types of ad inventory (website, mobile, app, video) and manage both programmatic and direct deals.
Revenue optimization: GAM competes against other ad networks and ad exchanges in real-time, including Google AdSense and Google AdExchange, allowing publishers to sell their inventory at the highest price.
Flexibility: From GAM, publishers can send invites to direct buyers, accept insertion orders (IO), and earn money through different revenue models such as CPC and CPM.
Efficiency: By keeping track of the availability of your ad inventory, the forecasting feature helps to manage direct and programmatic sales more efficiently.
Advanced analytics and reporting: For example, you can see the performance of individual demand partners or filter the best-performing ad units.
Who should use GAM?
GAM would be useful for publishers who:
need to manage and target direct campaigns effectively;
want to use Google AdX;
are ready to use a more advanced solution like header bidding.
How To Get Started with Google Ad Manager?
There are 2 ways to get started with GAM.
Applying for GAM with an existing Google AdSense is required. Note, you must comply with Platforms program policies and Google Publisher Policies. Google will review your application, and if all the requirements are met, you will be approved to open an account.
Sign up with an authorized GAM partner, like Setupad. In our experience, this method can help to speed up the approval process.
Note, as part of Google's switch to MCM, all publishers who want to access AdX demand are now required to have a GAM account by January 31, 2022.
Google Ad Manager 360 vs Google Ad Manager
There are two versions of GAM: Google Ad Manager Small Business (free version) and Google Ad Manager 360 (paid version).
The table summarizes the differences between the two:
Google Ad Manager
Small Business
Google Ad Manager 360
Price
Available free of charge.
Paid version. The price depends on the number of monthly ad impressions and features. You negotiate this directly with a sales rep.
Impressions
90-200 million monthly impressions (number depends on your location).
Above the free version limit. Negotiated with Google.
Features

Customized reporting.
Access to API.
Access to historical data.
Management of line items.

All features available with the free version plus:


Direct support from Google.
Access to first-party audience segments.
Advanced video ad options.
Auto suggested ad units.
Open Bidding.

Best for
Medium, large publishers.
Enterprises.
Will Google Ad Manager work if my AdSense account was disabled?
If your AdSense account was disabled, you may not be able to use AdSense again and, in some cases, other Google products, for example, Google AdX.
However, you may still be able to use GAM as your ad server to manage direct campaigns and connect your ad inventory to SSPs and other demand partners. Therefore, your Google Ad Manager account will likely remain active even if your AdSense account was disabled.
Nonetheless, if you hadn't had your GAM account before your AdSense account got disabled, then you won't be able to create a GAM account, and, ultimately, use it.
Why Should I Choose Setupad over AdSense and AdX?
The Setupad solution is ideal for both AdSense and Google Ad Manager types of publishers. Firstly, Setupad can achieve a minimum of 30% increase in revenue compared to Google AdSense, thanks to demand coming from not only Google but also from 30 other demand partners (SSPs).
Moreover, even if you don't meet the qualification requirements for Google AdX, which is arguably the biggest selling point of GAM, you can still access it through Setupad. Our header bidding wrapper is fully optimized with Google, allowing publishers to access Google AdX through GAM and tap into the demand of all our header bidding partners. This means you can enjoy all the features of GAM360 without needing to be a large enterprise publisher to qualify for it.
Additionally, our Setupad Prebid Manage Account is a perfect solution for publishers looking to upgrade their AdSense monetization and get a better return on their ad inventory with ease. It provides immediate access to Google AdX from Setupad, including Open Bidding, optimized price floors, and Setupad direct deals campaigns.
Furthermore, all our publishers benefit from our server-side integrations, including Prebid server, Google's Open Bidding, and Amazon's Transparent Ad Marketplace (TAM), which collectively account for approximately 35% of all winning auctions.
Conclusion
As you can see, Google AdSense and Google Ad Manager are both great solutions to monetize your website. But the choice of these platforms depends on every publisher's needs and goals.
Setupad is here to help you with the entire process of setting up your GAM account. Just shoot us a message at [email protected] or sign up!