12 Most Effective SEO Tips You Must Know for 2023
In the video above, we explain 5 effective tips on how to rank higher on Google in 2023.
SEO (Search Engine Optimization) is vital for any publisher. In today's oversaturated landscape and constant change of algorithms, it's important to focus on the right tips and employ the right strategy to increase organic traffic.

How to Rank Higher on Google?
In the ever-evolving landscape of digital marketing, achieving a top position on Google's search engine results pages (SERPs) has become paramount for businesses and content creators alike. As we step into 2023, the dynamics of Search Engine Optimization (SEO) continue to shift, demanding adaptability and a keen understanding of Google's algorithms. This guide provides you with 12 actionable SEO tips that are not only relevant but also crucial for enhancing your website's visibility and ranking on Google.
We begin by focusing on a critical aspect that often goes overlooked: User Experience (UX). In June 2021, Google rolled out the Core Web Vitals update, underscoring the importance of UX in its ranking criteria. Traditionally, Google's updates have centered around content quality and relevance. However, with Core Web Vitals, the spotlight is on the user's experience, emphasizing factors such as website loading speed, stability, and responsiveness.
But why this sudden emphasis on UX? The answer lies in Google's commitment to providing its users with the most seamless and engaging experience, especially in an era where mobile browsing has taken precedence. With the transition to 100% mobile-first indexing in March 2021, it has become clear that optimizing for mobile is no longer optional but a necessity.
As we delve deeper into these 12 SEO tips, remember that the goal is to align your website not just with search engines' parameters but to create a satisfying and intuitive experience for your users. Let's embark on this journey to elevate your website's ranking and enhance its digital footprint on Google.
These 12 actionable SEO tips will help to get more organic traffic in 2023:
1. Focus on UX
Google launched the new official ranking update Core Web Vitals in June 2021. Usually, Google's core updates are about the content. However, this time it's all about the user experience (UX).
Core Web Vitals are page experience signals that measure the UX for your site by looking at 3 main things:
stability;
interactiveness and responsiveness.
Why is Google doing that?
Well, Google strives to deliver its users the best experience and engagement across various devices. In fact, mobile signals are the most important with Google's switch to 100% mobile-first indexing in March 2021.
Related Article: What to Do if My Website Doesn't Pass Core Web Vitals?
2. Use Internal Linking
We previously talked about the importance of internal and external links. By the way, we just used one!
Internal links help to link different pages within your site using relevant keywords. It can be a huge opportunity for SEO because, normally, traffic isn't distributed across all pages, leaving many pages orphaned.
For example, Spencer Haws ran an experiment on his website to understand how internal links benefit rankings. After adding internal links to 47 articles (without any content update), 76.6% of the posts saw improved positions in Google. Impressive, right?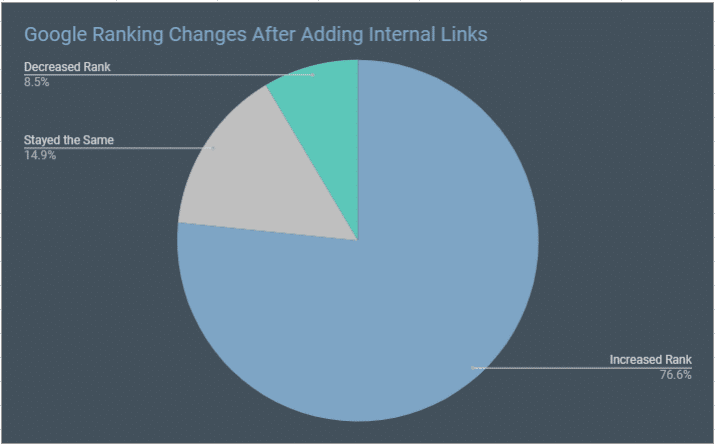 Source: NichePursuits
Utilizing internal links gives Google a chance to better understand context through anchor text (clickable text in a hyperlink) and indicate the value of the page.
TIP! It can also be a good idea to use the 'Related Article' to showcase one of your articles.

However, according to Google's John Mueller, having too many internal links on every page can also be harmful. Because if you cross-link every page, search engines can no longer understand the site's structure and the relevance of one page to another.
3. Focus on Entity-Based SEO
What is entity-based SEO?
Entity-based SEO is a context-based word or term that can be used to describe your niche contextually. Entity-based SEO focuses on large topics and concepts that allow search engines to provide accurate results immediately.
Some keywords and phrases have multiple meanings. Look at the example below. The word "capri" relates to a famous juice drink, "Capri Sun", an island in Italy, a style of pants, and more!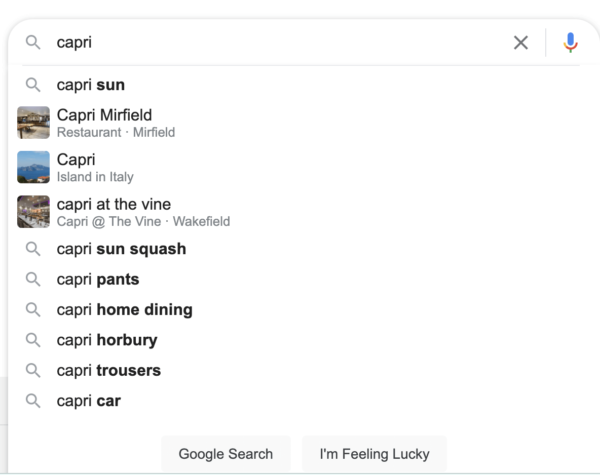 So, how do you get your content in front of the right users?
Today, search engines are advanced with semantic search functionality and can understand the meaning of the users' queries.
To help Google best understand your page, you need to include the word relevant to your niche. It also isn't bad to have it in the meta title or inside the title tag. This is crucial for SaaS content creators seeking effective SaaS marketing strategies.
This is also where internal links and domain authority come in, as you want Google to add you to the high E-A-T (expertise, authoritativeness, and trustworthiness) knowledge graphs.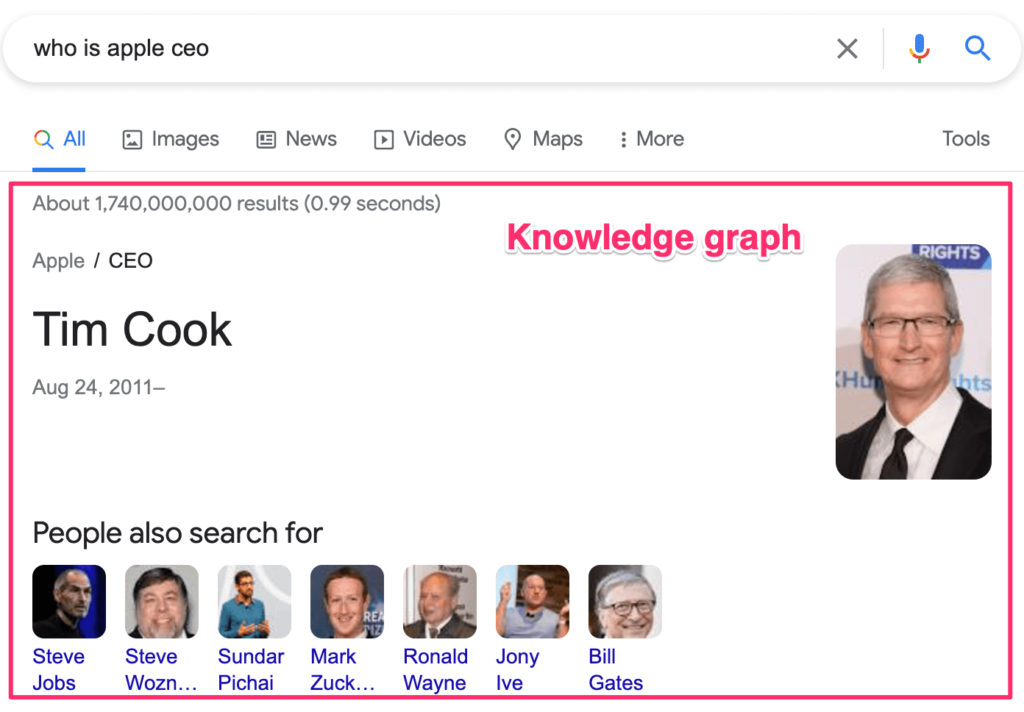 Why?
Because Google wants to rank pages from authoritative sources, this goes beyond domain ratings. Essentially, the more expertise you have on the subject (in Google's eyes), the better it is for your ranking.
4. Recreate Blog Posts as Videos
Video is remarkably the favorite content type among users. So, converting your blog post into a video gives you a better chance to reach a bigger audience.
Research shows that publishers who utilize video content on their websites see 41% more traffic from searches than those who only rely on written content. Moreover, video is also responsible for a 157% increase in organic traffic from SERP. If you need help restructuring or rephrasing your content, you can try to convert it into a new script or use an AI tool to reformat your existing content.
See how we repurposed our blog post about header bidding into a video below.
Your article will get more exposure on SERP. For example, it may appear in rich or featured snippets.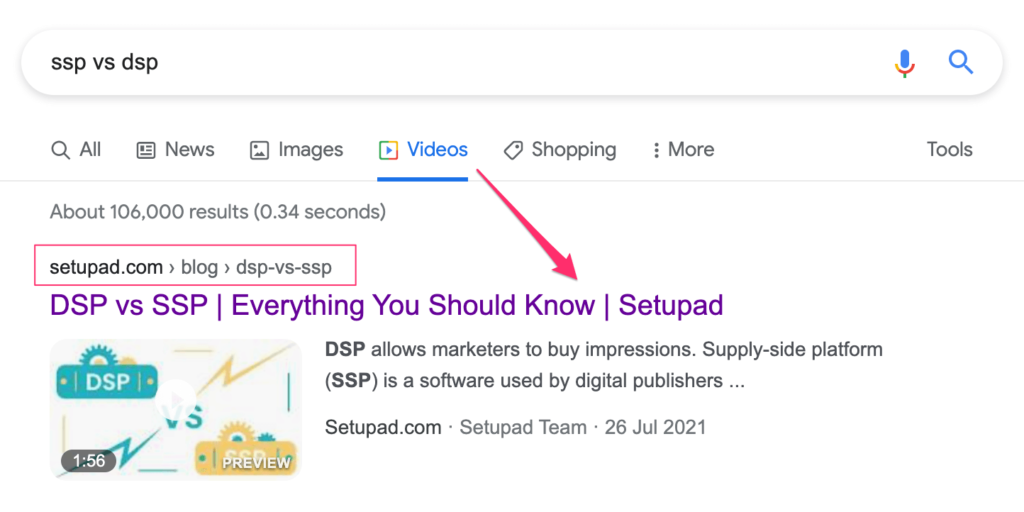 Another tip is to perform YouTube SEO which is opposite to Google SEO. On YouTube, your video needs to get maximum exposure in the first 24h to rank as high as possible, whereas on Google– an article can appear in the first position after some time.
Pro tip: Look on the most popular freelance sites, and you'll find no shortage of candidates to help get this work done for an affordable price.
5. Get on Google Discover
Google Discover is a personalized AI-driven mobile news feed created by Google. It's a type of query-less search with topics that resonate with users' interests and previous search behavior.
Discover feed measures visitors' engagement with the content. Therefore, if they like your content, the chances you'll appear in their feed again are pretty high.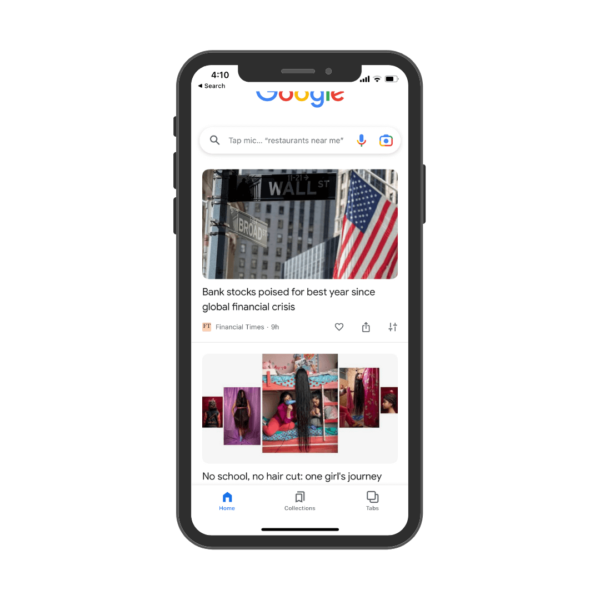 However, Google Discover doesn't work equally well with all websites. According to the analysis of 11,000+ URLs, news websites received 99% of all clicks. Websites that fall into one of the following categories have also shown strong results:
Sports & Entairnaiment
E-Commerce
Hobbies & Activities
To appear on Google Discover, high-quality, engaging content is a must.
Another tip to get the most traffic from Google Discover is to add Max Image Preview meta tag, which essentially tells Google to display your article with a large image.
To do that, you'll need to insert this tag in the HTML source code of your blog article either directly or through a plugin:

It should look like this:

Note that Discover content usually generates traffic only within the first 3 days, which means this tip should supplement your main SEO strategy.
If you are looking for the possibility to express your SEO knowledge, here are some job offers.

6. Update Existing Content
It's essential to keep the content as updated and fresh as possible. This is because search engines prioritize the most relevant (and recent) content for users.
Update existing blog posts
Look at the image below. We updated our blog post about programmatic advertising industry trends on 11/11/2021. The spike on the graph shows how the traffic volume increased after the update.

However, don't think that simply changing the publishing date on your old blog post will do the trick. It's all about the content. So, when revisiting old articles, try to obtain the most up-to-date data and genuinely relevant information plus a keyword research
Add original data to your content
You'll get more social shares and backlinks if you can produce your own data-based content, such as infographics or charts. For example, we used the Setupad reporting system data to demonstrate the eCPM change among 3 websites in our network in 2019-2020.
Source: Setupad
Imagine you're updating an article from 2015 with a screenshot of the Instagram interface from that year. It immediately feels like very old content, even if the information there is still relevant.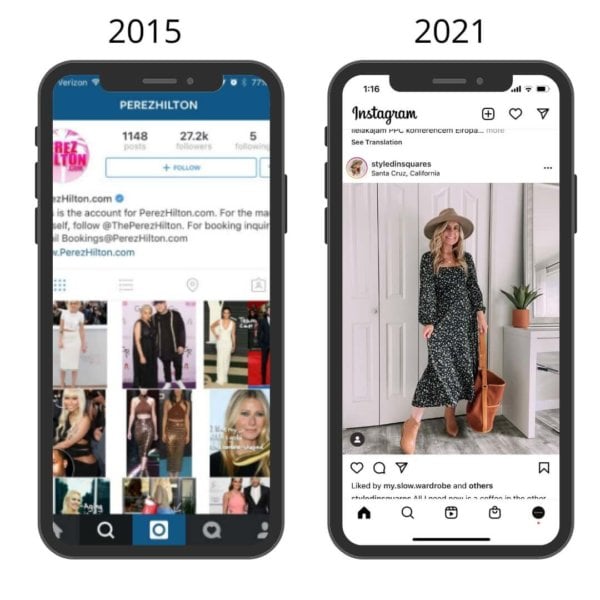 Run a page-level content gap analysis
This can be used to find and add missing topics to your existing content.
For example, we run a page-level content gap analysis in Ahrefs Keyword Explorer for our blog post about 4 types of programmatic deals against the top pages for our target keyword.
We found that it doesn't rank for at least 3 keywords with decent traffic volume and low KD (keyword difficulty).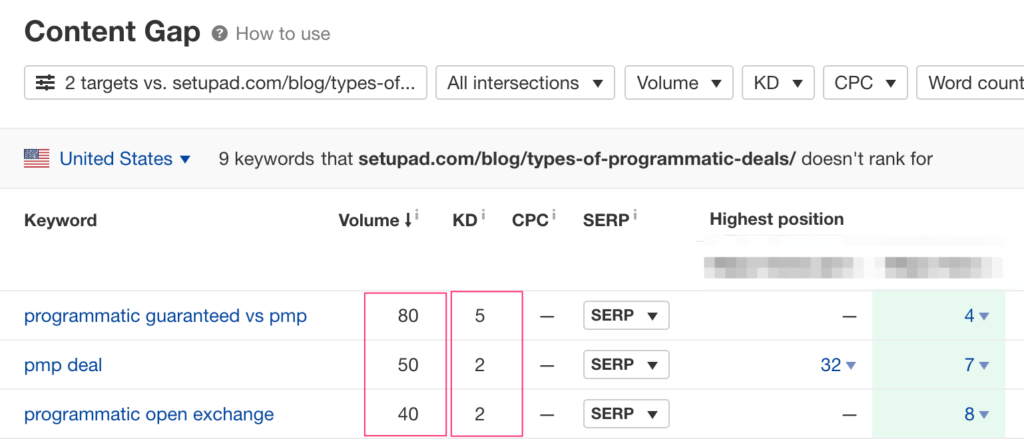 This tells us that once we add the missing information to our blog post, we'll most likely start ranking for these keywords and make our content more in-depth.
Lastly, make sure that your sitemap is updated and crawled regularly so that all these updates are indexed. Here is an in-depth article on what a sitemap is and how to make one for your website.
7. Optimize Content for Voice Search
Voice search isn't far off from replacing traditional search. According to Statista, 55% of UK households (16-24-year-olds) owned a smart speaker in 2021.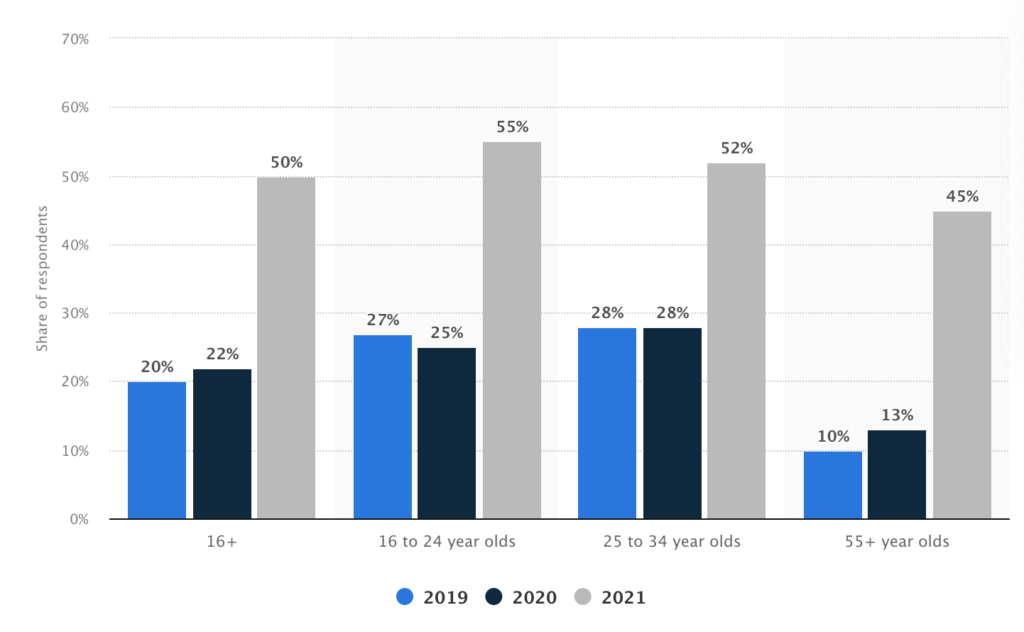 Source: Statista
Optimizing schema markup (the language in which search engines communicate) for voice search will help search engines discover your website more quickly and gain a larger voice search audience.
To do that, try to identify questions your audience asks conversationally. That means people will likely ask natural-sounding questions with long-tail keywords rather than target ones.
Google auto-fill, related searches, and people also ask are great places to start collecting data.

8. Drive Traffic with Long-Tail Keywords
Long-tail keywords are a great way to get decent traffic with highly competitive topics. They're less popular and more specific terms, usually containing at least 3 words or more. They aren't searched as much as your target keywords, making them easier to rank for.
Example
Instead of targeting the highly competitive term "dog food," go after a less frequently searched alternative, "organic dog food." Because your long-tail keyword contains your seed keyword ("dog food"), you can rank for both these keywords and attract even more organic traffic.

At the end of the day, what's the point of targeting a keyword with a huge traffic volume if there is no reasonable chance you'll outrank the top pages?
One of the easiest ways to find long-tail keywords is by looking at Google's autocomplete results and the "People also ask" box. This will give you some insight into the more specific queries.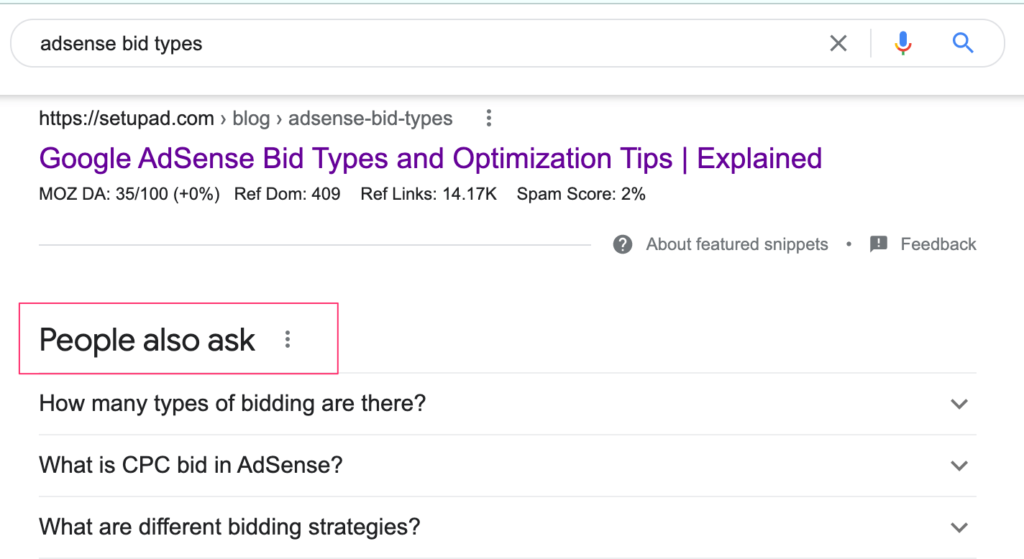 By targeting long-tail keywords, think about satisfying the search intent. Don't just throw in some keywords if you aren't providing an answer to them.
9. Analyze Search Intent
Search intent addresses what people expect to see when searching for something. This is arguably the most important thing in SEO.
When you generate keyword ideas, consider dividing them into 4 categories based on search intent:
Informational
Navigational
Commercial
Transactional
You can use the table below to help you categorize your keywords.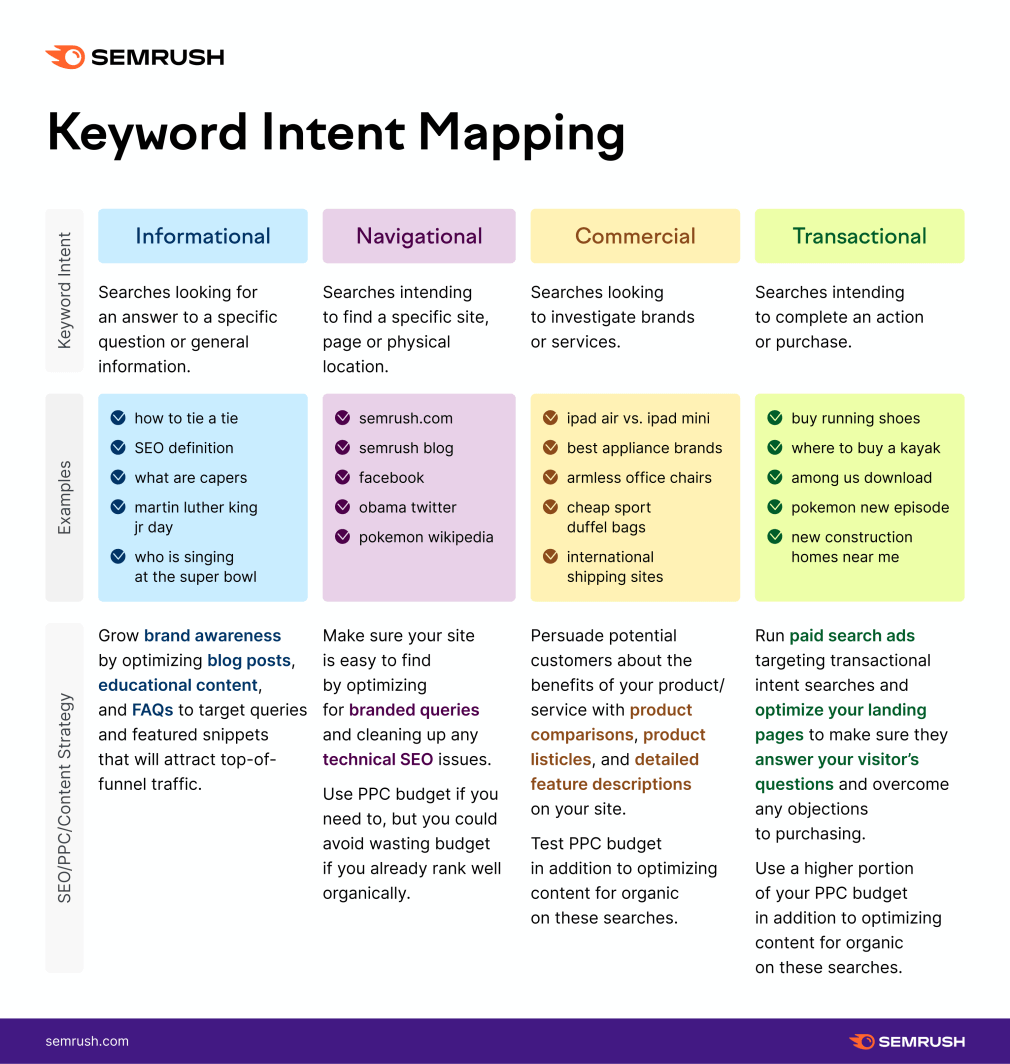 Source: SEMRush
This will give you a rough idea of what your target audience expects to find in your article and what content type you should produce.
For example, if most keywords fall into the informational category, this indicates that you should probably go for a blog-type article or a guide and include definitions and explanations.
10. Optimize for Technical On-Page SEO
On-page SEO is central to users' journey from the moment they discover your page in SERP. Therefore, it should be optimized most intuitively and logically according to previously set SEO objectives. If you don't follow on-page SEO best practices, all other SEO efforts may be worth nothing.
To optimize for technical on-page SEO, consider these tips:
run PageSpeed Insights report to detect any technical errors;
include your target keyword in your title;
use a short and descriptive URL slug;
write a good meta description (it can influence your CTR);
use internal links;
optimize your images (including compressing and writing alt-texts);
optimize for readability.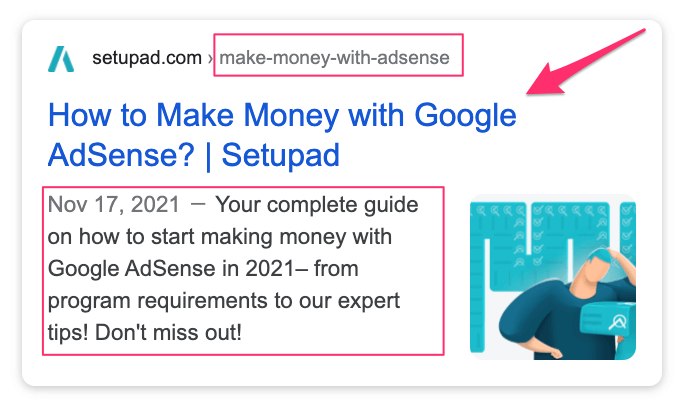 11. Perform Site Audit
Every now and then, you should go over your website and analyze what needs to be improved. For example, getting rid of broken links, broken images, canonical points to redirects, etc.
But what if you have, say, 100+ pages? Where do you start? Ahrefs has a site audit tool that quickly provides insight into key SEO issues, data, and overall website performance.
As soon as you verify your website's domain, the tool will crawl all pages on your website and present you with a list of problems related to speed, links, HTML tags, content quality, and more, as well as how to fix them.

12. Run a Content Gap Analysis
Content gap analysis is a great SEO hack that helps find common keywords your competitors are ranking for, but you don't. It also helps to discover new topic ideas for your blog.
To perform an effective content gap analysis, you need to enter the domains or URLs of your main competitors. Your keyword tool (for example, Ahrefs or Serpstat) will scan your competitors' entire websites and seed out all keywords that have the potential for your website.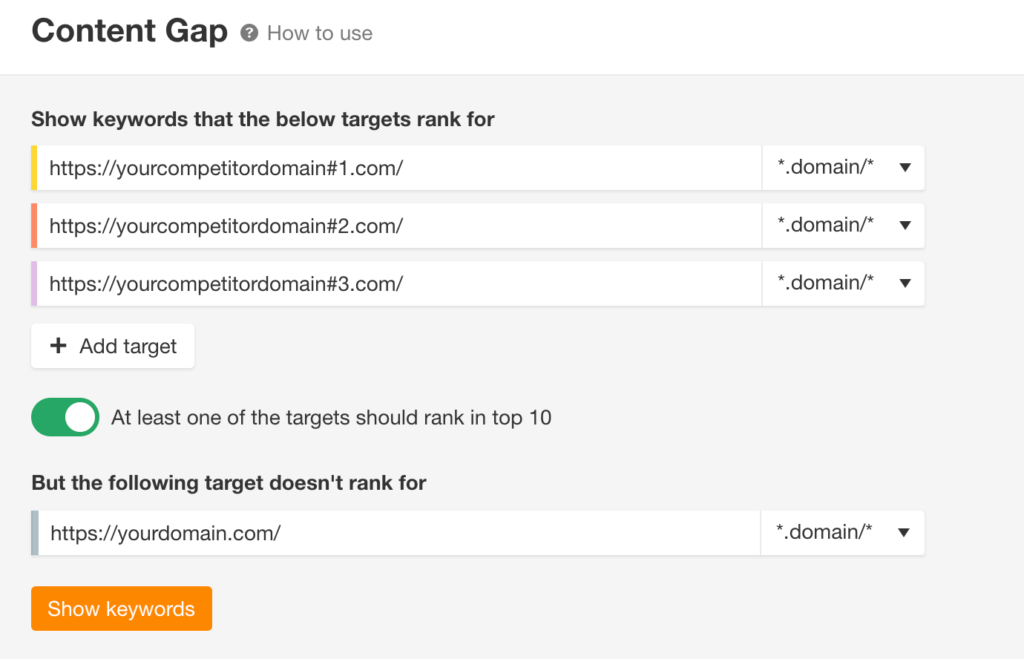 Once you hit the "show keywords" button, you'll see a list of keywords where at least one of your competitors ranks in the top 10 for a target keyword.
It's a great tool to increase the overall number of keywords you're ranking for and when you're out of topic ideas.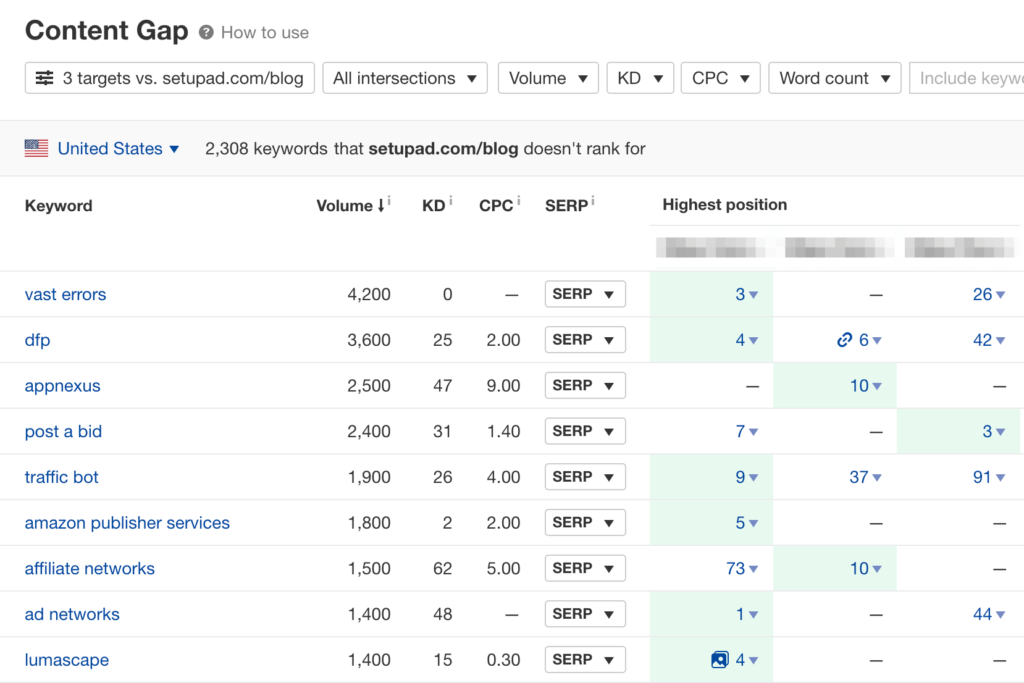 Takeaway
And that's a wrap! The tips above are proven to drive up your organic traffic and improve your SEO strategy for 2023.
But note every strategy is a process, and there are many factors at play that influence how long SEO takes. While implementing one tip may not take you far, you will definitely see the difference once you implement all 12 of them.
We hope you have found these tips helpful. If you still have any questions, reach out to us at [email protected].