Banner Sizes: Best-Performing Banner Ads for Publishers in 2023

Banner ads are the most popular form of display advertising. For the most part, banner ads contributed to the rise of digital advertising.
Banners can be efficiently scattered throughout the website and have many benefits for publishers.
In this article, you'll learn what banner advertising is, the best-performing banner ad sizes, and tips on incorporating banners into your website monetization strategy.
Table of Contents:
What is Banner Advertising?
Banner advertising is the use of rectangular ads that are displayed in high-traffic areas on websites. They have a high advertising demand because this form of advertising is effective for both performance-based and brand awareness campaigns.
Moreover, banners are light, work with any website or app, and are simple to implement for both publishers and advertisers.
For example, the front, bottom, and sides of a webpage are some of the most popular placements for banner ads.
How does banner advertising work?
Banner ads typically have pictures or other forms of multimedia rather than plain text. An engaging banner ad can catch the user's attention and entice them to learn more about the promoted product or service.
One of the most profitable ways to make money in digital advertising is through banner ads.
In the category of banner advertising, ad spending is predicted to reach $155.07 billion in 2022, and mobile will account for $108.60 billion of that.
Source: Statista
Because of programmatic advertising, banner ads are considered profitable. This software allows matching ads to the website visitors' interests increasing ad engagement.
Example of top banner sizes
According to our records, these are some of the most popular and top-performing banner ad sizes.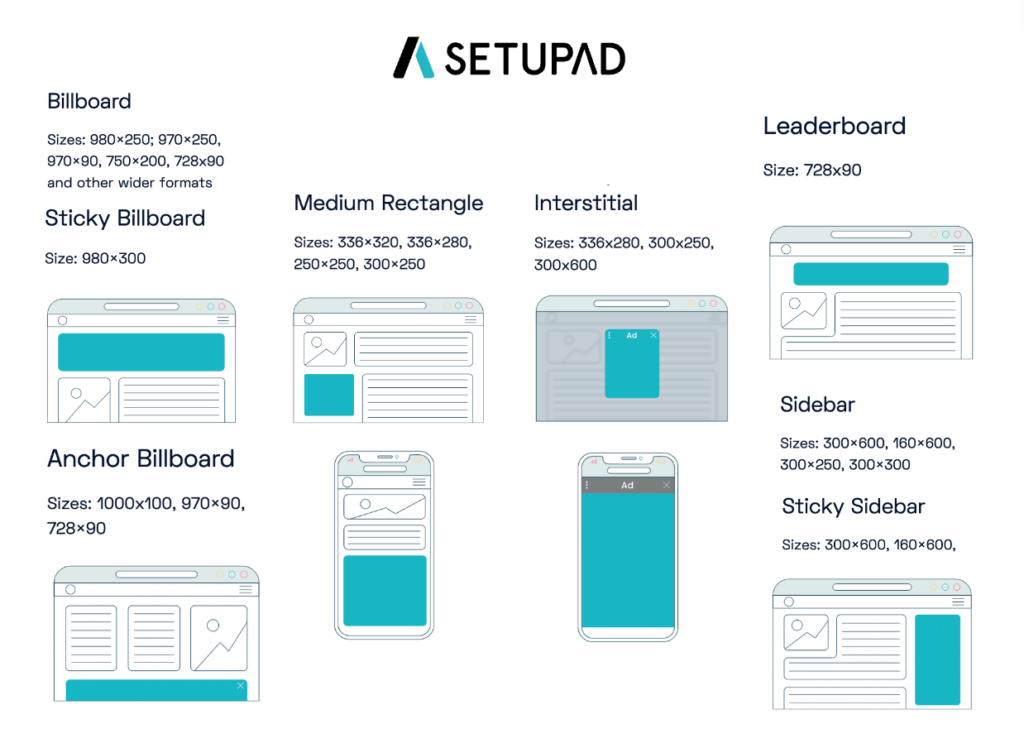 What are the IAB Standard Ad Sizes?
The Interactive Advertising Bureau (IAB) sets standards that help prevent ad fraud and provide a seamless browsing experience for users. There's a primary focus on user privacy, which is the hottest topic in the adtech industry at the moment.
For example, the phaseout of third-party cookies forces advertisers and publishers to rethink how they approach user data. The use of first-party and second-party data is still significant to deliver relevant ads to the users' interests and improve content personalization.
The main points of interest of IAB are to:
Assure that users have a good browsing experience and that ads don't disrupt it.
Give users more control over their advertising experience, for example, including clear close buttons on ad units.

Ensure the website's loading speed is fast enough to keep the user engaged and minimize bounce rate. It's also one of the most important factors for Google to ensure a good user experience and is listed as one of the signals of Google's Core Web Vitals.
There's a list of fixed ad size specifications from the IAB for both desktop and mobile versions that are considered to contribute the most to revenue income and ad efficiency.
Standard desktop banner sizes
Billboard (970×250)
Banner (468×60)
Leaderboard (728×90)
Medium rectangle (300×250)
Skyscraper (120×600)
Small square (200×200)
Wide skyscraper (160×600)
Half page (300×600)
Standard mobile banner sizes
Mobile wide banner (320×50)
Mobile static banner (300×50)
Medium rectangle (300×250)
Mobile interstitials (640×1136 or 750×1334 or 1080×1920)
Feature small banner (120×20)
Feature medium banner (168×28)
Feature large banner (216×36)
Best Performing Banner Ad Sizes
Desktop banner ad sizes
Medium rectangle (300×250)
Medium rectangle is considered one of the best-performing ad units. It's usually placed above the fold and is often used to break up content.
This ad unit can be placed on every page, is suitable for sponsorship deals, and can be embedded in videos.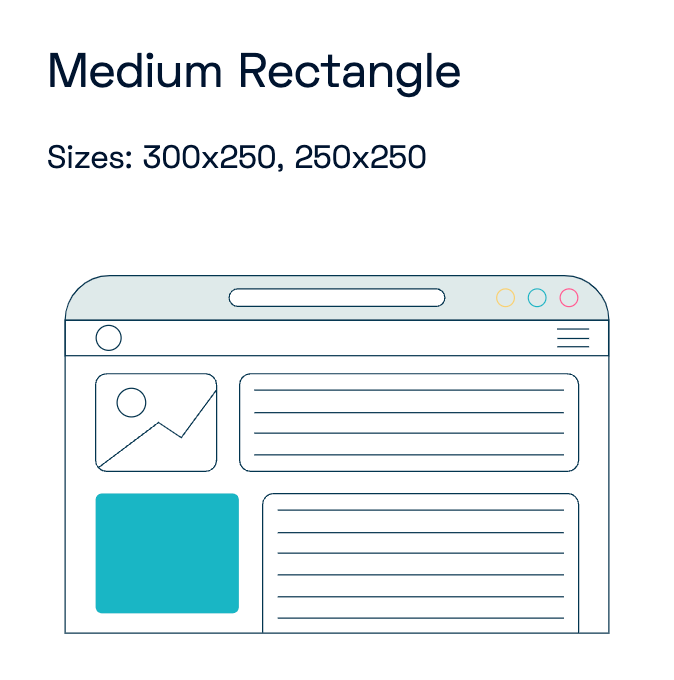 Leaderboard (728×90)
Leaderboard is one of the best-performing ad units regarding CPM. It's often placed above the fold and is considered a necessity in a website's monetization strategy. It can also generate an increase in overall ad revenue.
These ad units can be displayed below the fold as well.
Skyscraper (160×600)
Skyscraper ad is also known as a super skyscraper, wide skyscraper or sidebar. Typically this ad unit is placed on both the left or right side of the page, so users can see it while they scroll down the page.
It replaces the old 120×600 skyscraper because of better performance, but the old ad size is still very commonly used and shouldn't be ignored.
We at Setupad offer the sticky sidebar (160×600), which has a higher ad viewability rate and CPM. Sticky ad format remains on the screen while the user keeps scrolling.
In fact, the most viewable position for an ad is above the fold on the right side.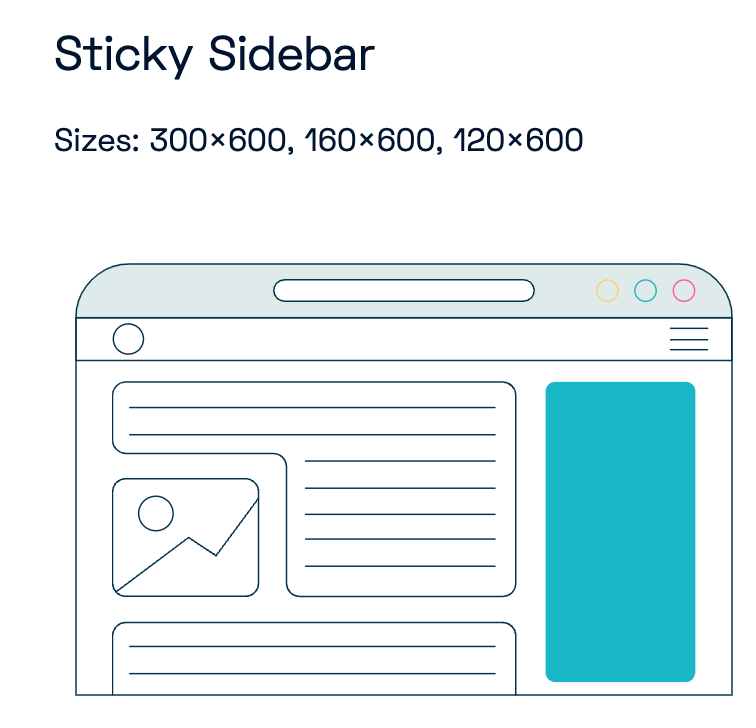 Billboard (970×250)
Billboard is usually used as a pushdown ad. It's common for websites to use it for sponsorship deals.
Pushdown creatives are expanding ad units that push down the content when the creative is displayed.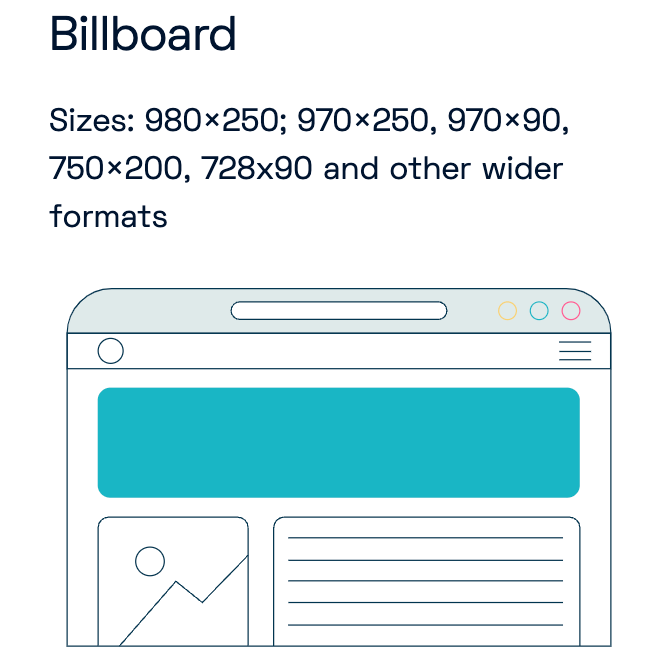 Mobile banner ad sizes
We previously covered 8 best mobile banner ad sizes and formats on our blog, so head over there for more detail.
Mobile leaderboard (320×50)
The 320×50 mobile leaderboard is considered the "big brother" of the 300×50 ad unit.
It's a mobile-optimized banner and works well as a large ad unit, especially if displayed at the bottom of the page.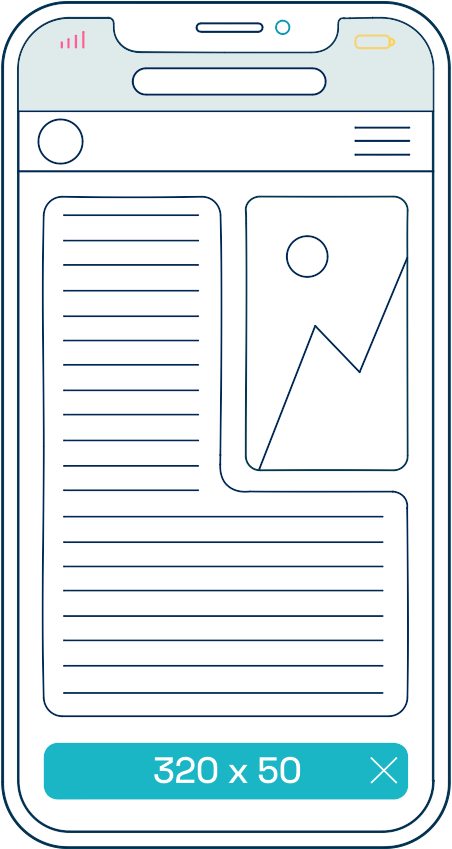 Large mobile banner (320×100)
Although the IAB list does not contain the 320×100 ad unit, it's one of the top-performing ad sizes for mobile.
It's the larger form of the 320×50 and 300×50 ad units, therefore it's referred to as the large mobile banner.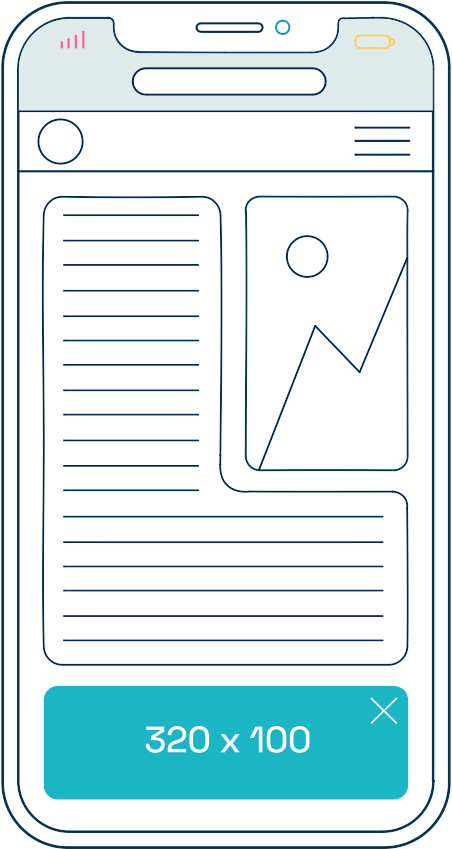 Mobile medium rectangle (300×250)
Mobile medium rectangle is also known as the content ad and is placed within the content.
The format achieves a strong impact by being close to the content and allowing users to interact easily with the ad.
Why should you shift to mobile-first advertising?
Due to the increased mobile usage over the last couple of years, it's essential for advertisers and publishers to adjust their ads for mobile devices.
Additionally, almost 90% of mobile users spend their time browsing apps rather than the web. Therefore, considering in-app advertising is a must if you want to keep up with the adtech industry trends and get the most out of your mobile advertising strategy.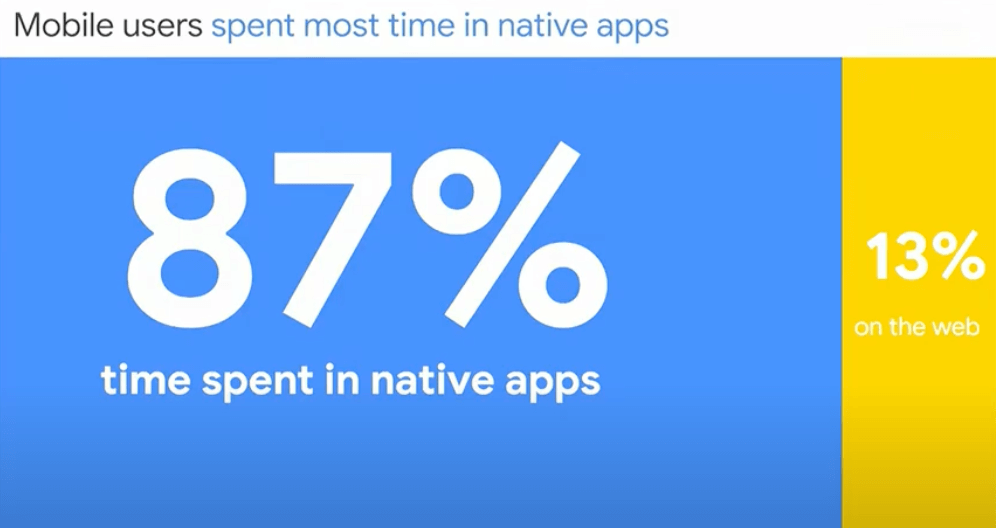 Source: Google Think Partner 2022
Banner Ad Sizes for Google
According to Google, the 5 top-performing ad sizes are:
Medium rectangle (300×250)
Large rectangle (336×280)
Large mobile banner (320×100)
Banner Ad Sizes for YouTube
Here are the 6 most common Youtube banner ad sizes:
Bumper ads (300×60)
Bumper ads are non-skippable video ads. They can be up to 6 seconds long and must be watched before the main video appears.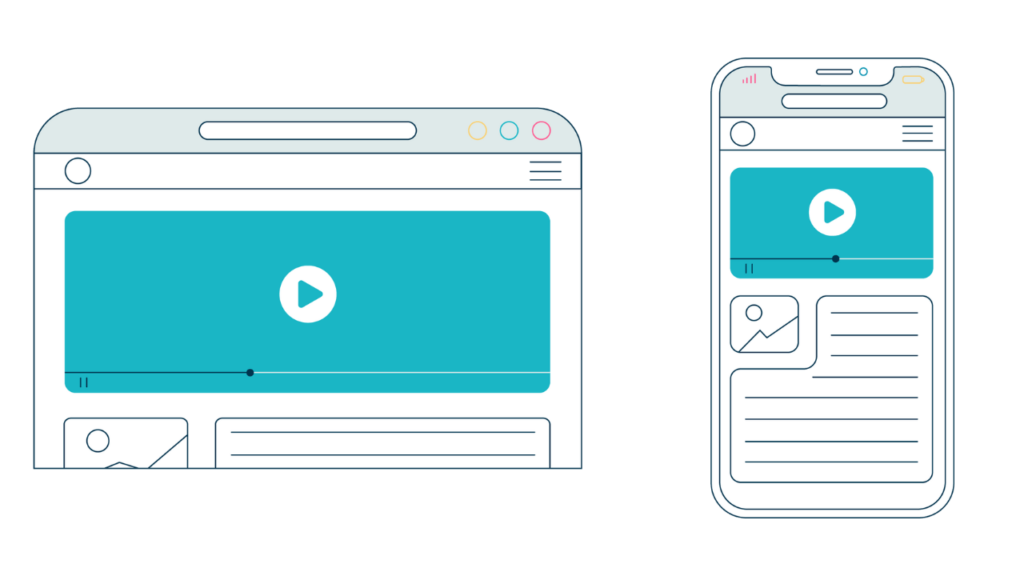 Overlay ads (480×70 or 728×90)
Overlay ads look like images that appear on the lower part of the main video and are designed for desktop use.
Standard display ads (300×250)
Standard display ads typically appear on the right side of the main video above the video suggestions list. They can be displayed as a static or animated image (gif) with a maximum length of 30 seconds.
Companion banner ads (300×250)
Companion banner ads are designed for desktop users. They're typically small images that are displayed on the right margin of the screen next to the main video ad.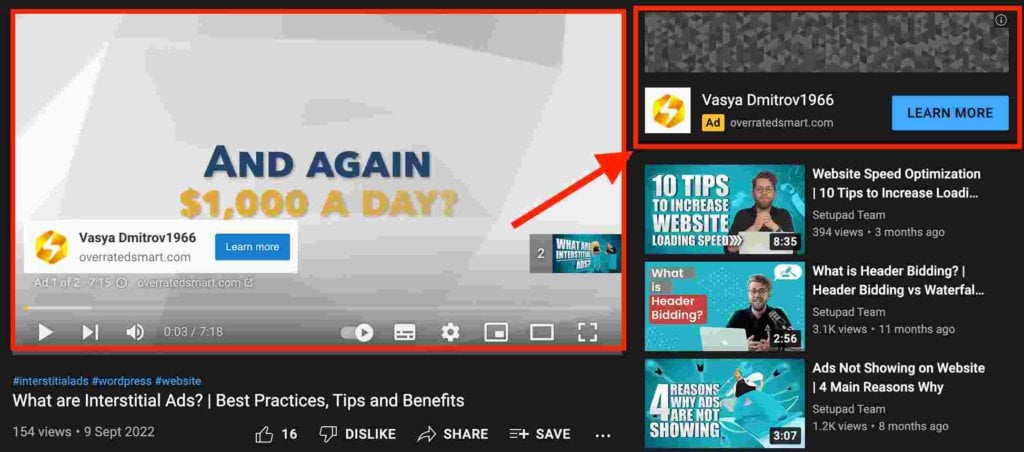 Skippable video ads (300×60)
Skippable video ads appear before the main video. They can be skipped after 5 seconds of watching, but the maximum length is 6 seconds.
Non-skippable video ads (300×60)
Non-skippable video ads can appear before, during, or after the main video. They can be from 12 seconds to 3 minutes long, but the recommended length is less than 30 seconds.
Banner Advertising Strategies to Improve Efficiency
We have gathered 5 strategies that can help you to improve banner ad performance:
Test, measure, and analyze your ads. Performing A/B tests allows you to identify, optimize, and serve the most effective ad units. You should constantly evaluate your ad performance by measuring ad viewability, CPM, fill rate, and CTR.
Reduce banner blindness. Using standard ad sizes might result in users experiencing ad blindness. Therefore, you should experiment with different ad sizes, formats, and placements to see which ones are giving the highest returns.
Adjust to different devices and use top-performing mobile ad sizes. It's essential to continuously test and optimize for both desktop and mobile use. By partnering with a trusted monetization partner, this will be taken off your shoulders. For example, our team has run an experiment to see if the new mobile ad size 336x600px generates more revenue for publishers than the usual 336x336px mobile banner. It was concluded that the new ad size indeed performs better.
Optimize your ad placement strategy. Consider the layout and design of your website and choose the best-performing placements for banners. Again, it's best to reach out to your partner to help you decide on the best ad placement strategy.
Make sure that ads improve the user experience. Don't overcrowd your website with ads, and make sure that you implement UX-safe, non-intrusive ad formats. Any adjustments in your advertising strategy that can benefit the overall website's experience  are essential to achieve better ad performance.  
Conclusion
Banner ads are a must for every website's monetization strategy as they can increase brand awareness, ad engagement, user traffic, and drive a significant increase in the publisher's ad revenue.
Banner ads offer a wide range of ad sizes and formats, allowing users to experiment and find the best solution for every page.
If you still have any questions, be sure to leave a comment or email us at [email protected].