A Bridge to Prebid – Header Bidding in Google Ad Manager (GAM)
Header bidding is a gold standard of programmatic advertising. Publishers seek to maximize the value of this technology by either building their own header bidding wrappers or partnering with monetization platforms like Setupad that offer this technology along with various additional features and optimizations.
However, most publishers complained about the inefficiencies related to header bidding inside the most popular ad management platform–Google Ad Manager (GAM). But now that has changed.
Let's go back and learn what happened.
Header Bidding in Google Ad Manager (GAM)
Publishers reading this are probably familiar with header bidding. But let's recap quickly. Header bidding is a programmatic technology whereby publishers simultaneously offer their ad inventory to many demand partners like Google.
Letting these partners (SSPs, ad exchanges) bid on the same ad inventory creates more yield, enabling publishers to sell their ad inventory for a higher price. For that reason, more and more publishers started learning about header bidding and leveraging it for themselves.
Google Ad Manager (GAM), previously known as Doubleclick for Publishers (DFP), is a leading ad management platform and ad server for publishers that streamlines all ad operations across direct and programmatic sales. GAM also combines the largest ad exchange–Google Ad Exchange (AdX), known for its premium prices. Publishers also get exceptionally high fill rates with GAM because of the advanced price priority system, which is used to fill remnant inventory with the highest-paying line item.
Nevertheless, Google holds control of its ecosystem and is ultimately a monopoly. Due to this, publishers would often get lower CPMs with GAM until header bidding came and changed everything.
AppNexus developed a tool called Prebid.js that the industry knows today as a header bidding wrapper. It allowed publishers to run header bidding before sending the ad request to GAM. In other words, header bidding collects bids on the publisher's webpage before making the request to the ad server (GAM). If Google's bid isn't higher than the highest bid from the header bidding auction, the ad slot will be sold to the highest-paying external demand partner.
However, the biggest problem with header bidding implementation inside GAM has historically been the complexity of setting it up. Publishers needed to manually create hundreds of line items and link them to the creatives. Often this would result in mistakes, which ultimately caused lost ad revenue and discrepancies.
What is a line item in Google Ad Manager?
A line item in Google Ad Manager is an advertiser's commitment to purchase a specific number of ad impressions or user clicks on certain dates at a specified price. A line item can also specify information about ad unit size, placement, targeting criteria, etc.
For example, a publisher will receive a request from the buyer to purchase an ad space on his website. This request is called an order and should have one or more line items linked to it. For instance, a buyer may want to purchase a part of the inventory or a programmatic deal (like programmatic guaranteed).
Below is an example of a line item.

Improved Header Bidding Support in Google Ad Manager
This spring, Google Ad Manager has rolled out what the industry quickly called "a bridge" to Prebid. In other words, Google built a connection to Prebid inside GAM to support publishers' header bidding workflow better.
This update essentially means that publishers will now manage header bidding through yield groups, which is the same interface used for Open Bidding (Google's server-side version of header bidding). The header bidding demand is then included in the unified auction.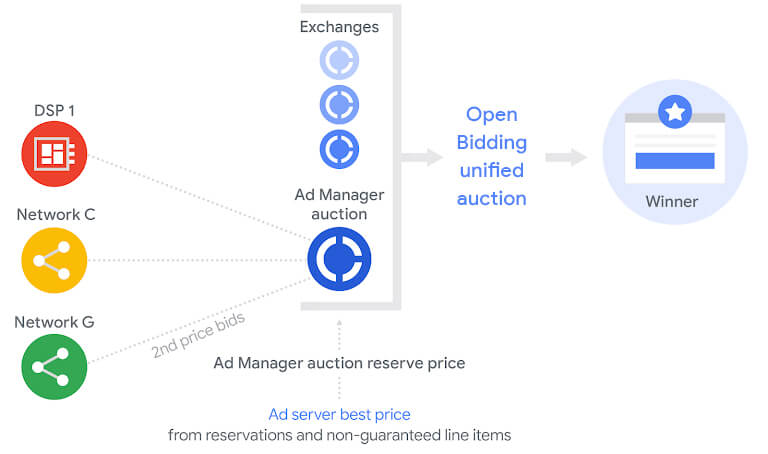 What are yield groups in Google Ad Manager?
A yield group allows publishers to specify which ad inventory they want to sell with Ad Exchange (always included as a yield partner by default), Open Bidding, or third-party exchanges or networks. It allows publishers to target which ad inventories they want to sell and to whom.
Why Does It Matter?
This is a big step for the industry because such a switch makes managing header bidding inside GAM a lot easier. As mentioned, previously publishers (and their AdOps teams) would need to create and manage hundreds and thousands of line items in their ad server to let header bidding partners participate in the auction.
But note, that doesn't mean there won't be any legwork. Publishers would still need to set up at least one yield group with one or more Prebid yield partners that support header bidding. But this process, without a doubt, is a lot less time-consuming.
The way Google's doing it is by building improved communication between Prebid and Google Ad Manager.
To recap, Prebid is a leader in the header bidding market. Almost every header bidding wrapper today is built using Prebid. However, for other demand sources outside of the publisher's ad server (like Amazon's Transparent Ad Marketplace), there's still the same complexity of adding and managing the line items. However, Google doesn't rule out building more connections in the future if there is a demand for that.
But what's remarkable is that Google has built a connection to tech outside of its ecosystem for the first time. That is logical, although long overdue, step, considering that 70+ % of publishers in the U.S. use header bidding.
The connection to Prebid could also slightly boost yield for publishers and reduce discrepancies.
Improved Reporting for Header Bidding
In its blog post from April 2022, Google stated that they'd also be releasing additional reporting functionalities for header bidding. From now on, Google will share the winning bid price through Data Transfer files with publishers, which they can share with their Prebid partners. The industry has been pushing Google to disclose this information for a long time. However, it claimed it wasn't possible until now.
Ultimately, publishers and their partners will benefit greatly from this feature, as they will now have insight into performance across both header bidding and Google Ad Manager.
Note, the changes will only apply to web display, not video and apps.
Why Should You Partner with Setupad?
What Google hasn't been emphasizing is that the new feature is only available for GAM360 members, which is a paid GAM version suitable for enterprise publishers and has custom pricing depending on the number of monthly ad impressions.
Below is the table that summarizes the differences between Google Ad Manager Small Business (free version) and Google Ad Manager 360 (paid version).
Google Ad Manager
Small Business
Google Ad Manager 360
Price
Free of charge.
Paid version. The price depends on the number of monthly ad impressions and features. You negotiate this directly with a sales rep.
Impressions
90-200 million monthly impressions (number depends on your location).
Above the free version limit. Negotiated with Google.
Features

Customized reporting.
Access to API.
Access to historical data.
Management of line items.

All features available with the free version plus:


Direct support from Google.
Access to first-party audience segments.
Advanced video ad options.
Auto suggested ad units.
Open Bidding.

Best for
Medium, large publishers.
Enterprises.
For publishers with a free GAM account, the traditional usage of header bidding will still apply.
However, with Setupad, you can already leverage header bidding technology through our header bidding wrapper. Fully optimized with Google, we provide publishers with access to Google AdX through GAM and the demand of all header bidding partners. In other words, you'll pretty much access all GAM360 features without having to be a large enterprise publisher to qualify for it. And most importantly, all of this at no extra cost to you!
We designed a product specifically aimed at high-quality AdSense publishers who want to upgrade their AdSense monetization stack and get a better return on their ad inventory with Google AdX–Setupad Manage Account. This unique product grants you immediate access to GAM360 from Setupad.
In addition, our publishers will benefit from our server-side integrations (Prebid server, Google's Open Bidding, and Amazon's Transparent Ad Marketplace (TAM), which together account for ≈35% of the winning auction. Server-side connections have a much faster bid response because instead of running auctions on the user's browser and calling all partners one by one, the auction is moved to the server, where all partners are called within a single call.
Sign up with Setupad today to see our work in action!