A Guide to Google MCM (Multiple Customer Management) for Publishers
In February 2022, Google ruled out the Scaled Partner Management (SPM) program and switched to Multiple Customer Management (MCM). As one of the dominant forces in the world of online advertising, Google has consistently demonstrated an ability to adapt to the changing market demands and user needs.
While SPM was successful in its own right, Google identified several areas where improvements could be made, leading to the development and implementation of MCM. It was driven by a desire to enhance ad management's transparency, control, and efficiency for publishers, advertisers, and third-party partners alike.
This article will explain what MCM is, the reasons behind Google's decision, and the benefits of the MCM system.
What is Google MCM (Multiple Customer Management)?
Google MCM is a GAM 360 feature that enables publishers to access Google Ad Exchange (AdX) through select third-party Google partners. These partners can manage GAM networks or inventories for the publisher. 
MCM is available only to Google partners that fulfill strict quality requirements, including protection of represented inventory against ad fraud (e.g., invalid traffic, accidental or forced clicks) and a low number of account terminations.
Publishers who want access to MCM can do so through a qualified Google MCM program and Google Certified Publishing Partner (GCPP) like Setupad.
Note that there are two key roles in Google MCM–parent publisher and child publisher.
Parent publisher–refers to a third-party ad tech company or Google certified partner who has direct access to Google AdX.
Child publisher–refers to the user (most likely the publisher) that gets access to AdX through the parent publisher. Child publishers can choose and grant different authorization levels to their parent publishers.
MCM Delegation Types
Google's MCM offers two main delegation types for publishers: Manage Inventory and Manage Account.
Key Aspects
Manage Account Delegation Type
Manage Inventory Delegation Type
Number of parent publishers
The child publisher can have only one parent publisher
The child publisher can have up to 15 parent publishers
GAM account access
Parent publisher gets full access to the child publisher's GAM account
Parent publishers don't get access to the child publisher's GAM account
Payment
Earnings go to the parent publisher's account.
Reseller partners get 100% revenue-share.
Non-reseller parents' share is decided during MCM invitation.
2 payment options–parent network tagging or your own network tagging.
With the parent network tagging the payment goes to them, whereas your own network tagging earns revenue based on AdX network earnings.
Inventory access
The child publisher gets complete access and control over ad inventories.
The parent publishers oversee the child publisher's ad inventories that have been delegated to them.
Ad trafficking
The parent publisher manages all inventory in the child publisher's account.
Only the parent publishers control all delegated ad trafficking through their own account. The child account can't access the parent's settings.
Tagging
The child publisher must use their own GAM tags.
The child publisher must use GAM tags provided by the parent publishers.
Note that a child publisher can have 1 Manage Account parent and up to 15 Manage Inventory parents at the same time. The same parent publisher can't manage the child publisher under both delegation types at the same time.
MCM 'Manage Account' Delegation
In the Manage Account setup, child publishers grant third-party partners full access to their entire GAM account, allowing these partners to monetize and manage all ad inventory. This is ideal for publishers wanting extensive third-party management.
The Manage Account delegation is well-suited for publishers who want their third-party partners to have comprehensive management possibilities and access to their GAM account.
MCM 'Manage Inventory' Delegation
The Manage Inventory delegation permits third-party partners to manage only specific portions of the child publisher's ad inventory. The partner handles the ad placements, yet the child publisher can't see all the settings.
Manage Inventory delegation is perfect for publishers who want to benefit from the expertise of third-party partners while maintaining a certain level of control over their ad inventory.
Why is it important to understand?
If you give access to the parent publisher to manage your ad inventory directly into your GAM account (Manage Account delegation type), you won't be able to work with other parent partners simultaneously.
This means if you want to run a test between 2 monetization companies, you won't be able to do it fairly because, with Manage Account access, there could be only one parent publisher.
When Setupad sends MCM invitations to publishers, it's always the MCM Manage Inventory delegation type. This way Setupad can access only the delegated ad units in the publisher's GAM account instead of having access over the publisher's entire GAM account.

It's important for you, as a publisher, to keep an eye on what type of MCM invitation you receive–either the monetization company requests Manage Account or Manage Inventory delegation type for your GAM account.
What is Google SPM (Scaled Partner Management)?
Google's scaled partner management (SPM) was a feature for those AdX partners who are representing third-party publisher's inventory on Google platforms. An SPM program partner can run ads on third-party publisher's inventory.
Under the SPM program, the parent publisher could provide ad optimization, yield management and revenue maximization services to smaller publishers. 
Why is Google MCM replacing SPM?
On February 1, 2022, Google decided to retire its SPM program and introduce a new program called Multiple Customer Management. Even though SPM provided significant benefits particularly to small and mid-sized publishers, it had a few drawbacks.
SPM was developed during a time when Google Ad Exchange and DFP (Doubleclick for Publishers, which now is known as GAM or Google Ad Manager) were distinct platforms.
This made it a challenge to create new features that could seamlessly integrate both platforms.
SPM didn't offer comprehensive options for managing publisher permissions. Its capabilities in this area were not as flexible or extensive as desired. The SPM system also lacked transparency in certain areas.
Specifically, parent publishers had overarching control and visibility over the inventory of child publishers. This meant that child publishers had to place immense trust in parent publishers to act in their best interests, which could be a potential area of concern or conflict.
Child publishers in the SPM program had limited tools at their disposal when it came to yield management. This limited their ability to optimize and manage their ad inventories effectively.
Google transitioned from SPM to MCM to address these challenges and provide a more effective, transparent, and integrated solution for publishers.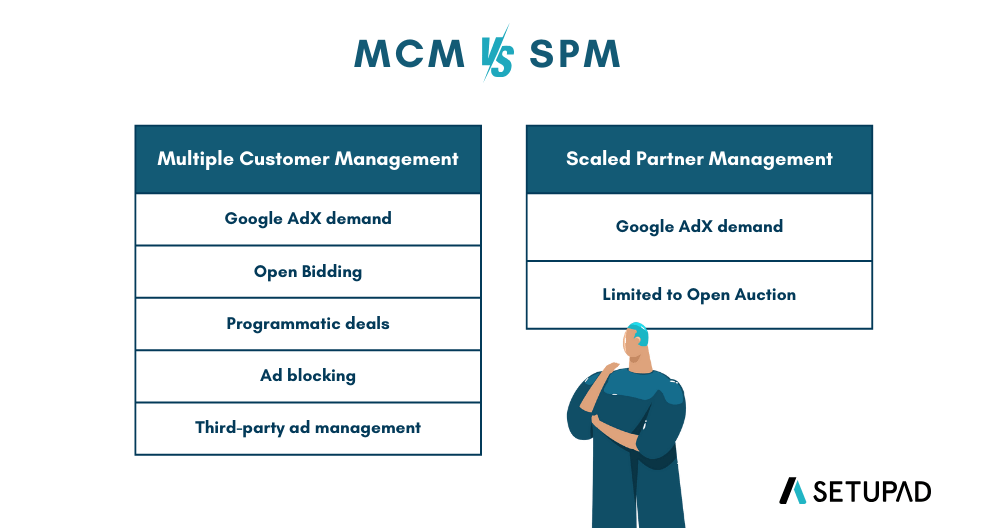 EU User Consent Policy compliance
All of Google's MCM inventory has to adhere to Google's EU User Consent Policy, which aligns with the European Union's data protection and privacy regulations. 
Both parent and child publishers have the responsibility to ensure that personalized ads are displayed only after obtaining clear consent from the user.
Additionally, if a publisher hasn't started collecting user consents, there's a useful guide provided that explains what's a consent management platform (CMP), as well as another one explaining the difference between first-party and third-party cookies.
Why Do Publishers Need Google MCM Program?
The primary benefit of the MCM program is getting access to premium Google AdX demand and maximizing revenue opportunities by increasing competition.
Whatsoever, there are other advantages, such as:
Access to more demand. MCM provides the opportunity to connect with additional ad exchanges through Open Bidding.
Support for programmatic deals. MCM streamlines the management of different ad deals, such as programmatic direct, preferred, and programmatic guaranteed.
Expertise from third-party partners. MCM users can gain insights and assistance from third-party monetization experts to optimize ads and manage yields.
Protection against ad fraud. One of MCM's offerings is enhanced security, safeguarding publishers' inventory from fraudulent activities and ensuring a stable ad management environment.
| | | | |
| --- | --- | --- | --- |
| Features | Google MCM | Google SPM | AdSense |
| Google AdX | Yes | Yes | – |
| Google Open Bidding | Yes | – | – |
| Preferred deals | Yes | – | – |
| Programmatic guaranteed | Yes | – | – |
| Third-party optimization | Yes | Yes | – |
Premium Exchanges through Open Bidding
With MCM, publishers can engage with Google's Open Bidding, which is a server-side header bidding solution by Google.
This allows multiple demand partners to bid on a publisher's inventory, fostering increased competition and the possibility of receiving higher bids. Traditionally, this feature was limited to GAM 360.
Programmatic Deals
MCM simplifies the management of programmatic guaranteed and preferred deals.
Publishers can efficiently navigate and leverage these options to bring additional revenue.
Programmatic Guaranteed Deals: MCM simplifies the process for these deals, which promise publishers a specific number of ad impressions at a set price. These deals typically come with higher CPM (Cost Per Mille).
Preferred Deals: This aspect of MCM allows publishers to create direct relationships with certain advertisers, granting more control over their ad space.
Better than AdSense
Transitioning from Google AdSense to MCM can be beneficial for publishers. MCM provides access to premium exchanges through Open Bidding and a more efficient way to manage programmatic deals, which can lead to an increase in revenue.
Higher Revenue
Google MCM enables publishers to tap into every opportunity to maximize ad revenue.
Publishers can unlock new levels of monetization success due to the simplified management of programmatic deals, access to premium exchanges and transitioning from AdSense to MCM.
Qualification Requirements for Google MCM
Most of the qualification requirements don't pose any significant challenges for publishers.
Here are the 4 main checkpoints to see whether you can qualify for the MCM program:
1. Website verification by Google
Google needs to verify the publisher's website, ensuring its authenticity and compliance with Google's standards.
2. No copyright infringement violations on your website
The publisher's website shouldn't be involved in any form of copyright infringement. This means that all content on the website must be original, licensed, or free from copyright restrictions.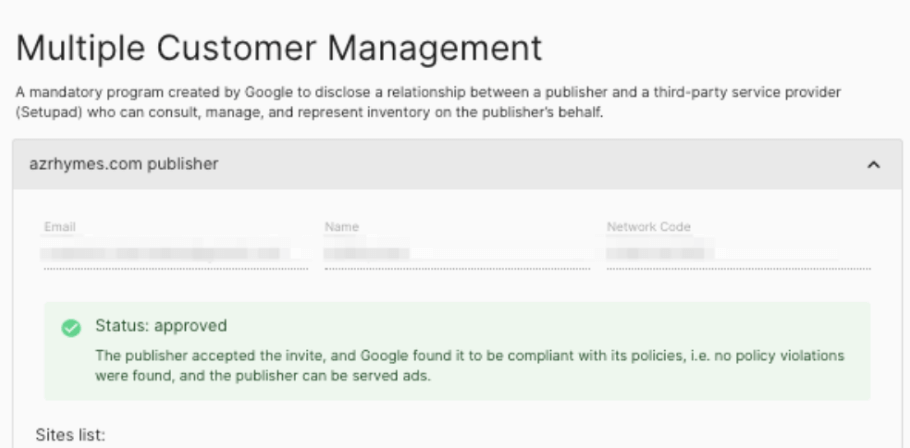 3. Not promoting sensitive content
Websites looking to qualify shouldn't promote or feature content that falls under sensitive categories (e.g., violence, gambling, or adult content.)
4. Maintain a valid ads.txt file for your site
The publisher must have a valid ads.txt file associated with their website. This file is a standard used by the advertising industry to prevent unauthorized inventory sales and ensure transparency in programmatic advertising.
Steps to Get Started with Google MCM (Multiple Customer Management)
Here are the 6 main steps to get you started with Google's MCM program:
1. Prerequisite – Google Ad Manager (GAM) account
Before anything else, a publisher needs a Google Ad Manager account.
This is essential whether the publisher aims to access Google AdX through the Ad Exchange partners or if they're acting as a "child publisher" in the MCM structure.
2. Finding MCM partners
After securing a GAM account, the next step is to seek MCM partners. A crucial point here is that not all partners from the older SPM system have access to the newer MCM.
There are 2 simple steps that will help you find an MCM partner:
Begin by searching for a trusted MCM partner. This partner should have a proven track record, adhere to Google's high standards, offer ad fraud protection, and have a low rate of account closures. Ideally, you should also partner with a Google Certified Publishing Partner (GCPP), like Setupad, as these partners were vetted by Google to provide specialized top-notch services and support.
Once you've chosen a partner, initiate a conversation. Discuss your needs, objectives, and what you hope to achieve from this partnership. This dialogue ensures both parties are aligned and aware of the partnership's dynamics.
3. Choose delegation type
Decide between the "Manage Account" and "Manage Inventory" delegation based on your comfort level with granting access and control to the MCM partner.
For Manage Account delegation type:
Negotiate a revenue-sharing model. Google will pay out your earnings based on this agreement.
The partner will have the authority to oversee and manage all the inventory within your GAM account. Depending on your agreement, they can also handle setup and optimization.
You will integrate a GPT tag from your GAM account onto your website.
For Manage Inventory delegation type:
Post approval, you grant the partner access only to a designated inventory segment.
The MCM partner sets up and oversees the assigned ad requests using their GAM 360 account.
Implement the GPT ad tag (provided by the MCM partner) on your website.
4. Receiving an invitation
After picking the delegation type, form a parent-child linkage between your publisher account and the MCM partner. The partner will usually walk you through this.
If your parent publisher already has access to MCM, they will send you an invitation. Accepting this invitation will grant them permission to manage and monetize your ad inventory.
5. Configure inventory and ad trafficking
Collaborate with your MCM partner to set up your ad inventory and manage ad trafficking. This should align with your chosen delegation type and advertising goals.
6. Monitor and optimize
Regularly evaluate your MCM partner's performance, ad placement efficacy, and revenue outcomes. Engage with your MCM partner to make any necessary adjustments, ensuring your strategy remains optimized for best results.
Conclusion
The transition from SPM to MCM symbolizes Google's commitment to refining its advertising platform to better cater to all stakeholders involved. This change promises enhanced control for publishers, a more transparent relationship between parties, and a streamlined process that can potentially lead to increased revenue and efficiency.
If you need help to become familiar with the MCM program, reach out to us at [email protected]. 
Setupad is a GCPP member and a part of the MCM program, therefore we can help you get the AdX demand and assist you with header bidding and ad revenue optimization.
Our product, Setupad Manage Account, specifically assists high-quality AdSense publishers aiming to upgrade their monetization efforts. Publishers can access premium features similar to those in GAM360 without the prerequisites typically required by large enterprises. 
FAQs
What is Google MCM?
Google MCM (Multiple Customer Management) is a feature in Google Ad Manager that allows Parent Publishers to manage ad operations for other Child Publishers, replacing the older Scaled Partner Management (SPM) system.
What is MCM approval?
MCM approval is when a Child Publisher accepts an invitation from a Parent Publisher in Google Ad Manager, allowing them to manage their ad inventory.
What are the benefits of Google MCM?
Benefits of Google MCM include streamlined ad management, increased revenue potential, partnership flexibility, and simplified collaboration with advertising partners.
How do I become a Google MCM?
To join the Google MCM program, ensure you have a GAM account, meet Google's eligibility requirements, find or become an MCM partner, choose the appropriate delegation type, and collaborate for optimal ad operations.
What is the difference between SPM and MCM?
SPM was an older Google system allowing Parent Publishers to provide Child Publishers access to Google Ad Exchange. MCM is its successor in GAM, offering more advanced tools and features for Parent Publishers to manage ad operations for Child Publishers.