Google AdX vs Google AdSense | Differences Explained

Google AdSense and Google Ad Exchange (AdX) are advertising platforms, both run by Google. They allow publishers to gain profit by displaying programmatic ads.
In this article, we will break down the main features and differences between Google AdX and AdSense. This will help you figure out which platform is a better fit for you!
Table of Contents:
What is Google AdX?
Google AdX, previously known as DoubleClick Ad Exchange, is an advertising platform through which publishers can sell their ad inventory to many advertisers and ad agencies.
The platform relies on real-time bidding technology, which results in higher competition, and, ultimately, increased revenue per every ad slot.
How Does Google AdX work?
As you can see from the picture below, AdSense is a part of the AdX marketplace. Thus, if you have a Google AdX, you allow more advertisers to compete for your ad inventory compared to Google AdSense, where there is only one buyer (Google).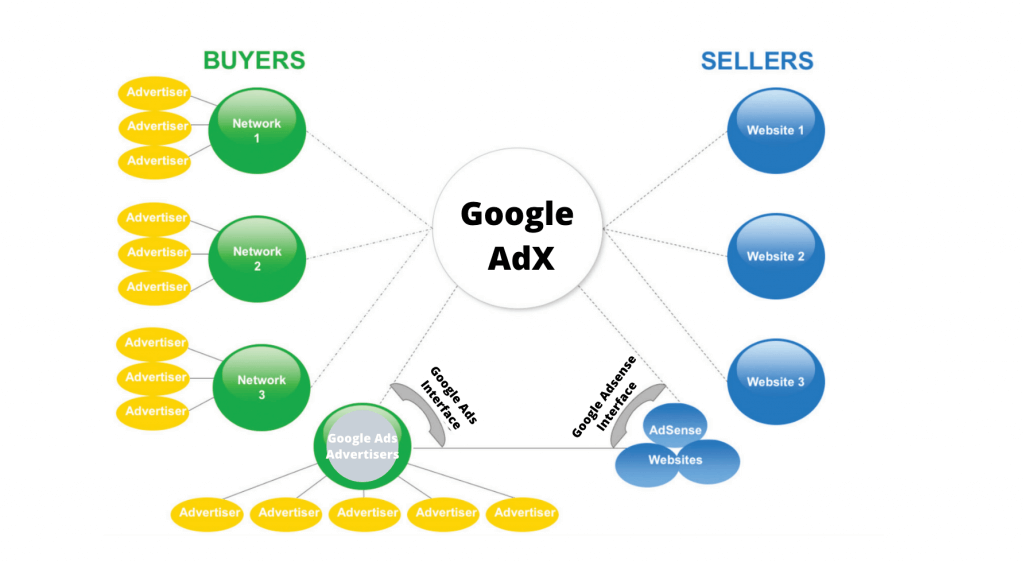 Google AdX brings together advertisers, ad agencies, trading desks, and demand-side platforms (DSPs) from all over the world to bid on the publisher's ad inventory. The ad inventory can be sold through a wide range of methods, including programmatic deals (like Open and Private Auction) and directly.
Unlike AdSense, AdX cannot be integrated into a publisher's website directly. This means that the publisher has to first create a Google Ad Manager (GAM) account in order to use AdX. GAM gives publishers the opportunity to display direct campaigns on the publisher's website.
Google AdX also have a lot of benefits for publishers, such as:
ad delivery process automation;
access to a large demand from a single place;
price floor settings (e.g., for Private Auction);
option to send invites directly to advertisers (e.g., for Preferred Deals with fixed CPMs);
option to block unwanted ads;
choice of different ad formats and styles;
granular control over ad inventory;
and more.
What is Google Ad Manager?
Google Ad Manager (GAM) is a central platform for ad management, delivery, and reporting designed for large publishers with significant direct sales.
GAM combines 2 products: an ad server (previously known as DoubleClick for Publishers (DFP) and a premium ad exchange (previously known as DoubleClick Ad Exchange).

Is Google AdX a DSP or SSP?
Google AdX is an ad exchange where multiple demand partners like DSPs bid via SSPs on a publisher's inventory simultaneously. This facilitates the process of real-time bidding auction.
Google AdSense, on the other hand, is neither an SSP nor a DSP, but an ad network that connects publishers with Google Ads advertisers to display programmatic ads.
How To Get Started with AdX?
To get started with Google AdX, you have 2 options:
Sign up with a Google Ad Manager directly. Reach out to your Google Account Manager and ask him if you can get into AdX.
Partner up with an authorized Google reseller like Setupad to get access to Google AdX demand through a Multiple Customer Management (MCM) program.

As part of this program, all publishers who want to access AdX demand, are required to have a GAM account by January 31, 2022.
Our team will send you an MCM invitation and you'll receive approval from AdX normally within 2 days. Nothing will change in your relationship with Google.
How do I make a Google Ad Exchange account?
To apply for AdX, you need to meet the following requirements:
Note, even if you meet all the requirements, Google may still restrict access to AdX.
Create a GAM account in order to use AdX.
Wait for Google AdX approval. If your site doesn't get accepted, you can still get access to AdX through Setupad.
What is Google AdSense?
AdSense is a free, self-managed platform for publishers to earn money from showing ads on their websites. AdSense is a cost-per-click (CPC) platform which means that publishers get paid each time someone clicks on their ads.
Google AdSense is the best choice for small-medium publishers (<100k monthly visitors) who don't have a lot of technical knowledge and don't need granular control over ad spaces and ad optimization.
How Does Google AdSense Work?
If your website meets all eligibility requirements, it will be accepted into the network and granted permission to display ads.
AdSense can be integrated into the publisher's website directly, meaning the publisher will need to insert an HTML source code into their web page, after which all relevant ads will become visible to visitors. If you'd like to learn more, check out our full guide on how to start making money with Google AdSense.
Google AdX vs AdSense Differences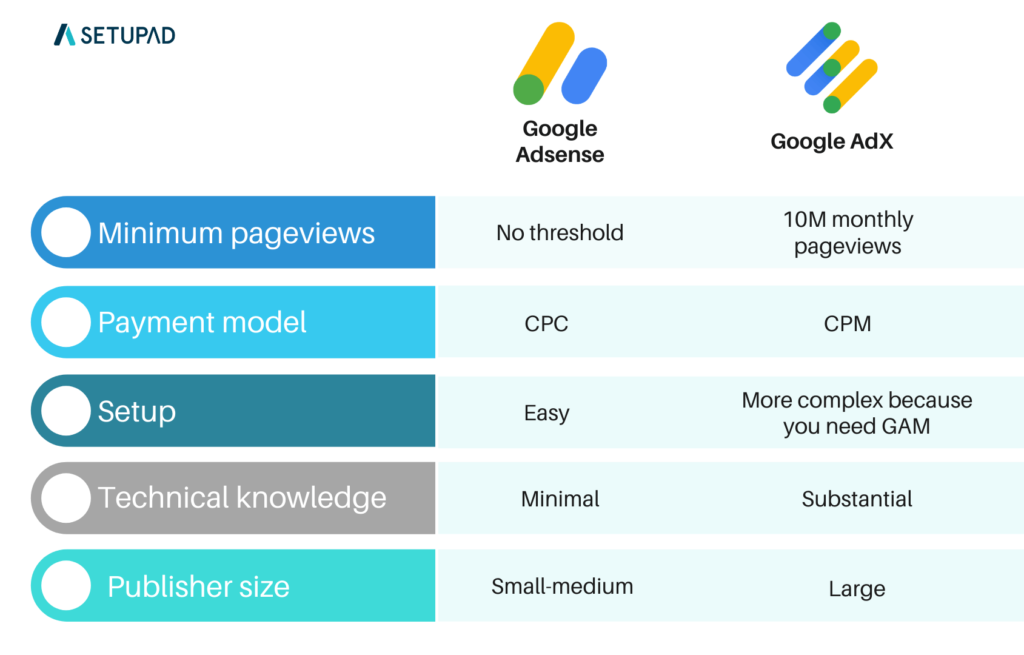 Which Solution Should I Choose: AdX or AdSense?
Publishers should choose AdSense if they:
are new to website monetization;
don't have at least 100K monthly traffic;
have limited technical expertise and resources to deal with ad setup and optimization.
Publishers should choose AdX if they:
have at least 10M pageviews per month;
have direct sales;
want to sell their inventory via different methods and experiment with more advanced monetization solution;
have technical expertise and resources to manage and optimize their campaigns and delivery.
In terms of revenue sharing, AdSense's commission is 32%, which means publishers keep only 68% of the total ad revenue. For AdX, Google generally charges a lower commission but it varies per publisher and depends on factors, like the value of ad inventory or how the inventory is sold.
Remember that by using AdSense, you get paid per click. You earn more with AdSense if your CTR is >1% and doesn't fluctuate. However, with AdX you earn money per 1000 ad impressions (CPM), although advertisers can declare different metrics on how they pay for their ads (like CTR or ad viewability).
Why Should I Choose Setupad over AdSense and AdX?
Setupad solution is the best choice for both types of publishers. First things first, Setupad can achieve at least a 30% revenue increase over Google AdSense thanks to a demand that doesn't jus come from Google but also from 28 other demand partners (SSPs).
However, if your goal is to get Google AdX but you don't meet the qualification requirements, you can still do this with Setupad. Our header bidding wrapper is fully optimized with Google, and we provide publishers with access to Google AdX through GAM and the demand of all our header bidding partners. In other words, you gain access to all GAM360 features without having to be a large enterprise publisher to qualify for it.
In addition, our publishers will benefit from our server-side integrations (Prebid server, Google's Open Bidding, and Amazon's Transparent Ad Marketplace (TAM), which together account for ≈35% of the winning auction. Server-side connections have a much faster bid response because instead of running auctions on the user's browser and calling all partners one by one, the auction is moved to the server, where all partners are called within a single call. 
Conclusion
If your website has good traffic (for example, 1M page views per month), you should consider monetizing your website with a monetization platform like Setupad.
However, even if you're on the smaller side, you can still upgrade your AdSense earnings by partnering with us and giving header bidding a run for your ad inventory.
Do you still have any questions about these platforms? Contact us at [email protected].