How to Grow Your Website Traffic With Online Content
Numerous strategies can pave the way to a constant stream of engaged visitors, and one of the most significant factors is crafting compelling online content.
Content, whether blog posts, videos, or images, serves as vital touchpoints for your consumers, clients, and audiences.
In this article, join us on a journey as we explore the crucial role of website traffic, uncover content types that can drive traffic growth, and share practical tips to elevate your content creation game.
What is Website Traffic?
Website traffic refers to the number of visitors that access a website over a specific period. It is a critical aspect of any online business, even if it's in the proof of concept stage, as it signifies the number of people visiting a website and interacting with its content.
Gaining insights from website traffic analysis allows businesses and digital publishers to assess the success of their online presence, marketing strategies, and user engagement.
6 Key Metrics for Website Traffic
1. Unique visitors
This metric means the number of people who visit your website within a given time frame, such as a day, week, or month. Unique visitors help you gauge the size of your audience.
2. Page views
Page views show the total number of times a specific webpage gets viewed. High page views suggest that your content resonates with and provides value to your audience.
3. Bounce rate
The bounce rate calculates how many viewers leave your website upon seeing a single page. High bounce rates may indicate that your website does not meet user expectations or your content is not engaging enough.
However, it is essential to study this metric holistically with other metrics and compare it with industry benchmarks. For example, blog pages usually have high bounce rates (65%-90%) because users typically leave the page after getting the value from the article
4. Average session duration
This metric captures the average amount of time users spend on your website during a single visit. A longer average session duration suggests your content captivates users and encourages them to explore your website further.
5. Traffic sources
Identifying where your website traffic originates can help you refine your marketing efforts. Usually, these are organic search, paid search, direct traffic, referrals, social media, and paid advertising campaigns like Facebook ads.
These sources give you a glimpse of which pages need the most attention. This way, you can tailor your content and marketing strategies to target and engage your audience.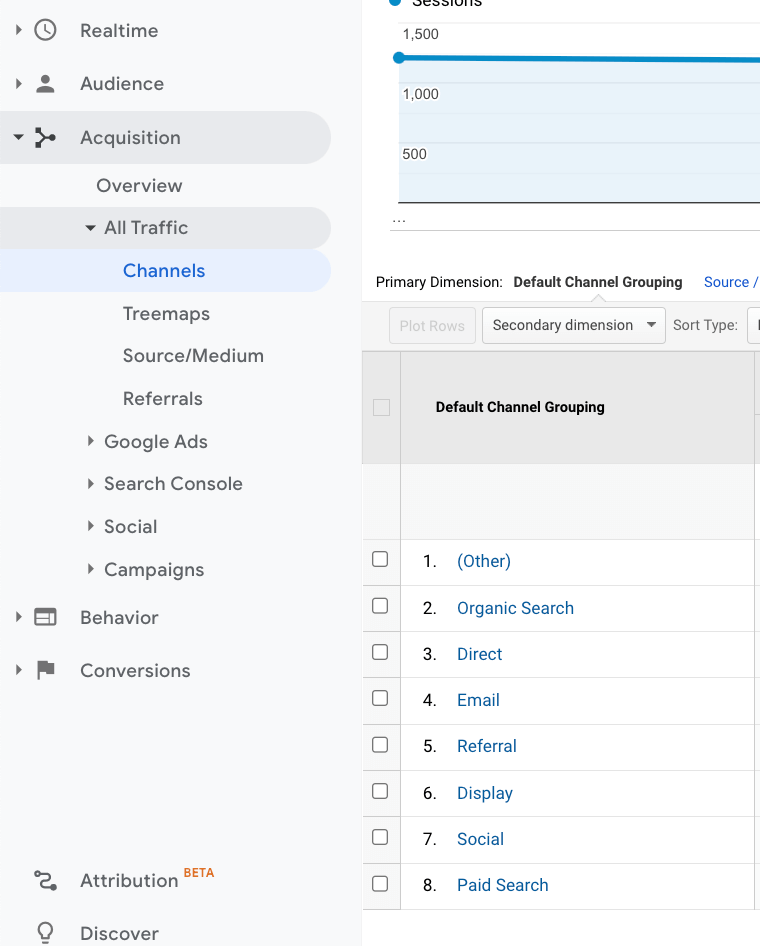 6. User demographics
Examining the demographics of your website visitors, such as age, gender, location, and device type, helps you refine your strategy and content creation process. Using AI to understand the demographics can provide deeper insights, allowing you to fine-tune your strategies for more targeted engagement.
That's it. These metrics will, in some way, report your overall website traffic health.
By checking them consistently, you will always have an updated picture to work on, whether that means continually doing what you do or redefining your process — all for better website traffic.
10 Tools to Measure Website Traffic
Of course, you cannot analyze these metrics all on your own. There are some tools to assist you. Here are some popular options:
1. Google Analytics
The most popular and free website analytics tool offers comprehensive insights into your website traffic, user demographics, traffic sources, and user behavior. Most publishers and website owners already use it.
It helps you understand how visitors interact with your website and allows you to track conversions and set goals. But note starting July 1, 2023, the current version of Google Analytics will stop processing data, so don't wait and migrate your property to Google Analytics 4 as soon as possible.
2. Adobe Analytics
Previously known as Omniture SiteCatalyst, Adobe Analytics is a powerful web analytics platform that provides in-depth analysis of your website traffic, user behavior, and marketing campaigns.
It offers advanced segmentation, real-time reporting, and predictive analytics features.
3. Similar Web
This tool and browser extension offer competitive analytics, allowing you to compare your website traffic with that of your competitors.
This tool gives you a wide window on traffic sources, user demographics, and more. But note, Similar Web isn't always accurate, so more deep-dive analysis is suggested with this tool.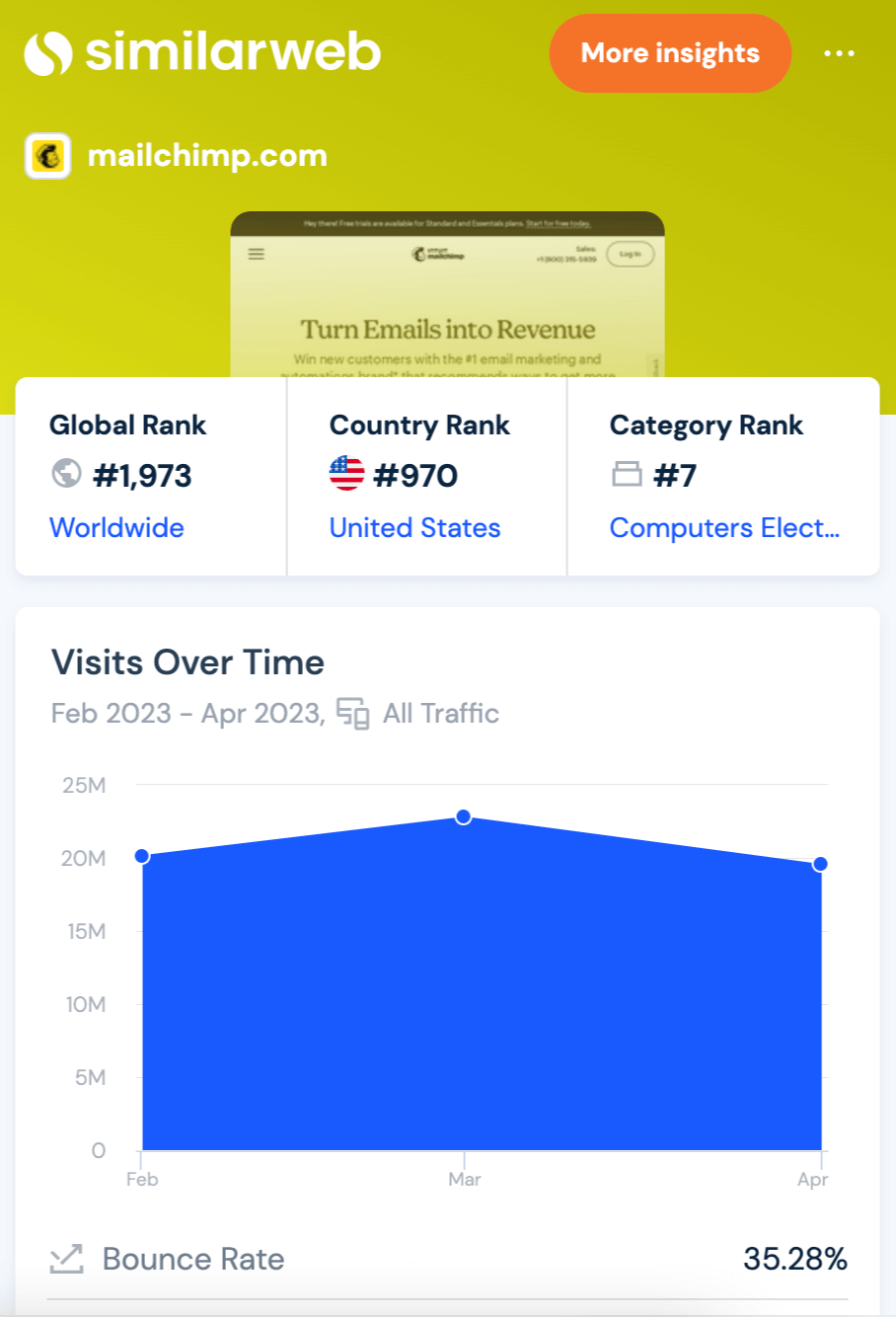 4. SEMrush
Primarily an SEO tool, SEMrush also offers traffic analytics features that help you understand your website's traffic, user behavior, and the effectiveness of your marketing efforts.
It comprehensively reports on organic search, paid search, display advertising, and backlinks.
5. Ahrefs
Another powerful SEO tool, Ahrefs, also provides website traffic analysis features, including organic search traffic, top pages, and referring domains.
Best for analyzing backlinks and understanding how they impact your website traffic, Ahrefs offers a comprehensive website analysis.
6. Crazy Egg
This tool offers website traffic analysis focusing on user behavior and website usability.
Crazy Egg is particularly useful if you want to view heatmaps, scroll maps, and click maps. These factors help you understand how visitors interact with your site and identify areas for improvement.
7. Kissmetrics
Kissmetrics is a customer analytics platform that tracks individual user behavior on your website, allowing you to create personalized marketing campaigns and improve user experience.
Try Kissmetrics if you are into knowing the demographics, behavior, and conversion rates of your website.
8. Matomo
Formerly known as Piwik, Matomo is an open-source web analytics platform that offers similar features to Google Analytics.
It offers several applications, from website traffic analysis and user behavior insights to goal tracking and data privacy.
9. Woopra
Woopra is a real-time customer analytics platform that helps you analyze your website traffic, user behavior, and marketing campaigns. Its dashboard is full of customer journey tracking, segmentation, and funnel analysis.
10. Mixpanel
Mixpanel is a user analytics platform that allows you to track user behavior, engagement, and conversions on your website. Mixpanel is perfect for event tracking, funnels, and retention analysis.
Importance of Website Traffic
Website traffic is vital for businesses, organizations, and digital publishers as it directly impacts their online presence and success.
Here are some key ways in which website traffic benefits businesses:
Increased brand visibility and credibility
High website traffic helps boost brand visibility and credibility, as it's becoming ever so important with Google's E-E-A-T signals. This increased visibility leads to higher search engine rankings and greater recognition among your target audience.
Audience engagement and growth
High website traffic enables you to build and engage with a larger audience. By providing valuable and engaging content, you can foster a community of loyal users who interact with your brand and contribute to its growth.
Advertising revenue and monetization
High website traffic can support advertising revenue and monetization efforts. With more visitors, you can attract advertisers who are willing to pay for ad placements on your website, generating additional income.
Additionally, higher traffic can increase the effectiveness of affiliate marketing, sponsored content, and other monetization strategies.
Improved search engine rankings
High-traffic websites tend to rank better in search engine results pages (SERPs), as search engines view them as more relevant and authoritative. This higher ranking can increase traffic and visibility, creating a positive growth cycle.
Higher conversion rates are another direct result of good website traffic. This is because more visitors are exposed to your calls-to-action, offers, or email sign-up forms. This increased exposure can result in more subscribers and leads.
If many people find your website valuable and worthy of visits, clicks, and views, its perceived value will likely increase, too. Others might think your content, products, or services are worth the purchase, installment, or share risk.
Well, what happens if it's the opposite: negative website traffic?
The opposite of the benefits we listed above is bound to happen. Low website traffic can lead to decreased online visibility, lower search engine rankings, reduced advertising revenue, and difficulty in achieving business goals.
Content Types to Boost Traffic
1. Blog
Blog writing, including landing pages, skyscraper content, and FAQs, informs and entertains and draws search engine users to your website. To optimize your blog content, consider researching keywords, incorporating engaging visuals, and updating older content with new information.
2. Guest blogging
This involves tapping into other people's audiences and markets, offering the benefits of blogging to a new audience. To make the most of guest blogging, research high-quality, relevant websites in your niche, pitch unique content ideas, and include backlinks to your website within the content.
3. Lead magnets
Providing materials like PDFs, e-books, online courses, and tools on your sign-up offers can attract a larger audience. Ensure your lead magnets offer valuable information, are visually appealing, and align with your target audience's interests and pain points.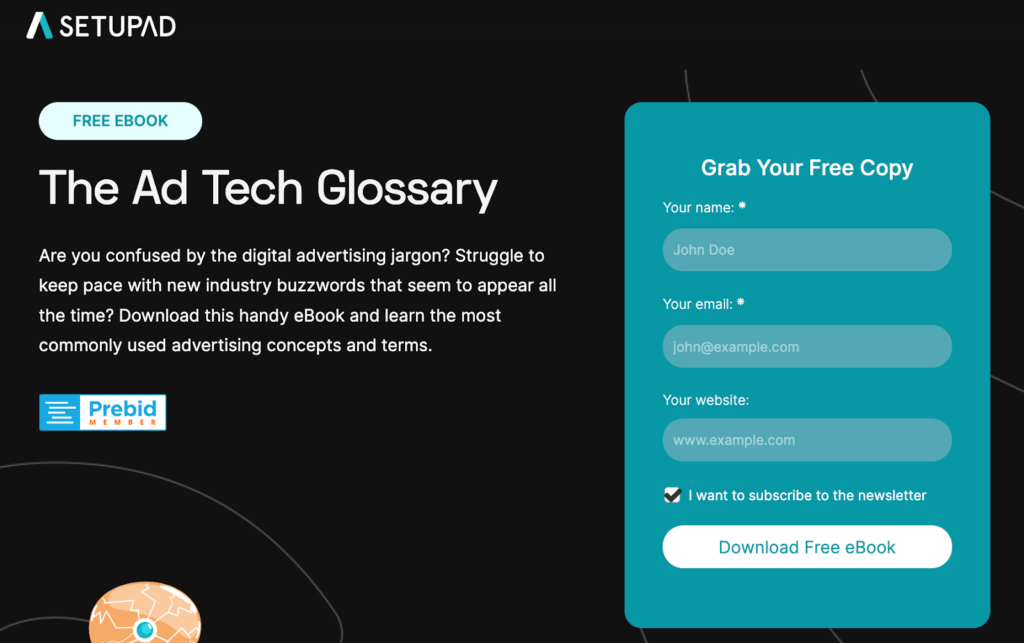 Source: Setupad
4. Free webinars
Offering webinars can attract audiences seeking information through training and seminars, allowing you to disseminate your expertise. To maximize the impact of your webinars, promote them through various channels, engage with participants during the session, and offer a recording afterward for those who couldn't attend.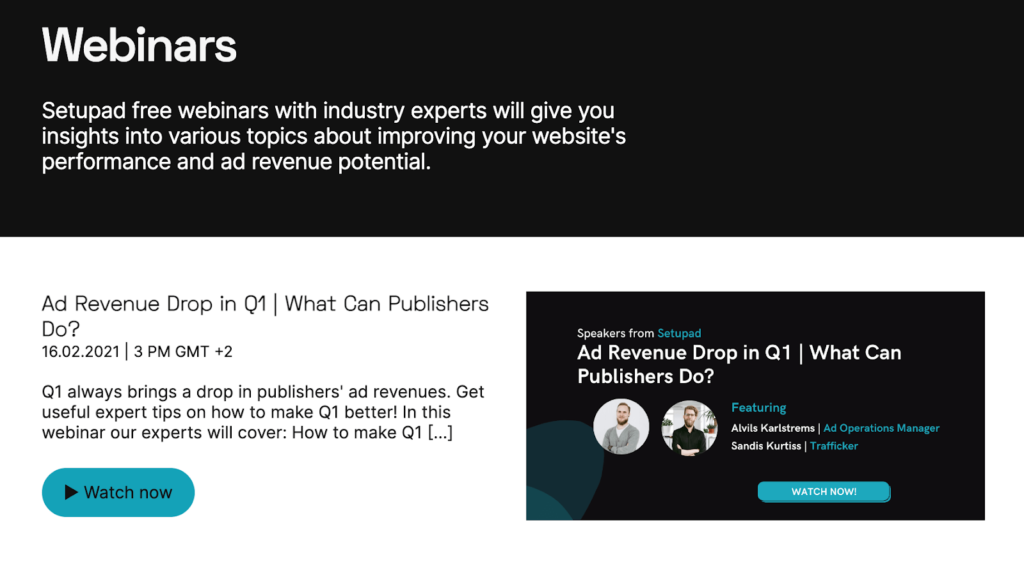 5. Public forums
Platforms like Reddit and Quora help identify target audiences, their interests, and their problems. This will inform your future content creation on what search terms to use, what questions they want to be answered, and even the tone of your voice.
When joining forums for content optimization, you can participate in discussions, provide helpful answers, and include relevant links to your content while abiding by the platform's rules.
6. Interviews with industry experts
Interviewing experts in a blog or video format lends authority to your web presence, boosts your E-E-A-T score, and offers valuable content. Reach out to experts in your niche, prepare insightful questions, and promote the interviews on your website and social media channels.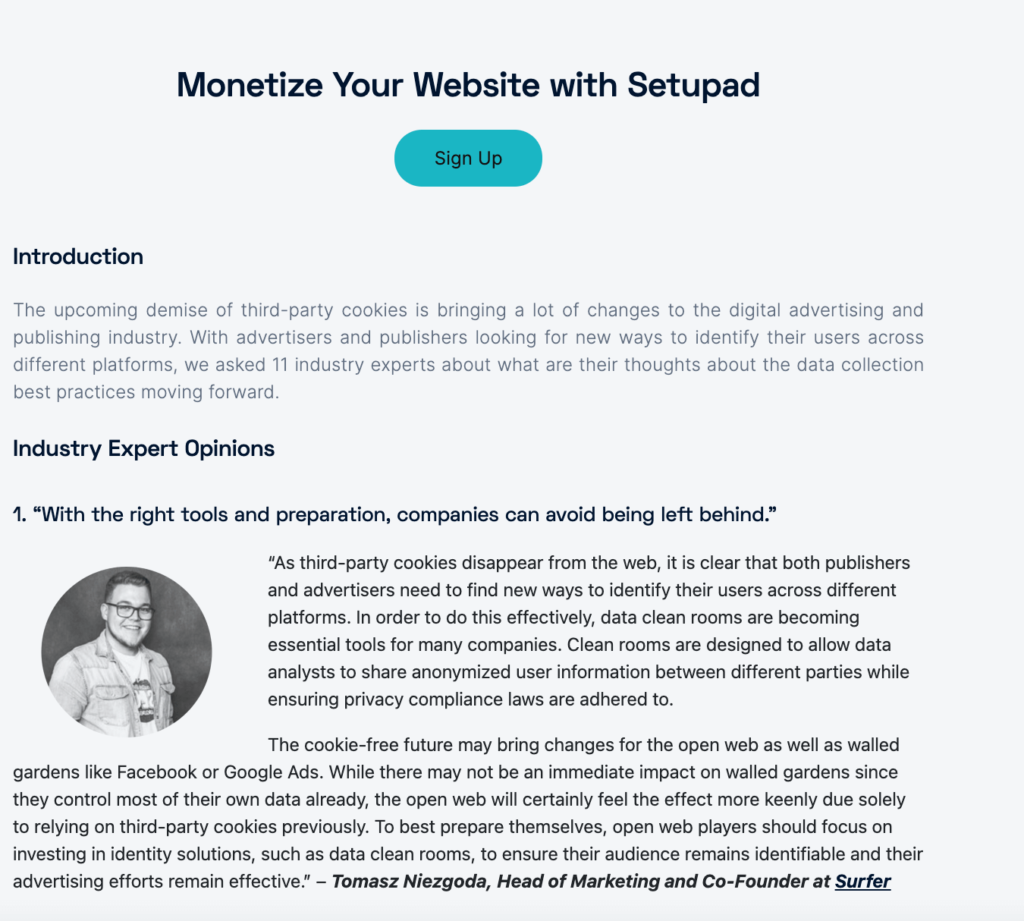 Source: Setupad
7. Customer reviews and testimonials
Authentic content based on reviews and testimonials helps understand the concerns and satisfaction of your target market. You can incorporate this aspect in your content by first encouraging customers to leave reviews, showcasing them on your website and marketing materials, and using the feedback to improve your products or services.
How to Boost Your Website Traffic Through Content?
1. Content audit
Conduct a thorough analysis of your previous content to identify what resonates with your audience, what can be improved, and what gaps need to be filled. To do it:
Identify underperforming pages (pages that lost keyword positions or didn't generate traffic compared to others).
Analyze top results on the SERPs page.
Scan the SERPs page and check the meta description and title tag.
This audit will help you create better content moving forward and prioritize the types of content to continue producing.
2. Search intent on Google
Focus on the keywords your target audience uses and understand their underlying motivations for consuming your content. By catering to their search intent, you can create content that better addresses their needs, questions, and concerns.
​​There are 4 different search intent types:
Informational
Navigational
Transactional
Commercial
To craft your content with search intent in mind, you need to analyze the top-ranking pages for your target keyword based on the content type, content format, and search intent.
3. Research organic search competitors
Investigate the most popular pages of your competitors and identify what makes them successful. Generally, keyword research is the first thing that you should do. To perform a competitive analysis, you can use tools like content gap, analyze your competitors' traffic share of voice, and even run a basic Google Google search operator command to find websites related to yours. Just search for related:yourwebsite.com.
Replicate their approach while adding your unique perspective, expertise, and additional information to increase your audience's value and help you rank higher.
4. Content repurposing
Transform long-form content into various formats to reach different audiences and platforms. Consider creating shareable infographics for Twitter, engaging video content for YouTube (both long-form and short-form), or breaking down lengthy pieces into shorter, more detailed blog posts.
This approach allows you to maximize the value and reach of your existing content, saving time, effort, and money, while still adding value to your customers.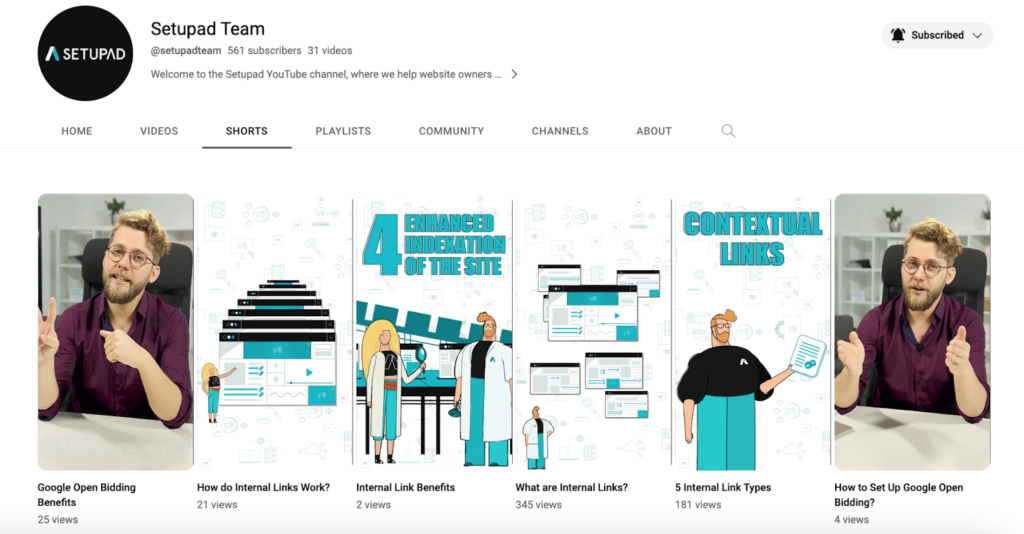 5. Google Discover
Google Discover is a personalized content feed for mobile users accessible through the Google app or the Google Chrome browser. It aims to deliver relevant and engaging content based on user search history, browsing behavior, and interests.
It can be a major traffic source for digital publishers, oftentimes the top one, as you can see in the example below.

Wrapping Up
Keep exploring various content types, refining your content creation approach, and adapting to the ever-changing digital landscape. As your website traffic grows, so too will your online presence, resulting in enhanced brand visibility, increased lead generation, and new revenue streams.