Best Free Plugins For WordPress 2023
Publishers, bloggers, and those who have built their websites with WordPress, this article is for you.
We've managed to narrow down the best free plugins available on WordPress. Check out their features.
P.S. Before installing any plugin, ensure it will benefit your website in the long term.
"Must Have" Plugins for Every WordPress User
After creating your WordPress website, make sure you have installed the main 3 plugins below. These plugins are a starter kit for your website, which will make your life easier in the future.
To learn how to install and activate free of paid WordPress plugin, refer to this guide.
Main Feature: Helps to customize, design, and build your website from scratch.
This plugin is great not only for experienced WordPress users but also for beginners. Elementor provides instant live edits and has minimum impact on page load speed. This plugin works in the front-end, which gives an instant preview of your created page.
Elementor offers free templates for landing pages in different designs, so you can choose the template and then customize it according to your preferences.
Elementor is definitely the best plugin on WordPress if you want to build a well-designed and user-friendly website and web pages.

The Gutenberg WordPress is already integrated within the WordPress core. All edits regarding page layout design you can do in the back-end. Since this editor is already in WordPress, it might be better for the site's optimization later on.

Main Feature: Most important Google tools available in one dashboard.
When you create your website, make sure you have created a Google account to access your Google Analytics, Search Console, and other Google tools.
Site Kit is an official plugin by Google on WordPress to ensure that your site is successful on the web.
This plugin brings essential Google tools (Analytics, Search Console, AdSense, PageSpeed Insights) on your WordPress site together. All information in one place for free.

Main Feature: Automatically configures a website to run over HTTPS.
SSL Certificate or Secure Sockets Layer is a must for every website because, without it, website users and the website are at a higher risk of hacker attacks.
With SSL, you make sure that your website is protected from scams and stealing your user data.
How to know if your website has an SSL certificate?
If your website starts with 'http://', you don't have SSL. But if it begins with 'https://' you are safe.
To get this's' at the end of 'http', you should install Really Simple SSL plugin, which automatically manages your settings and configures a website to run over https. The best part about this plugin is that the whole site will move to SSL.

This plugin works not only as a security plugin but also as a speed and caching plugin. As well as Really Simple SSL, it's for free and provides an SSL certificate. We suggest you upload this plugin rather than Really Simple SSL if you consider using cashing or speed plugins in the future.
Cloudflare itself is a standalone tool on cloudlfare.com, which also offers a WordPress plugin making integration much easier for users.

Besides plugins, your WordPress theme is also what matters. Here you can check the most popular WordPress themes for 2023.
Best Plugins for SEO
Main Feature: Helps with SEO and readability for content.
As a publisher, you must ensure your website's created content is SEO-friendly. Why?
SEO will help your website rank better in search engines, like Google, and grow organic traffic.
Yoast SEO is the no.1 plugin on WordPress regarding SEO. It makes you choose the focus keyword, and according to it, it shows how well optimized is your created content, title, meta description, and consistent snippets in the search results.
The best part about this plugin is that their team educates users on improving content and teaching about the science behind SEO with additional guides.

With this plugin, you can also easily edit SEO settings for created content.
We have tested both of these plugins, and they both do a very good job regarding SEO; however, we've decided to stay with Yoast.
All in One SEO Pack doesn't provide a readability score of your content, as Yoast does. This is an essential feature for content creators, which helps create the content more readable and understandable.

Best WordPress Content Management Plugin
Main Feature: Guest article publishing with ease.
Outreachboard is a WordPress guest content publishing plugin that offers blog owners a convenient and efficient way to collaborate with guest authors.
With its range of features, Outreachboard streamlines the content submission process and ensures editorial compliance by allowing authors to complete submission tasks according to the owner's guidelines, like performing plagiarism checks, formatting, image optimization, image alt text insertion, adding internal links, and more.
The best feature of this plugin is the flexibility it provides in receiving guest content requests. Website owners can receive any type of request, including topic ideas, sponsored content, link exchange, ready articles, or general inquiries.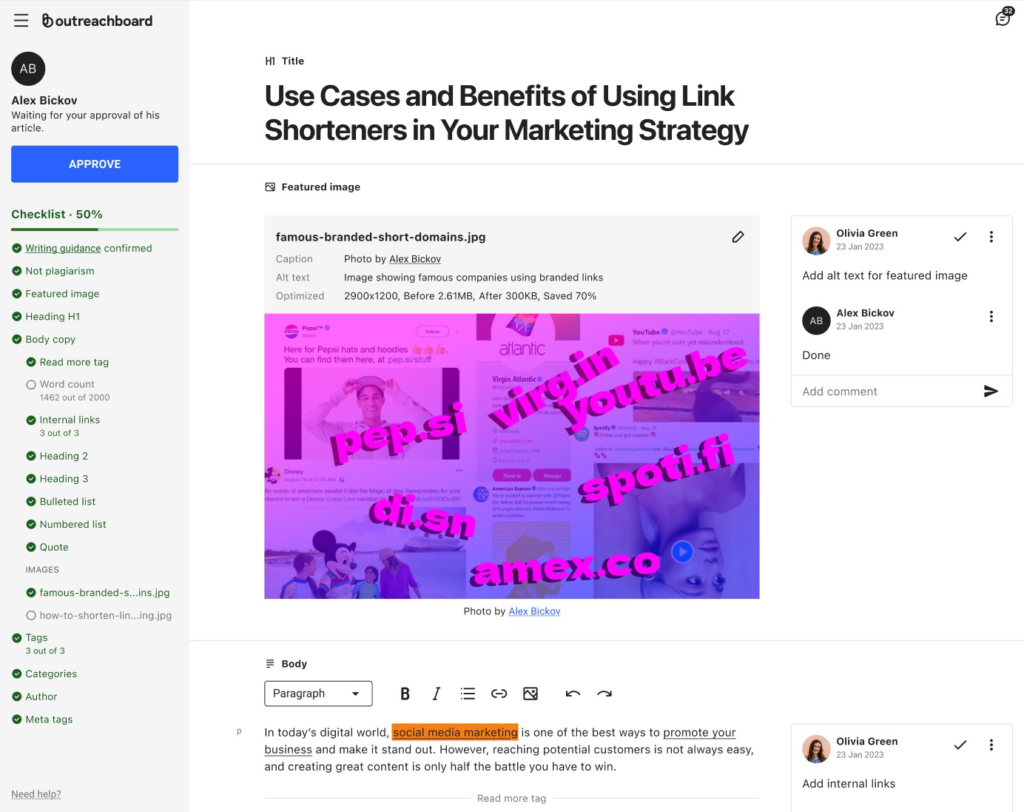 Best Contact Form Plugin for WordPress
With the Ninja Forms plugin, you can create forms for:
This plugin provides pre-built templates to make your life easier and create forms as fast as possible. If you are a beginner or advanced publisher, this plugin is for you!
By choosing the Ninja Forms plugin, you don't have to worry about GDPR compliance. According to the Ninja Forms team: "We never collect or store personally identifiable information, or any information, from your forms."

Best WordPress Security Plugins
Main feature: Security and firewall scanner for your website.
This plugin not only creates a firewall for your website but also works a scanner for malvertising attacks. It is one of the best WordPress security solutions available.

This plugin works similarly to Wordfence Security. Cloudflare is good for anti-DDoS (distributed denial-of-service). DDoS attacks include invalid traffic on the website.
Cloudflare's free plugin doesn't include a website application firewall, but it includes caching and SSL for a website.
Best Ad Plugin for WordPress
Main Feature: Full ad management of your inventory with no fuss.
Setupad plugin is an ideal solution for both beginners in website monetization and experienced content creators. With years of experience in programmatic advertising and hundreds of WordPress websites in our client portfolio, we knew exactly which features and functionality our clients needed to manage and optimize their inventory efficiently.
Thus, Setupad plugin is a one-stop-shop solution for anyone looking for a free and user-friendly plugin to insert, optimize, and manage all kinds of ads, including Google AdSense and Google Ad Manager (GAM) ads, through intuitive code snippets. Our favorite features include lazy-loading for ad placements to save vital website resources and a related posts section with multiple grid options (with an option to insert ads between related post categories).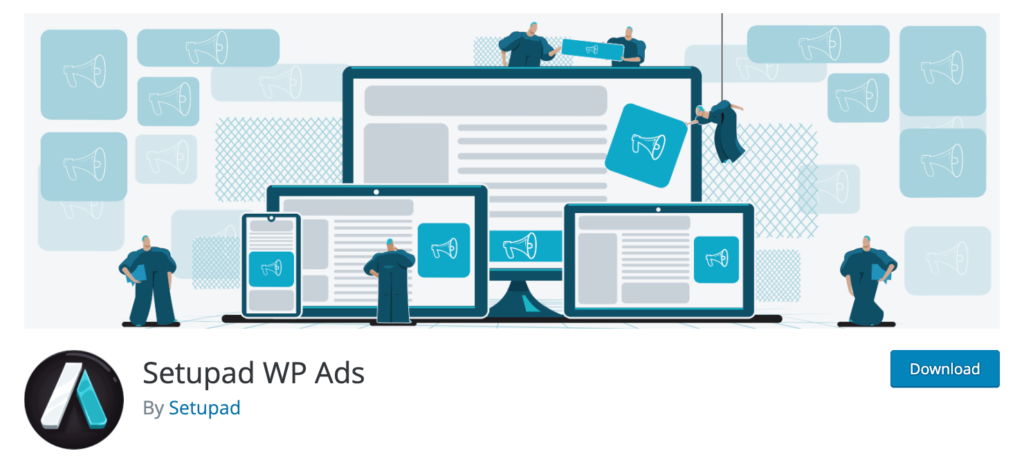 Main Feature: A powerful tool to embed and optimize ads.
The free Advanced Ads plugin provides you with all the necessary tools to manage, place, target, and optimize all kinds of ads on your website.
A popular feature of Advanced Ads is the deep integration with Google AdSense that allows importing AdSense earnings and ads into the WordPress backend without touching any code.
By enabling the premium add-ons of Advanced Ads, you can extend the plugin's functionality even further. For example, with features like click fraud protection, lazy loading, ad tracking, and full AMP support.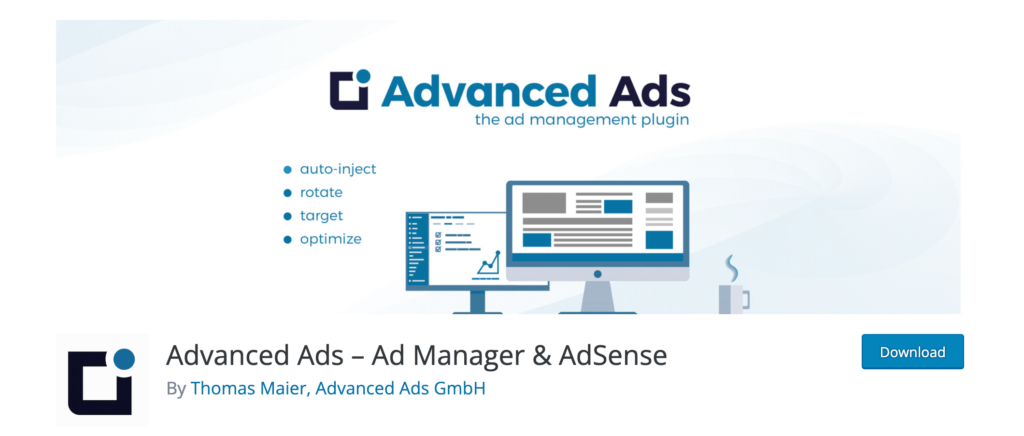 Best #2 alternative: Wp-Insert
Main features: Ad management, insertion, and AdSense optimization.
If you are monetizing your website with ads, Wp-Insert will be useful for ad optimization. It allows inserting ads anywhere on a webpage and provides different ad styles and customization functions.
By choosing this plugin, you make sure that your users' data are collected to the maximum extent possible, and here we are talking about cookies.

Best eCommerce Plugin for WordPress
Main feature: Full ownership of your web store's content and data.
This plugin is an open-source eCommerce solution, so if your website's goal is to sell, this plugin is a must. WooCommerce's built-in tools help publishers efficiently manage their business operations.
It's very helpful for beginners without experience regarding the web store's creation. Thanks to WooCommerce it can be done in a few hours.
It's considered the best WordPress plugin for e-commerce stores regardless of the platform (e.g.,SAP Spartacus ) it is running on. 

Best WordPress Redirect Plugin
Main feature: Creating automatic redirects for broken URLs.
If your site supports permalinks, then any page's URL can be redirected by using this plugin.
This plugin also manages 301 redirections and keeps track of 404 errors. You will be able to redirect 404 errors in bulk.

Best WordPress Push Notification Plugin
Main feature: The Auto-push feature automatically gathers the content after you've hit publish and pushes it as a notification to subscribers.
iZooto helps news and media publishers to build, engage and retain their audience using web and app push notifications. This plugin has a one-click integration with WordPress, making it easy to set up and start.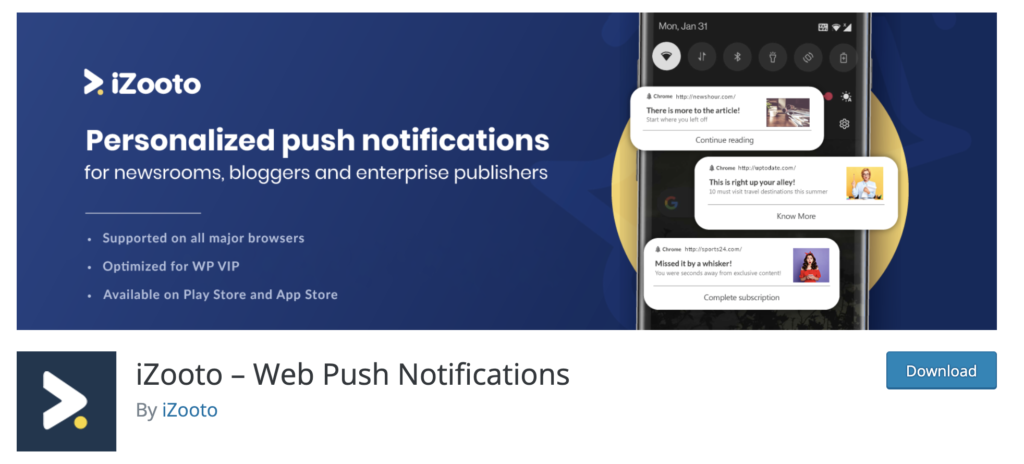 Best WordPress Cache Plugin
Main feature: Helps with your website's performance.
W3TC plugin can improve user experience and SEO and reduce loading time for features like content delivery network (CDN) integration.
One of the biggest pros of this plugin is that it has a different cache for mobile and desktop devices.

Best WordPress Speed Plugin
Main features: Image lazy loading and database optimization replacement.
WP-Optimize is one of the best WordPress performance plugins. It also works as a caching plugin. This plugin handles minification, image compression, lazy-loading of images, and even database cleanup. It can also be integrated with other plugins like Cloudflare for improved performance and UpdraftPlus for easy website backups.
WP-Optimize is a great all-in-one optimization plugin that has a free plan with lots of features. However, paid plans are still quite affordable.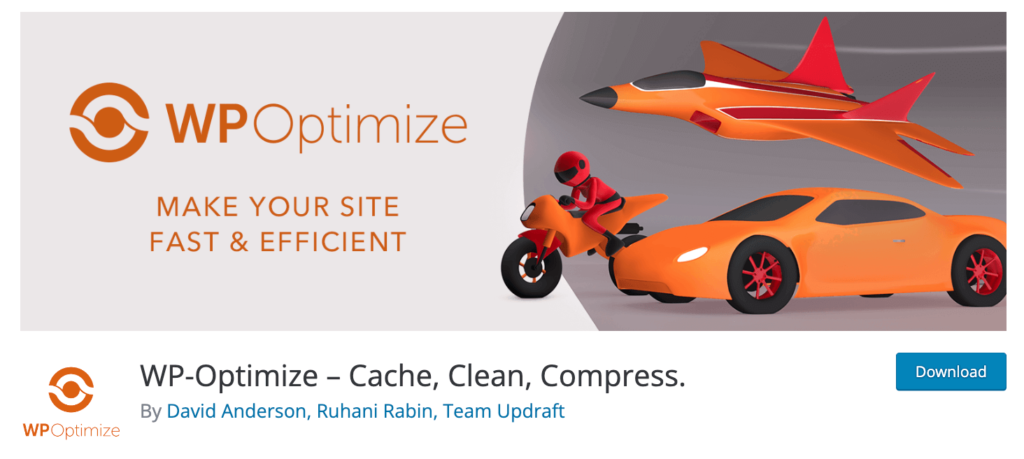 This plugin can speed up your website and increase your website security. This plugin also has a free content delivery network (CDN) plan.
Best WordPress Gallery Plugin
Main feature: Gallery builder.
Envira Gallery is a user-friendly plugin that allows creating a well-designed photo gallery. With this plugin, you can easily drag and upload images.
This plugin is mobile-friendly, plus it ensures the maximum speed on front and back-end. For each image, you can easily add metadata so it can rank better in Google.
This plugin is optimized so that it wouldn't affect the website's loading speed on the web.

Best Image Optimization Plugin WordPress
Main features: Improves website loading speed.
With the Smush plugin, you can easily optimize your images.
Why is this important?
You will improve your content's loading speed and user experience. It comes with various features such as incorrect size image detection, automated optimization, lazy load, and many more. It's worth mentioning that when you use the plugin and upload a new image, it will automatically reduce the size but not the image's quality.
What's more, it comes without any monthly limits, so optimize away!

Best WordPress Affiliate Plugin
Main features: An excellent link management tool.
Pretty Links allows creating neat URLs for WordPress users. It will enable you to add, organize, and share your affiliate links to multiple platforms. It also has a tracking feature that allows you to see a full analysis of your URL traffic source, browser, host, etc.
Pretty Links offers a link shortening tool that generates shorter URLs originating from your domain.

Best WordPress Translate Plugin
Main feature: Translate your website in multiple languages.
With TranslatePress, you can use a live editor and translate your website or content with a live preview of the page. It allows an instant switch between multiple languages.
TranslatePress also enables you to use Google Translate to automate the translations, and you can edit the sections that need improvements.

Best Chat Plugin for WordPress
Main feature: Chatbot for easy communication with website visitors.
LiveChat comes with a great set of features that makes it stand out from different chatbot options. It has a ticketing system that helps to collect messages from clients that reached out when you were offline.
With LiveChat, you can automatically send personalized messages, allowing you to customize them when you send them. For example, you can trigger the message when a user has done a defined action, like spent x time on your website.

Best AMP Plugin
Main feature: Simple and quality AMP integration.
This plugin is an official plugin on WordPress. Accelerated Mobile Pages (AMP) plugin allows publishers to create, edit, and publish AMP stories. It has 3 template modes for you to choose from–standard, reader, and traditional.
By installing the AMP plugin, you can make your site ultra-mobile friendly. This plugin also allows for generating AMP-valid markups.

This plugin provides a lot more customizable options than AMP. So if you want to make your AMP layouts to look more professional, AMP for WP plugin is the way to go.
Most importantly, it allows adding ads inside AMP pages more easily, thanks to additional tools related to this plugin. It supports Google Ad Manager, AdSense, and many more platforms.
We suggest installing this plugin for users who are using WooCommerce because AMP for WP integrates with it.
Conclusion
It's vital to remember that you should use as few plugins as possible because they can affect your website's loading speed in the long term. It is because each plugin you install comes with additional weight.
Most top plugins are designed to make life easier for WordPress users, but you shouldn't see them as the ultimate solution as a user. By this, we mean that there is always a possibility to build custom functionalities tailored to your website's needs and avoid using plugins.
We hope this article helped you to make the right choice regarding the best free WordPress plugins.