4 Key Metrics to Check in Google Analytics
As a publisher, reporting tools like Google Analytics are valuable for checking your website's performance and revealing what you need to improve.
Over time, Google has continued to update Google Analytics, with the most recent version being Google Analytics 4 (GA4). Previously on our blog, we covered how to switch from Universal Analytics to Google Analytics 4.
In this article, you will learn the 4 most important Google Analytics metrics and how they can help you improve your site's performance.
1. Website Users
Website users are people who engage with your content at different times. Google Analytics splits your site's audience into two categories: New Users and Returning Users. The New Users are first-time visitors to your website, while the Returning Users have interacted with your website before (at least once) and are back again.
To check for the Website Users metric, toggle your cursor to the left side of your screen and click on Audience → Overview. This action is represented in the image below.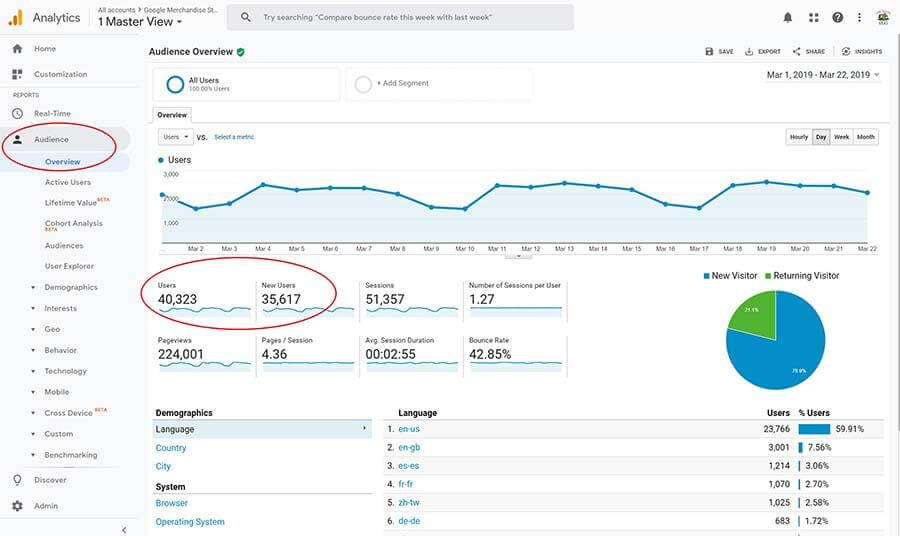 Apart from viewing the difference between your new and existing users, the site user metrics also help you determine the trends of users over time. The GA4 takes it even further by letting you see which sources or channels brought in your new users. Here's an example from the Google Merchandise demo account: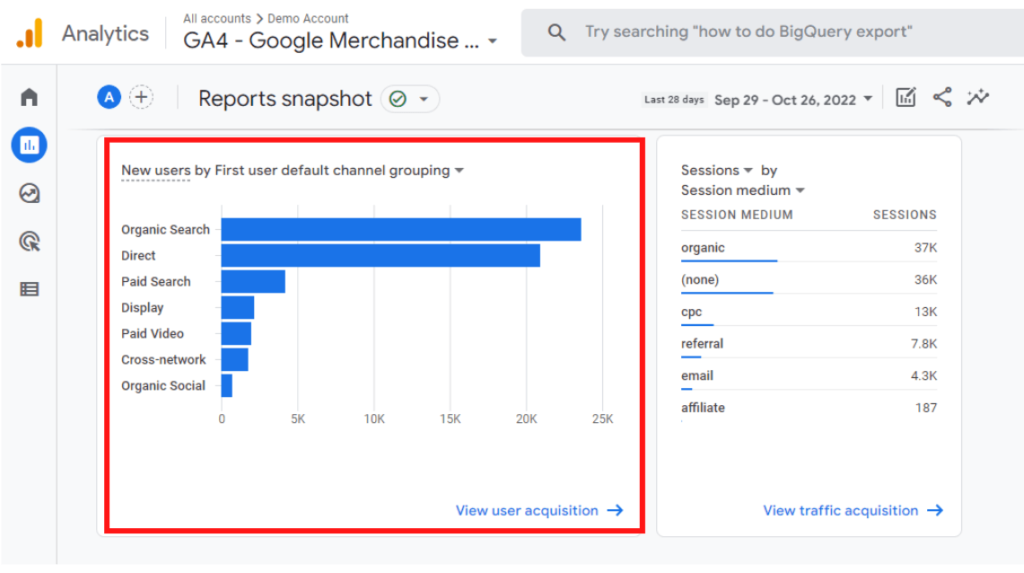 Finally, you can use the web users metric to evaluate when your site had more users and compare with periods when you had fewer users. This way, you can quickly investigate how specific changes to your on-site or off-site activities have contributed to bringing new users to your site.
2. Sessions
"Sessions" refers to the total number of user interactions with your page within a particular period. Here's how it works:
If a user opens a landing page on a website and then leaves or becomes inactive for more than 30 minutes, their next visit will be recorded as a new session. However, if users leave and return within 30 minutes, Google records it as a single session.
Observing the session metric on Google Analytics can help you determine how well your SEO efforts, campaigns, or landing pages perform. For instance, the sessions metric will help you understand how long visitors stay on your site before performing the desired action or which traffic sources bring in users with the most sessions.
GA4 gives a more detailed capture than the Universal Analytics report. Let's see another example from Google's demo account: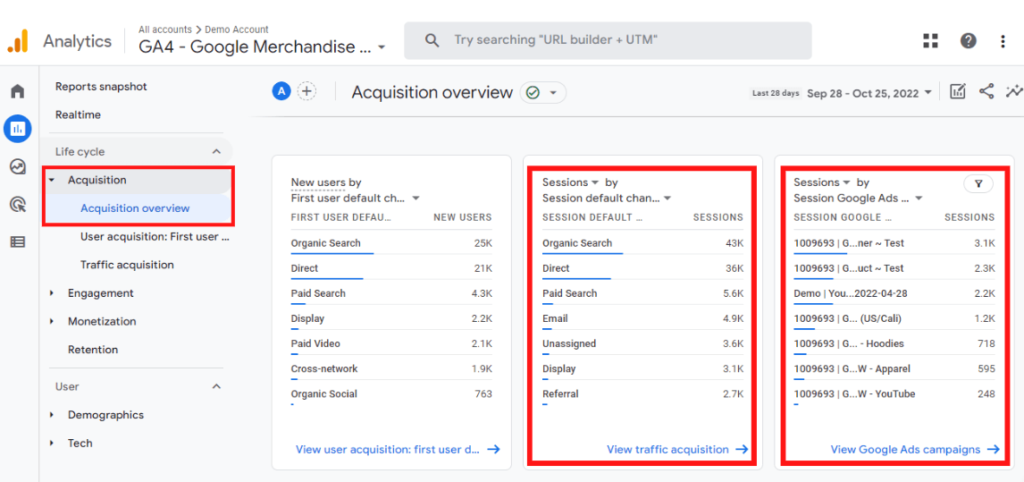 To access this metric on GA4, follow the same steps as earlier stated for Website Users; i.e., click on Acquisitions → Acquisitions Overview, or simply type "sessions" into the search bar. You can also find a more detailed report when you click on Traffic Acquisition.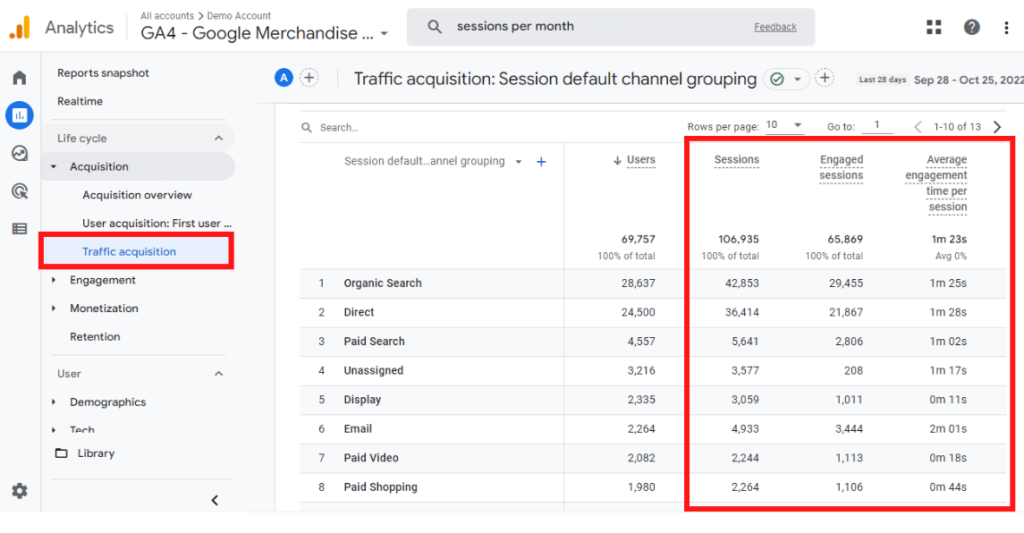 You'll notice that the image above has two session reports. Here's how Google defines them:
Sessions – "The number of sessions that began on your site or app."
Engaged sessions – "The number of sessions that lasted longer than 10 seconds, or had a conversion event, or had 2 or more screen or page views."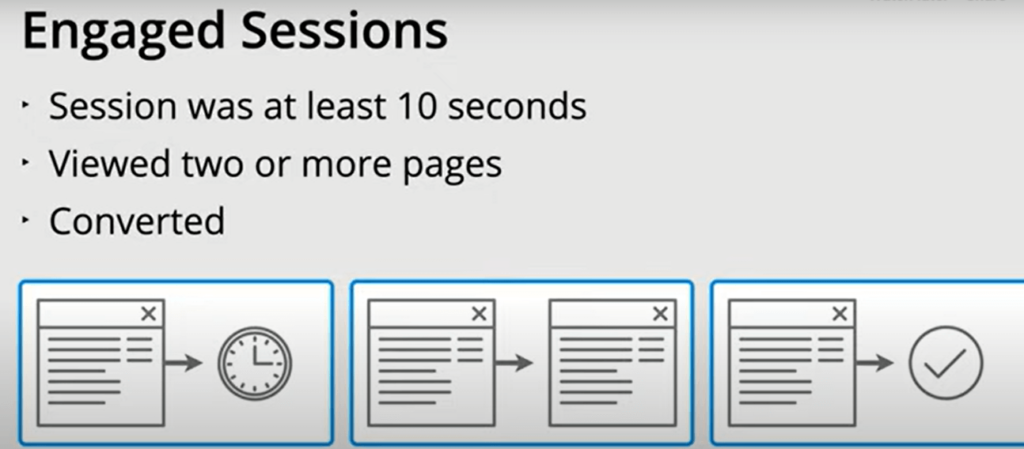 One way to keep active users on your site is to have well-positioned internal links on your website.
Whether you're using Universal Analytics or GA4, the sessions metric will provide useful insights to help improve user activity on your website.
3. Bounce Rate
Bounce rate measures how often users navigate away from your page without clicking anything else. A higher bounce rate means that users are leaving your site quickly.
In Google Analytics 3 or Universal Analytics, the bounce rate is usually calculated as a ratio of single-page sessions to all sessions. However, in Google Analytics 4, this is the percentage of sessions that were not engaged sessions.
While bounce rate is easily found in the "audience overview" on Universal Analytics, you'll need to customize your report on GA4 to see this. Here's how:
Click on Reports → Engagement → Pages and screens → Library → and click on the pencil icon at the top right as shown below: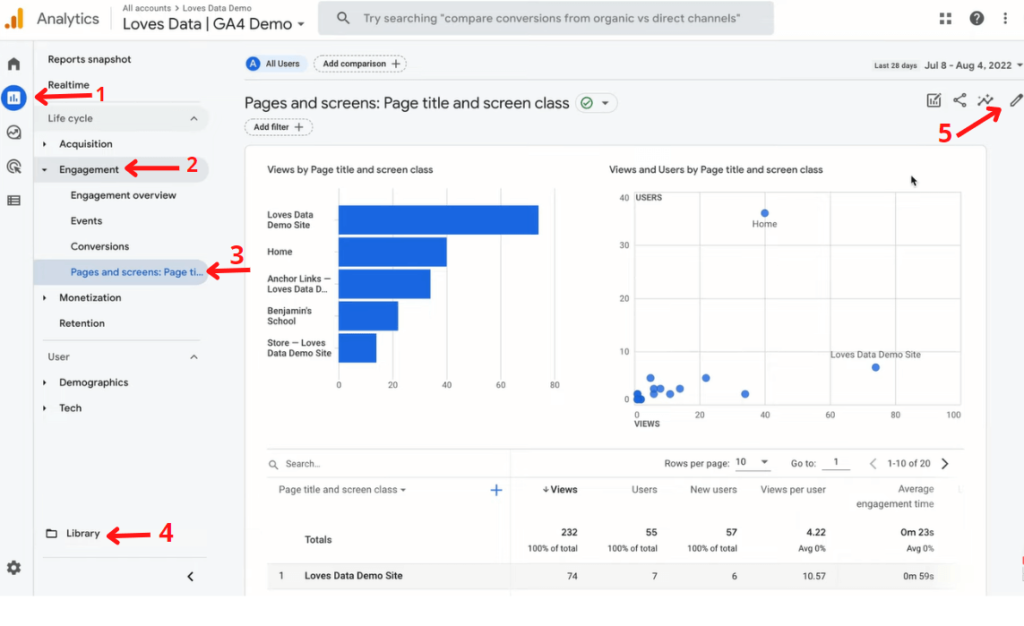 Next, click on Metrics, and you'll see a list of default metrics.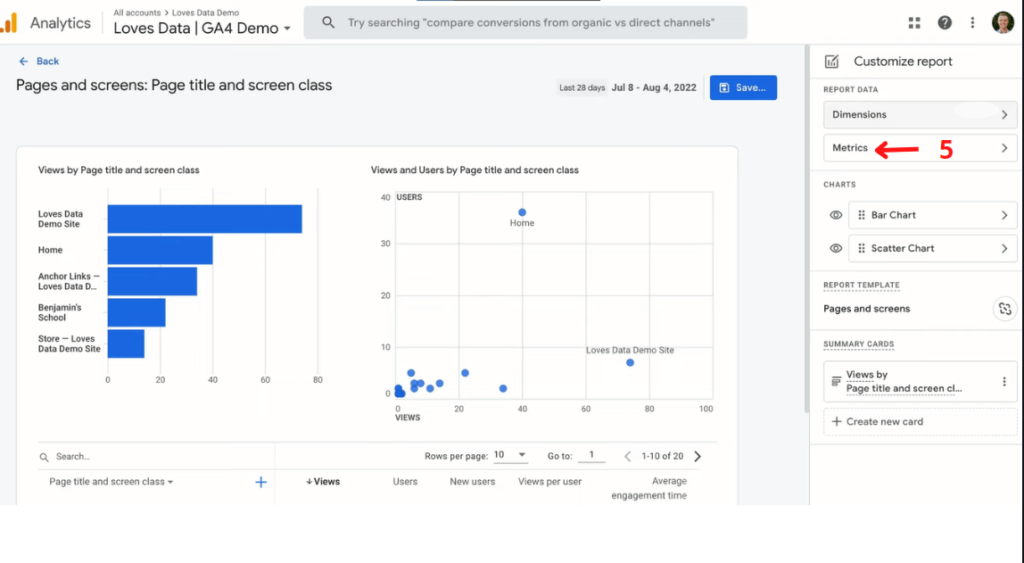 Next, click on Add metric → Bounce rate → and click Apply to save changes.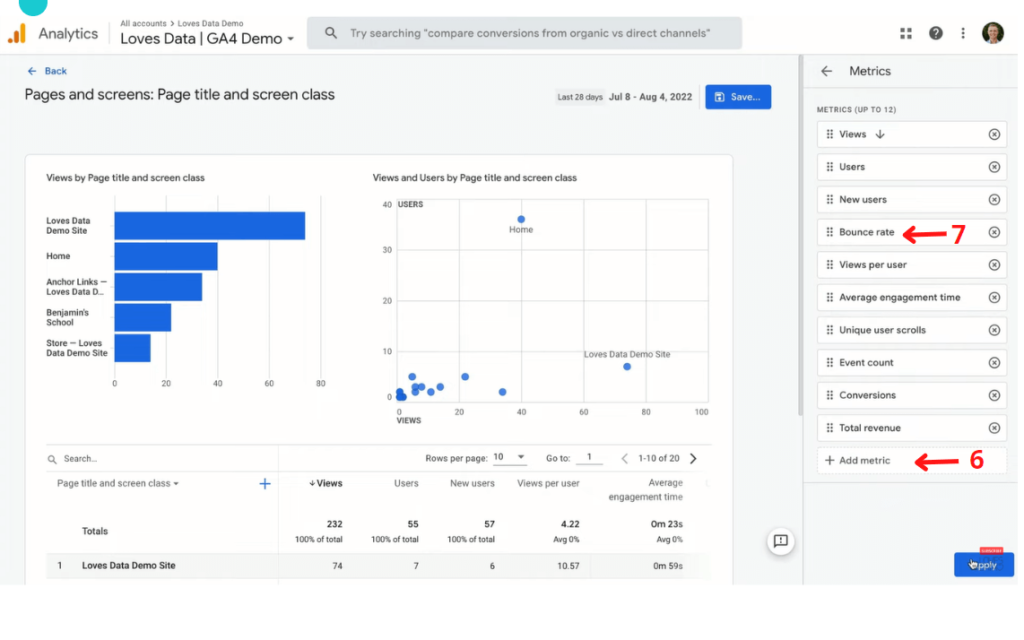 Typically, a high-bounce rate could occur because:
Your content is not interesting or engaging enough. If you own a blog, for example, you must ensure that your content is exciting and relevant to avoid a high bounce rate.
Your content doesn't relate to the ads users saw before clicking on your website link in the first place.
Your page lacks a clear call to action that would make users stay longer on your website.
Your website has bad navigation or not enough relevant internal links on your pages.
A high bounce rate may also be due to issues like page load speed or frequent downtimes on your site. One way to fix this is to using an effective web hosting platform for your website. However, before deciding on the platform to use, ensure you run through a web hosting review that provides enough information about the quality of the service provider you choose.
4. Engagement Rate
The engagement rate measures how much time users spend on your site and the level of conversions generated. You can use this data to measure user engagement. Engagement rate is another essential metric you should check on Google.
While bounce rate was a prominent digital marketing metric in Universal Analytics (GA3), engagement rate is more commonly used in Google Analytics 4.
Engagement rate is the ratio of engaged sessions to total sessions. If you notice that users are spending a lot of time on your site but not interacting with any pages, you should consider making some improvements to your site.
To increase your engagement rate, ensure your website has clear call-to-actions, well-structured content, and appealing page designs.
To access the Engagement Rate metric on Google Analytics, click on Reports → Acquisition → User Acquisition.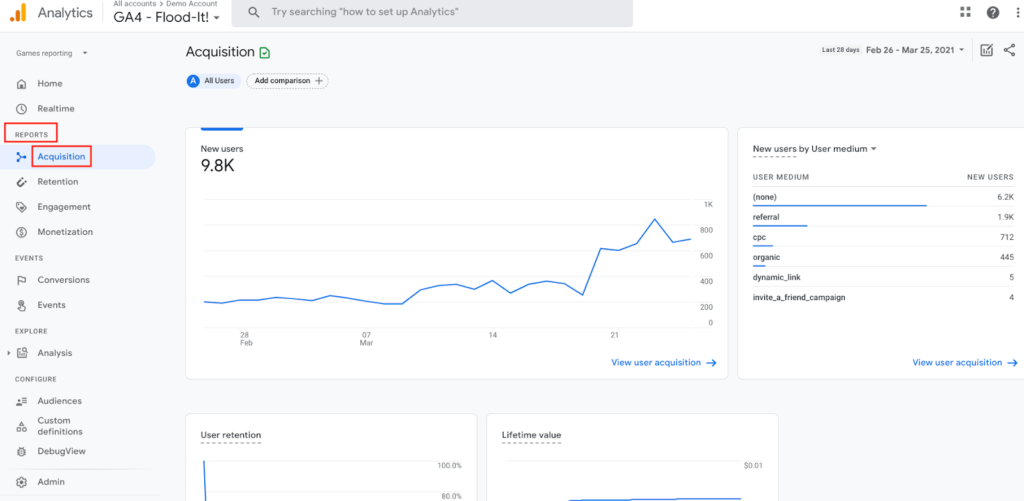 You will see results for your engagement rate within the specified period of time, and metrics like Engaged Sessions, Engaged Session Per User, and Average Engagement Time.
In Closing
We have discussed 4 of the most important Google Analytics metrics. While there are many more Google Analytics metrics, keeping track of these is crucial to helping you achieve your website goals.
Studying your Website Users will help you know the number of users that visit your site at a particular period. Sessions will inform you of website users' interactions when they visit your site. Your Bounce Rate shows the number of people leaving your site without taking action.
Engagement Rate helps you understand how well website users engage with the content on your website. If you already have an established website, ensure you integrate Google Analytics with your website and track these metrics at regular intervals, e.g., weekly or biweekly.
Google Analytics will provide the relevant data you need to see how well your website performs. In areas where you are not doing so well, you can easily reevaluate and improve your site.