The Impact of Shared Hosting on SEO
Online business owners and publishers are always concerned about their SEO rankings. While seeing too many aspects impacting the website ranking, they tend to neglect the influence of the hosting service itself.
In this article, we'll focus on the impact of shared hosting on SEO ranking and offer effective tips for choosing the best SEO web hosting.
SEO with Web Hosting: What Do You Need To Know?
Keywords, backlinks, and content are the first things that come to mind whenever you hear the term SEO. From a technological standpoint, you may also be aware of factors like site layout and mobile compatibility. However, SEO considerations also extend to the hosting provider you choose.
Unlike shared hosting, where numerous websites share a server's resources, dedicated hosting gives you full control over your website. Dedicated server hosting gives access to additional server resources, enhancing performance and customization. It improves SEO by optimizing server setups, loading speed, and SEO strategy implementation.
What Is Shared Hosting?
With shared hosting, multiple platforms are hosted on a single physical server and share the server's bandwidth, hard drive space, and other resources. Shared hosting is a way to use a web server to store, serve, and run more than one website.
Does a Shared Host Impact SEO Rankings?
The effect it has on your site's rankings will vary depending on the service you use and the type of website you manage. When using a shared server, here are some things to keep in mind regarding SEO for your website:
Fast loading speed. A good hosting provider ensures that your website is hosted on fast and reliable servers, reducing page load times and improving user experience.
Uptime and downtime. If your hosting provider has frequent downtime or your website experiences prolonged periods of inaccessibility, search engines may perceive your site as unreliable, impacting your SEO rankings. A reliable hosting provider with high uptime guarantees that your website is consistently available to visitors and search engine crawlers.
Security. Hosting providers with robust security measures can help protect your website from potential cyber threats, such as hacking attempts, malware, or data breaches.
Optimizing the site for speed and search engine rankings is essential regardless of your provider. While a good provider may make a huge difference, you should still do all you can to boost the performance of your page.
What to Consider When Choosing a Web Host for SEO
Various factors affect a website's rating, including keywords, backlinks, and competition research. But there's something you're missing; it's the effect the web server has on SEO.
The quality of the service may make or break your website's visibility on the internet, whether you know it or not.
If you are looking for a provider that meets your SEO needs, here is a checklist to consider:
1. Speed
According to data from Google, a high bounce rate directly correlates to a slow-loading page. Despite the importance of fast-loading web pages, several sites fail.
According to 2022 data, the average load time for a mobile page is 4.6 seconds. It may appear to be a fast solution, but it won't compete with the top-performing websites.
It is expected that a page has to load in less than 3.2 seconds to be in the top 20% of sites. If you want to be in the top 10%, your mobile page load time must be under 2.6 seconds.
Deloitte research illustrates how the bounce rate increases with every additional page loading second.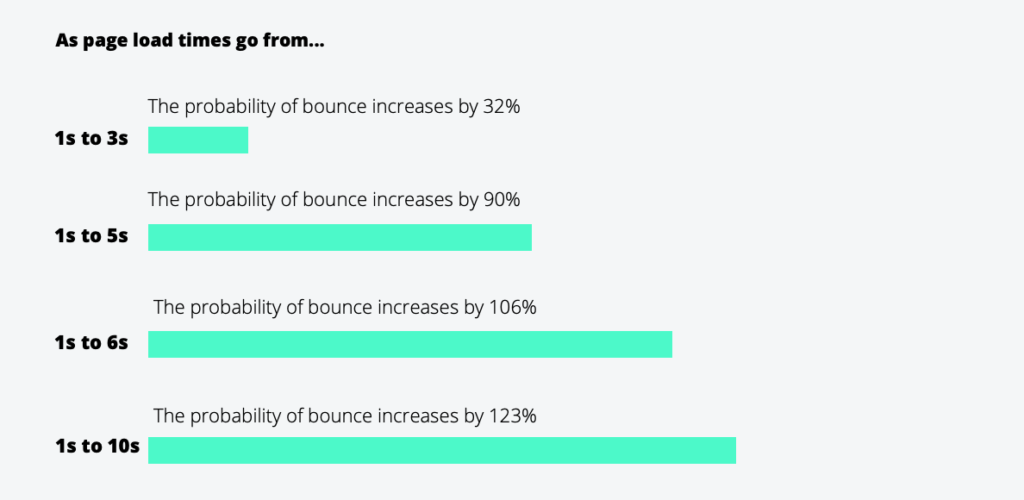 Source: Deloitte
2. Uptime Reliability
Inconvenience and frequent crashes on the website are annoying for visitors. A company might lose hundreds of dollars in just a few minutes of downtime due to lost productivity. However, losing search engine rankings due to downtime is just as bad.
Sites that are frequently unavailable may get a bad reputation from search engines like Google. While no web server can guarantee 100% uptime, the industry standard is 99.9%.
3. Customer Service
Some important aspects of customer service to keep in mind when selecting a provider for search engine optimization are:
Company size. Larger companies often have stronger customer service resources and people. They also invest more in training their representatives.
Overall reputation. Nowadays, it's easy to find customer feedback. You can narrow your search by reading reviews of different web services to see other people's experiences.
Contact methods: The easier a firm is to contact, the better. Look for firms with phone number, social media accounts, and Live Chat for faster replies.
4. Server Location
Does the server location impact page loading speed? Yes. Website load times are affected by geolocation due to the fact that network latency is based on the distance between the user and the server. If your website is targeting a global audience, it's important to choose a server location that is close to the majority of the website's visitors.
Longer distances cause more latency, which slows reaction times. CDNs reduce this impact by caching and delivering material from nearby servers.
5. Security
Experts advise not to share your personal information if the page doesn't have an HTTPS certificate, so that's an immediate drop in rankings.
While self-installation of an SSL certificate is possible, finding a web service provider that offers a certificate at no or little cost is much more convenient.
6. CMS Quality
A content management system (CMS) is software or a collection of related applications that facilitate effective digital material production, distribution, archiving, and modification.
There are more than 80 content management systems (CMS) on the market, but Zippia reports that 64.9% of businesses use WordPress.
If you're having trouble making a decision because there are so many systems out there, you should prioritize finding a service with the following three qualities:
Adaptability. Look for a CMS that offers frequent updates and bug fixes.
Compatibility. Make sure the CMS works with common web browsers and devices. It should also be compatible with other apps and plugins.
Conclusion
Consider carefully which SEO web hosting provider you choose because you will likely be working with them for quite some time.
Finding the best web service may be time-consuming and frustrating because there are so many options. Simplify your search for providers by focusing on those that prioritize uptime, performance, and security.