SEO vs PPC | Differences Explained for Publishers
SEO and PPC are both important strategies for generating traffic to your website.
But do you know how a PPC campaign impacts your website's ranking? Or if website monetization affects SEO or PPC performance?
In this article, we'll explain the difference between SEO and PPC, their advantages and disadvantages, and what role website monetization plays in optimizing your website for search engines.
What is PPC?
PPC stands for a pay-per-click marketing model in which advertisers pay a fee to publishers (search engines or website owners) for each time their ad is clicked. 
This model is used on social networks like Facebook and Twitter but more commonly on search engines like Google. PPC advertising on search engines lets advertisers' ads appear above organic search results.  
Like SEO, keyword research is necessary for good PPC performance. Targeting keywords relevant to your content, service, or product brings a higher number of clicks and visitors to your site.
You can create several ad campaigns with different objectives and keywords for a wider audience reach. The keywords should always be specific and related to your content.
Similarly, you exclude specific keywords so that your ads won't appear if the search query contains an exact keyphrase match (negative keywords).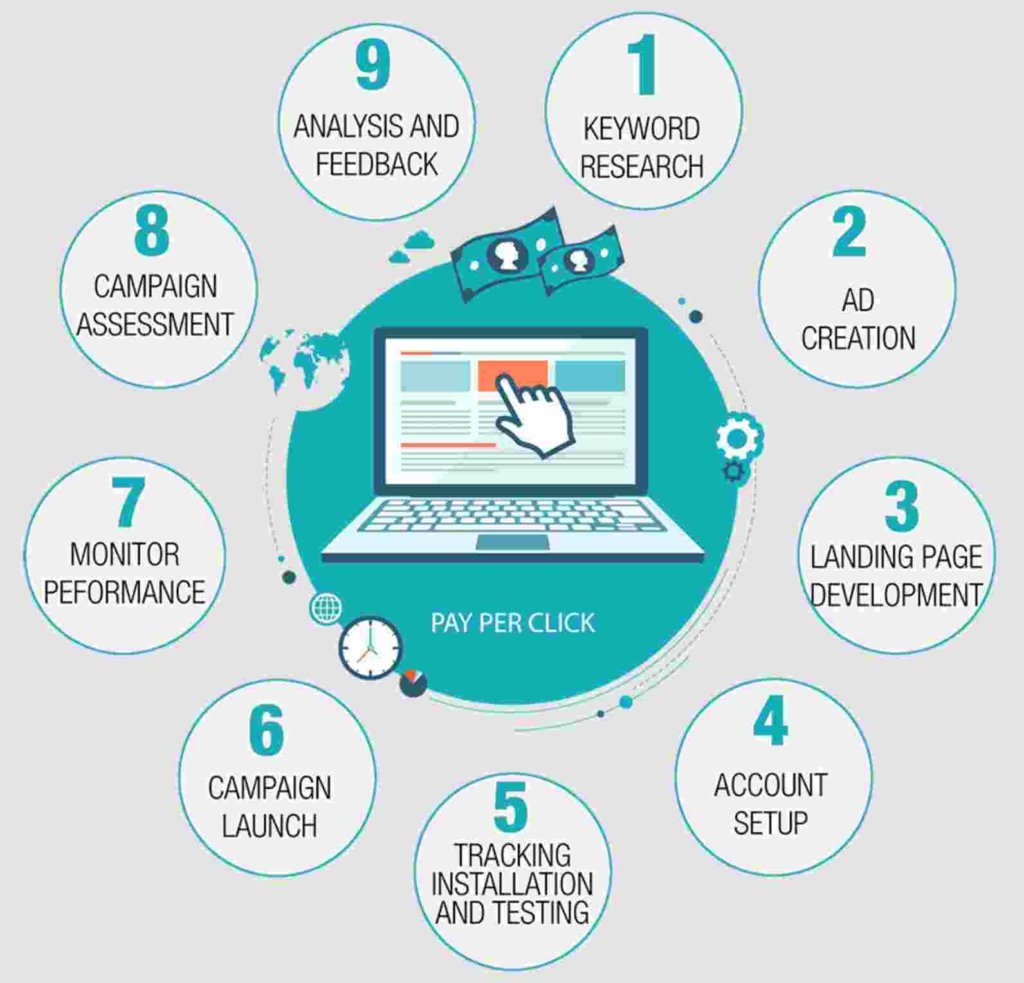 Source: Fusing Marketing
What are the types of PPC rate models?
There are two types of PPC rate models:
Flat-rate model–the advertiser pays the publisher a fixed rate of money for each ad click, which can be negotiated. The publisher can lower the price if the advertiser offers a valuable long-term contract—for example, eBay. 
Bid-based model–advertisers bid the most money they will pay for an ad spot. In this auction, the winner is determined based on price and relevance—for example, Google Ads and Microsoft AdCenter (top PPC agencies recommend this model).
What are the ad types of the PPC model?
There are 3 main types of ads in the PPC marketing model:
Search engine ads–the most common type of PPC advertising. It's mainly run on a bid-based model targeting specific keywords that are related to the content offered. Advertisers with higher bids appear higher on the search results as long as they offer users a good landing page experience and ad relevance.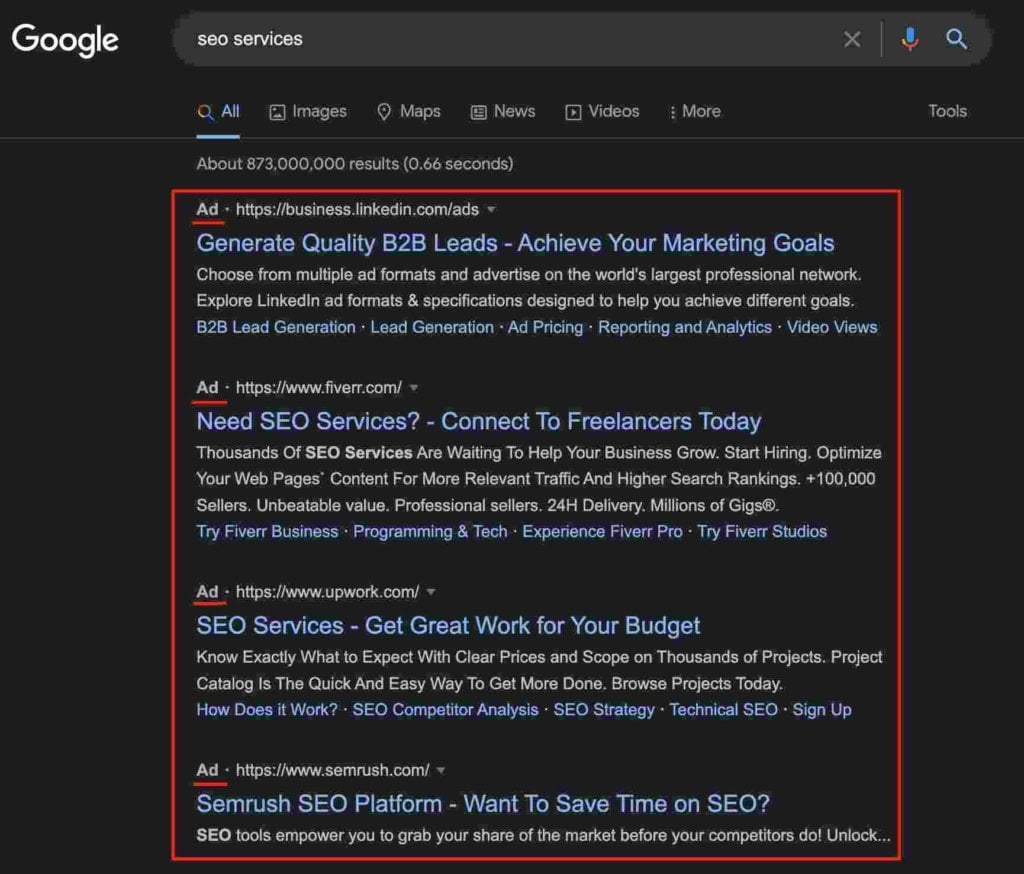 Display ads–product or service advertising on the web while users are browsing through different web pages. The most popular example of a PPC model in display advertising is Google AdSense.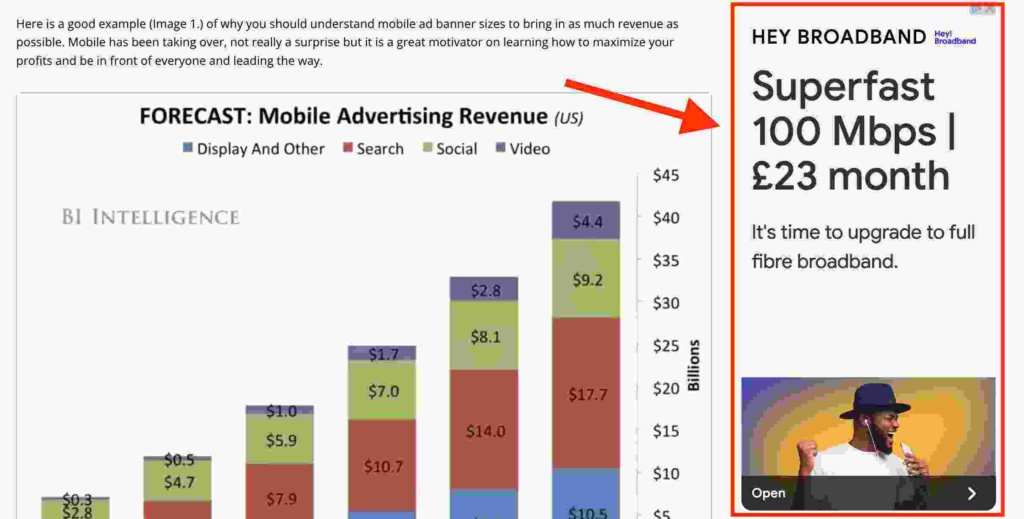 Social ads–are shown on social media platforms targeting users by their location or interests. Social ads can be run on multiple platforms like Twitter and Facebook in different ad forms, such as images or videos.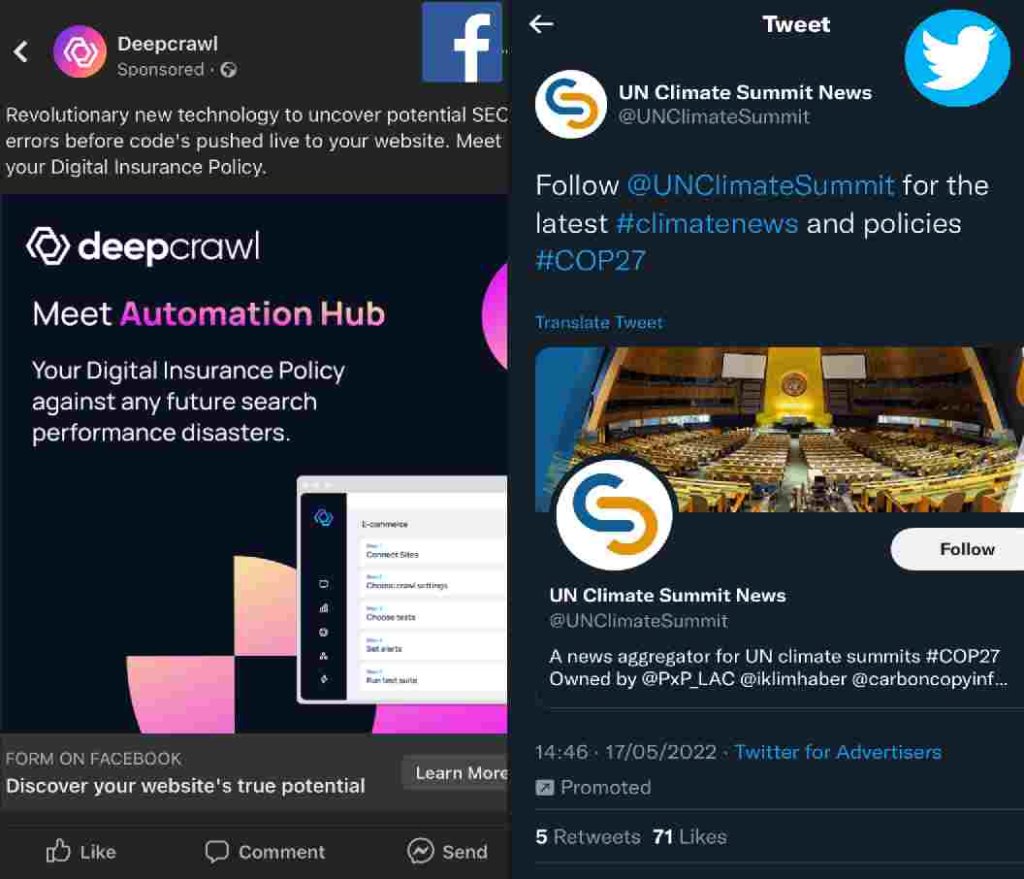 What is The Difference Between SEO and PPC?
SEO brings more long-term benefits, such as optimized user experience, higher authority, and organic traffic. Besides, it doesn't cost anything except your time and effort.
PPC brings instant results, allows targeting of customers, locations, and keywords, and displays your paid ads at the top of the search results if optimized correctly.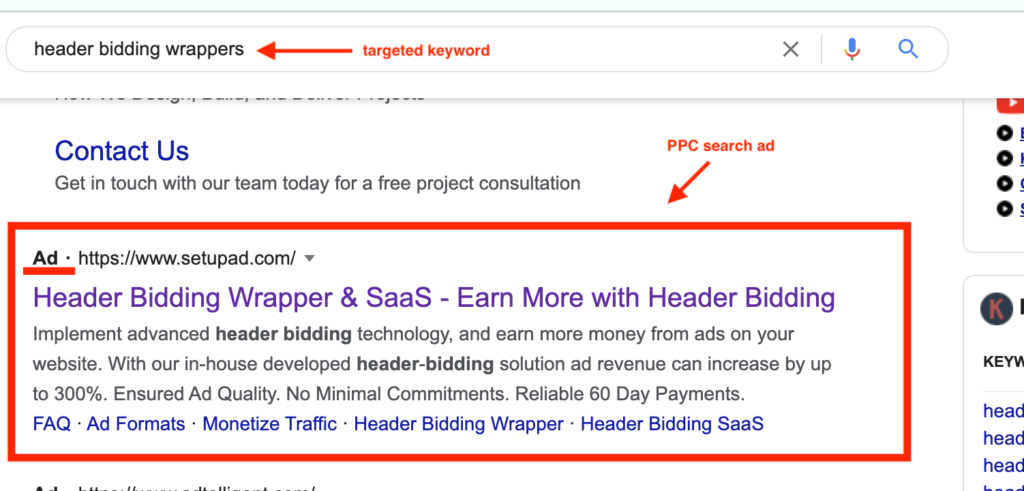 SEO can be seen as organic advertising, but PPC is paid advertising. SEO is more complex than PPC, but both require a thought-out optimization of the website and content. 
For an effective SEO strategy to work, search engines must be able to crawl the website, understand its content, index it, and consider it a valuable resource for the user.
A PPC model requires keyword research and optimization, the creation of ads and landing pages, budget management, tracking of ads and conversions, and frequent campaign updates. 
For Google, the most well-known ad platform is Google Ads. Their advertising ecosystem provides search, display, video, and app ads.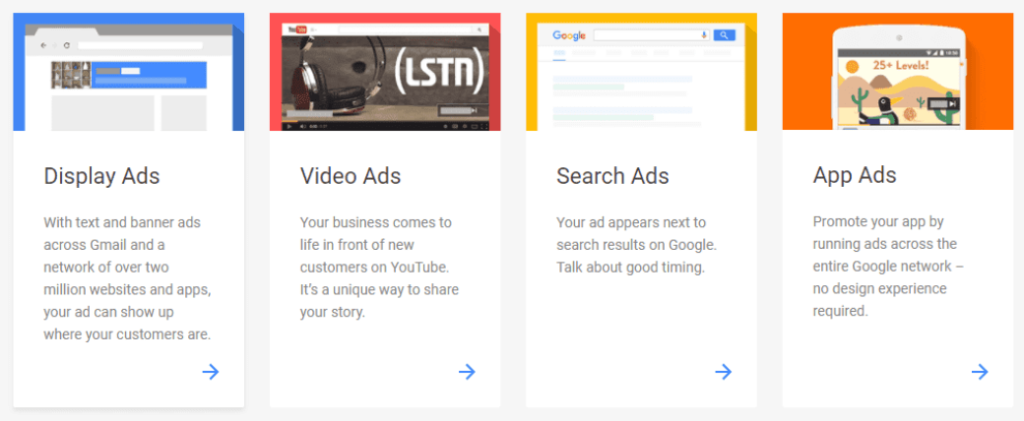 Pros and Cons of PPC and SEO
PPC and SEO have pros and cons, which can be seen in the table below.
PPC
SEO
PROS
• Appears at the top of search results and above organic listings (if done correctly)

• Enables specific targeting of audiences, locations, and keywords

• Drives instant traffic

• Higher CTR (click-through rate)

• Total control over your campaign

• Easy to measure results
• Can be done free/low cost

• Brings long-term results

• Drives organic traffic

• Brings benefits even after you stop working on SEO

• Builds website's authority
CONS
• Paid traffic

• Can be expensive, especially for competitive keywords

• Competitors can overtake the top positions with better-performing ads
• Unpredictable

• Lower conversion rates

• Takes time to show results

• Have to adjust to the changing search engine algorithms
Can PPC Help SEO?
PPC doesn't directly impact SEO but might indirectly help SEO performance. 
If a user constantly sees ads on your website, he will unconsciously remember them. The next time he searches for something and sees an organic listing on your website, he'll be more likely to interact with it as it will seem familiar.
PPC and SEO both complement each other. SEO will take longer to show results without PPC, but PPC campaigns without SEO aren't as effective.
In other words, PPC is like a shortcut to maximize SEO efforts, so the best tactic would be to integrate and use both methods simultaneously.
Which is Better: SEO, PPC, or Both for Publishers?
SEO is for the long-term, and PPC is for short-term goals.
If you're a new publisher who is willing to gain immediate traffic, then PPC would be better for you. PPC can be very effective if you want to attract users to your landing page and sell a specific service, such as subscription-based content. 
SEO would be better if you are willing to work on your website and content long-term to ensure a strong site structure and build high-quality backlinks that would bring organic traffic to your site. 
Building a good SEO strategy takes a lot of time. According to the survey, 97.8% of their respondents believe that PPC provides faster results compared to SEO. It means that leads and sales start coming in quickly with a PPC method.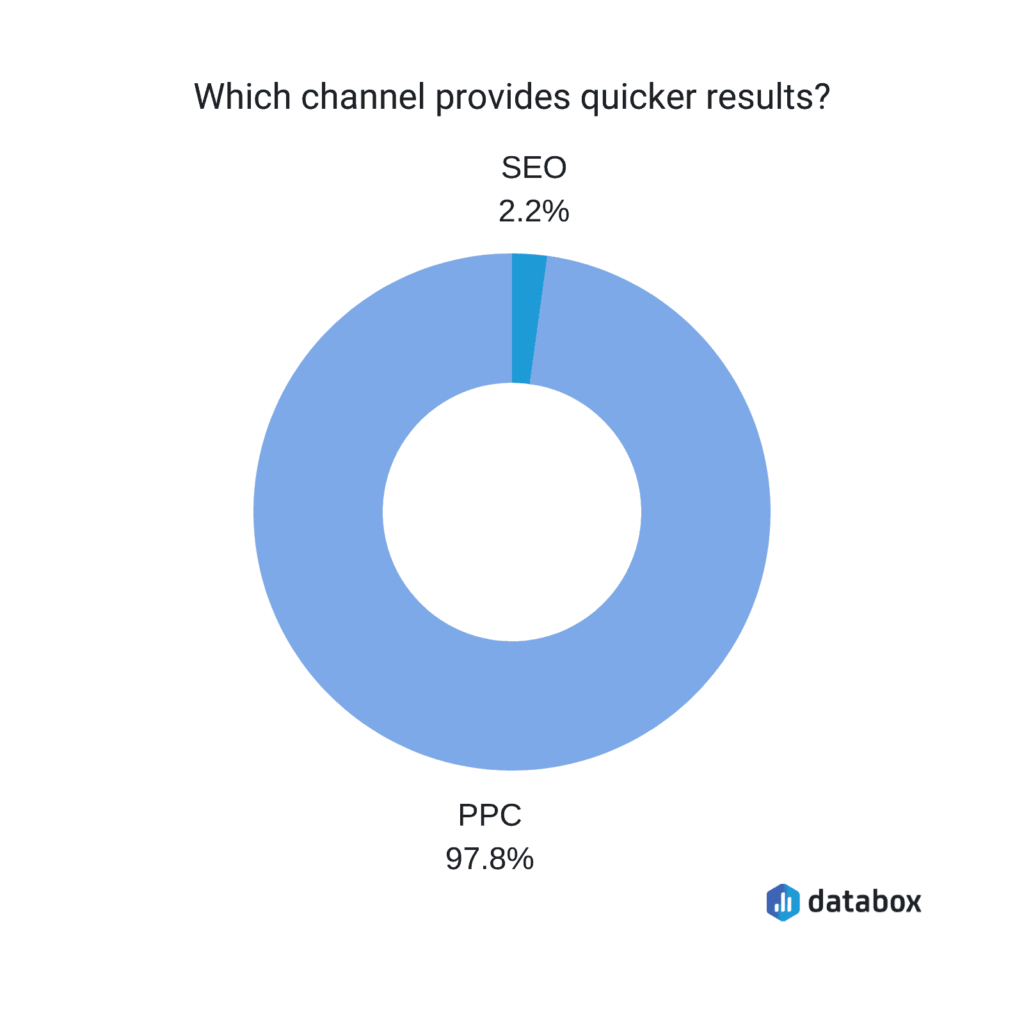 Source: Databox
On the other hand, if you want to provide quality content then working on SEO is more important. According to the same survey, 81.2% of respondents believe that SEO brings better quality leads and results compared to PPC.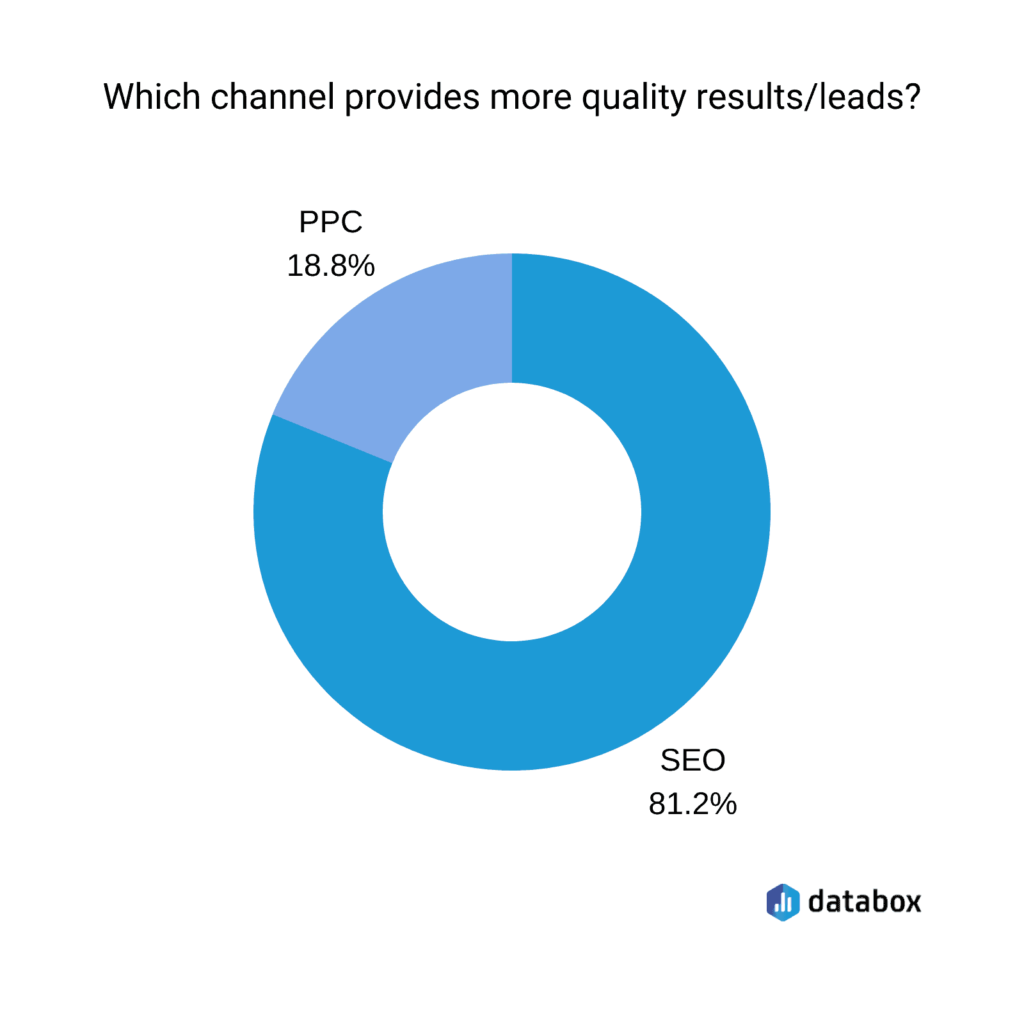 Eventually, investing in SEO and organic traffic leads to a better ROI (return on investment) in the long-term, which gives more profit than paid advertising. Therefore, PPC is considered as a good start for new websites that need to gain immediate traffic.
How Website Monetization Impact SEO and PPC Strategies?
Blog or website monetization is nothing without traffic. The higher your traffic, the higher will be your ad revenue.
But you should keep in mind that without a good user experience, you won't achieve good rankings. Therefore, it's important to use the right ad formats and not overcrowd the website with too many ads.
It's also important to choose the right website monetization partners like Setupad that offer a solution that has a minimal impact on website page speed.
Setupad Expert Opinion:
Povilas Goberis, COO at Setupad: "PPC doesn't impact website monetisation unless it's about traffic arbitrage. Then the campaigns you run via PPC networks should run on lowest possible CPC rates for website monetization to work. But the monetization itself would have no influence on PPC campaigns or very minimal, depending on the traffic quality and UX changes."
Conclusion
Both PPC vs SEO come with their pros and cons. SEO is free and gives long-term benefits, but PPC is a paid technique which can bring instant results.
It's always about creating a good user experience with SEO and PPC campaigns, including creating high-quality content and having a good website structure. That's also when website monetization will bring the best results.
Make sure to implement the best marketing strategy for your website including both or one of the campaigns.
If you still have any questions, be sure to leave a comment below or write to us at [email protected].