8 Proven Ways to Increase Your Organic CTR
Organic click-through rate (CTR) is the ratio of clicks to the number of times a website shows up in search results in response to a query.
Even if your pages rank high in top results, it will not do any good for your site if people don't click on your links. In other words, the organic click-through rate is the best SEO metric to estimate the relevance and appeal of your pages.
In this article, you will learn actionable tips on how to attract attention to your search snippets and get more organic traffic.
How to Spot CTR Issues on Your Website
In general, there are no ideal CTR benchmarks because every query is unique, depending on the competition in the niche. Click-through rates vary for different positions in the SERPs, but it is clear that most clicks go to the first few results.
To check your current CTRs, consult your Performance report in Google Search Console. Enable Total Impressions and Average CTR boxes in the graphs, and pick the Queries below.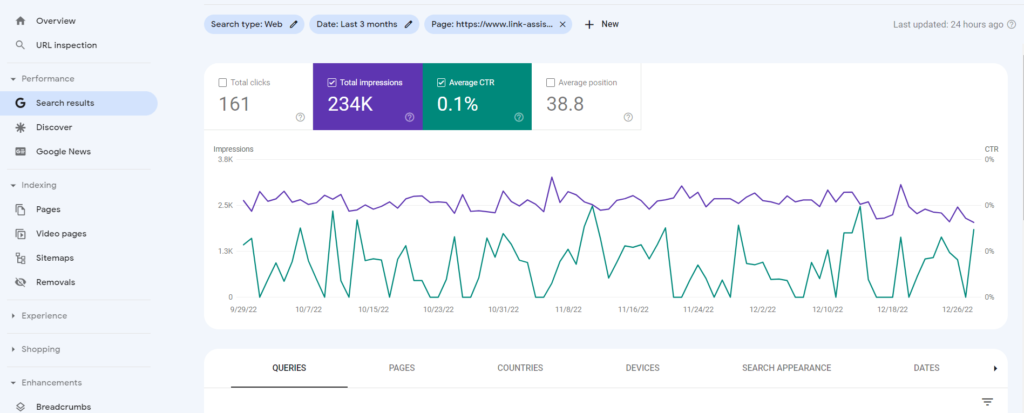 You can inspect queries for the whole website or separate URLs. Filter queries with the highest number of Impressions. Next, pay attention to those with organic click-through rate below an average CTR.
Cases When CTR Suffers
There are 3 main reasons for low CTRs on top-ranking pages:
Searchers get their answers right in the SERP
Some queries have informational intent behind them–searchers want to know generic information, e.g., weather, currency rates, or short factual data. And if it is concise, precise, or aggregated data, it will appear as instant answers. These types of queries result in zero clicks.
Too many rich results or PPC ads
Most organic clicks occur on the first three results: almost one-third of clicks go to the first result and twice as fewer to the second result. However, click-through patterns change essentially when rich features appear on the SERPs. There can be featured snippets, knowledge panels, reviews, image carousels, etc.
Besides, there is always room for Google Ads above organic results.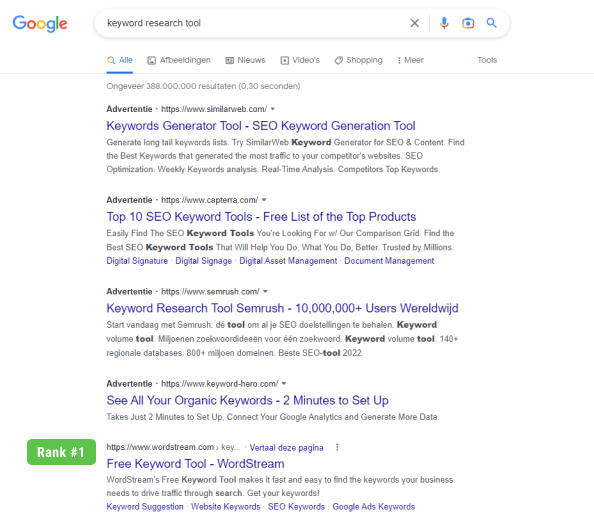 Bland meta snippets
Another reason for low organic CTRs is that your search snippet is unappealing to the searcher. For example, a title is optimized for SEO but does not sound clear or enticing. It may happen that Google has rewritten your title and meta description by choosing what the search algorithm considers the most appropriate.
Considering all of the above, you only slightly improve the appearance of your search results and get real benefits, sometimes really tangible.
8 Steps to Improve Organic CTRs
1. Appeal to the searcher's interest
The message behind the title is the most important thing a searcher gets, so creativity is the staple of CTR optimization. First, pick the proper tone of voice suitable for your audience. Make sure to avoid click-baiting–users must understand what the article will be about.
Besides, you should include power words and a call to action in titles. Depending on the type of content, you can try to alarm, hurry up the searcher, or arouse curiosity. To help you look at your titles from aside, you can use tools like Headline Analyzer to evaluate the appeal of a title.
2. Write eye-catching titles
There are a few well-known hacks that increase the click-through rate. One of them is placing the year or the number of items on your list in the title. These are signals of relevance, topicality, a readable structure, and simply the magic of digits.
Another tactic is to make a title eye-catching by adding brackets, emoticons, and uppercase. Although, use them wisely because a title can start looking spammy easily.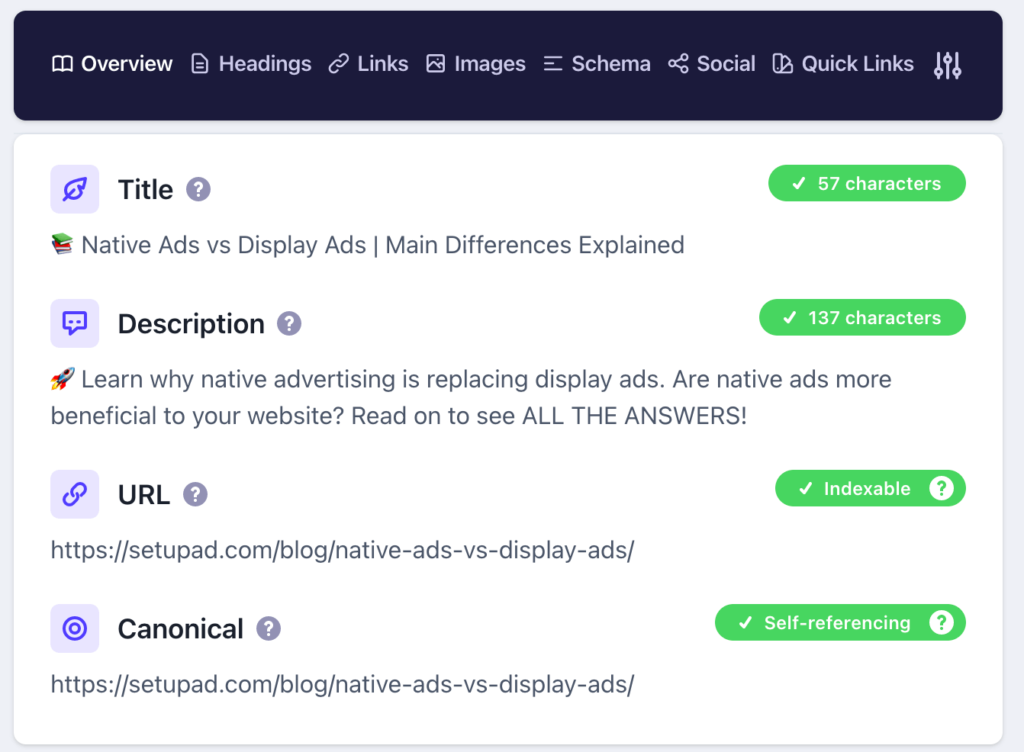 3. Optimize titles for search engines
Without this step, your pages are unlikely to rank at all, so you cannot avoid it. Include your target keyword because it is one of the most important signals of relevance.
The SEO optimization rules for writing titles boil down to the following:
Make your titles between around 45-60 characters
Place the target keyword as close to the beginning of the title as possible
Avoid keyword stuffing in your titles
The rule for the number of characters to be used in titles is not strict. The length of the title should approximately match a certain pixel space for a title to fit into screens (especially mobile screens). If a title is too long, it might be truncated by algos or replaced by the H1 heading.
Google rewrites too short or too long titles, which it confirmed with the title rewrite update. As we did our recheck, the algorithm revamped lengthy titles, or those with complex punctuation, for example, with semicolons. Remarkably, this correction fixed keyword stuffing when a target keyword was used in the title twice.
4. Optimize meta descriptions
All the rules above apply to meta descriptions, too. If meta description tags are missing on a page, the short abstract below the title will be generated automatically. Although some SEOs ignore meta descriptions, these are great places to convey the messages you want.
So, make sure to optimize your meta description with your target keywords, too. Do not exceed 160 characters. You can use SEO writing assistants, such as Content Editor, to check what your meta snippet will look like in the SERP. The tool will take care of all SEO pitfalls and give a hint if there is stuffing, too many words, or the target keyword is missing.
5. Use descriptive URLs
The structure of URLs is a big topic of its own. URLs do not impact rankings per se. However, users pay attention if a URL is too long, if it points to a reliable destination, and even what it's about. So, it is a good idea to generate SEO-friendly URLs with relevant keywords in them.
6. Leverage featured snippets
Featured snippets are a powerful source of organic traffic. But how do you get them?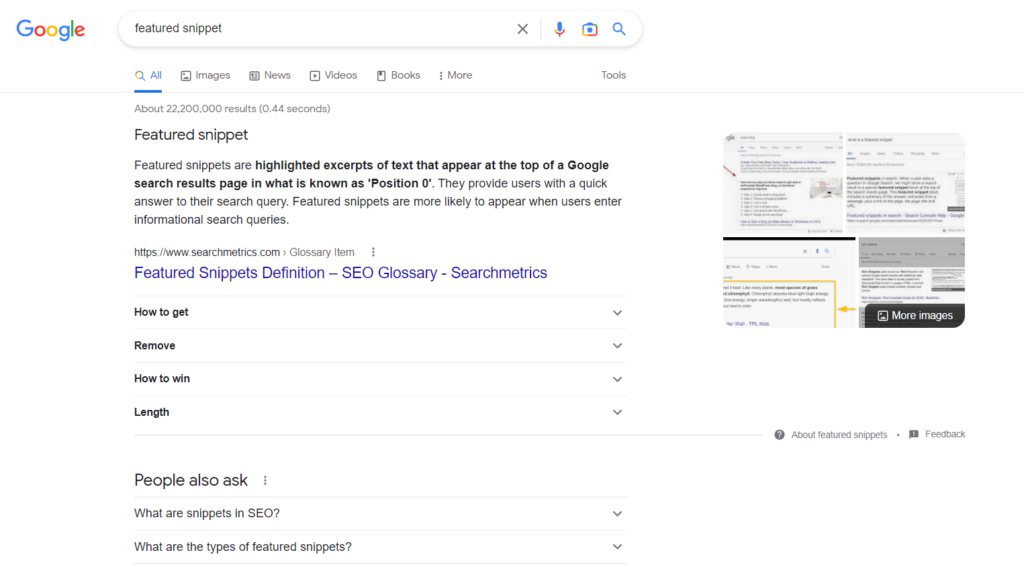 Featured snippets answer specific questions, and do it elegantly. To increase your chances to appear in them, you should write and structure your content clearly so that Google picks it as the best answer to a query:
Identify popular questions related to your topic
When answering such questions, optimize for long-tail keywords
Answer the questions in brief structured paragraphs
Use bullet points and numbered lists to format your content
Use proper HTML structuring of H1-H5 headings
To find best keywords, use keyword tools like Rank Tracker, Ahrefs, or SEMRush. With the help of such research methods as automatic suggestions and related questions, you can discover profitable long-tail keywords that make part of your question-oriented optimization.
And to check the format of your content, you can use SEO writing assistants and readability checkers, such as Grammarly, Yoast SEO for WordPress, etc.
7. Apply structured data markup
Structured data is a special syntax to tell search engines what your content is about. This syntax, among other things, helps to form rich results in Google SERPs. For example, with the help of structured data, you can get the special looks of recipes in search results, FAQ questions, breadcrumbs, and even the site search bar right in the SERP.
Adding structured data requires a few extra skills, yet, some formats are fairly simple. Besides, you can use Google's Structured Data Testing Tool to verify the output.
Additionally, Search Console will show warnings in the Enhancement section in case some errors in structured data appear.
8. Link pages properly to get sitelinks
Internal links shape the site architecture and let search engines understand the hierarchy of your pages. They also help to form sitelinks for the homepage, i.e., a cluster of the most important pages under the main result in the SERP.
The only way to influence the appearance of your sitelinks is by properly optimizing and linking your content. These are the best practices in internal linking to observe:
Create a logical site structure by optimizing landing pages for the right search intent
Prune your content and remove poor-quality pages with thin content or repetitive topics
Don't leave pages unlinked, and don't bury them deep in your site structure
Use descriptive anchor texts on internal links that help users understand what the linked page is about
The first tip on the list is the most important, as the site structure is a long-term process where you audit content, plan new pages, change links, and so on. To make this process smooth, you can use spider tools like Screaming Frog and SEO PowerSuite to review the hierarchy of all pages.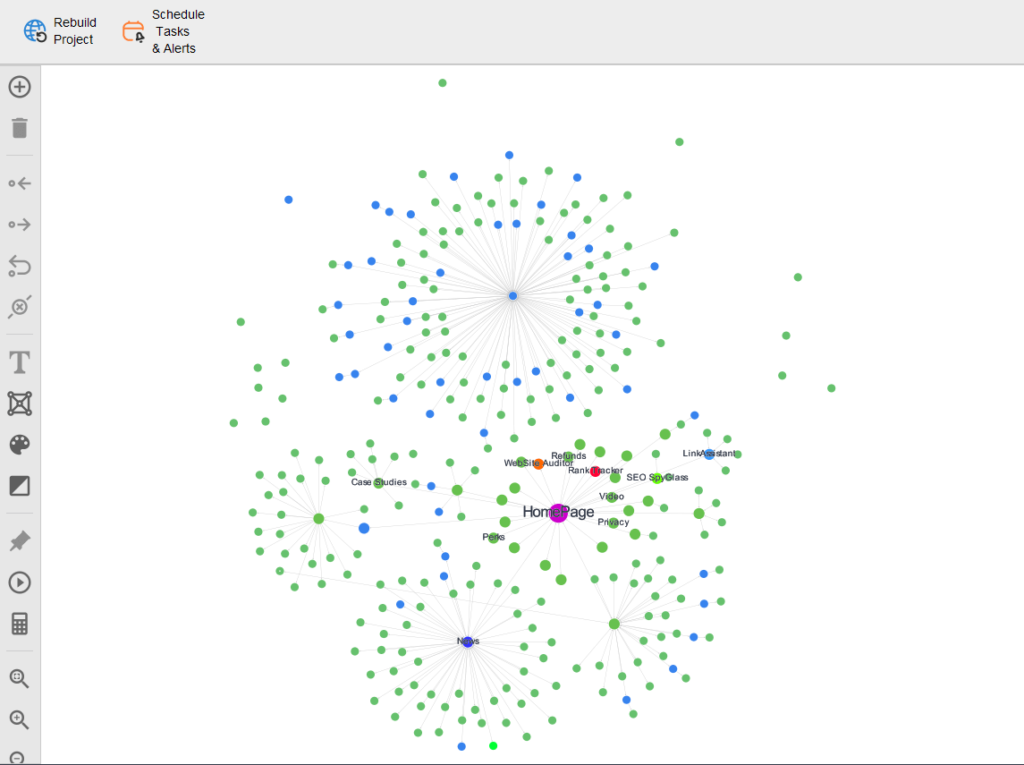 For SEO, you can create pillar pages, which can be your product pages, and back them with supplementary blog posts. When you group content into topical clusters, search engines see the main page and supplementary content.
If you successfully cluster your topics and optimize pages accordingly, you may get more estate in the SERP, with two or even more pages ranking for the same keyword in the SERP. And this means you will have more organic clicks from your results (mind, though, that such a query will show twice more impressions in Search Console).
Test Your Organic CTRs
Last but not least, you should always test and recheck how your improvements perform. Similarly to A/B testing in Google Ads, you can test your organic snippets to see which of them bring more clicks.
Since it is a long-term activity, observe what works and what doesn't. Surely, improving organic CTR is an opportunity not to be missed, and over time you will find a few hacks that fit you best.