DMEXCO 2022: Highlights from the Largest AdTech Expo
Last week marked the conclusion of the leading digital advertising industry event, DMEXCO. First time offline after two years of break, the expo was held on-site in Cologne, Germany, and featured over 750 speakers from across the world with a total of 200+ hours of content.
The key areas covered were online marketing, targeting & tracking, emerging advertising trends, e-commerce, the end of third-party cookies and a privacy-first future, metaverse, and IoT.
This year, the Setupad team proudly participated in the event and prepared key takeaways for the programmatic advertising industry and trends affecting publishers in Europe and beyond.
Takeaways For The Programmatic Industry
IAB Europe has shared its annual research on the state of programmatic media buying in the European region.
Media cost efficiencies are still key to programmatic investment.
The cost of tech and data represent a barrier to investment.
The shift in the type of data used for audience targeting.
Shift away from in-housing (done within an organization or business by its employees) amongst advertising to more dynamic approaches.
CTV continues to prosper. In the UK alone, there are 44.5 million CTV users already.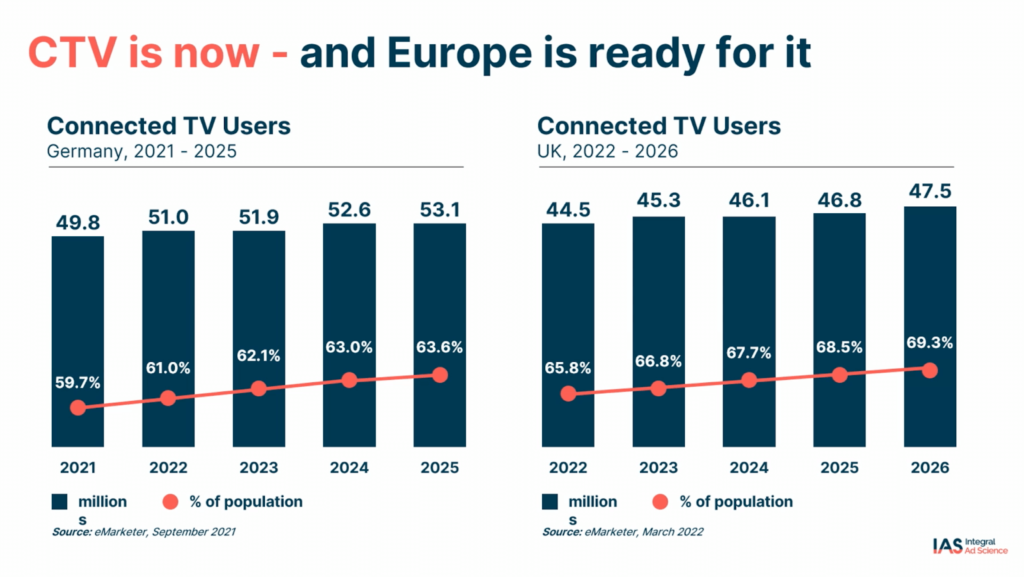 In addition, IAB Europe found that 54% of advertisers and 58% of agencies believe CTV will be the key growth area over the next 12 months.
There's a 32% decrease in advertiser use of identity solutions.
53% of advertisers plan to use curated marketplaces.
50% of agencies plan to use curated contextual targeting.
80% of agencies and 74% of advertisers expect their investment in programmatic advertising to increase over the next 12 months.
Attention Economy
Caroline Hugonenc, VP of Global Research & Insights, Teads, gave an insightful presentation about how the attention economy allows brands to make smarter media investments and how it can make the ad experience more sustainable.
Consumers only give 9 minutes of attention to ads per day.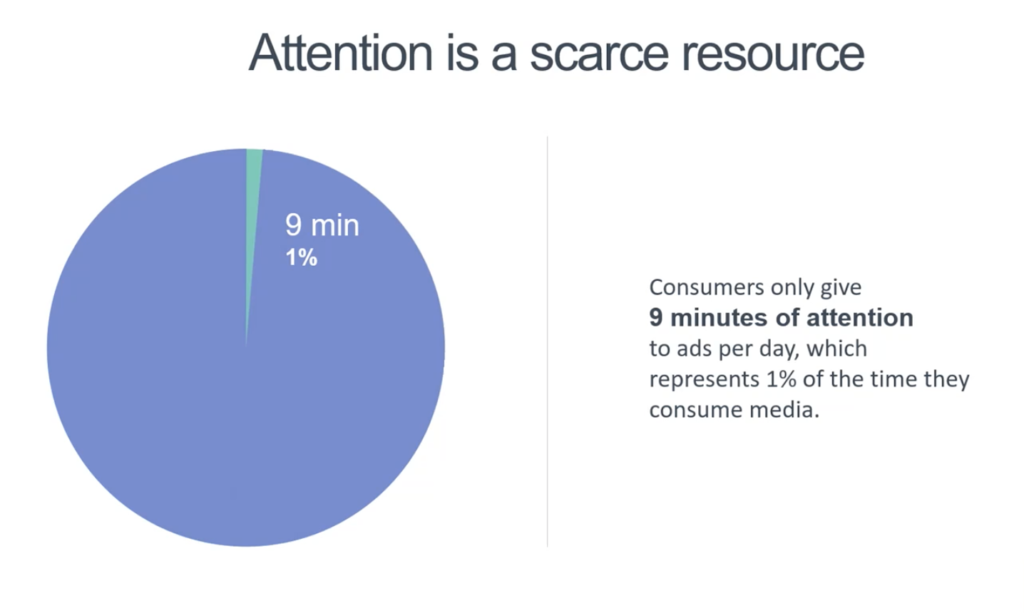 Source: Teads
There is now more scrutiny than ever on marketing effectiveness in the context of media inflation and economic downturn. To increase attention, brands need to make smarter investment decisions using attention as a compass because it's a better predictor of success than ad viewability.
In fact, attention predicts branding outcomes 3x better than viewability. Initial findings showed that viewability alone is no longer a good enough metric to measure how consumers react to content on a page.
Nevertheless, the programmatic industry currently focuses more on checking viewable impressions.
Attention metrics were up to 180% more correlated with ROI compared to viewability metrics.
There are 4 key drivers to understanding attention better: time in view, user choice, creativity, and relevance.
News content provides the best medium for attention by far.
Viewable time is one of the most important drivers of attention and has been confirmed by studies with both video and display inventory. When the content is engaging, users read slowly and, as a result, interact with the ads more.
Voluntary ads (those that users can scroll past or skip) achieve better results in terms of brand lift metrics, regardless of the time the ad was viewed for. These findings emphasize the importance of user choice for better yield results.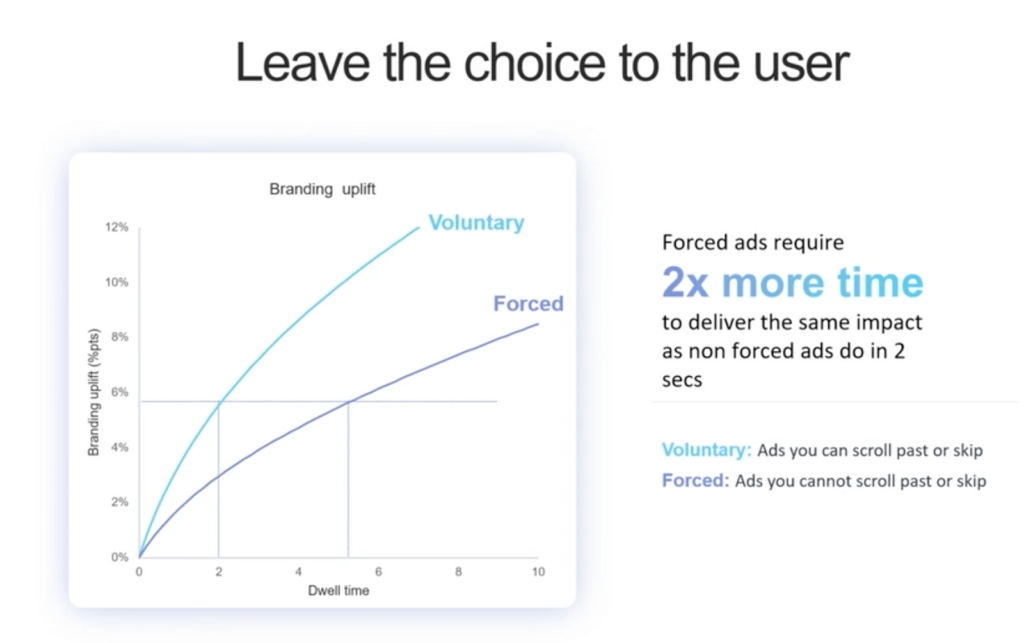 Creativity is the second biggest driver of attention since it directly impacts brand awareness and brand recall metrics. In fact, ads with good creativity were 17% more effective than ads with poor creativity.
Relevant context is the final factor in the attention framework. The study shows that relevance gives a 13% uplift of attentive seconds.
A Safe and Sustainable Open Web
​​Session by Matt Brittin, President of Google EMEA, explained why privacy is even more important in the age of uncertainty.
Access to quality information has never been more important with the pandemic, war in Ukraine, economic recession, and energy crisis.
66% of the planet is now online.
The findings of research conducted by Google and Ipsos have found that users perceive a bad privacy experience as a theft of personal data.
The same report has found that 71% of users prefer to buy from brands that are honest about what data they collect, and 43% would choose to switch to a brand that gives them a good privacy browsing experience.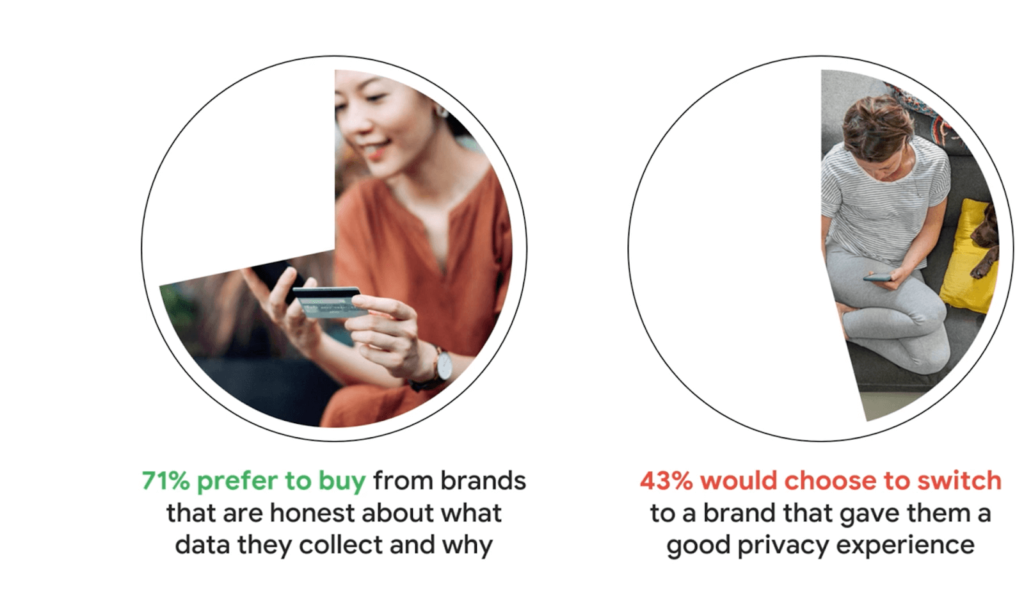 Source: Google
With the death of third-party cookies delayed until the end of 2024, the next 2 years will be critical for industry leaders to safeguard the ad-supported web that's fit for the future.
Recent research by IAB Europe confirms that 75% of Europeans would choose today's experience of the web (ad-supported) over the internet without targeted ads, where they would need to pay to access most sites and apps.
The main premise for the successful privacy-first ecosystem is a meaningful, controlled, and respectful exchange of content for data.
Google has also launched Google Ads Privacy Hub in Germany, which is equipped with best practices and innovations for marketers to navigate the new privacy-first world.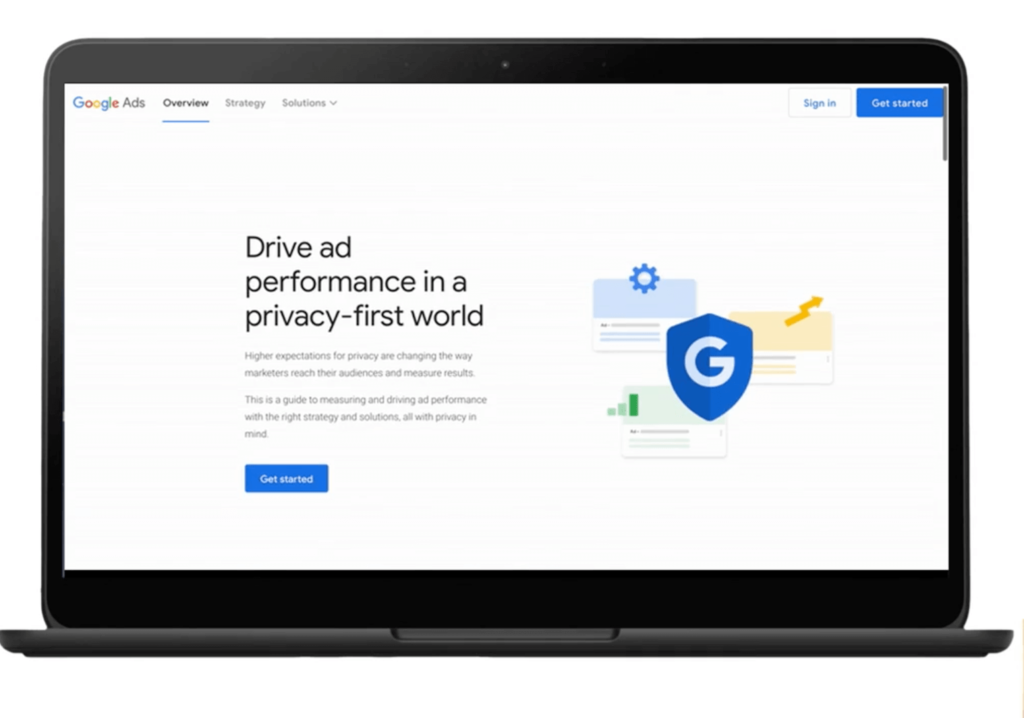 Source: Google Ads Privacy Hub
It has been estimated that if personalized advertising were to go away, up to $39 billion would shift away from those who rely on open web technology — including publishers, at a time when authoritative information has never been more important. Contextual advertising, however advanced it is today, won't be able to fill this gap.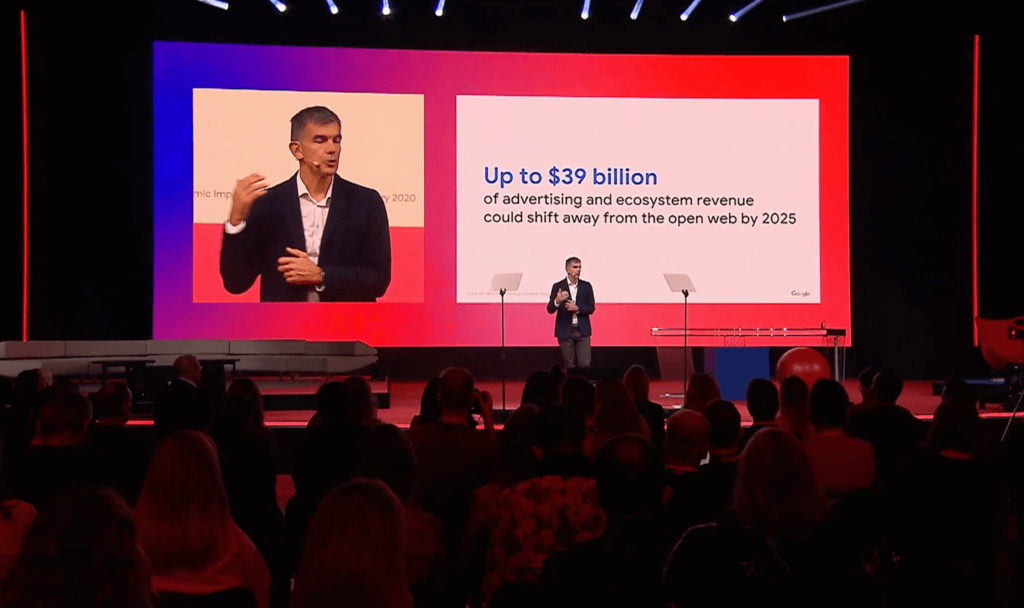 Privacy and Data
Many discussions were around the phaseout of third-party cookies and technologies that will replace them. The industry is preparing for the cookieless future, or rather, privacy-by-design future, where users will fully control their advertising experience.
When cookies and mobile identifiers leave us for good at the end of 2024, publishers risk being left with a limited view of how each channel or campaign performs for monetization strategy. It becomes even more challenging when you have to leverage multiple ad platforms and sources.
As we approach the cookieless future, addressability is currently the main concern of both publishers and advertisers. It's, therefore, more important than ever to leverage technologies that offer both transparency and durability for measurement, reach, and optimization and protect publishers' revenue streams.
Privacy Sandbox is the latest alternative to third-party cookies by Google which utilizes the latest privacy techniques, like differential privacy, k-anonymity, and on-device processing. Below is the time frame for Privacy Sandbox launching for general availability in Google Chrome.
Identity solutions and data-clean rooms that utilize cookieless targeting upon existing models of non-addressable ad targeting are on the rise.
Industry leaders The Trade Desk and LiveRamp are working together to collaborate with key European market leaders and regulators on the deployment of European Unified ID (EUID), an identity solution for Europe that is based on The Trade Desk's Unified ID 2.0.
In the words of Prof. Philippa Snare, SVP for The Trade Desk, "there will be multiple ID solutions that will be interoperating with many parties who set the standards against the GDPR."
Other data solutions include cookieless custom AI solutions that partly rely on contextual signals and require no user tracking.
One such solution is ID-free by Dstillery, which infers behavior from content and analyzes the inventory rather than users, virtually making it ID-free. It's a new way of targeting powered by data science that provides performance without user tracking.
Alternative Revenue Models for Publishers
Publishers no longer rely on one revenue stream and are looking for alternative models to monetize their content.
This trend is largely influenced by the uncertainties brought by the cookieless future.
It remains vital to have a tailored and personalized user experience by studying what users want to see and what content they want to consume.
Publishers should look for tech partners that can see their business model as a whole with different revenue streams by ensuring the strategy is based on diverse knowledge and backgrounds.
Subscription-based models are on the rise and are especially relevant for premium publishers with premium content. It is also crucial for the editorial team's morale to understand that their work is being valued.
Final Words
As you can see from our takeaways, key topics of the advertising industry right now are data privacy, new channels and growth of programmatic, the future of the open web, users' attention and engagement, and the uncertainty influenced by the current economic and political instability.
The end of third-party cookies, which was again postponed until the second half of 2024, gives publishers more time to prepare but reflects how the industry is still not ready for its demise. The highly fragmented market doesn't have a viable and sustainable solution to provide consistent attribution, measurement, and addressability, which was available with the old methodology.
It, therefore, remains unclear how data management platforms (DMPs) and demand-side platforms (DSPs) that historically relied on cookies for identification, frequency capping, and targeting audiences will navigate this complex shift.