The Impact of the War in Ukraine on the Advertising Industry
Previously, we covered how seasonal trends in digital advertising influence publishers' ad revenue during the year. Traditionally, high-spending seasons like Q4 are associated with increased eCPM prices, and low-spending seasons like Q1 with eCPM drop.
However, this year, the uncertainties brought by the war in Ukraine and subsequent economic and political factors have changed the picture and will likely continue to impact advertising spending and revenues in the future.
We put together some key trends and factors influencing the eCPM drop this summer and their broader repercussions for the advertising industry.
What is the current state of programmatic advertising?
The Russian invasion of Ukraine on February 24, 2022, dramatically affected the advertising industry.
According to the eMarketer forecast, ad spending in Central & Eastern Europe will be hit hard. The region, which comprises Ukraine, Russia, and over 20 other countries, will see at least 22.8% less media ad spending this year compared with 2021.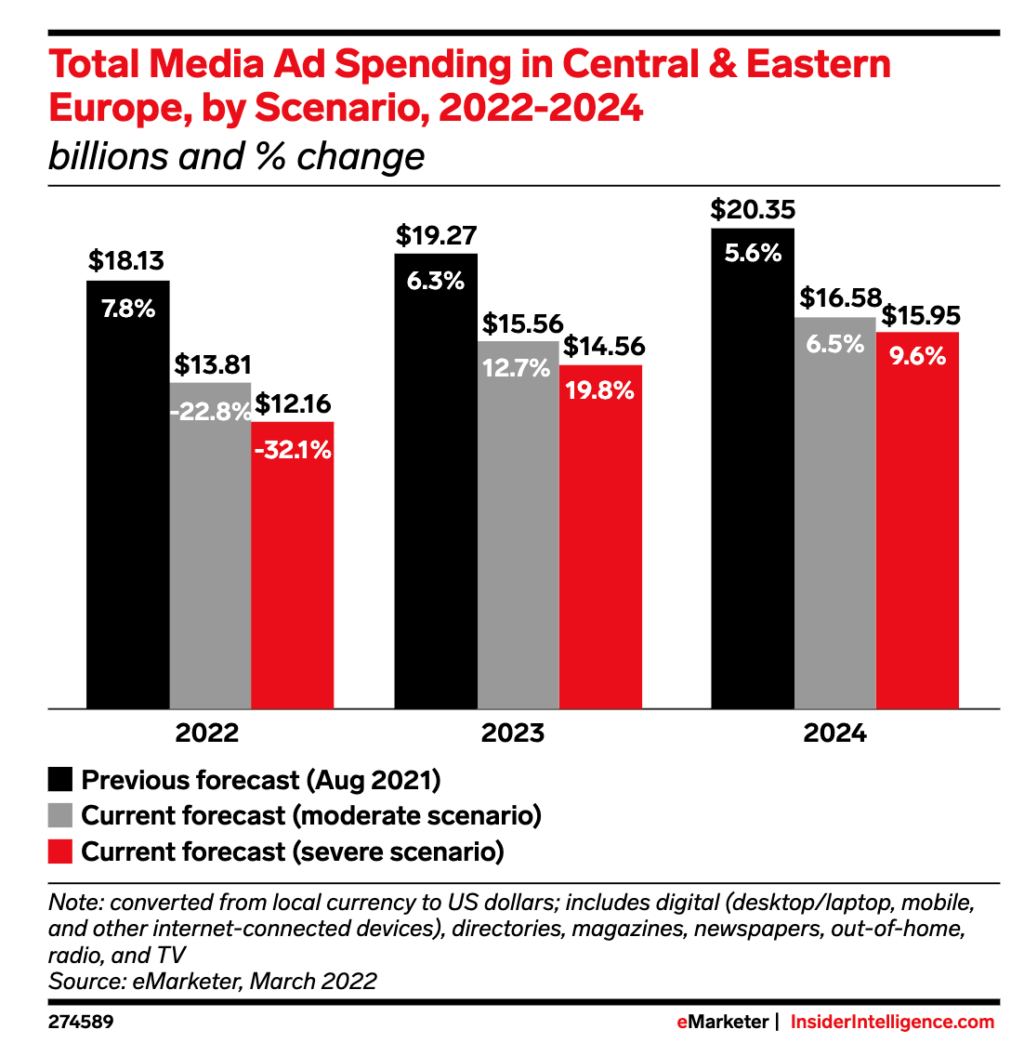 Source: eMarketer
The forecast includes two scenarios–"moderate," an official estimate, and "severe," which would apply if the war in Ukraine would last a prolonged time. With six months into the war and escalating sanctions, it's clear that a "severe" scenario is a more likely possibility.
Not surprisingly, July 2022 was the lowest month for ad spending since COVID-19, with a 12.7% year-over-year decline.
How are global companies responding to the crisis?
Alphabet (Google's parent company) has revealed that its 2022 Q1 earnings have suffered because the company has suspended most of its commercial activity in Russia. The suspension also affected Russian-based companies from advertising outside of the country.
Google stated in its blog post on March 10: "Following our announcement last week that we paused Google ads in Russia, we've now paused the vast majority of our commercial activities in Russia – including ads on our properties and networks globally for all Russian-based advertisers, new Cloud sign ups, the payments functionality for most of our services, and monetization features for YouTube viewers in Russia."
Revenues from Russia represented about 1% of Google's revenues in 2021, primarily coming from advertising, so it's clear that this decision has a sizeable effect on Google's bottom line.
Another source of negative impact is due to the advertiser pullback in Europe, especially on YouTube.
Another example is Meta which reduced advertising demand both within Europe and outside. One of the reasons cited for this decision is the weakening advertising demand globally driven by economic uncertainty and the prognosis of a coming recession.
Meta's Q1 earnings also reflect the hit of suspended ads from Russian companies.
Google AdSense sent an email to all publishers informing them about a new policy related to the Russian war on Ukraine that could cause a reduction in earnings.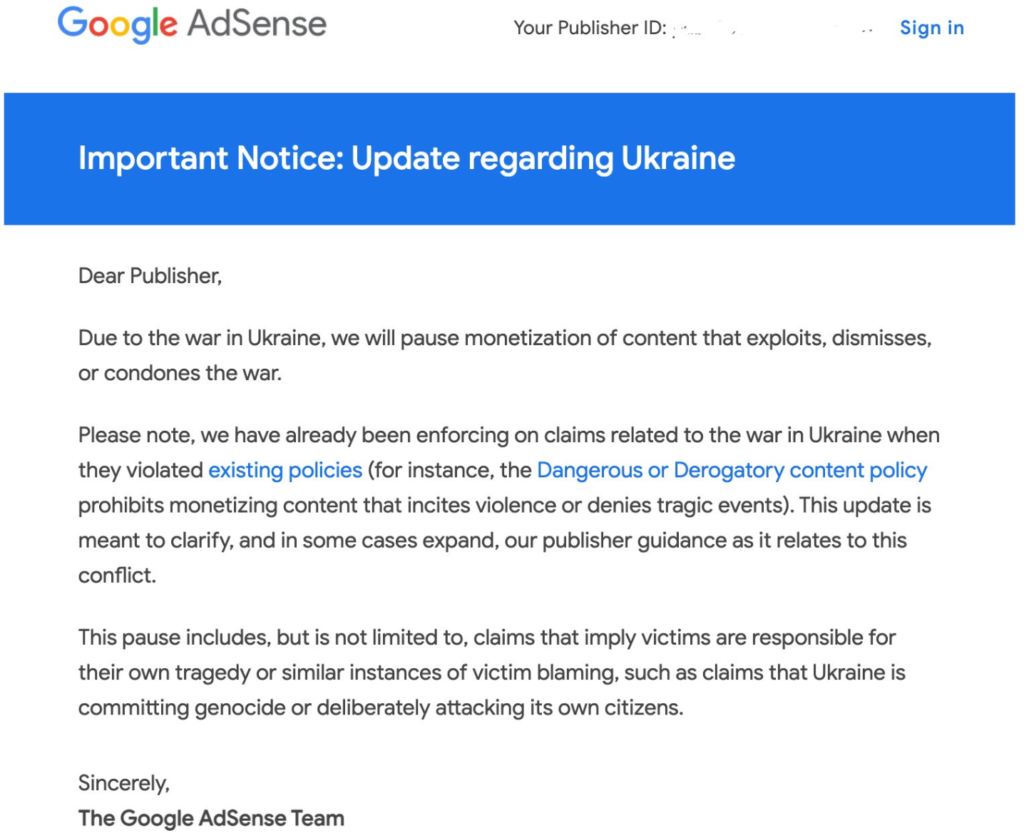 For publishers who utilize user-generated content (UGC), such as in comments or online forums, this policy could directly impact their monetization opportunities within the platform.
Google has warned that it would remove Google AdSense from any pages with such content.
This initiative is closely related to the large-scale effort from big tech companies to defund disinformation, which has become a hot topic since the start of the war.
For example, the World Federation of Advertisers (WFA) has issued guidance on how brands can remove harmful content from paid media support.
European Digital Media Observatory (EDMO) has launched a task force that tracks harmful disinformation about Ukraine. They collect evidence base for adtech companies to defund disinformation and reduce its harm effectively.
For adtech companies, this global trend represents the opportunity to showcase leadership and be proactive in fighting disinformation and hate speech.
Why are publishers affected by the current situation?
As expected, Europe felt the most significant impact of the war. However, for many brands, the instability in global markets leads to higher pricing and other economic challenges.
This leads us to the weakening consumer power that directly affects advertising budgets. According to the latest data, today's consumer confidence is 20 points lower than during some months of the COVID-19 pandemic.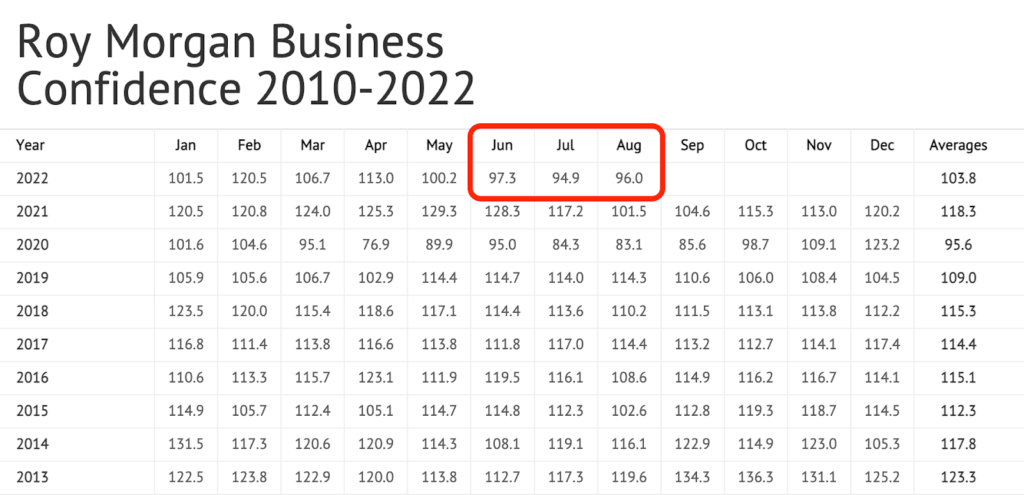 Source: Roy Morgan
As inflation rises and currency rates fluctuate, experts predict consumers will have to adjust their shopping habits and switch to cheaper brands. This is supported in another study, according to which nearly 70% of consumers think there's currently a recession.
Unfortunately, due to brand safety concerns, many advertisers are selective about the websites they're advertising on. They filter out news and stories of Ukraine or Russia, affecting publishers also beyond Europe.
The nature of programmatic advertising is complex, and advertisers often have no control over the context where their ads appear. As a result, many international brands have announced that they will pause business with Russia for the same reason.  
For publishers, a cutback on advertising spending, global economic downturn and uncertainty, and newly introduced monetization limitations contribute to eCPM and ad revenue drop.
What are the industry leaders saying?
Nancy Lan, national MD, Starcom told AdNews: "The colliding and concurrent impact of inflation and the increasing cash rate will be an influencing factor on consumers' purchasing decisions, and as a flow-on effect – advertising, for the rest of the year."
Brian Nowak, Morgan Stanley analyst writes: "Part of this [slowing economic activity in Europe] may be due to some branded advertisers pausing spend to avoid advertising next to negative content, while part of this may also be driven by some incremental weakness from the European consumer."
British news publisher group Reach PLC, which includes brands like Daily Express, Mirror, and OK!, told Reuters: "Over the past two months the market has experienced reduced advertiser demand and lower average yields, with the war in Ukraine significantly reducing the level of 'brand safe' content for news publishers."
Kieran Antill, co-founder & director of brand at Big Space Agency, warns: "Inflation will split the field, as some companies will try to weather the storm or at least brace for it by attempting to reduce spending, with the thinking that less revenue will be coming through their doors."
Mark Zuckerberg, CEO of Meta, told reporters: "We seem to have entered an economic downturn that will have a broad impact on the digital advertising business. It's always hard to predict how deep or how long these cycles will be, but I'd say that the situation seems worse than it did a quarter ago."
eCPM Drop in 2021 vs 2022
We compared three websites from our network to see how significant was the eCPM drop from January 1, 2021 to August 29, 2021 compared to January 1, 2022 to August 29, 2022.
According to the graphs above, we can see that all three websites experienced a drop in eCPM in 2022 compared to 2021. However, the change was much more dramatic for websites X and Y (26% and 20% eCPM decrease, respectively) than for website Z (3% eCPM decrease).
If we compare the eCPM prices on these three websites for the selected time period, the average eCPM price has decreased by 16% across all 3 websites.
What can publishers do?
To mitigate the negative effects of the current situation, publishers need to work out ways to scale their ad inventory.
One of the things you need to pay special attention to is ad viewability. According to the data Setupad sourced from top SSPs such as Xandr, OpenX, and Rubicon, the ideal ad viewability score should be above 70%.
For publishers, understanding and improving ad viewability presents an opportunity to offer advertisers more high-quality ad inventory.
Setupad's dashboard offers ad viewability rates for each ad unit and the total ad viewability for domain-level for selected time periods, making it easy to monitor and improve your ad viewability rates.

Another thing worth looking into is your user experience and user engagement. There are many ways to improve them. For example, adding a related articles block can generate better user interactions with the content. As a result, users spend more time on a site and view more pages per session.
Setupad's own related articles block solution is light and doesn't require you to install any plugins that often come with additional weight and website performance issues.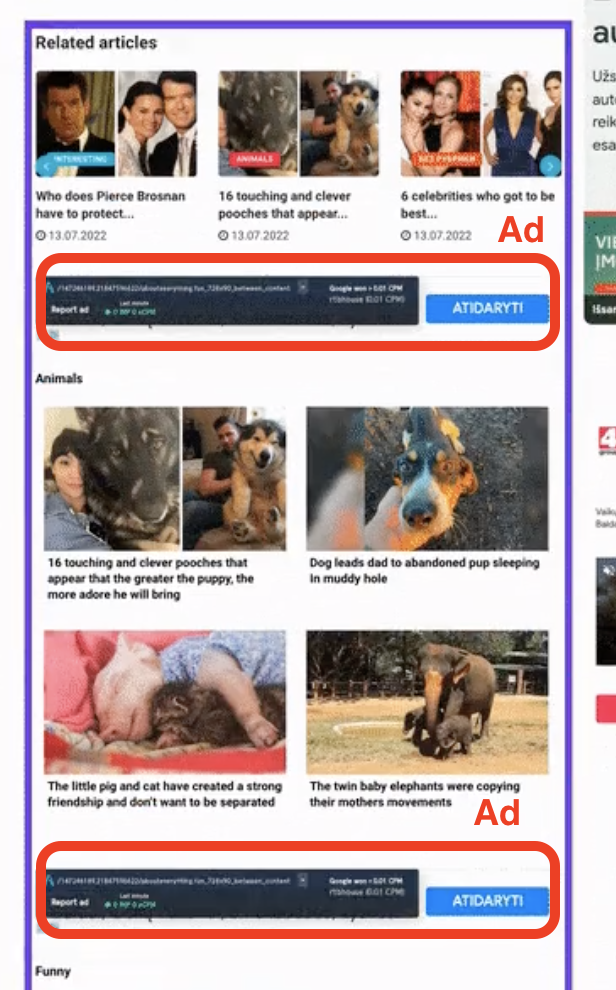 SEO optimizations also have a direct impact on ad revenue. For example, continuously updating existing content takes less time than creating content from scratch but allows you to increase organic traffic by ranking for more keywords.
Final Words
The war has unfortunately brought instability and economic challenges to people across the whole world. Unsurprisingly, these events have put a strain on the whole digital advertising industry.
It's important to stay calm and vigilant of the trends and make necessary optimization to compensate for the losses during this time. An advanced value-added monetization solution like Setupad would yield additional revenue and compensate for the losses.
Setupad has a simple promise–our engineers work tirelessly to give our publishers access to cutting-edge header bidding technology. At the same time, our Account Executives use their expertise to apply various optimizations for every website. Sign up today.