What is a Google Certified Publishing Partner (GCPP)?
We covered the benefits of partnering with a monetization platform plenty of times on our blog. However, as a publisher looking for a trusted monetization partner, you may have come across an important term–Google Certified Publishing Partner (GCPP).
With Setupad's recent advancement to GCPP, we thought it would be useful for publishers to learn the key characteristics and benefits of working with one.
What is GCPP?
Google Certified Publishing Partner is a company that was carefully vetted and recognized by Google to provide specialized top-notch services or technology and support to publishers using Google's advertising and publishing products.
Important to note, not all monetization partners can advance to certified publishing partners. Companies must undergo serious assessment and demonstrate proven expertise in key areas like ad revenue boosting abilities and technological know-how, as well as pass the Google product certification exams. At the time of writing, there are only about 50 GCPPs worldwide.
How are GCPPs Being Assessed?
Potential GCPPs are being assessed based on the health score data based on global and regional averages. The key areas of assessment are:
quality of inventory within the network;
client satisfaction;
ad viewability score;
and others.
As part of the program, Ad Operations specialists are required to undergo official Google training and pass an exam. This means by working with a GCPP, you'll receive support from AdOps specialists who are highly trained in AdSense, Ad Manager, and AdMob.
What are the GCCP Eligibility Criteria?
To become a Google Certified Publishing Partner, companies need to meet the following criteria:
Complete initial 6-month onboarding trial
Been managed by a Sellside Account Manager for 1 year
Meet minimum Sellside performance requirements
Meet all regional requirements
Pass the final certification assessment
How Do I Find a GCPP?
Look for the official badge. The company would often feature it on their homepage and on social accounts. If you're unsure, ask your partner directly.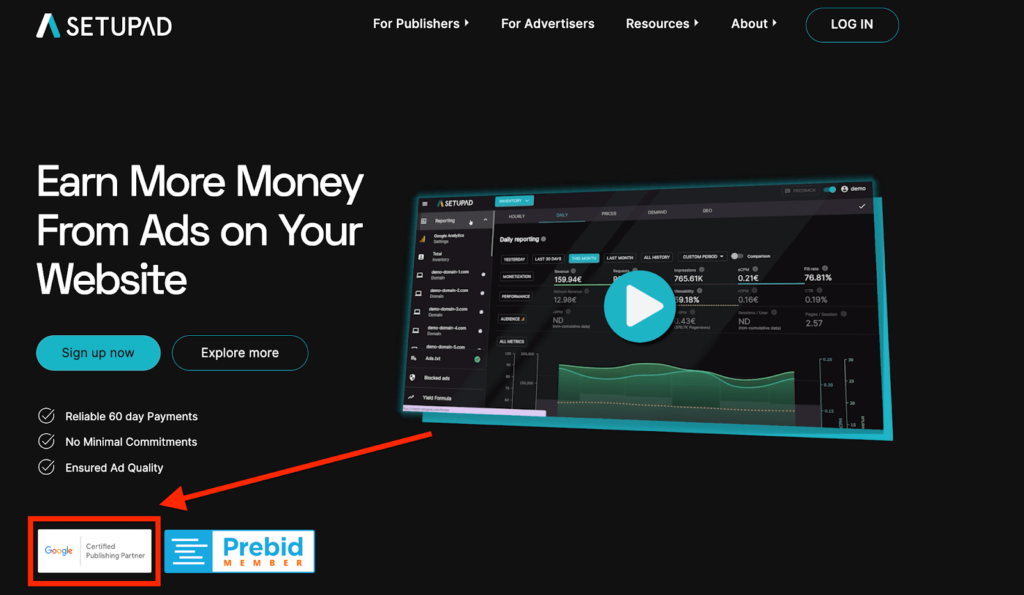 There is an official list of partners available on Google's website.
What are the Benefits of Working with GCPP? ​​
First and foremost, by partnering with a GCPP, publishers can benefit from the credibility and expertise of professionals who have received special training and a stamp of approval from Google. That means, you'll gain a comprehensive range of insights, services, and cutting-edge technology to enhance your digital content and attract lucrative advertising demand.
GCPPs are experienced professionals in a range of services, like:
Ad operations and testing
Ad optimization strategies
Revenue-boosting abilities
Technical support
Overall publishing performance
In addition, GCPP get number of partner-exclusive benefits from Google that they use to help publishers further scale their revenue.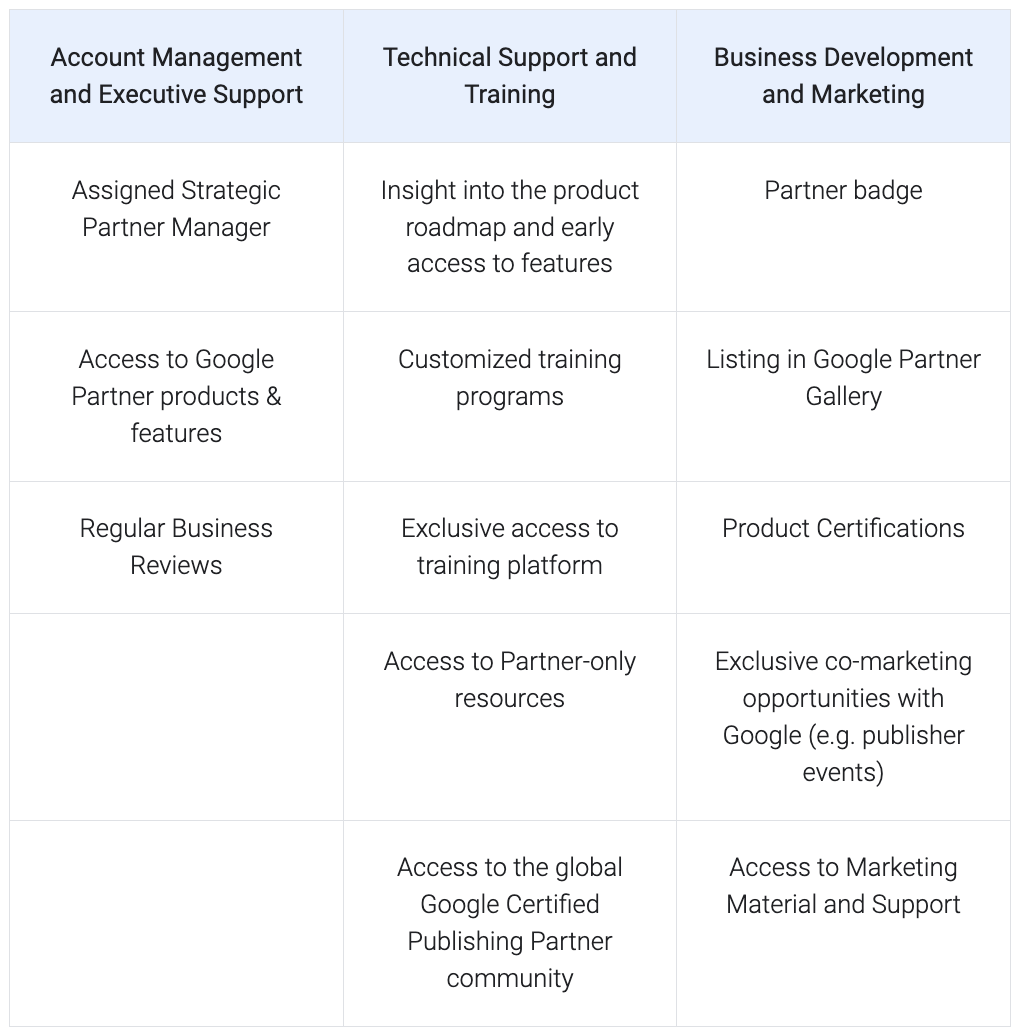 Source: Google
Due to the nature of adtech, some partners might have different strengths and skillsets or focus exclusively on specific services, such as video or app monetization. This won't prevent them from becoming a GCPP, should they qualify. You should look for a partner that meets your specific goals.
Why Should I Partner with Setupad?
Being a GCPP, this recognition from Google showcases our commitment to delivering exceptional services to publishers and maximizing their revenue potential. We take great pride in this achievement and remain even more committed to our mission to assist and support online publishers in sustainably growing their digital businesses.
Being also an official Prebid partner, we have a strong reputation for prioritizing a healthy ads ecosystem and helping publishers succeed using our value-added header bidding technology.
It is our deep-rooted belief that every publisher should benefit from a personalized approach tailored to his unique needs and the most advanced technology so that his content creation efforts are rewarded in the fairest way possible.
Sign up with us today and unlock all the benefits of working with a GCPP!