Insertion Order (IO): Everything Publishers Should Know
If you, as a publisher, had previously closed or currently have direct deals with advertisers, you might have heard about Insertion Orders (IOs). Today, we will explain what IO is, what it actually includes, and should you use it.
What is an Insertion Order (IO)?
An insertion order (IO) is a signed agreement digitally or by hand between the seller (publisher) and buyer (advertiser) to schedule the ad campaign.
Thanks to IO, both parties assure all the details before the ad campaign goes live on the publisher's website.
Every IO may differ, so there is not a particular format or template for it. IOs usually include every detail regarding the advertising campaign:
Contact details about the publisher and advertiser (company name, etc.)
The campaign's start and end date
Information about the ad–ad placement, dimensions, ad format
Number of impressions to be served
Information about the target audience
The total cost of the ad campaign
Three entities can prepare an insertion order:
the publisher;
the advertiser;
the agency.
If a larger agency represents the advertiser, then the agency itself can prepare the document. If there's no agency, the publisher will do all the paperwork.
An Example of Insertion Order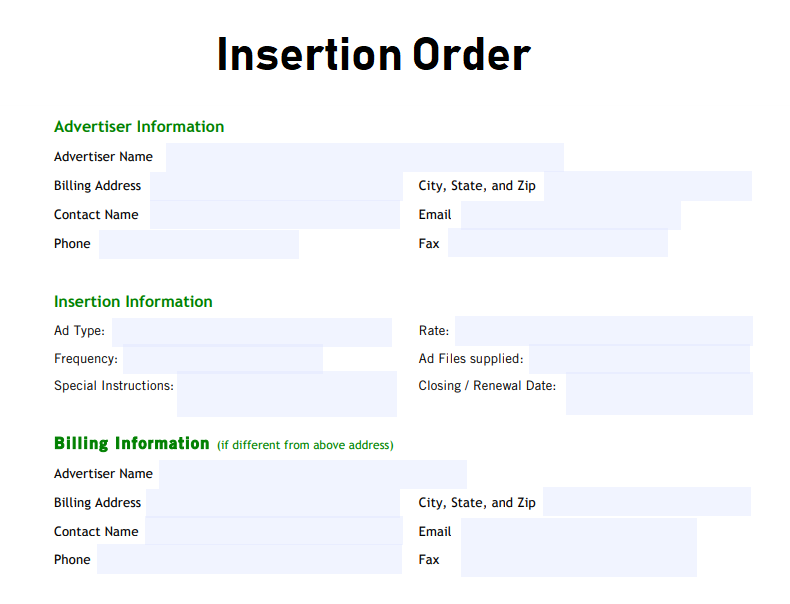 Here is a link to a downloadable insertion order template for you!
Do Publishers Still Use Insertion Orders in 2023?
Yes and no.
If a publisher closes a direct deal with one particular advertiser, an IO is suggested; this will help to ensure that all the details and terms are agreed upon before the ad campaign is live.
However, more and more publishers choose automatic order insertions that can be achieved with programmatic direct.
Google states: "For publishers, Programmatic Direct allows them to package together specific inventory on their sites or apps (such as unique formats, verticals, audiences and subsites), and make it available to a global community of marketers to buy programmatically.
For marketers, Programmatic Direct enables them to reach their target audience by purchasing premium inventory directly from publishers using a demand-side platform (DSP)."
Traditional IOs might not stay for a long due to automation and programmatic advertising. Why? Because by closing the deal with only one advertiser, you might not achieve the maximum potential of ad revenue. However, the best way to understand if you should be using IO is by weighing the pros and cons.
We've rounded up the most common benefits and drawbacks of an insertion order.
Benefits of an Insertion Order
When signing the IO, both parties are entirely aware of the outcome of the deal. For example, the price for the ad campaign, the period for how long it will be running, and more details can be agreed upon in advance that gives assurance for both.
Thanks to direct communication between both parties, several details can be easily negotiated since there is no template for everyone. For example, displaying the advertiser ads on more than one ad placement.
For example, if you work with ad networks, your ad inventory is available to many advertisers. When you use IO, the relationship with one particular advertiser becomes more meaningful and can result in a long-term partnership. To leave a good impression, we also recommend sending a thank-you email after the deal has been closed.
Drawbacks of an Insertion Order
According to eMarketer, by 2022, 88.2% of total digital display ad spending in the US will be bought through automated channels.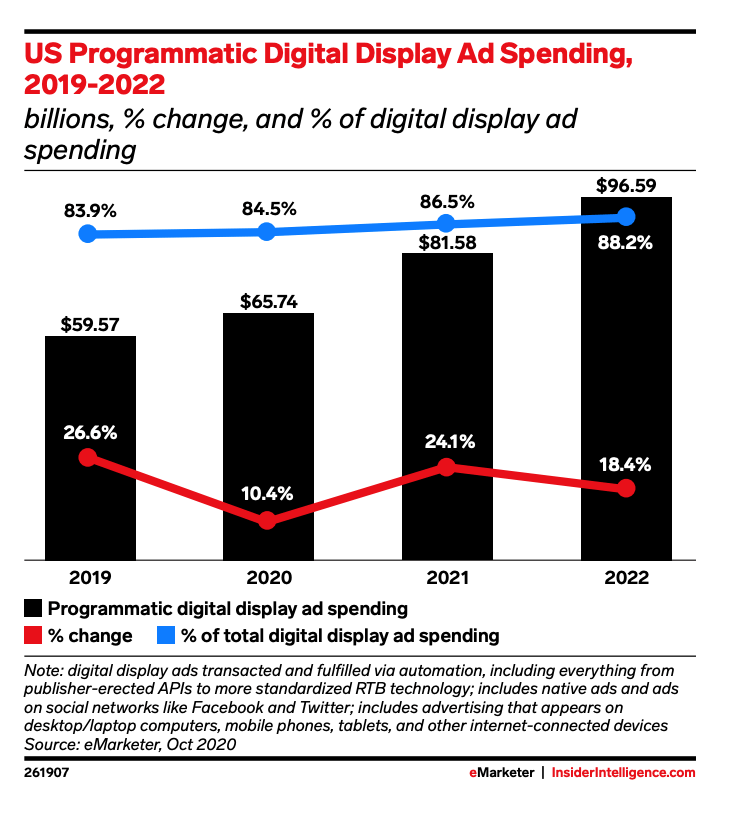 Many publishers and advertisers already prefer to use an automated approach when buying and selling ad inventory because it's just easier. Imagine, for a publisher with less than 100K monthly visitors per month it would be pretty challenging to sell all the impressions through direct deals. There is a pretty high chance that the publisher's ad inventory will be undersold.
If you're a Setupad client, you don't have to worry about insertion orders at all. We take the mundane tasks of creating line items and orders in our hands so you can focus on your true calling–quality content creation!
Even though IO can be created digitally (aka digital IO), it still takes a lot of time and involves back and forth discussions between both parties.
Since programmatic advertising is the leading advertising method today, the interest in direct deals (besides programmatic direct) becomes less and less attractive for both publishers and advertisers, thus reducing interest in insertion orders.
Except if you are a big publisher (ad revenue >100K EUR per month) using header bidding SaaS* solution where half of the ad revenue is from direct campaigns. In that case, insertion orders will stay for the future.
*With header bidding SaaS solution, direct campaigns can compete with programmatic ads simultaneously in one unified auction, thus improving the CPM prices and getting more impressions that result in more ad revenue.
Conclusion
While an insertion order may take some extra time to close a direct deal with the advertiser, it comes with some benefits. It's really up to you to decide whether to have an IO with one particular advertiser or work with more advertisers and choose programmatic.
Be aware that many advertisers already choose Private Marketplace Deals (PMP) that allow them access to more than one premium publisher ad inventory. This makes us think that traditional insertion orders might phase out in the near future except for the big publishers who use SaaS technology to display both–direct and programmatic campaigns at the same time.
Learn more about Setupad header bidding SaaS technology and check if your site is ready for it.