What Publishers Should Know About Ad Blockers in 2021

Ad blockers are a big issue for publishers and have a direct impact on their ad revenue stream. For most publishers, ad-based monetization is the main source of income despite alternative monetization strategies such as paywalls and membership content.
We have put together 4 key trends and tips that can help you bring your precious dollars back.
Table of contents:
What is Ad Blocker?
Ad blocker is a content filtering tool that can remove or alter ads. Ad blockers are typically available as browser extensions (Adblock Plus, uBlock) and software (Adguard), to name a few.
Adblock is often used as an umbrella term for all ad blockers since it's the most installed extension for ad blocking.
Most users believe that ad blockers can solve all problems at once–privacy concerns, the page's loading speed, and malvertising attacks.
However, ad blockers can interfere with some websites' setups. Meaning that users might see low–quality content; for example, images can be broken, and the content itself might look crooked. As a publisher, it's important to keep track of these things.
For example, you could see how well your website performs from the users' side by installing an ad blocker yourself. Based on your findings, decide if your website needs optimization.

4 Ad Blocker Trends in 2021
1. Ad Blocker Rates
Today's main trend is that the number of ad blocker users is continuously rising. Ad blockers are most popular among young users aged 16-24 and 25-34. Asia Pacific is a top region for ad blocking with a staggering 40% user penetration rate, followed by North America (38%) and Europe (36%).
Google Chrome also has a significantly larger number of ad blocker users (67%) than other browsers, like Firefox (18%) and Opera (6%).
So, should you be concerned? Not so much. We have put together 4 key tips to avoid ad revenue drop, so make sure to read this article till the end!
2. Ad Quality
According to eMarketer, most users from the UK, France, and Germany use ad blockers because they see too many intrusive and annoying ads.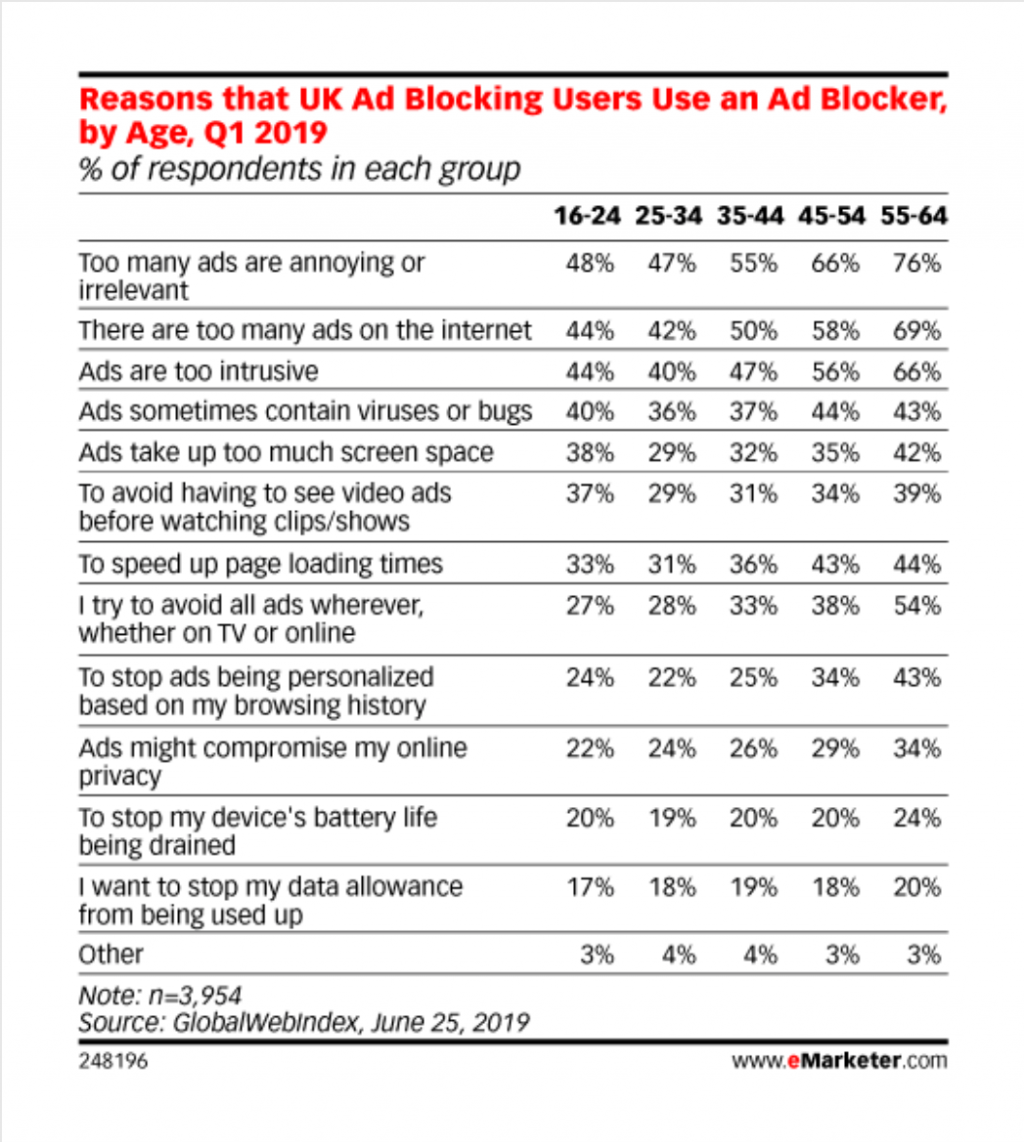 Research shows that 83% percent of users are happy to see quality ads that respect their user experience. To display quality ads, publishers should sell their ad inventory to premium advertisers. To achieve this, you should partner up with a monetization platform like Setupad, which already has a connection with premium buyers, like Google, Magnite, Index Exchange, and more.
3. Paid Content
According to the latest statistics, in 2020, ad blockers caused a $35 billion loss in publishers' ad revenue. Alternatively, publishers can offer their users ad-free access to their content on the basis of a subscription or a single payment. This is also known as a paywall.
Publishers interested in building a community might find that paid membership works well for their audience. Despite that, most users who use ad blockers would rather see ads than pay for the content. To find out what works best for your users, you need to ask them.
4. Pushing Against Ad Blockers
In 2017 Google launched its consent management platform (CMP) called Funding Choices that is integrated with Google's advertising services. Publishers need a CMP because it allows them to inform users that their data will be used to provide personalized ads that comply with the General Data Protection Regulation (GDPR) and IAB Europe's TCF.
Funding Choices also automatically identify users with ad blockers. Publishers can require those users to turn off ad blocker after seeing a certain number of free articles. In some cases, publishers can even restrict access to free content altogether.
Google has also rolled out its own ad blocker for its browser Chrome in 2018, which is set by default for Google Chrome users. However, less than 1% of ads do not pass its filter since only intrusive ad formats like pop-ups and autoplay videos are blocked. That's understandable–Google makes most of its revenue from digital advertising, and it is not in anyone's best interest to restrict ads completely.
4 Tips on How to Deal with Ad Blockers
1. Optimize Your Site By Implementing Betters Ads Standard
Today, most supply-side vendors (SSPs) comply with standards set by the industry regulatory bodies such as Coalition for Better Ads, IAB, IAB Techlab.
Google, Index Exchange, Magnite, Criteo are members of the Coalition for Better Ads Standards, to name a few. Coalition sets out guidelines for permissible ad formats.
Since 2016, Coalition's efforts have lowered the number of ad blocker install rates on desktop Chrome by 60%! Beware that Google will block those publishers who won't optimize their website in compliance with Better Ads Standards.
2. Use Tools to Monetize Ad Blocking Audience
There is an option to get your website whitelisted through ADP's very own Acceptable Ads program. Those ads will then be shown to ad blocking users who allow Acceptable Ads. However, users can still decide to block all ads at any time.
Setupad Expert Opinion
Povilas Goberis, COO at Setupad: "Luckily, there are sustainable ways to monetize your ad blocking audience. For example, it is possible to partner with companies like Acceptable Ads Exchange (AAX) that run monetization solutions according to Acceptable Ads requirements. The technology works like an ad filter that only delivers the best-quality ads to users who can continue to enjoy free content. The process is fully transparent and user-consented."
3. Encourage Your Visitors to Disable Adblock
There are two ways on how to do it–hard or soft messaging.
Hard messaging works similarly to a paywall, whereby users won't be able to read content unless they turn Adblock off. Remember, this may discourage users from staying on your website, increasing the bounce rate, and affecting your ranking on Google in the long term.
Soft messaging works by showing users a display dialogue on your landing page that offers to either turn Adblock off or make a donation instead. Users can dismiss the log and return to it later.
You can also try to offer your ad blocker users an ad-light experience. See the example below.

Source: Digiday
4. Partner Up with Monetization Platform
You can increase your ad viewability while preserving a fantastic user experience by partnering with a monetization platform like Setupad!
Setupad runs an additional layer of demand from Google and some of the most popular SSPs, including Google Ad Exchange, Adform, Magnite, and OpenX. There are several ad formats–desktop, native, mobile, sticky, and video–to make the website user-friendly and visually appealing. 
Setupad also has its blocklist by default, which automatically blocks unwanted and low-quality ads on publishers' domains. Blocklisted categories can be changed according to publishers' needs. Setupad is a one-stop, full-service solution for best monetization, ad performance, and brand reputation. Sounds pretty good, right? Sign up today!
The Bottom Line
Although Adblock and its alternatives continue to affect publishers' ad revenue, we at Setupad believe that quality content creation should be supported. However, your goal to monetize ads should not negatively affect user experience. Invest your time, analyze, and test to see if your website has the right ad formats and the right amount of ad placements.
Don't forget, there are many other monetization methods you can implement to recover lost ad revenue. Read more about it here.