SSP vs Monetization Platform | Difference Explained
For many online publishers, programmatic advertising is an important source of revenue.
As you may already know, there are different monetization possibilities, SSP platforms, and services that allow you to increase ad revenue with programmatic.
This article explains the differences between the two ad tech industry terms–SSP and monetization platform.
What is an SSP?
SSP (aka supply-side platform) is an advertising platform used by publishers. SSPs allow or reject advertisers' bids on ad impressions and strive to sell the publisher's ad inventory for the highest possible price.
Supply-side platforms:
run a real-time auction and serve the ads;
evaluate advertisers;
set the bidding range;
Even though SSP allows publishers to access more potential buyers, it has limited demand, and there are no guarantees regarding fill rates.
How does SSP affect the bidding?
The price that SSP obtains from the highest bidder might not be the best price on the market. It could be possible that the publisher obtains more from a different SSP or sell ad inventory directly to advertisers.
SSPs tend to have unique buyers, e.g. GoogleAdx has small advertisers that are not available on other SSPs.
Also, the revenue share fees vary, making the same advertiser's bid different in various SSPs. This is a problem that one SSP can not solve.
What is a monetization platform?
The main aim of monetization platforms (yield management platforms) is to maximize publishers' ad revenue. One of the most commonly used monetization technology is:
Header bidding–impressions are offered simultaneously.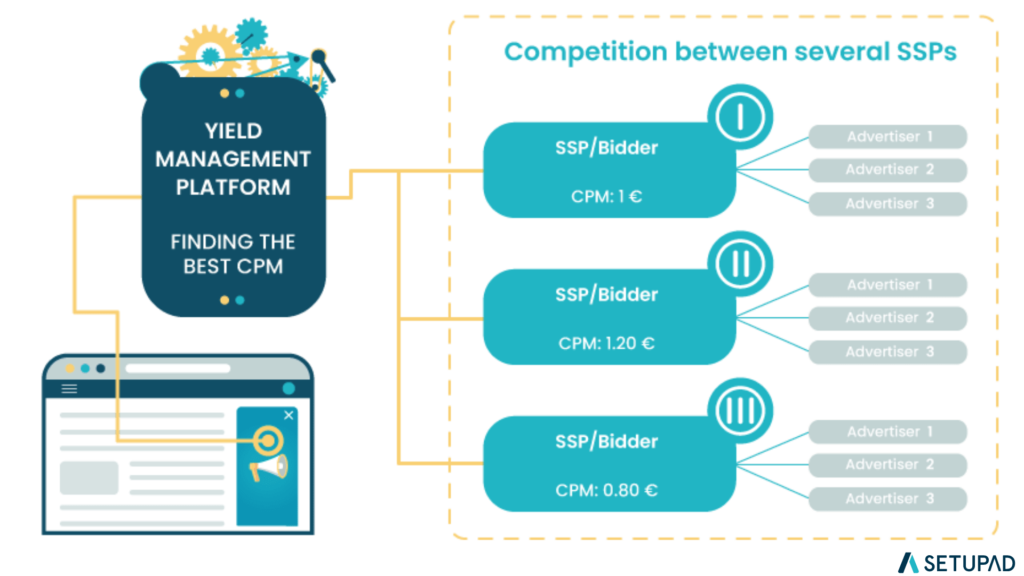 Some time ago, there was another monetization technology called waterfall. However, around 2014 it was replaced with header bidding. The waterfall model offers impressions sequentially. Some publishers still use it; however, it's not a viable solution to monetize your ad revenue in 2021.
Read more about the differences between header bidding and waterfall.
Difference between SSP and monetization platforms?
The main difference between an SSP and a monetization platform is that monetization platforms combine multiple SSPs to get the highest bids for publishers.
Related article: Monetization Platform Benefits Explained
For example, some of the best monetization platforms, like Setupad:
sell ad impressions for the highest possible price;
don't compromise the website's loading speed;
boost the fill rate;
take care of the processes that can influence the publisher's revenue streams.
How can the Setupad solution help publishers?
Setupad deeply cares about increasing the total ad revenue for its clients. Setupad uses header bidding technology and helps to implement programmatic solutions without the risk of losing revenues.
Our hybrid header bidding solution combines multiple SSPs that compete with one another. This increases competition, and the impressions are sold at the highest possible price. Header bidding requires development resources to maintain and improve the solution in the continuously changing market.
In order to deliver the best results to publishers, our services include:
dedicated Account Manager to help through the onboarding process and continuous optimization;
development and maintenance of the HB wrapper technology;
unique demand from multiple SSPs, DSPs and programmatic deals;
yield analytics with aggregated data and actionable insights;
Setupad Google Chrome extension to monitor the bidding process and report unwanted ads;
audit of the website loading speed with suggestions for improvements.
Which Monetization Solution Will Work Best for Me?
Publishers can either struggle with multiple SSPs, develop their own header bidding solution, or choose a monetization platform with experience and technological capabilities to achieve the best results.
While looking for the right partner, it is essential to have test periods and analyze the results (on equal terms). However, it's important to have a good degree of customization as every website is different and will benefit from different monetization strategies. Hence, we have a wide range of products to help you achieve your best results.
At Setupad, we developed products for different-sized publishers with different priorities. For example, Setupad Prebid is a perfect solution for large publishers with existing GAM and SSP accounts for advanced in-house monetizaion. Setupad Prebid AdSense is a product for AdSense publishers with high CTRs to increase competition even more by plugging in header bidding demand into the AdSense auction.
Finding the best programmatic partner not only increases revenue flow but also allows publishers to get back to their true calling–quality site creation. Sign up with Setupad and we'll help you find a perfect solution!