Google AdSense or Monetization Platforms | How To Choose?
If you're currently monetizing your website with Google AdSense, you're in the right place.
Why?
Because you might be ready to take the next step in your monetization strategy–partner up with a monetization platform.
This article explains the main differences between Google AdSense and one of the best website monetization platforms. Read on and learn which monetization solution is the right fit for you.
What is Google AdSense?
Google AdSense is a free, cost-per-click (CPC) platform, which allows publishers to earn money each time someone clicks on the ads.
AdSense is a simple and straightforward choice for small publishers (>100K monthly visitors) who are new to website monetization. It doesn't require technical knowledge and the setup process takes very little time.
How to calculate Google AdSense revenue? Check out–Google AdSense Revenue Calculator.
What is a Monetization Platform?
A monetization platform, or a website monetization company, like Setupad, helps publishers to maximize their ad revenue by offering their ad inventory to multiple buyers at the same time.
Monetization platforms usually charge a commission from the publishers' total ad revenue for their services.
Most publishers don't have direct connections to premium buyers, like Xandr and Criteo, nor do they have the resources to build an advanced monetization technology. Monetization platforms, like Setupad offer publishers both of these services under one roof.
How is this achieved? The key is simple to understand but complex to build in-house: header bidding.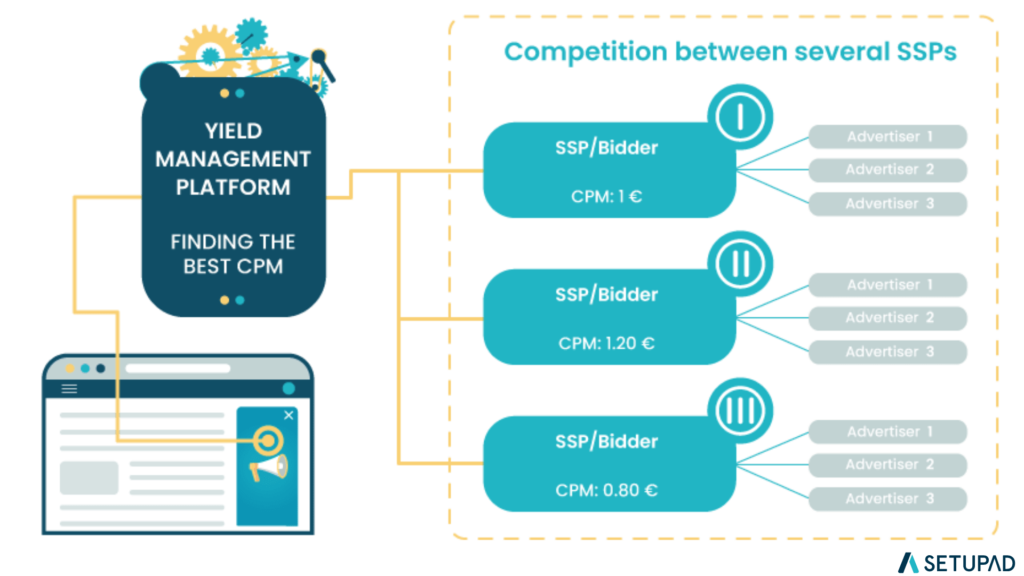 What is Header Bidding?
Header bidding is an advanced programmatic technology in which many premium demand partners (SSPs), like Google AdX and PubMatic, bid on the publishers' ad inventory simultaneously.
The idea behind header bidding is to increase the competition between demand partners so that every ad impression can be sold at its maximum price.
Header bidding has been around since 2014, before that there was another solution–waterfall. The latest data states that 69% of top 10K US publishers were using header bidding as of Q4 2021.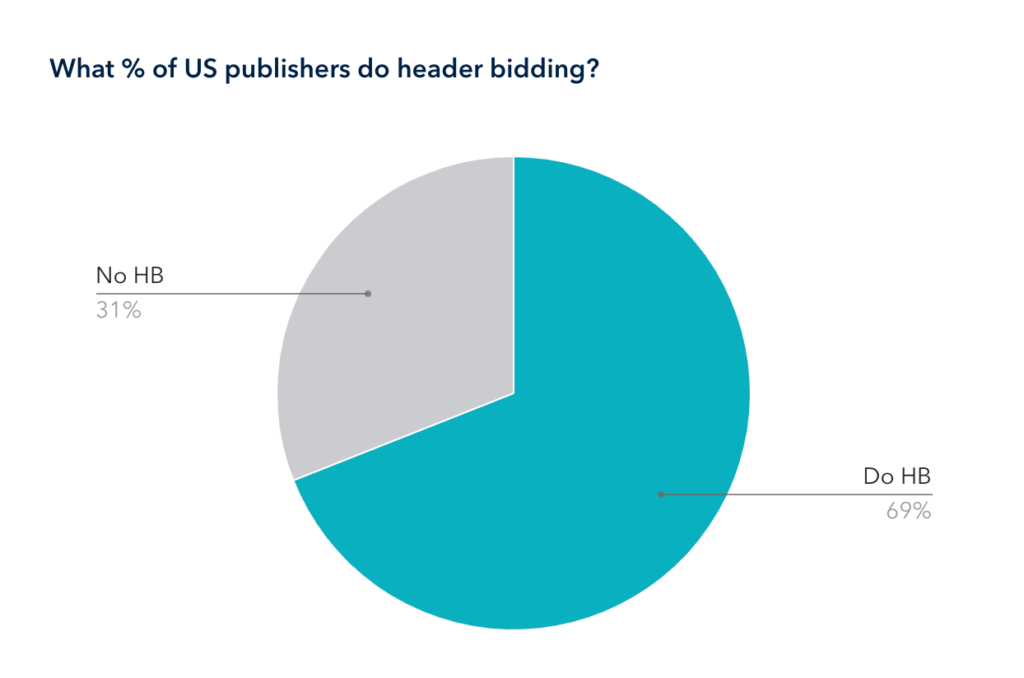 Differences Between Google AdSense and Monetization Platform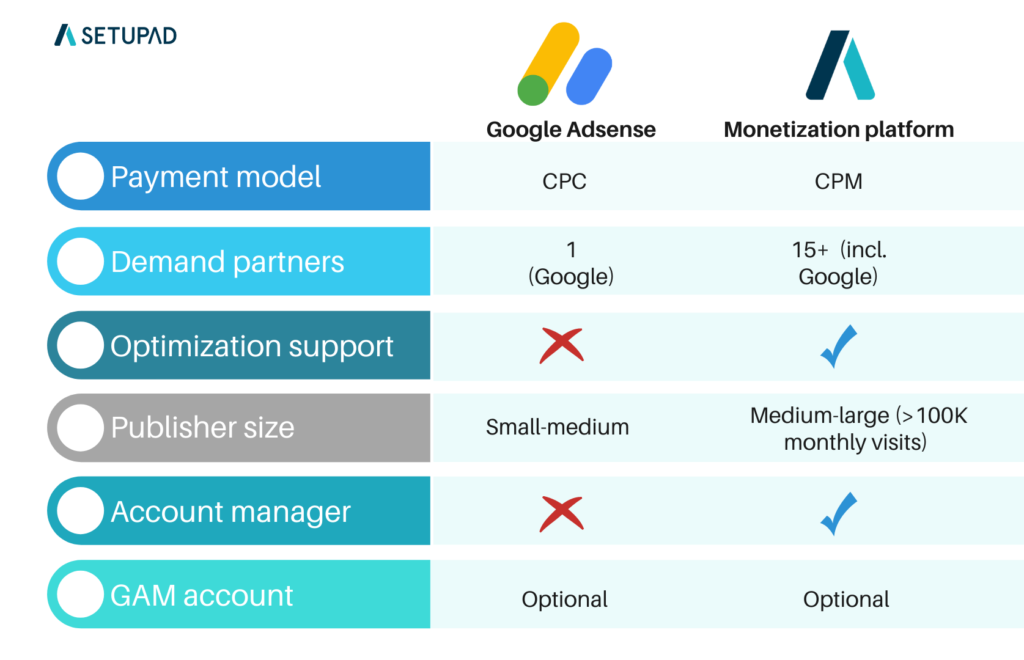 Remember, it isn't only about the money!
The programmatic advertising industry is prone to many risk factors, such as:
Ad fraud and malvertising attacks.
Low-quality ads.
Poor choice of ad placements and harmed user experience.
Technical and ad delivery issues resulting in ads not showing.
Unfortunately, without a trusted monetization partner, all of these risks will have to be managed by yourself.
Setupad helps to mitigate these risks and provides the following benefits:
Dedicated Account Manager and continuous technical support.


Tips for choosing the best ad placement and ad formats for your website.


Protection from malvertising attacks and ad fraud (powered by the strongest anti-malvertising partner Boltive).


Advanced header bidding wrapper technology with unique demand from 28 premium SSPs.


Yield analytics with custom recommendations and advanced reporting with performance and audience data.


Ad blocker audience monetization.


Bidding on the server-side to maintain an excellent website's loading speed.


Website loading speed audit.


Setupad Google Chrome extension monitors the bidding process and allows publishers to report unwanted ads in real-time.

❗️Before signing up with any monetization company, make sure to ask them these 5 questions.
Testimonial from our client who previously used Google AdSense.
Alexandru Cuibari, CEO at Whatfontis.com, says: "We began our collaboration with Setupad after 10 years+ of working with Google Ads and saw an increase of 30% in our ad revenue. The integration was smooth, and the math was simple. Even with the same traffic, we make more money without crowding the website with too many banners."
Source: WhatFontIs.com– Monetization Case Study | Setupad
Is AdSense the Same as Monetization?
Monetization platforms might seem like alternatives to Google AdSense, which is partially true. But in most cases, they are, in fact, partners with Google.
Your monetization strategy depends on several factors:
The content and desired outcomes of your website. For example, are you providing services, educational content, designing tools, or news? You have to understand your target audience before you can gain maximum results.
The traffic of your website. Specifically, the amount and geolocation of your traffic.
The ad viewability and average CTR results of your website.
How Do I Monetize My Website in 2023?
Our experts note that if you are a small to medium-sized publisher who needs a hassle-free entry to website monetization, you should start with Google AdSense. AdSense remains one of the most popular and accessible programs for new publishers and is still profitable in 2023.
However, once you hit 500 EUR/month in ad revenue with AdSense, consider partnering up with a monetization platform. Setupad's header bidding technology can outperform AdSense by a minimum of 30%.
We get it, a lot of publishers are scared to switch ad networks and jeopardize their earnings. We have a product specifically for them. Setupad Prebid AdSense was designed specifically for large AdSense publishers who want to combine their AdSense demand with Setupad's Prebid demand from 30+ premium SSPs and get the highest return on their inventory.
If you're ready to accelerate your AdSense earnings, sign up with Setupad today!
Check out our guide for more tips on how to monetize your website in 2023.