What is E-E-A-T in SEO & Why It's Important?
There has been confusion about what E-E-A-T is and which websites need it. Publishing content that is considered authoritative and high-quality by both users and Google is not an easy task.
But don't worry, we've got you covered.
This article explains what E-E-A-T is, how it affects SEO, and whether E-E-A-T is Google's ranking factor.
What is E-E-A-T?
E-E-A-T stands for expertise, experience, authoritativeness, and trustworthiness. It helps Quality Raters to analyze and measure the value of your website's main content.
Quality Raters are people that evaluate the quality of search engine results. For example, their feedback helps Google to calculate how well the search engine algorithm works and improve it for a better user experience (UX).
To help you understand E-E-A-T better, let's look at the meaning behind each of these terms:
Expertise–a high level of knowledge in a particular field. It shows that the publisher has shared expert information.
Experience–the newest addition of the E-E-A-T signals. Experience refers to the level of first-hand experience a publisher has on a particular topic and ranks the content quality accordingly. Thus, trust is the most important aspect of this signal.
Authoritativeness–emphasizes the authority and reputation of the publisher and the website itself. Expertise in a particular field, credentials, and reviews from legitimate users impact it.
Trustworthiness–shows that the content includes trustful sources of information. For example, implementing an SSL certificate on your website helps to prove its validity and assures users that their data is safe.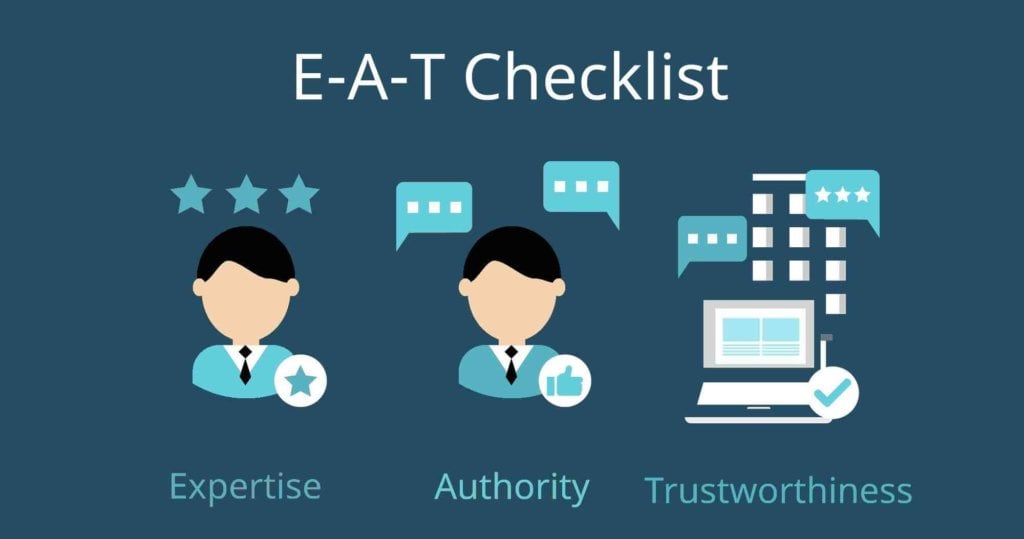 Why is E-E-A-T Important?
E-E-A-T is a significant aspect Google considers when it evaluates the credibility of an online source (i.e., publisher, content, website). It helps to differentiate between high and low-quality websites.
Essentially, a high level of E-E-A-T means that your website meets the standards of Google's search quality evaluator guidelines (QEG). Therefore, it shows high quality and assures Quality Raters that users can rely on the information you share.

Source: Google's Search Quality Evaluator Guidelines
Is E-E-A-T Important for All Websites?
E-E-A-T is important for any site, but especially for YMYL (Your Money or Your Life) websites. YMYL refers to websites that can potentially influence major life decisions, such as health, finances, or safety.
As these websites have such power, they are considered more important and expected to have a higher quality standard.
For example, if we look at a food blog or a medical site, it's clear that the medical site should have a higher level of E-E-A-T because its content can impact a person's life.
That's why Google stated in their QEG that they would analyze the expertise according to the website's and its content's importance.

Source: Google's Search Quality Evaluator Guidelines
How to Know Which Are YMYL websites?
YMYL websites fall into 6 main content types:
News and current events–politics, science, technology etc.
Finances–banking, insurance, taxes etc.
Government and law–government agencies, social services, legal issues etc.
Shopping–websites that allow to make online purchases and ask for your credit card information.
Health and safety–medical information, emergency preparedness, possible dangers of an activity or substances etc.
Big decisions–finding a job, college, housing etc.
How Does E-E-A-T Matter for SEO?
E-E-A-T SEO is mainly associated with actionable SEO tips. Providing quality content has always been an important part of SEO, and following E-E-A-T guidelines only benefits that!
Another important measure is link building–choosing high-quality links over low-quality ones. Having more external links to authoritative websites boosts your SEO performance and works well for the authority part of E-E-A-T.
Additionally, linking to credible sources increases the chance of your website receiving a backlink from an authoritative site, as well.
High authority referring domains can increase your domain authority and strengthen your backlink profile, which is a must for SEO.
It's always quality over quantity for better E-E-A-T SEO. Beware of link farms because that's a negative SEO tactic, which can ruin all your SEO efforts.
Does E-E-A-T Affect Ranking?
E-E-A-T is not a ranking factor. Google's search QEG (which includes E-E-A-T) are simply instructions for Quality Raters.
Expertise, experience, authoritativeness, and trustworthiness are human concepts. So, it's difficult for a computer to understand if a website has a high or low level of E-E-A-T. Meaning that E-E-A-T can't impact Google's algorithm itself.
However, E-E-A-T helps to determine credibility, and by collecting the feedback from Quality Raters, Google can further evaluate if a website brings real value to the user. Therefore, following E-E-A-T principles helps to create high-quality content, which is vital for your Google ranking.
Generally, E-E-A-T is another way to provide better UX on search engines, and that's what Google constantly tries to improve. For example, they developed Core Web Vitals for a faster and smoother UX.
As Danny Sullivan points out, E-E-A-T is a way for Google to improve its systems and filter information better.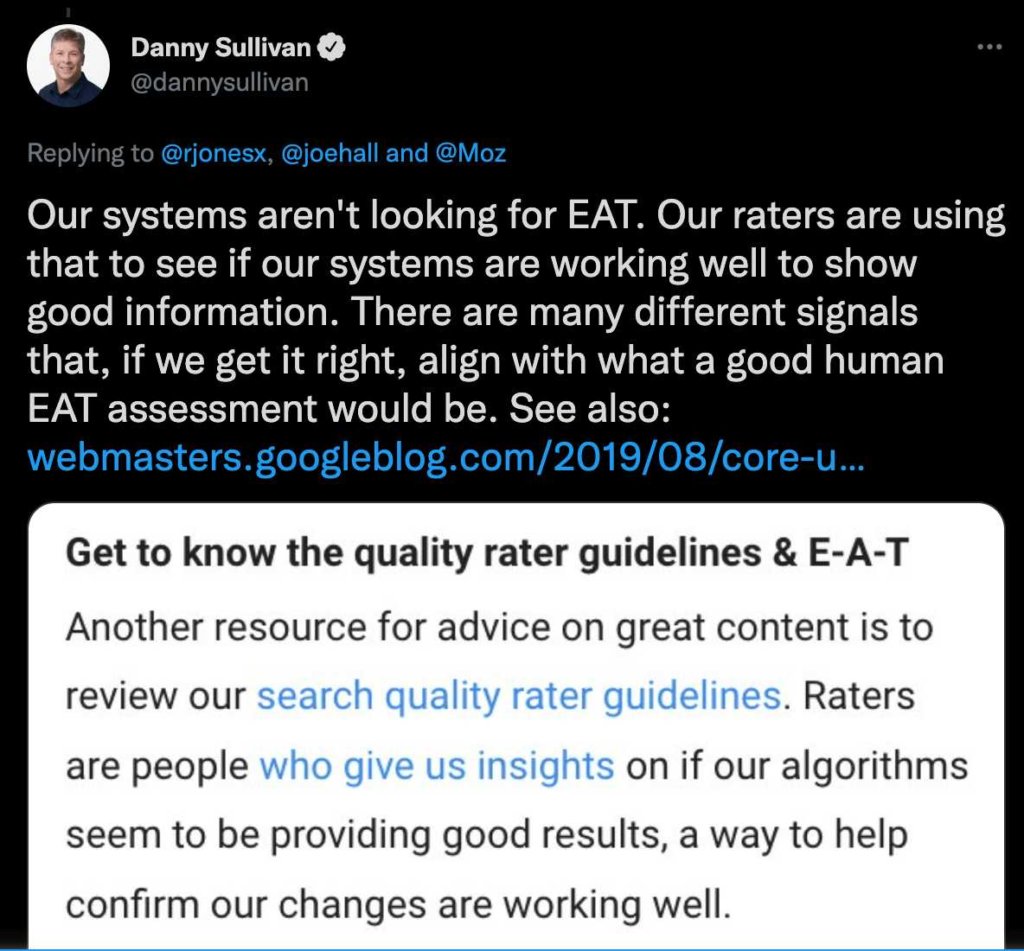 Source: Twitter
How to Improve E-E-A-T?
There are 6 ways to improve the E-E-A-T of your site:
Include expertise. Having an expert opinion improves credibility.

Get more authoritative backlinks. If your site receives a backlink from a source with high domain authority, it shows Google that your content is valuable. This improves your E-E-A-T level and SEO in general.

Source: Wikipedia
Get reviews and respond to them. Having feedback from your clients about your service or online users about your content improves trust. Responding is caring!

Show contact information. Providing additional details about your company–where and how to reach you–shows that there are real people ready to help.

Make updates. Updating your content improves accuracy and relevance.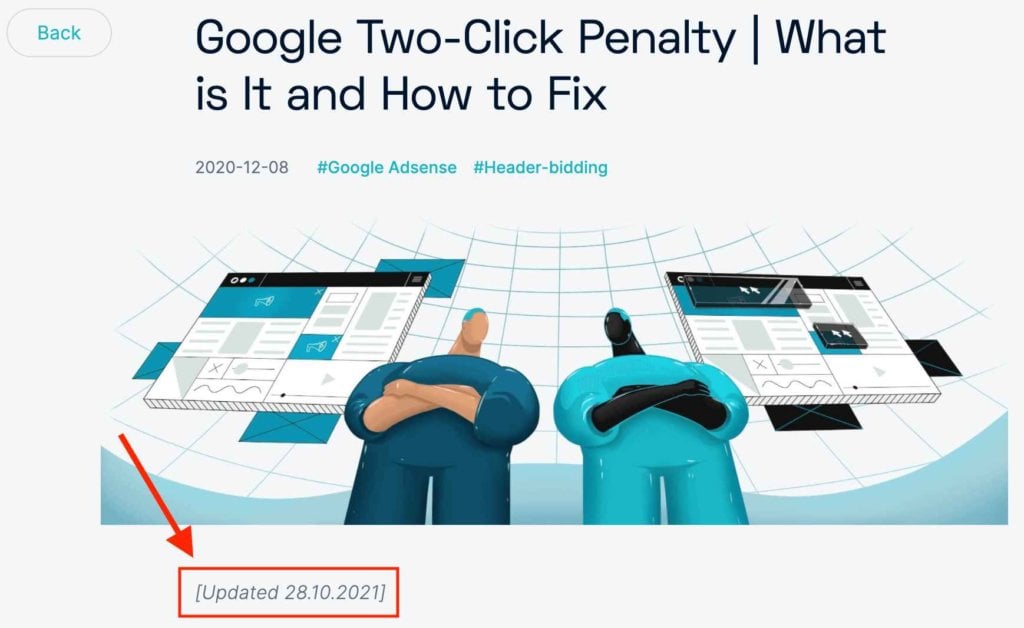 Improve your UX. Having too many ads or ads that disturb the user's natural reading flow is a no-go! Ensure that your site has easy navigation, consistent design, and qualitative content.
Conclusion
E-E-A-T is a great way to make sure that your website is credible and valuable. While E-E-A-T is not a direct ranking factor, it can indirectly impact your search rankings over time.
Use our tips and Google's search evaluator guidelines as a handbook to improve your content.
If you still have any questions, write to us at [email protected].