Google's AI Search Update 2020 | What Publishers Should Know
Last week, Google announced a new update about recent research in AI (artificial intelligence) and how BERT is now used in almost every English query to provide more relevant results on users' questions. Thanks to this research, the search ranking is improved for spelling, passages, and subtopics.
But before we dig into details on how this update will affect your rankings, let us explain what this update is all about.
What is BERT?
Google introduced BERT (Bidirectional Encoder Representations from Transformers) in 2019.
BERT language understanding systems make improvements to understand better natural language queries made by users to provide more relevant information.
According to the Search Engine Journal in 2020, BERT impacts nearly 100% of searches compared to 2019 when it was only impacted by 10%.
This means that Google Search understands users' searches better than ever before.
What has changed after this update on Search?
Spelling Improvements:
Understanding misspelled words, thanks to the new spelling algorithm.
Understanding the context of misspelled words.
Providing users to find the right results in under 3 milliseconds.
Example:
Passages:
Indexing not only web pages but individual passages from the pages.
This will help Google to improve 7% of search queries across all languages.
Now, Google can rank a specific passage to a specific query (see the example below)
Example:
More relevant subtopics for a specific query:
Google can understand the relationship between specific searched queries and subtopics around them, thanks to neural nets (algorithms).
Subtopics on the Search will help to provide a diversity of content when users search for something broader.
Google will roll out this feature by the end of 2020.
How will this update impact publishers?
1. Website traffic
If we compare SERP (Search Engine Results Pages) results of Google between May and October 2020, we see that Google's core update impacted more websites and their rankings from May 5th to May 7th, 2020.
However, the latest update in October 2020 shows a high duration (yellow) almost for the whole month. This means that the rankings have been volatile and shows an active movement.
The higher the volatility score, the more websites have been affected; meaning, a lot of websites might see changes in their traffic.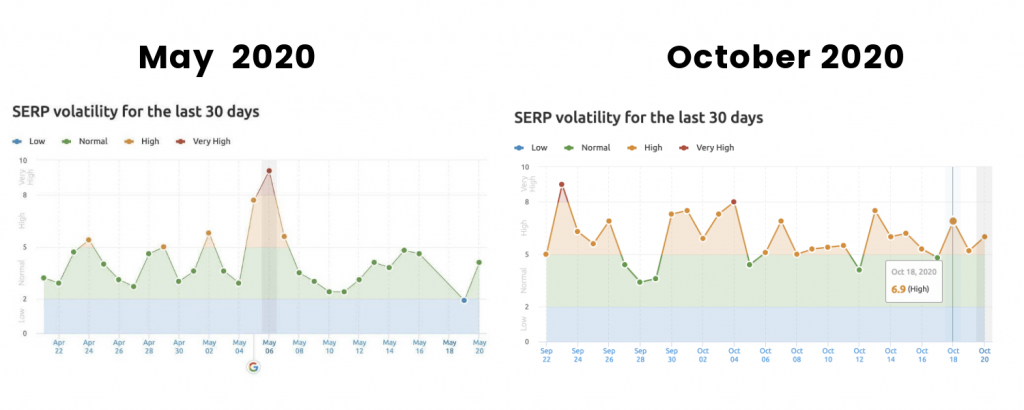 How to avoid it?
Since BERT is impacting informational related keywords, for example, 'how to tie a tie', you should focus on creating your content as specific as possible around the searched topic.
Neil Patel says: "Typically, when you create content, which is the easiest way to rank for informational related keywords, SEOs tell you to create super long content.

Yes, you may see that a lot of longer-form content ranks well on Google, but their algorithm doesn't focus on word count, it focuses on quality."
Improve your SEO strategy by focusing on long-tail keywords.
By doing keyword research and creating the content, answer the searcher's questions better than your competitors and get straight to the point.
2. Limited access to manually index pages
Since Google is making updates related to Search, it has limited access for publishers to manually index pages in Google Search Console. This is still an ongoing process, and there is no information on how long it will last.

What can you do?
According to Google, you have to be patient; Google will continue to find and index your content through their standard methods–first by crawling the page, then indexing, and finally ranking on Search.
Conclusion
Due to this latest Google update, there is a possibility that your traffic may go down.
Analyze your pages that don't rank anymore and improve the content or create new content that answers questions that people are searching for.
Do keyword research and focus on long-tail keywords; they will help you rank better. Understand what users have exactly searched for and always try to give more precise answers than your competition.