What is Google AMP? | Everything Publishers Should Know

According to Google, 50% of the whole web traffic comes from mobile, and page speed is a critical factor to retain users on your page.
To ensure users access information with a lighting speed, Google partnered up with big tech companies like WordPress, LinkedIn, and Twitter, to name a few, and rolled out Accelerated Mobile Pages, or AMP.
This article will explain what AMP is, how it works, the main benefits, limitations, and, finally, AMP ad integration.
Table of Contents:
What is Google AMP?
Google AMP (Accelerated Mobile Pages) is an open-source HTML project designed to create incredibly fast and lightweight mobile pages.
AMP was developed in response to Facebook's Instant Articles. Unlike the last, any publisher can join AMP at no cost and start using it.
Facebook Instant Article Example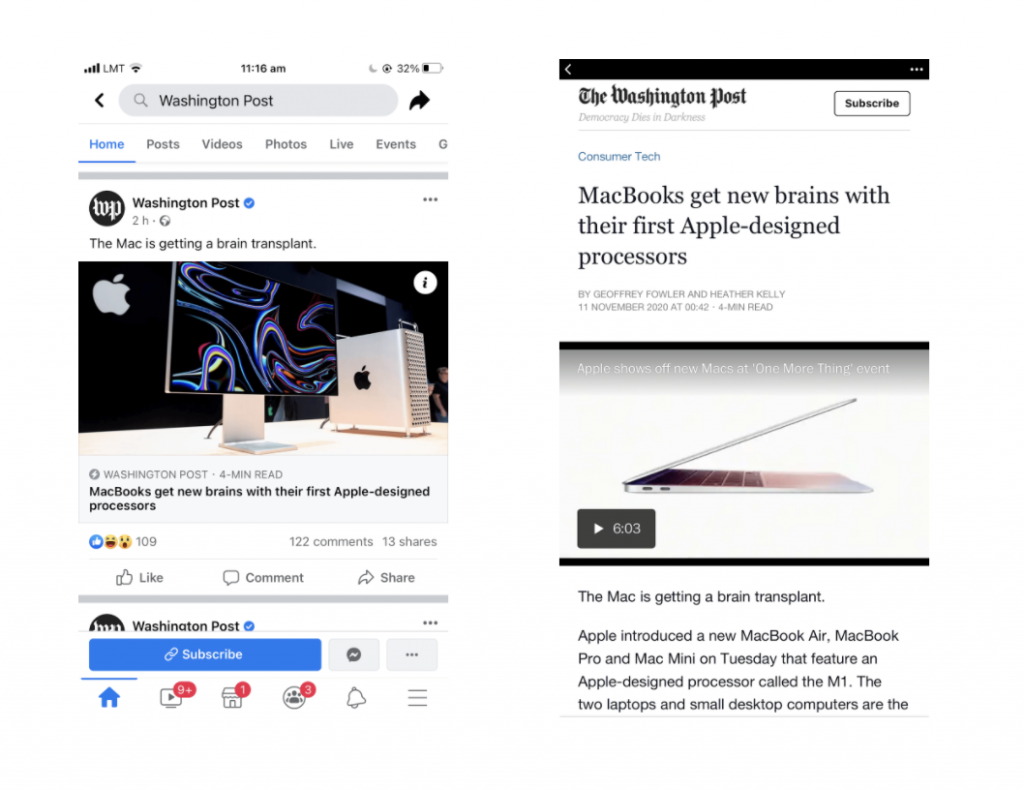 Source: Washington Post
It works by stripping the HTML code of tags that slow down the page. It does so by reducing the number of regular HTML tags and replacing them with AMP HTML custom tags.
This means you will primarily use pre-built AMP libraries that are custom tags used for AMP pages to deliver a fast page rendering (the process of interpreting HTML code into what users see). It also removes unnecessary JavaScript (JS) so you might not be able to implement some advanced features on your page.
Moreover, Google AMP pages are only accessible via Google search engine and are cached in Google CDN servers. They usually load even faster compared to regular web pages from the same websites.
AMP Website Examples
You've probably seen AMP pages every time you search something up on your mobile. It is indicated by a lightning bolt in search results.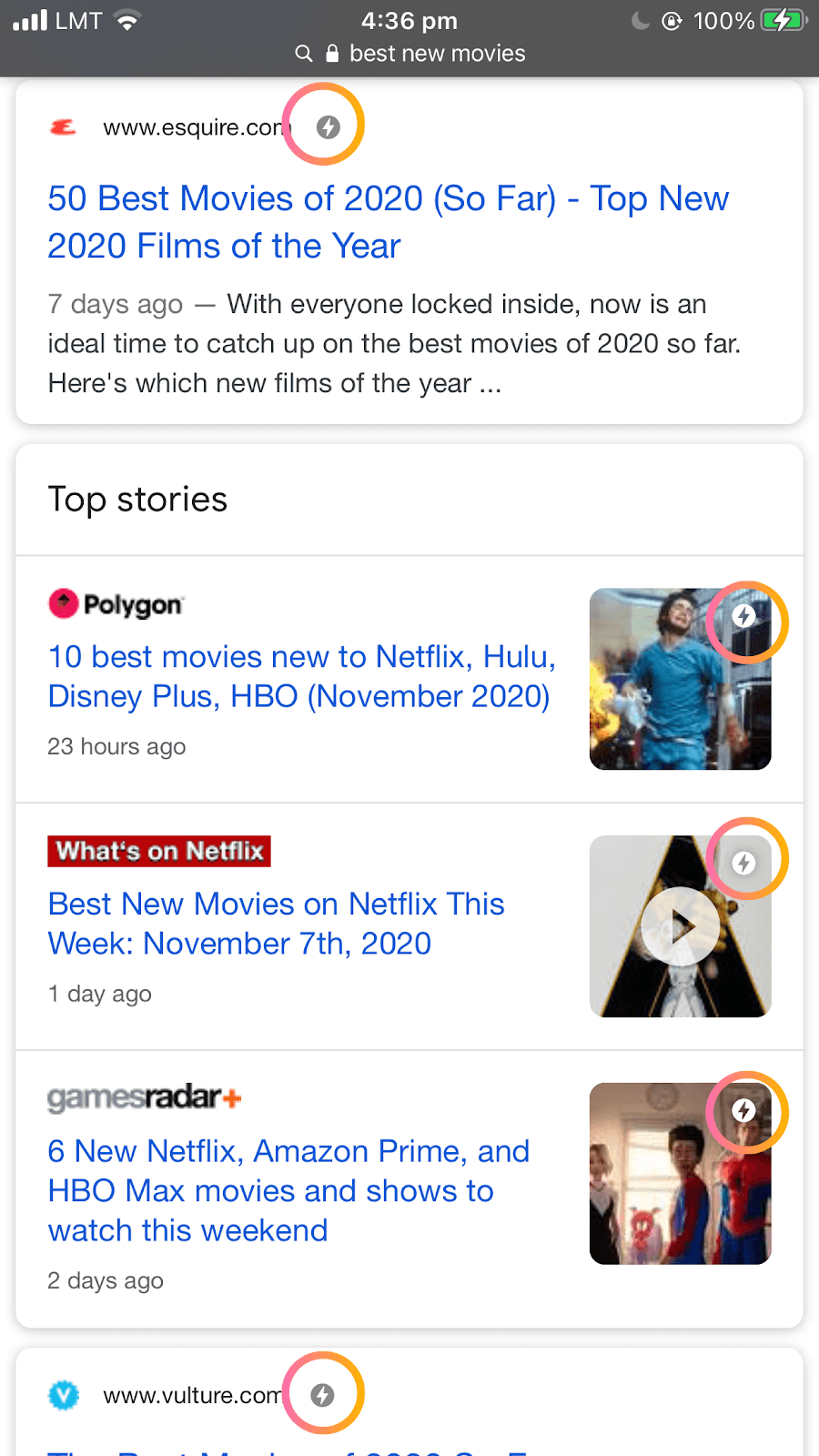 AMP pages load four times faster than a non-AMP mobile page and use up to 10 times less data over 3G and 4G networks.
How does AMP work?
AMP renders your pages using an optimized HTML code. The pages load faster because certain HTML code tags that slow down the page are eliminated.
Initially, AMP wouldn't allow you to use JavaScript elements because it delays page rendering.
Today you can add a custom amp-script component to enable user interactions such as social share buttons.
This is how it works.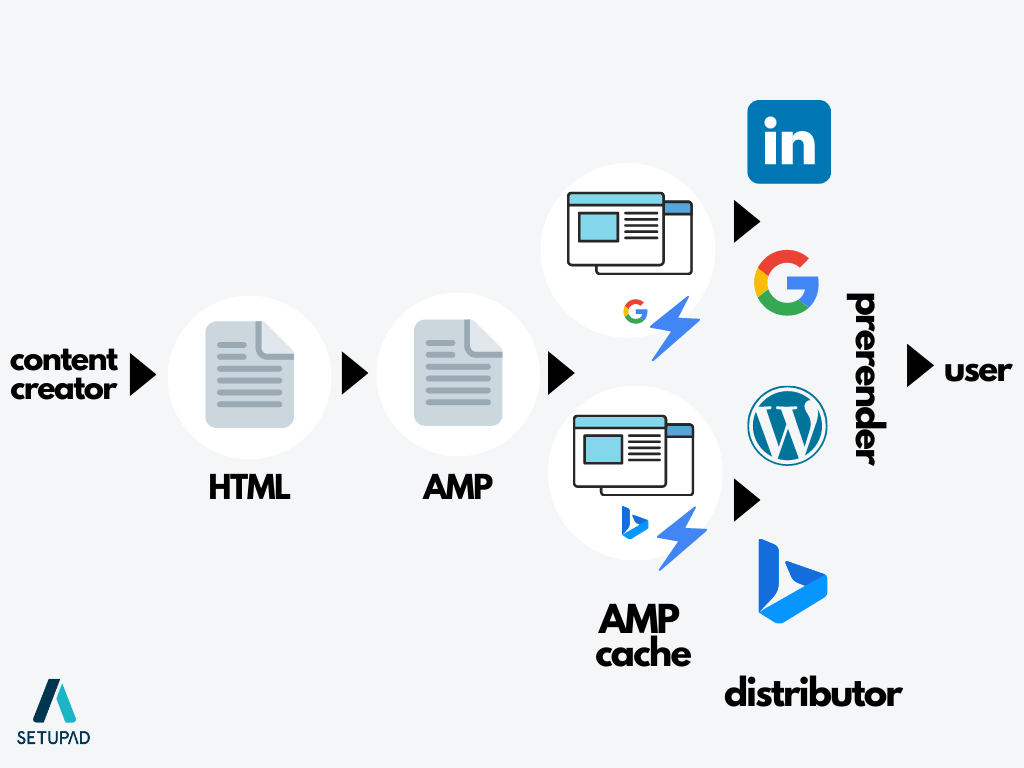 Your AMP-optimized page will be sent to be hosted on Google's servers. This is how Google pre-renders and caches content before someone clicks on the page in search results.
Then, a user will be able to see content in two ways:
Google AMP Viewer, such as when a user clicks on the Top Stories carousel. The domain, in this case, is Google's.
Signed Exchange (SXG), such as when a user will see your domain's name. The content will be delivered in addition to AMP HTML and appears in standard results.
According to the Search Engine Journal, the number of AMP domains surpassed 31 million in 2018. So, should you join too?
Benefits of AMP
AMP itself is not a ranking factor. However, your page speed sure is. Tests showed that AMP DOM (the amount of time whereby HTML code is fully downloaded and the process of breaking up the words into components has been completed) fully downloads within 0.857 seconds.
Related article: 8 Tips for Publishers to Increase Website Loading Speed
Earlier this year, Google announced a program called Core Web Vitals, a set of metrics related to speed, responsiveness, and visual stability. Core Web Vitals will become an important ranking factor in May 2021.
Industry standards are very high these days. A study of over 1 billion pages found that 90.63% of pages don't get any traffic from Google. That's because pages with similar content compete for traffic. This is where page speed plays an important role.
However, this is not to say that content and relevance of the page aren't important. If your page does not provide valuable information to users, page speed has a lot smaller impact on ranking.
Bounce rate is directly affected by the page's speed. Research shows that 79% of users will bounce from the page and will not return if the page was loading too long. With faster page speed, a user will spend more time on a site and more likely convert into a customer.
According to Google, conversion rates fall by 20% for every additional second for a web page to load. Thus, The Washington Post noticed a phenomenal increase of 23% in returning visitors from mobile within 7 days of integrating AMP.
Lighter pages also consume up to 10 times less traffic than standard pages. This is especially critical for mobile users whose mobile browsing may be impacted by certain bandwidth limitations.
Increased SERP visibility
We cannot understate the obvious benefits of AMP pages for SERP (Search Engine Results Page) ranking.
Let's start with the most important one–Google favors AMP articles in SERP showing them above organic results. Moreover, if your page has structured data, AMP can increase the likelihood to show up in rich results such as featured snippets.
Swipe to Visit is another great feature of AMP. It uses AMP's prerender capability to display a preview of the page. If a user wants to swipe up, a full web page will instantly load, and a publisher will receive a pageview.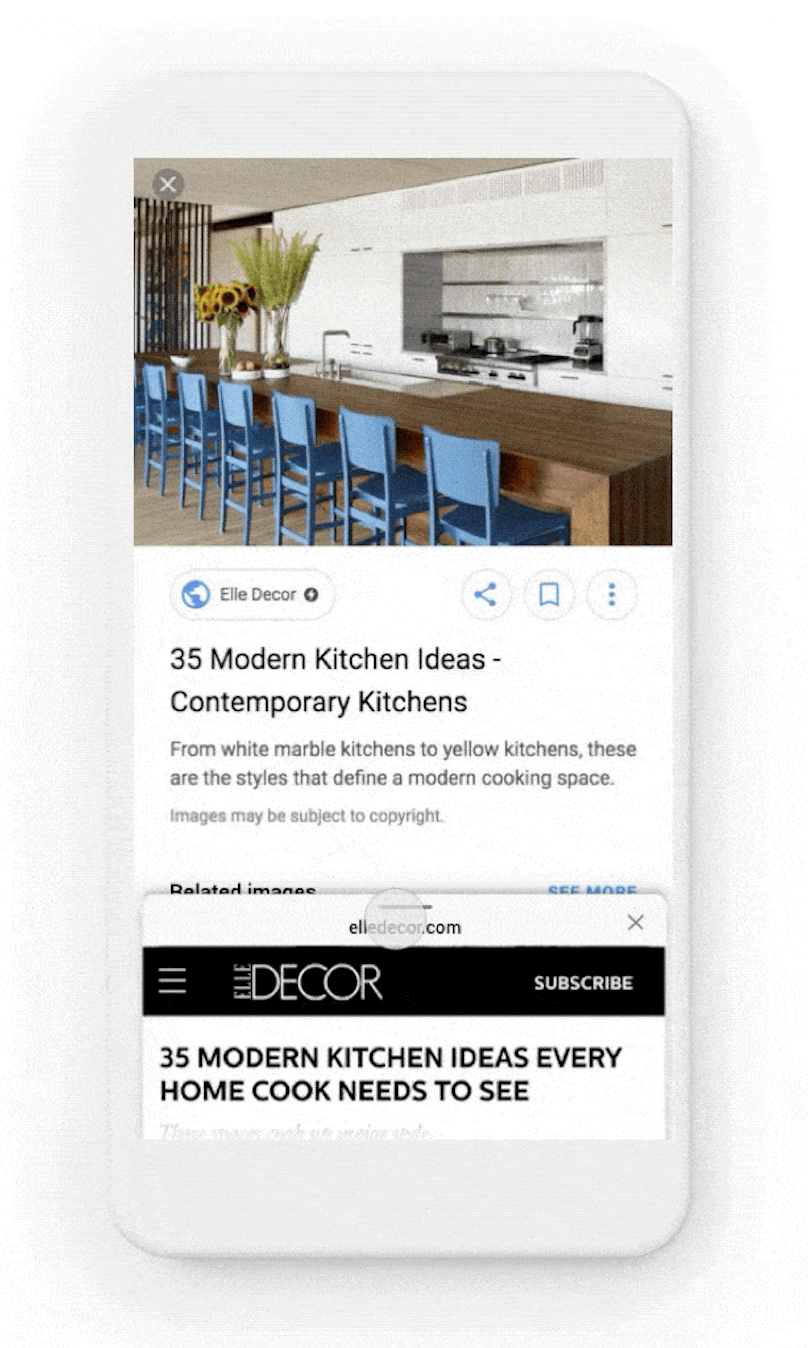 Top Stories carousel is a sweet spot for all digital publishers.
Displaying at the top of the SERP, presents a whole new opportunity to drive traffic to your website. When a user clicks on a story, they can swipe between related content from different publishers.
For now, AMP is a requirement to appear in Top Stories. However, that will change in 2021, allowing both AMP and non-AMP pages to appear in Top Stories.
Note, pages in Top Stories are cached versions of the same pages. That means, whenever a visitor clicks on the page in the carousel, the link goes back to Google, not the publisher's website. To avoid your page getting duplicated, be sure to use a canonical tag (an HTML element that allows you to specify the preferred version of the web page) to the desktop URL.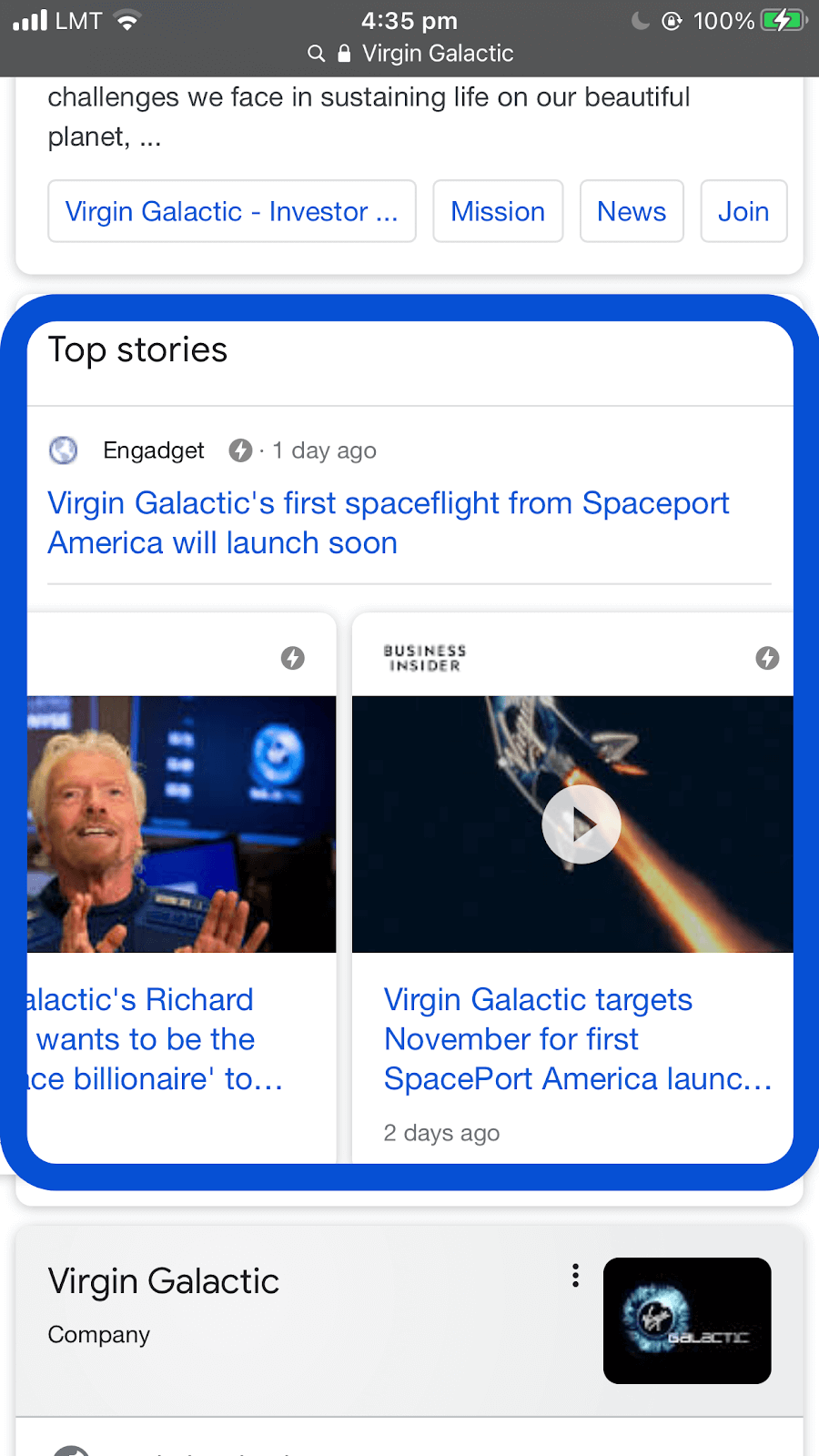 Limitations of AMP
There are certain restrictions to what you can and cannot use in your code when building an AMP page. We have put together the most important ones.
AMP Cascading Style Sheets (CSS)
All CSS must be inline and size-bound. This will ensure a good CSS practice. The inline sheet limit is now 75kB, a slight lift from the previous 50kB. However, it is still a rather restrictive framework.
Third-party heavy JavaScript elements won't work on AMP because they block DOM construction and delay page rendering. There are pre-built AMP libraries to use instead that ensure high speed, interactivity, and visual stability.
Custom JS is allowed in amp-script, and third-party JS is allowed in iframes as they don't cause performance downgrade. Note, the script limit is 150kB.
When users land on your page from Google AMP viewer, they do not see your web page URL. This is because Google only puts cached content in its top placements, such as Top Stories. The original URL is stored under the info button at the top of the AMP page.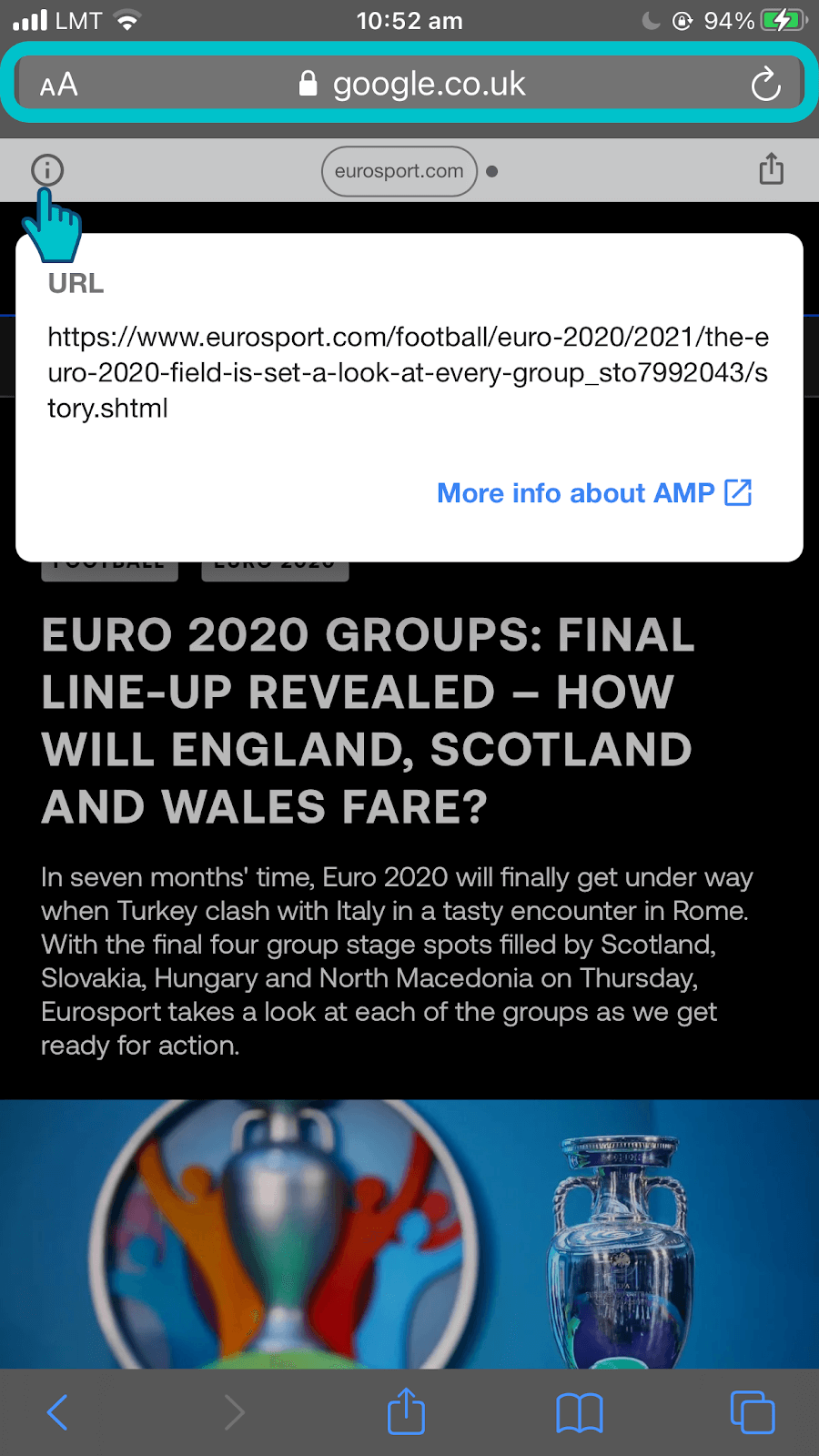 Not only is this confusing for the readers, but visitors also cannot check the authenticity of the page they landed on (for example, by clicking on the SSL certificate). Luckily, there are technical solutions to this limitation that allow AMP pages to be served from a cache but also contain an original URL in the browser's navigation bar.
Just like with a regular page, once your AMP page is live, you will still need to optimize to make it SEO-friendly.
Related article: Are Internal and External Links Important for SEO in 2020?
Due to 'swipe' functionality, users engage less with the content because they're encouraged to read related content from different publishers. So publishers may not see a huge increase in engagement rates.
If you want to know more about restrictions, Github put together a complete list of AMP required markups so webmasters can decide if it's worth their efforts.
AMP Ad Integration
Google promised to ensure that AMP does not strip down your ad revenue and supports a wide range of ad formats and ad networks.
Some of the most popular ad networks currently using the amp-ads functionality include Adform, AppNexus, Criteo, Index Exchange, and more. You can see the full list itt.
AMP does not support certain ad formats, such as interstitials. However, it still should not decrease your ad revenue.
Related article: How to Increase Ad Revenue | Success Formula and Proven Solutions
With AMP, your ads will take a shorter time to load because of the reduced size. This means higher ad viewability and click-through rates.
Header bidding wrapper, which is Setupad's specialty, can also be integrated with AMP. It will allow it to generate more ad requests with Real Time Config (RTC) and reach maximum CPMs.
Should I use AMP?
The success of AMP varies greatly from website to website. Media sites generally do well with AMP, so if you are a publisher with a blog or a news section, we suggest you give it a try.
It might also be a good idea to test AMP if your competitors are already using this technology. There is little data about the success with e-commerce sites.
On the other hand, many developers believe it is possible to build fast-loading websites without sacrificing rich multimedia objects and advanced features. Cloudflare for Mobile is an example of an alternative solution that boasts similar features and speed as AMP.
At this point, we leave it to you to make an informed decision whether you think AMP is right for your site.