What to Do if My Website Doesn't Pass Core Web Vitals?
Google's official ranking factor update Core Web Vitals will be launched in mid-June 2021.
Your numbers should be green for all three Core Web Vitals–LCP, FID, and CLS- to pass the Core Web Vitals assessment.

This article will explain how passing and not passing Core Web Vitals (CWV) will affect your rankings and what to expect after the update.
Table of Contents:
How do I know if my site passes Core Web Vitals?
To check if your site passes Core Web Vitals, run a site audit through Page Speed Insights. Then Origin Summary will let you know if your site passes or doesn't pass the Core Web Vitals assessment.
According to the screenshot below, setupad.com passed the Core Web Vitals test for desktop but not for mobile.

Core Web Vitals are captured over the historical data or field data (in this case, 28-day collection period) compared to page speed measured in real-time. Field data is collected through the Google Chrome browser from users who've opted-in visiting your page.
The drawback of field data collection is that it's unclear when the 28-day period started and ended.
Sometimes Field Data and Origin Summary include a message that there is not enough data to analyze the particular webpage. In that case, you won't be able to know if your site passes Core Web Vitals or not.
Suppose you see the message below–it either means that your site's property is new in Search Console or that Chrome User Experience Report doesn't contain enough data about your webpage to provide the CWV scores.

Remember, if your site's loading speed is super-fast, it doesn't necessarily mean it will pass Core Web Vitals.
What will happen if my site doesn't pass?
Don't panic! Currently, the majority of sites don't pass. According to Screamingfrog, across 20,000 URLs, only 12% of mobile and 13% of desktop results passed the Core Web Vitals assessment.
Suppose you are concerned that your rankings will drop dramatically after CWV launch. Remember that only 12%-15% of SEO rankings are affected by Google's Ranking Algorithm update (on the image below, it's referred to as 'Infrastructure').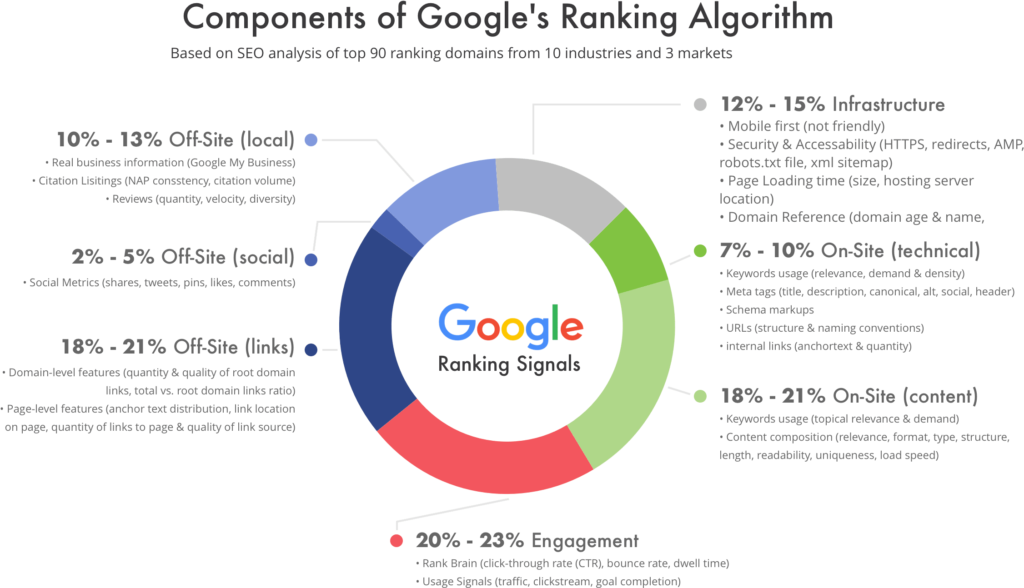 Source: mikekhorev
Other things can affect your rankings even more like:
High-quality content is still one of the primary aspects determining how well your site ranks on the search. If the created content is low-quality, but the site passes CWV, it still won't outrank the pages with high-quality content.
Keep an eye on your site's metrics like bounce rate, clickthrough rate (CTR), and pageviews per session.
Make your site mobile-friendly. It will help to increase your rankings. Google prioritizes mobile-friendly sites on their search.
Implement lazy load for ads and content below the first screen.
Reduce the number of HTTP requests (eliminate unused scripts, images, plugins, etc.). It will help your page load faster–the fewer elements there are, the faster it takes for the page to load.
What to do?
For now, all you can do is fix the existing errors from your site's audit report.
It's almost impossible to predict what will happen if your page doesn't pass the Core Web Vitals, but for now, we are quite sure that the impact won't be that significant if your site has a good user experience, loading speed, and engaging content. We know for sure that your content won't be deindexed or penalized just because you didn't pass Core Web Vitals.
We suggest–check out your competitor pages and see if they pass. If yes, most likely, you should make sure you pass, too.
What if my website passes Core Web Vitals?
Congrats! However, passing does not necessarily mean that your page will outperform other pages.
Look at this as an advantage to shift your time and energy on updating your content, improving the user experience, and finding the keywords where your competitors outrank you.
Check how well your site performs in real-time so you can fix some errors before the update.
Related Article: 5 Ways to Improve Your Core Web Vitals
How to rank higher on Google in 2022?
Here are 5 the most effective and useful tips from industry experts on how to rank higher on Google.
How important is the website's performance score?
One way to see how well your site performs in real-time is by checking Lighthouse.
First, open an incognito window so your report isn't affected by extensions and browsing history.
Then type your site's URL and press the right mouse click, and search for the option 'Inspect'.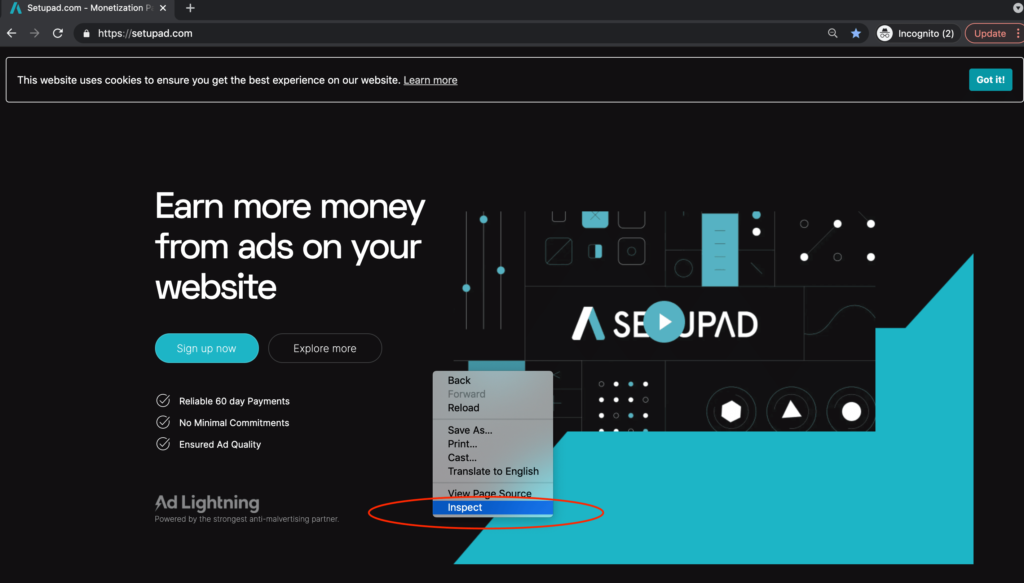 Then press on the arrows and choose Lighthouse.

Check the boxes and press 'Generate report'. Wait a few seconds for the Lighthouse to generate the report.
Then you can see all the numbers that indicate the health of your site.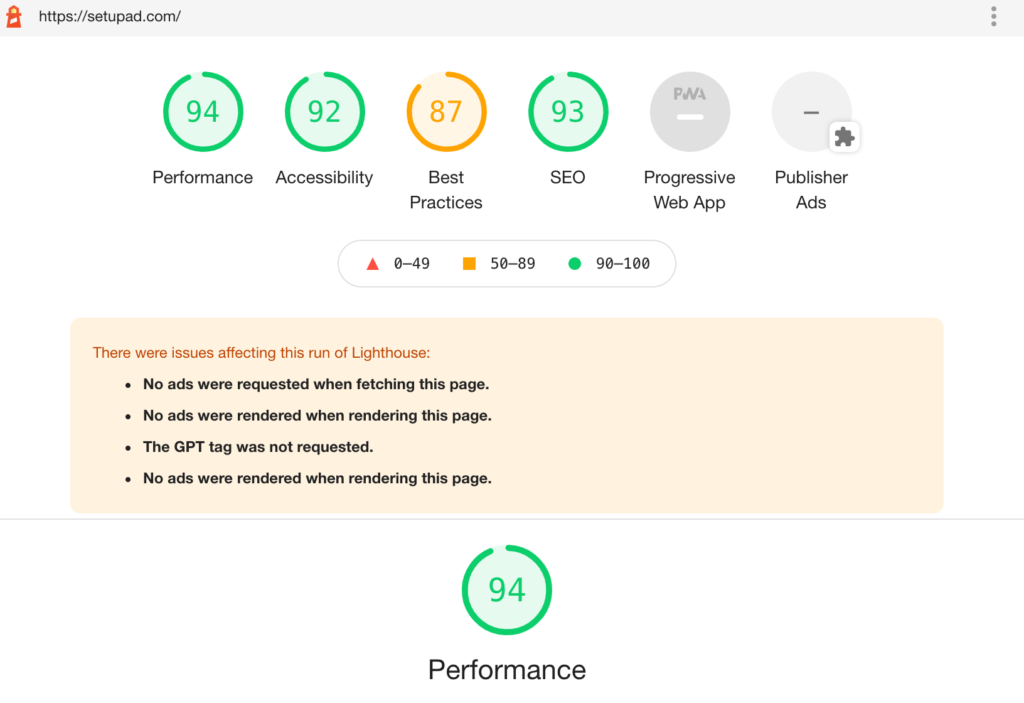 If your performance score is low, it doesn't mean everything is bad with your site. This also doesn't mean that your page will rank on search results on the 10th page after the Core Web Vital update.
The most important thing you have to remember is that performance itself is relative, especially when you are checking the Lighthouse report. Learn about Lighthouse scoring itt.
Keep in mind that the scores might differ for every user because to generate the report, Lighthouse uses the user's internet connection that might be slow, and you as a publisher cannot impact it.
Another way where you can check the website's performance is https://web.dev/measure/. They also use Lighthouse. However, here you will only see the site's performance on a mobile device.
For those who display programmatic ads-should you be worried if your performance metric is low?
You might see a slight performance decrease due to running 15 exchanges instead of 1, but it isn't significantly affecting users or SEO score. Generated extra revenues thanks to header bidding outweigh any possible small decreases. Since Google has moved the launch date for CWV update until mid-June, they are not even considered for SEO algorithms yet.
As mentioned before, there are other possible improvements on the page that publishers can make to increase the performance scores. Setupad is here to help by providing an audit for your website's loading speed. Get your website loading speed audit itt!
What to expect?
This time is beneficial for many SEO agencies, web developers that will reach out to you and emphasize the importance of Core Web Vitals if your site does not pass them. Just remember that if your site's UX is well-designed and you create good content, your site won't get unindexed from Google.
This is not the only algorithm update Google has done, and according to previous ones, there shouldn't be a drastic change if your site is performing well already.
Final Thoughts
Google won't stop ranking pages if they don't pass Core Web Vitals–if your site is secured (https:// instead of http://), mobile-friendly, contains valuable content for users, don't use intrusive advertising, like pop up ads you are safe.
Make sure your site has the best-performing ad formats, and they are lazy-loaded below the first screen. Less but more impactful ad formats (sticky, interstitials) reduce the number of calls. Lazy load ensures that calls are made only when needed–when users can actually see ads in-screen. This will help to ensure that after this update, your ad revenue won't drop.
If you still have questions about the Page Experience Update, email us at [email protected].