Google AdSense or Monetization Platform | How To Choose?

If you are currently monetizing your website with Google AdSense, you are in the right place.
Why?
Because there is a better way to increase your ad revenue: with a monetization platform. In this article, we will explain the main differences between Google AdSense and monetization platforms, as well as their benefits.
Before we dig into the details, let's first refresh your understanding of Google AdSense.
What is Google AdSense?
Google AdSense is a cost-per-click (CPC) program, which allows buyers to buy ads on a CPC basis. As a publisher, your revenue depends on the number of clicks your ad receives.
As you may already know, setting up Google AdSense is a straightforward process that requires little time. It is also available to any publisher. However, you have to meet all eligibility requirements for your website to be accepted into the Google Network.
To get started, you need to insert an HTML source code into your website. Ads then become visible to every visitor of the site.
How to calculate Google AdSense revenue? Check out–Google AdSense Revenue Calculator.
What is a monetization platform?
Monetization platforms or yield managers such as Setupad help publishers manage their ad inventory and connect them with more buyers (SSP, including Google). This allows the ad inventory to be sold at the highest possible price.
How is this achieved? The key is simple to understand, but complex to build in-house: header bidding.
Definition of header bidding
Header bidding is an advanced programmatic technique wherein publishers offer their ad inventory to multiple ad exchanges or so-called SSPs, like Google and Pubmatic. The idea behind header bidding is to let demand sources bid on the same ad inventory in real-time simultaneously. This allows publishers to increase their yield and make more money.
What are the differences between Google AdSense and Monetization Platform?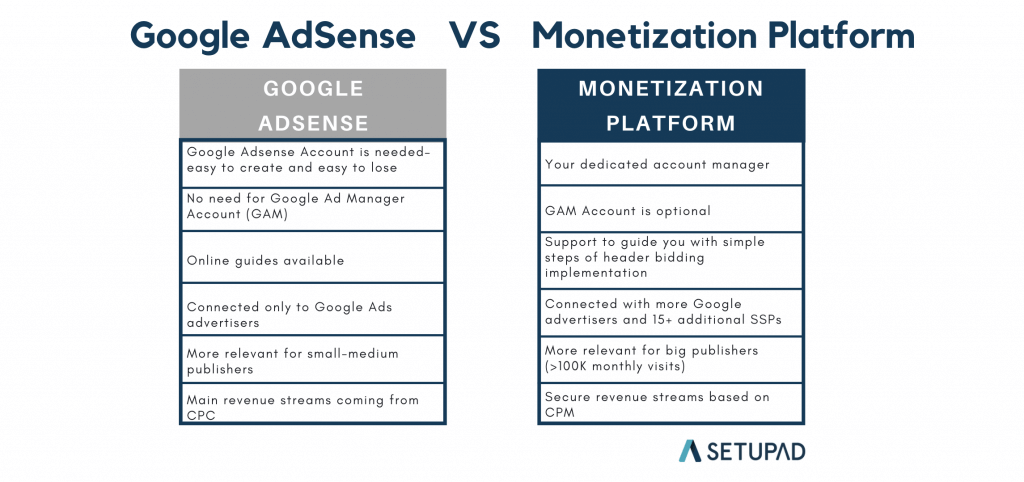 Remember: It is not only about the money
Keep in mind that in the programmatic advertising industry, multiple risk factors exist, such as:
Ad fraud; some scammers may use bots to trick the publisher into thinking that clicks were made by legit visitors
Malvertising attacks, such as viruses, auto-redirects, pop-ups, may appear as ads
Low-quality ads, which can repel potential customers
Formatting issues, such as ad overcrowding or unfavorable ad placement and size
Unfortunately, all of these risks have to be managed by yourself!
Setupad helps you mitigate these risks and provides benefits including:
Technical support
Tips for choosing the best ad placements for your website,
Avoid malvertising attacks and ad fraud (leveraging partnership with Geoedge)
Real-time bidding to maximize ad revenue
Here are testimonials from our clients, many of whom had only used Google AdSense in the past:
Alexandru Cuibari, CEO at Whatfontis.com, says: "We began our collaboration with Setupad after 10 years+ of working with Google Ads and saw an increase of 30% in our ad revenue. The integration was smooth and the math was simple. Even with the same traffic, we make more money without crowding the website with too many banners."
*Source: WhatFontIs.com– Monetization Case Study | Setupad
Google AdSense or monetization platform, which is the better option for publishers?
Monetization platforms might seem like alternatives to Google AdSense, which is partially true. But in most cases, they are, in fact, partners with Google.
Your monetization strategy depends on several factors:
The content and desired outcomes of your website. For example, are you providing services, educational content, designing tools, or news? You have to understand your target audience before you can gain maximum results.
The traffic of your website; specifically, the amount and geolocation of your traffic
The viewability and average CTR results of your website
The loading speed of your website
Our experts note that if you are a small to medium-sized publisher, you should start with Google AdSense. When you hit 500 EUR in monthly revenue with AdSense, consider partnering up with a monetization platform. With Setupad header bidding technology, you can maximize your ad revenue by a minimum of 30%. Test our platform yourself by signing up!
If you have any more questions, our experts are more than happy to help you!