Core Web Vitals | Important Metrics for Publishers

*Updated on the 27th of April 2021
Google's official ranking factor change (Core Web Vitals) launch date has been rescheduled from May to mid-June 2021.
Usually, when Google announces an update that will affect search rankings, it's more about the content. But this update is about a better user experience on your site in terms of the website's loading speed, stability, and interactiveness/ responsiveness.
Today, we will explain the details about Core Web Vitals and help you to understand how it's going to affect your rankings on search.
Table of Contents:
What are Google's Core Web Vitals?
Core Web Vitals are page experience signals that measure how good users' experience on your site is and whether it brings the best result when users interact with it.
The main goal of these signals is to provide the best experience for users when they are on the Web.
What will these page experience signals include?
It's going to be a combination of Google's existing search signals like mobile-friendliness, safe-browsing, HTTPS, intrusive interstitial guidelines, and Core Web Vitals.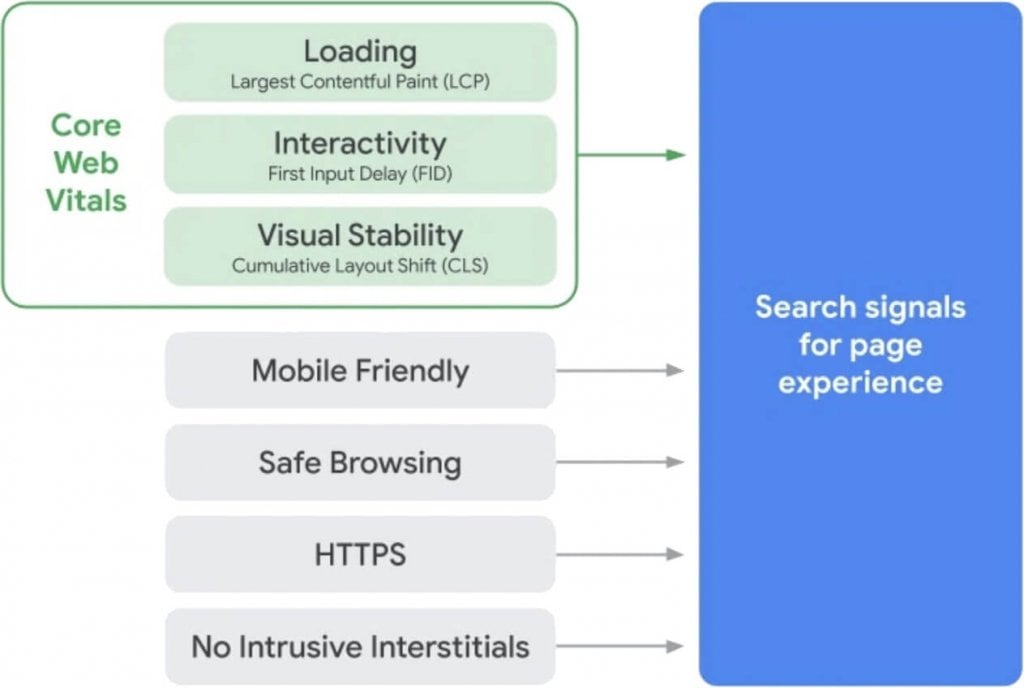 Source: Google
3 Core Web Vitals Metrics Explained
LCP stands for Largest Contentful Paint. This metric measures your page's speed in terms of the largest element that appears on the site–the largest image, video, animation, or text.
LCP helps to check how fast the largest element has finished rendering on the user's screen. Usually, a poor LCP is influenced by your server's response time.
CLS or Cumulative Layout Shift measures a website's visual stability. It checks if there are any undefined images, animations, and ads with no dimensions. CLS also measures web font loading speed and checks if content moves correctly.
This metric helps to ensure that pages are as delightful as possible and are not disturbing users with unexpected, confusing movements.
FID or First Input Delay measures how fast your page interacts with users at their first impression or when they visit your site for the first time.
In other words, this metric shows how fast your browser can process and provide the result for users. FID answers the question: "Is your page responsive enough?"
Why are Core Web Vitals Important?
3 Reasons Why These Web Vitals are Essential:
Helps publishers to evaluate the website's performance
Deliver better user engagement and experience
Provides consistency of user's web experience through various devices–mobile, desktop, and tablet
Let's be honest here; not all publishers are performance gurus of their websites, which is entirely okay. That's why there are web vitals–making life easier for publishers and helping them focus and understand the metrics that matter the most.
How Can You Fix Core Web Vitals?
Before checking and fixing your Core Web Vitals on Google Search Console, it's important to understand how these metrics define a good or poor user experience.
LCP: A good score will be anything less than 2.5 seconds when the page starting to load.

Source: web.dev
CLS: Cumulative Layout Shift score should be less than 0.1.

Source: web.dev
FID: First Input Delay shouldn't be more than 100 milliseconds.

Now login to your Google Search Console account and press Core Web Vitals on the left side at the bottom (screenshot below).
On the Search Console, web vitals will show how many URLs are good, poor, or need improvements; for example, one of the page's URL isn't indexed, then it will appear under the section 'Poor URLs'.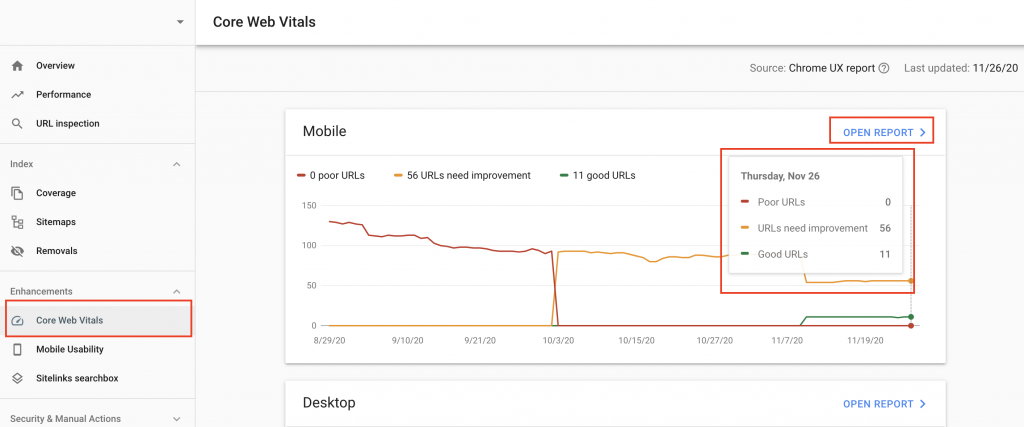 Then, when you click on 'Open Report,' it will show the score of Core Web Vitals for your site's URLs.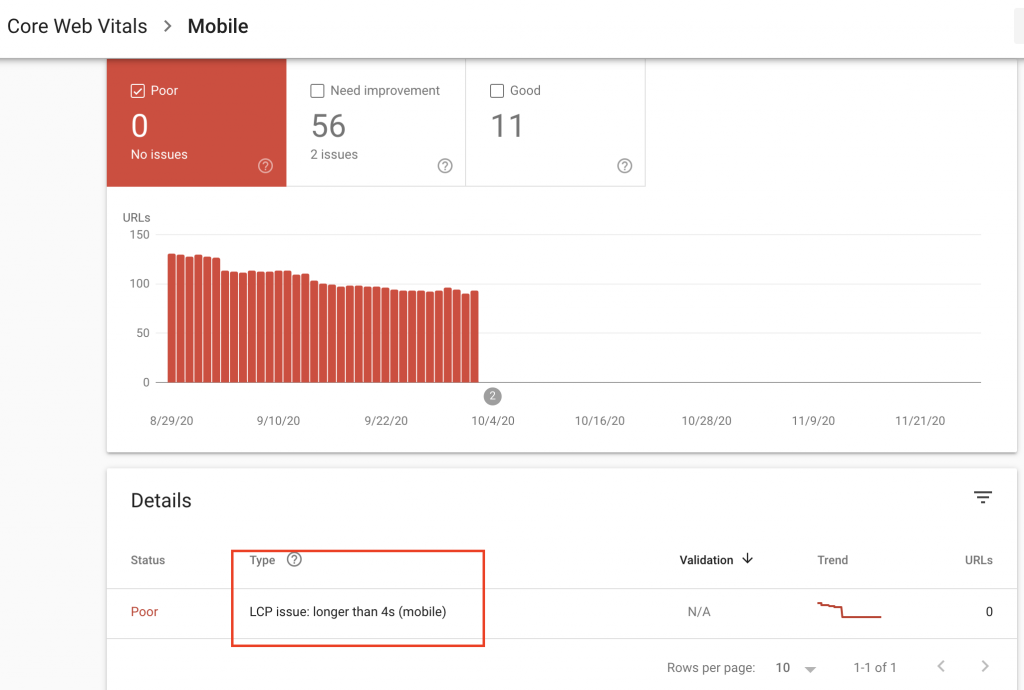 Related Article: 8 Tips for Publishers to Increase Website Loading Speed
Alternative Ways Where You Can Check Vitals
GTmetrix
Another great tool we recommend is GTmetrix. It's very precise with performance metrics, the interface is very easy to understand even for a non-tech-savvy user.
It provides 6 sections that show which metrics have to be improved for a specific URL.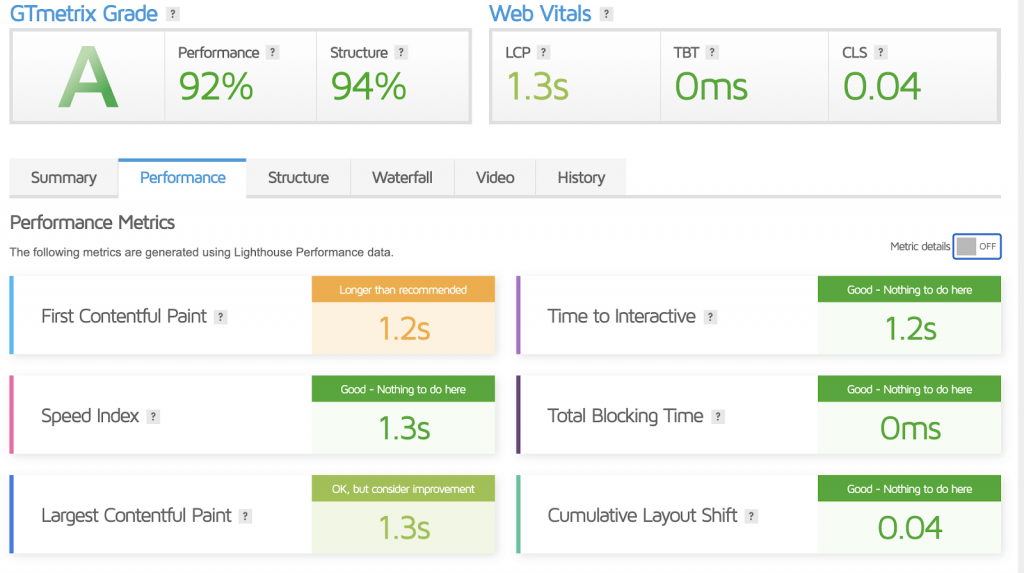 Google Analytics (GA)
It's possible to see how metrics change over time for your most valuable users in Google Analytics. This option is mostly used by advanced users who analyze vitals.
Additionally, in GA, you can construct a more advanced analysis over the metrics, and it's a massive improvement over the highly summarized data provided by Search Console.
For example, in GA, you can analyze custom dimensions such as "logged in" users and "past customers" in Search Console, however, reports are based on anonymous users.

Guide: How to Add Web Vitals to Google Analytics
Other Tools
Many other Google tools give insights about Core Web Vitals, not only Search Console and Google Analytics.
If you are not only a publisher but also a web developer, you can see the more advanced analysis in:
Lighthouse
PageSpeed Insights
Chrome DevTools
web.dev's measure tool
Web Vitals Chrome extension
Chrome UX Report API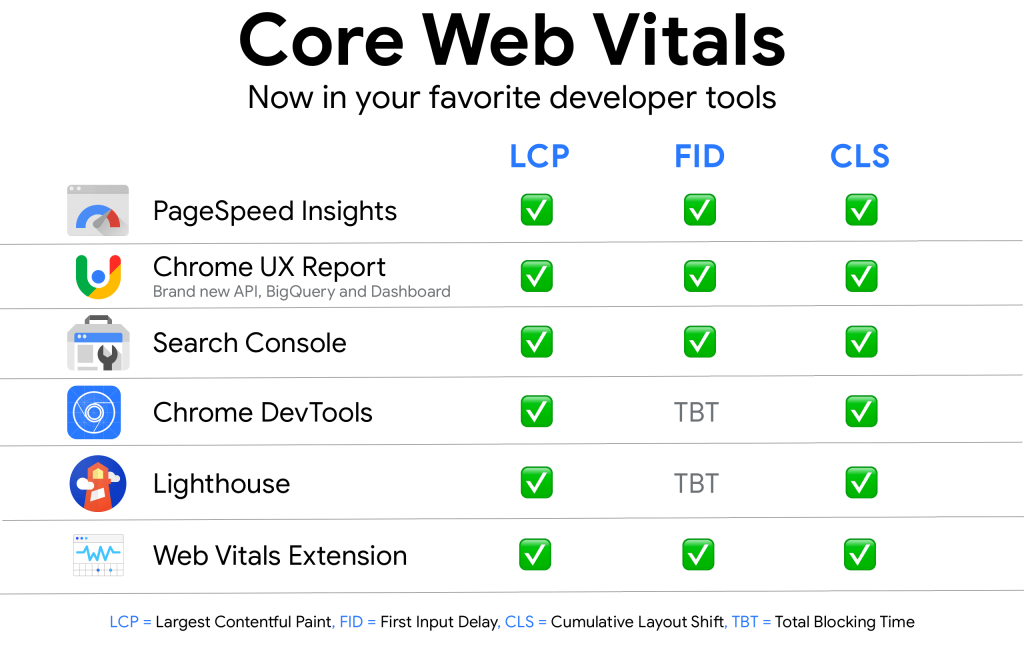 Source: web.dev
How to Improve Core Web Vitals?
LCP:
Reduce the overall page size by compressing images and using next-generation formats such as JPEG 2000, JPEG XR, or WebP
Implement lazy loading for ads
Use a CDN (content delivery network) for images to tell the browser how the image should behave
CLS:
Yoast emphasizes: "Now, while optimizing your CLS won't necessarily make your page be faster, it sure makes it feel faster."
Give proper dimensions for images in CSS, ads, and embeds (proper width and height)

Source: Yoast
FID:
Use browser supported fonts
Reduce JavaScript (JS) execution time by deferring unused JS and minimizing unused polyfills (a piece of JS code on the Web)
You can read more recommendations from industry experts here.
Final Thoughts
Since Core Web Vitals will roll out in 2021, we highly suggest to take your time and start to improve your website's performance to avoid unexpected surprises in your rankings.
These updates are all about bringing a better web experience for everyone.
Use our suggested recommendations – check out Google Search Console, or use alternative tools mentioned above – they will help you detect errors faster, and you will be able to start fixing them right away.