Ads.txt: Guide For Publishers

It's been a while since the IAB Tech Lab introduced ads.txt, which intends to protect advertising inventory and repel programmatic ad fraud. So far, it has an excellent job in cultivating a transparent ecosystem within the programmatic advertising industry.
Even though the ads.txt initiative is not new, many opportunities for further enhancements are yet to be discovered. Publishers are still hesitant about the ads.txt initiative because they are not fully aware of its benefits. Some may also think that it is too complicated to implement. According to Alexa, more than 56% of publishers have not implemented ads.txt as of today.
In this article, we will give you a brief overview of ads.txt, favorable implementation practices in WordPress and AdSense platforms, and the benefits it brings to both publishers and advertisers.
Mi az ads.txt?
Ads.txt, short for Authorized Digital Sellers, is a text file designed to reduce ad fraud such as domain theft or alleged domain hijacking. It increases the transparency of the publisher's ad inventory by revealing where impressions are purchased and resold.
By allowing publishers to publicly list authorized sellers of their ad inventory, Ads.txt can prevent fraudulent instances of unauthorized inventory sales. Ads.txt also allows ad buyers to validate the sellers and thus avoid unauthorized traffic sales.
How does adx.txt work?
The publishers add the adx.txt file on the website, confirming their ownership of the domain and indicating partner accounts eligible to sell their ad inventory. As a result, advertisers can easily access the list of all authorized publishers and their ad inventory online.
Example: https://www.forbes.com/ads.txt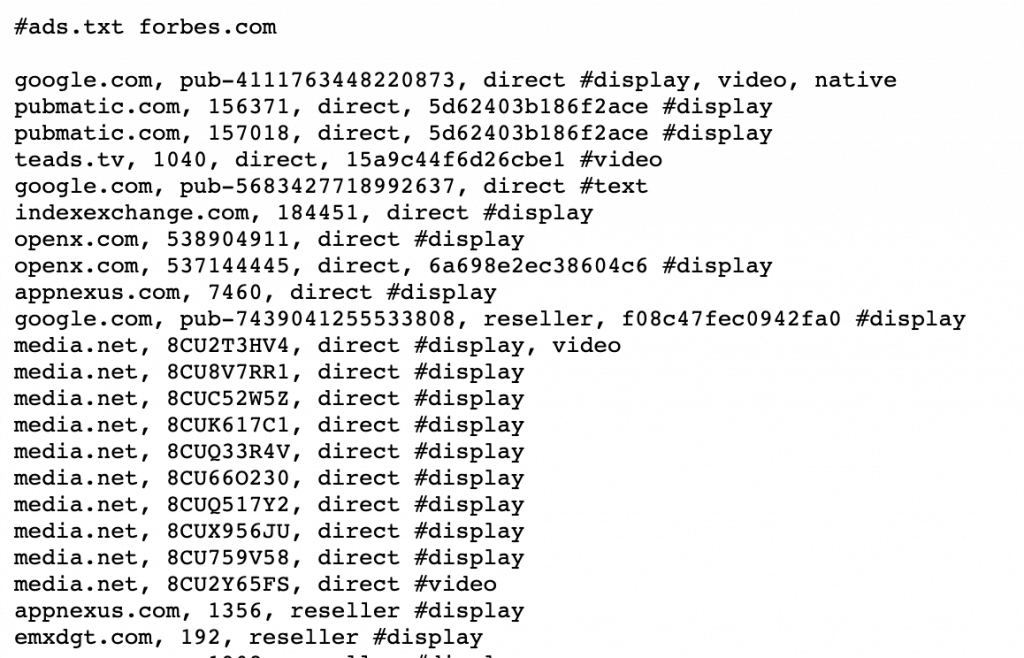 How can content be verified? The answer is relatively simple.
When the advertiser receives a bid request from the publisher, the advertiser can easily check if the publisher is legitimate. All the advertiser has to do is match the publisher's account ID with the ads.txt file. If everything matches, the advertiser can gain assurance that the publisher is an authorized dealer. On the other hand, if the buyer discovers that the publisher's ID is not validated, they can make the decision not to bid on the publisher's inventory.
How to create ads.txt in WordPress?
Thanks to the WordPress ads.txt plugin, the file creation is quite easy. The plugin allows users to edit the file on their dashboard instead of the server, which offers a higher degree of clarity.
How to add ads.txt file in WordPress?
The first step you have to take after signing into WordPress is to install and activate the Ads.txt Manager plugin. After successful activation, complete the following steps on the left side of the panel:
Click on 'Settings'
Then 'Ads.txt page' to configure plugin settings
Afterward, in the text area for the plugin, each line has to be filled with four fields of corresponding information:
The domain name of the enterprise which is allowed to sell or resell ad inventory (google.com);
Publisher ID which corresponds to your account ID in the advertising platform (pub-0000000000000000);
Relationship type indication as Direct or Reseller (DIRECT);
The ID of the advertising platform is optional (f08c47fec0942fa0).
Example:
google.com, pub-0000000000000000, DIRECT, f08c47fec0942fa0
Don't forget to separate each field with a comma.
Finally, after you have inserted the necessary data, click on 'Save Changes'.
How to create ads.txt in Google AdSense or Google Ad Manager?
Another approach to setting ads.txt up is via Google AdSense or Google Ad Manager. All you have to do after creating the ads.txt file is include a separate line in the file for each authorized partner. You have to include the following information:
the name of the domain of the advertising system;
account ID;
status of your partner—direct or reseller (if you are working with a third party).
How to add ads.txt file in AdSense?
After logging in, locate your publisher ID and create a text file. You can access it by clicking Settings > Account > Account information.
Bear in mind that every publisher ID consists of sixteen-digit numbers, like the following example – pub-0000000000000000. The publisher's Google AdSense account format will look like this: google.com, pub-0000000000000000, DIRECT, f08c47fec0942fa0
After you locate the publisher ID, copy the text line and host the text file in the HTML root domain. If you do not own a root domain, you will need to reach out to your webmaster to add your Publisher ID to the ads.txt file.
Benefits for publishers and advertisers?
Ads.txt brings several benefits to both publishers and advertisers. Arbitrage is the most common fraudulent practice in the industry. According to statistical data, advertisers have lost more than $23 billion globally to ad fraud in 2019.
There is a considerable risk to not knowing which sellers are authorized to sell a particular publisher's ad inventory. Ads.txt helps ad buyers determine authorized digital sellers. Besides, publishers don't need a high degree of technical know-how to create the ads.txt file. Thanks to its accessible format, the ads.txt file can be created and updated in just a few minutes.
Is ads.txt mandatory?
According to Google, ads.txt is effective in helping you secure your brand from fake inventory. While it is not mandatory to have it, Google highly recommends it. If you have created your own ads.txt file, you can ensure that users who want to sell your ad inventory can be identified.
We strongly suggest all publishers who want to monetize their blog with ads to incorporate ads.txt into their website operations.