Google AdSense o una plataforma de monetización | ¿Cómo elegir?

If you are currently monetizing your website with Google AdSense, you are in the right place.
Why?
Because there is a better way to increase your ad revenue: with a monetization platform. In this article, we will explain the main differences between Google AdSense and monetization platforms, as well as their benefits.
Primero, repasemos algunos conceptos.
¿Qué es Google AdSense?
Google AdSense es una plataforma que basa la compra de publicidad en clicks. Los publisher y anunciantes usan la métrica CPC o coste por click.
Como ya sabes, montar Adsense es un proceso relativamente sencillo que solo requiere ser aceptado por Google.
El proceso implica insertar un código HTML en tu web para que muestre los anuncios de Google. visitor of the site.
How to calculate Google AdSense revenue? Check out–Google AdSense Revenue Calculator.
¿Qué es una plataforma de monetización?
Nosotros, Setupad, somos una de ellas. Nuestro objetivo es ayudar al publisher a mejorar el rendimiento de su publicidad gracias a nuestra experiencia y tecnología, conectando variosSSPincluido Google, y optimizando sus procesos de puja para conseguirte la mayor rentabilidad.
How is this achieved? The key is simple to understand, but complex to build in-house: header bidding.
Definición de Header Bidding
Header bidding es una técnica de publicidad programática que permite conectar varios SSPs de forma simultánea para pujar por el inventario publicitario de los publishers.
Diferencias entre Google AdSense y Plataformas de Optimización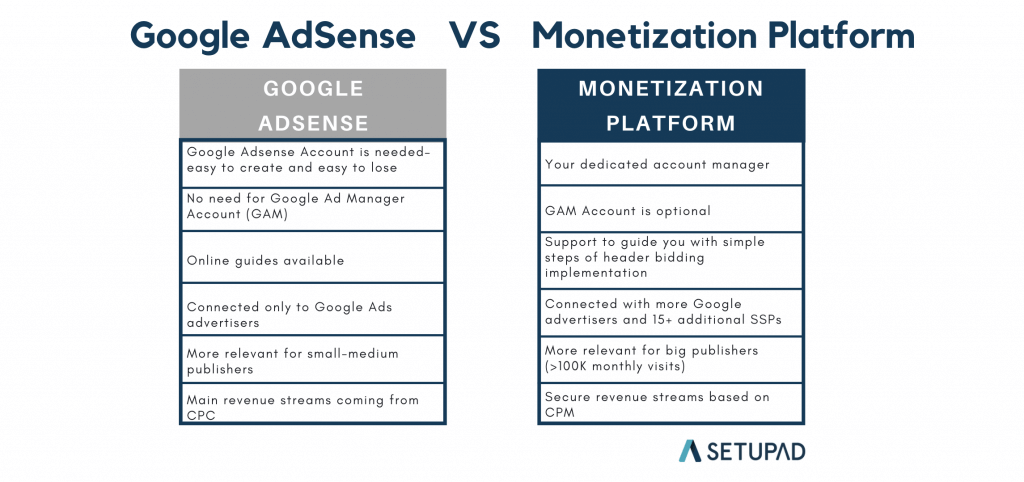 Recuerda: no es sólo cuestión de dinero
Ten en cuenta que en la industria programática hay muchos factores de riesgo:
Ad fraud; some scammers may use bots to trick the publisher into thinking that clicks were made by legit visitors
Malvertising, o ataques de virus que pueden generar anuncios emergentes que bloqueen el contenido.
Anuncios de baja calidad que puedan dañar tu imagen
Problemas de formatos y overloading, un termino referido para exceso de publicidad.
Por desgracia, todos estos riesgos los tienes que manejar tu!
Setupad ayuda a solventar estos problemas mediante:
Soporte Técnico
Asesoramiento sobre formatos y posiciones
Evitar ataques de malvertising con la tecnología Geoedge Geoedge)
Pujas en tiempo real para aumentar tu beneficio
Algunos de los testimonios de clientes que han usado Google Adsense en el pasado:
Alexandru Cuibari, CEO at Whatfontis.com, says: "Empezamos nuestra colaboración con Setupad 10 años después de haber implementado Google Adsense, y fuimos capaces de generar un 30% más de ingresos con el mismo tráfico"
*Source: WhatFontIs.com– Monetization Case Study | Setupad
¿Cuál de las dos opciones es mejor para los publishers?
Aunque a simple vista parece mas atractiva una plataforma de monetización, la verdad es que ambas trabajan como partners. Setupad es partner oficial de google.
Tu estrategia de monetización depende de varios factores:
El contenido de tu web determina al tipo de anunciantes. Algunos pagan más que otros.
El trafico de tu web, y sobre todo de donde proviene.
El nivel de viewability o visibilidad de tus anuncios
La velocidad de carga de tu web
Our experts note that if you are a small to medium-sized publisher, you should start with Google AdSense. When you hit 500 EUR in monthly revenue with AdSense, consider partnering up with a monetization platform. With Setupad header bidding technology, you can maximize your ad revenue by a minimum of 30%. Test our platform yourself by signing up!
If you have any more questions, our experts are more than happy to help you!