Website Improvement and eCPM Increase | Case Study
How did Setupad take a holistic approach to increase the client's eCPM by 390%?
About BHDijaspora.net
BHDijaspora.net is a news website covering politics and current events related to Bosnia and Herzegovina. The aim of the website is to give Bosnians and the Bosnian diaspora fair and objective information about what's happening in their homeland.
Another important aim of the website is to motivate Bosnians to participate in the elections and to share success stories about their compatriots, fostering a sense of belonging to the Bosnian community across the globe.
The Challenge: Solve the double-click penalty, optimize the website for ads, and increase ad revenue
How did the publisher's website look before Setupad?
Previously the publisher was using Google AdSense. The website has already been showing ads in different placements. However, the main introduction from Setupad was an interstitial ad, sticky sidebar ad, anchor ad, and instream video banner for mobile.
Another notable improvement was the introduction of a related articles block that automatically suggests top recommended articles to the visitor. ​​
Additionally, BHdijaspora struggled with Google's double-click penalty and lacked sufficient support and explanation from AdSense's team on how to fix it. The business' livelihood was under threat because the website fully supported itself through advertising.
The Solution: Custom high-performing ad formats, improved user engagement, and ad inventory value increase
News websites make up most of Setupad's clients, so our team knew exactly what BHDijaspora would benefit most from.
Not only did we utilize many of the best-performing ad formats, we saw that the client lacked technological resources. So our team didn't just help to implement ads but also did most of the optimizations and tests. As such, we continuously tested the performance of every banner on the website to see which ones were performing better and which were worse.
"Our website was less responsive, and it was less adapted to ads. After great consulting with our account executive Jekabs and their technical team, we applied the changes, and everything is working smoothly now. The user experience is better, we get solid CTR and great eCPM rates." – Mustafa, Founder of BHDijaspora.
Apart from ad revenue increase, we also wanted to achieve an optimal balance between ad viewability, user experience, and ad density Therefore, we implemented in-article banners on article pages. The strategy works great to hook user attention back because, naturally, the attention span starts to decrease gradually on article pages.
The introduction of related articles block on websites with a lot of content pages, like BHDijaspora, is considered one of the best strategies for improving user engagement. It automatically suggests top recommended articles to the user, thus increasing the average time on site and page views per session.
What's more, is that it can also be a great tool to generate even more high-value impressions within a single session by placing additional banners inside it. We did just that and achieved the optimal ad density without decreasing the average CPM.
Setupad team also resolved the double-click penalty for the client by fixing the padding (the space between the element's content and its border) and helped the business become profitable again.
"We chose to leave AdSense because we didn't get any response from their support team when we had problems. We were without funding for months. So, after we got in touch with Setupad, they solved our problems, and Setupad worked hard to optimize everything after that. We felt helpless, and Setupad had changed that. Their support team and professionalism is fantastic!" – Mustafa, Founder of BHDijaspora.
Finally, one of the best-performing ad formats for the client turned out to be an instream video widget. Instream video ads appear before (pre-roll), during (mid-roll), or after (post-roll) pre-existing video content and can be skipped usually after 5 seconds.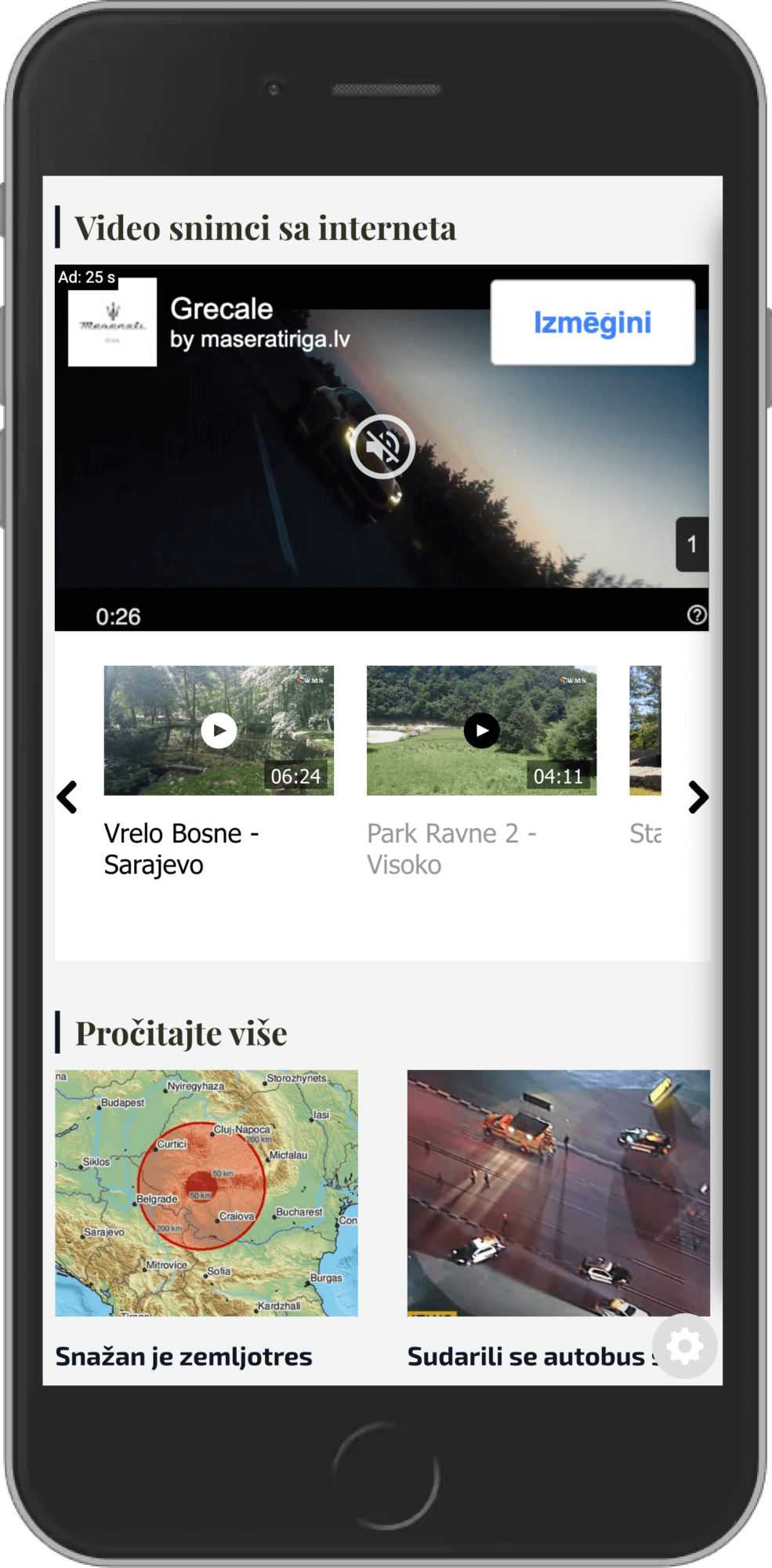 Scoring a 100% fill rate and viewability above 90% for BHDijaspora, this video ad format is considered one of the most engaging in the industry, which is especially beneficial for websites with high time on page. Besides, instream video widgets provide a better user experience as the video content is seamlessly integrated into the content stream. Users can watch the video without leaving the publisher's site or opening a new window.
The Result: Superb customer support, ad inventory value improvement, and 390% eCPM increase
The client gladly provided us with reports from his previous monetization platform. We compared it against the data from the Setupad reporting system to see how significant was the eCPM increase in November 2021 when the client was only using Google AdSense compared to November 2022 when the client was only using Setupad (after all optimizations).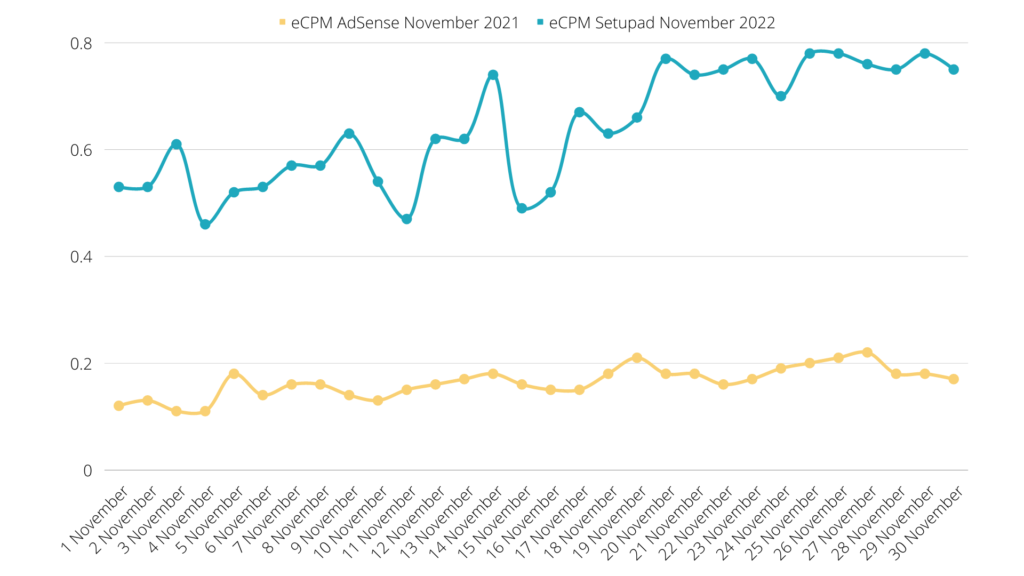 According to the graph above, our approach with BHDijaspora resulted in a 390% eCPM increase after switching from Google AdSense to Setupad.
In addition, we increased the client's overall ad viewability to 70%. Ad viewability is one of the most important metrics in digital advertising, and the ideal ad viewability score should be above 70%. The higher the ad viewability rate, the better the performance and the demand for the publisher's inventory will be.
Moreover, thanks to our server-to-server connections and improved yield, the client benefitted from extra ad revenue without compromising the website speed.
The current eCPM rate for this client is much higher than the average eCPM for a website, where most of the traffic comes from Tier 2 countries (less competitive location and lower average income per person compared to Tier 1 countries like the US, UK, and Australia.) That was achieved with careful optimizations and the overall ad inventory value improvement.
"As I said before, people at Setupad are fantastic. They have empathy, they return calls even on Sunday night when we have a problem. They have great knowledge, and they helped us technically as no one before." – Mustafa, Founder of BHDijaspora
All in all, Setupad has achieved the following:
Improved ad viewability.
Increased ad format variety and introduced brand new instream video widget.
Achieved optimal ad density.
Implemented Related articles block and placed more ad placements within it.
Improved website's logo quality.
Fixed Google's double-click penalty.
Gave suggestions on website speed improvement.
Generated extra ad revenue for the publisher.
Improved user engagement.
Generated additional demand from server-to-server connections.
Are you interested to see our technology in action? Join a trustful monetization partner like Setupad and test our solution with no risk!