What is a Walled Garden in AdTech Industry?
A walled garden is a popular term these days. Ever wondered what it means?
The history of walled gardens began in the 1970s when the telecom giant Bell made hardware exclusive to its network customers.
The term then sprung when early internet service providers (ISPs) like AT&T started restricting their users from accessing other external services.
But what is a walled garden in advertising? Let's find out!
What is a Walled Garden?
A walled garden on the Internet is a closed ecosystem where all operations go through and stay in that ecosystem. It keeps all data and technology to itself.
A walled garden in advertising is where the platform owner controls the hardware, data, and content.
Let's look at the example of the walled garden in digital advertising.
Example of Walled Garden
Publishers who monetize websites with Google AdSense know that Google uses its algorithms to match publishers' ad inventory with ads.
These ads come from Google's own advertising platform–Google Ads. Therefore, Google controls both sides of this advertising ecosystem, making it a walled garden. Another example is Amazon advertising, which exclusively operates on the Amazon marketplace platform.
In addition, publishers don't sell their ad inventory for the highest possible price because there is only one buyer (Google), which is the opposite of header bidding, where thousands of buyers compete by increasing competition and CPM price.
Walled Garden Technology
To build a walled garden, there must be 3 things:
Data Management Platform (DMP) to store audience data
Demand-Side Platform (DSP) to buy ads in an automated way
Dynamic Creative Optimization (DCO) to extract data from DMP and run personalized ads
Walled Garden Facebook and Google
In 2021 Meta (Facebook) generated $114.93 bn in ad revenue, while Google earned almost twice that ($209.5 bn). The chart below shows that Google and Facebook dominate the multi-billion dollar market in the digital advertising industry.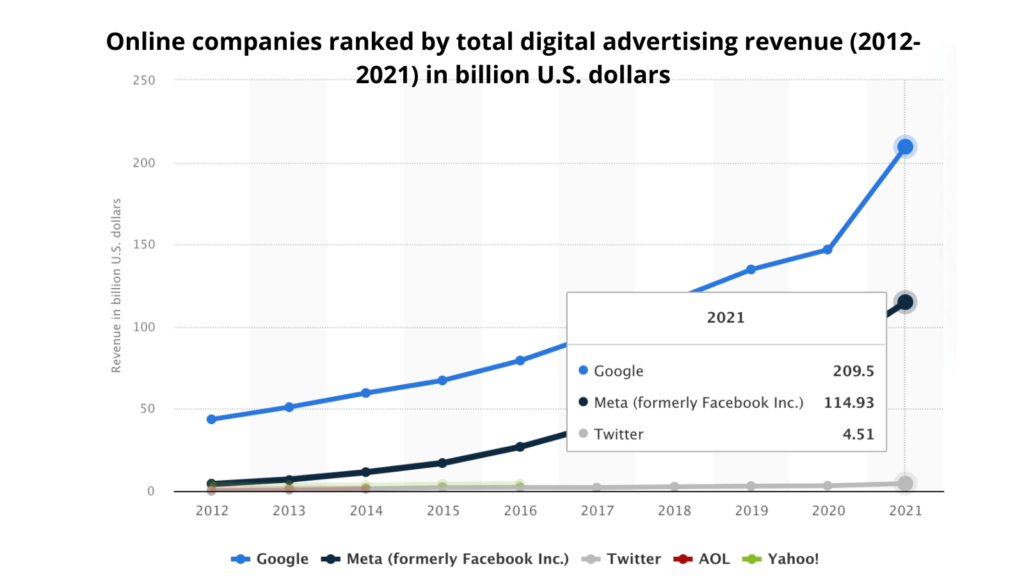 Source: Statista
With over 2.9 bn monthly active users as of January 2022, Facebook offers the biggest reach potential for advertisers and publishers.
Moreover, it has access to deterministic data. Users sign in to their Facebook accounts across different devices, which results in the most precise advertising targeting.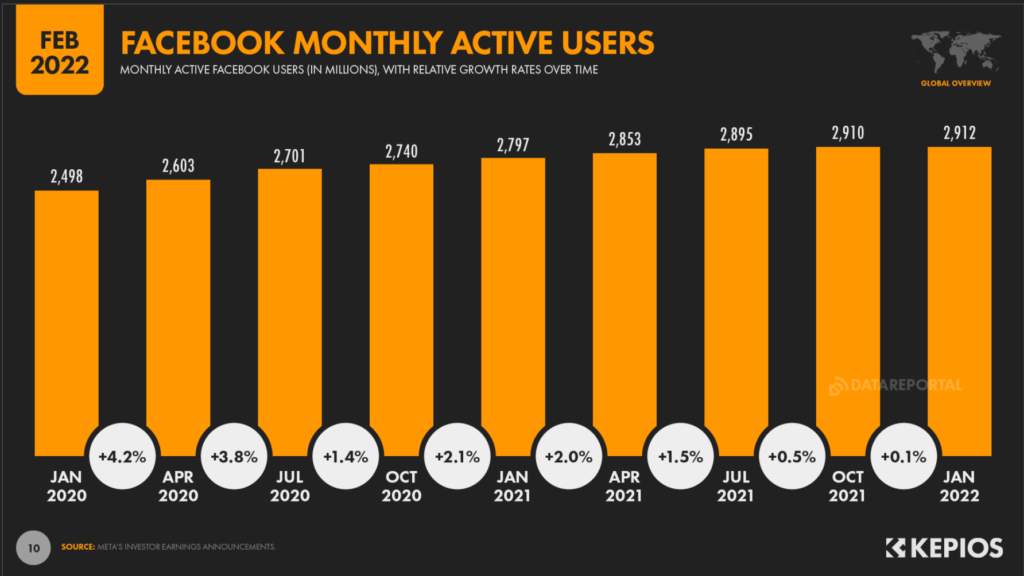 Source: DataReportal
Google owns one of the largest display ad networks in the world–Google AdSense, which is powered by demand of over 2 million advertisers from Google Ads.
The world's biggest ad management platform Google Ad Manager (GAM) combines an ad server and ad exchange (Google AdX) that belongs to Google. More than 80% of Google's revenue comes from advertising and puts Google in almost sole control of the advertising industry.
What is Apple's and Amazon's Walled Garden?
Apart from Google and Facebook, two more walled gardens are worth mentioning–Amazon and Apple. Together these four make up "GAFA" (or "FAGA").
Apple has exclusive control over its iOS ecosystem. This includes payments, video and audio streaming, and advertising across all iOS devices.
It is estimated that Amazon will account for 13.3% of the total digital ad spend in 2022. In 2016, an e-commerce leader made its way into programmatic advertising with Amazon Publisher Services TAM and UAM, making it the third largest walled garden after Google and Facebook.
What is TAM?
TAM stands for Transparent Ad Marketplace. It's a server-side header bidding solution aimed at large publishers with existing SSP relationships.
What is UAM?
UAM stands for Unified Ad Marketplace. It's a server-side header bidding wrapper aimed at small-medium publishers.
Related Article: Client-side vs Server-side Header Bidding | What's the Difference?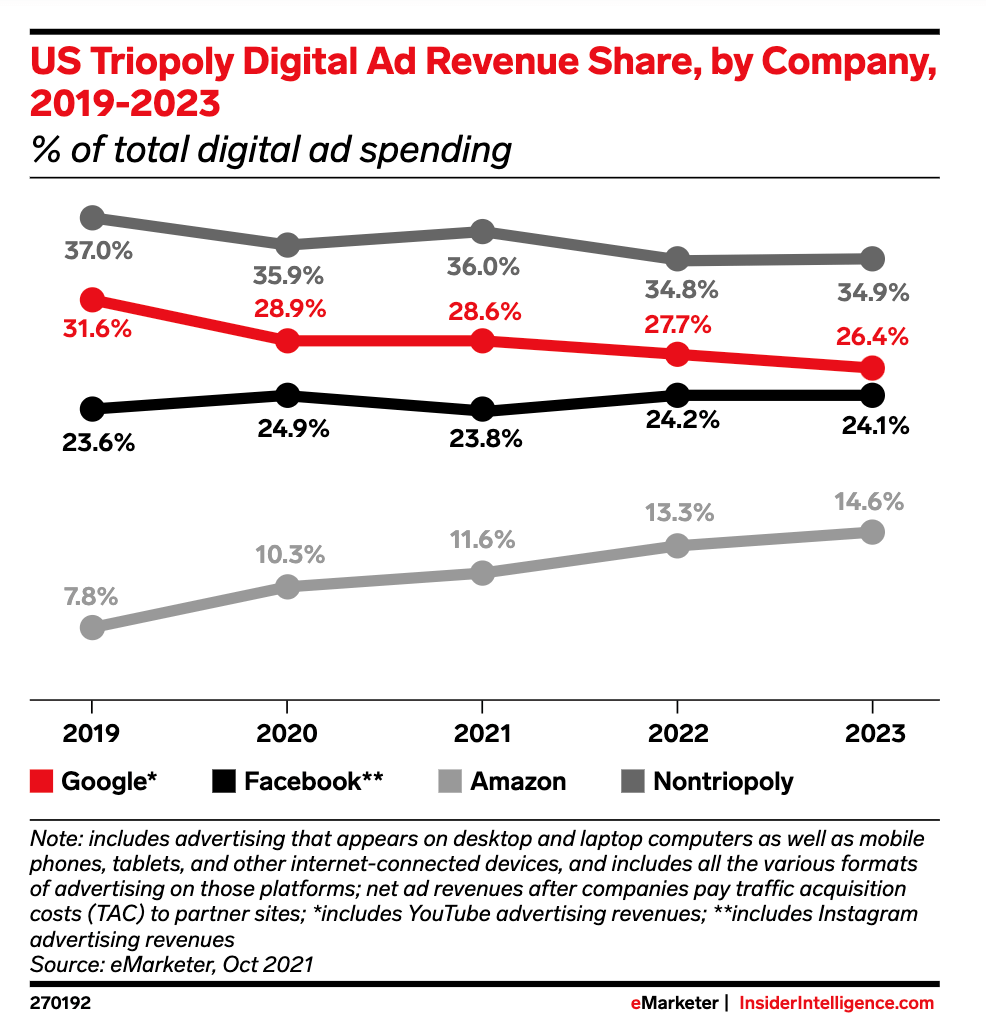 Source: Emarketer
In other words, these four giants have a huge competitive advantage in the adtech market. But what differentiates them from independent adtech companies?
Walled Gardens vs AdTech Companies
Adtech companies are outside of walled gardens and make up the technology behind the online media. They include DSPs, SSPs, ad networks, ad exchanges, DMPs, and more.
| | | |
| --- | --- | --- |
| | Walled Gardens | AdTech Companies |
| Examples | Facebook, Google | Xandr, OpenX |
| Data Exchange | Happens only inside platform | Happens between third parties |
| Data Ownership | Owned by platform | Owned by clients |
| Transparency | Less | More |
| Customization | Limited | Advanced |
| Support | Automated | A dedicated Account Manager for every client |
How Walled Gardens Impact Publishers?
Walled gardens control the ecosystem where publishers sell their ad inventory, and publishers have no choice but to agree with the rules of the game.
Therefore, publishers with large audiences are building walled gardens of their own.
For example, The Guardian offers ad-supported content for free and premium content without ads on a subscription model for paying customers. That's sometimes called a content walled garden.

Publishers also have one important resource–first-party data, which is especially valuable with the end of third-party cookies.
Small and medium publishers are joining login alliances like netID and partnerships like OpenAP and Ozone Project to fight back against walled gardens and manage user data in a privacy-compliant way.
Moreover, publishers can partner with monetization platforms, like Setupad, which offer header bidding wrapper solution. This programmatic technology allows publishers to sell their ad inventory for the highest price by offering it to multiple ad exchanges at the same time.
Conclusion
The trend we see today is that publishers and advertisers are re-evaluating their relationship with walled gardens and gaining their independence back.
The best asset publishers can leverage is their first-party data. The industry constantly evolves and comes up with solutions to address these changes.
If you have any questions, send an email to [email protected].