VPAID vs. VAST | Do Publishers Still Use Them in 2023?
Video advertising ad spend was projected to account for $106,879 bln in 2022. With video now being one of the fastest-growing advertising segments, publishers understand the importance of serving video ads.
But there comes the need for technology to support it. For many years, the two most popular queries related to video advertising technology were VPAID and VAST.
Today, we will introduce what they are, how they differ, and if you should still use them in 2023.
What is VAST?
VAST (a.k.a. Video Ad Serving Template) is a script that enables video players and ad servers to communicate. It informs the video player about which ad to play, how the ad should show up, should it be skippable, etc.
Developed by the IAB, VAST provides a framework for embedding in-stream video ads. The VAST standard specifies an XML (Extensible Markup Language) file that includes links to different video ad formats and tracking URLs.
Since 2008 when VAST was launched, it has gone through many versions. The latest one currently available is VAST 4.2, which has addressed important issues of previous versions like verification, support for basic interactive ads, impression discrepancy, and more.
VAST Pros & Cons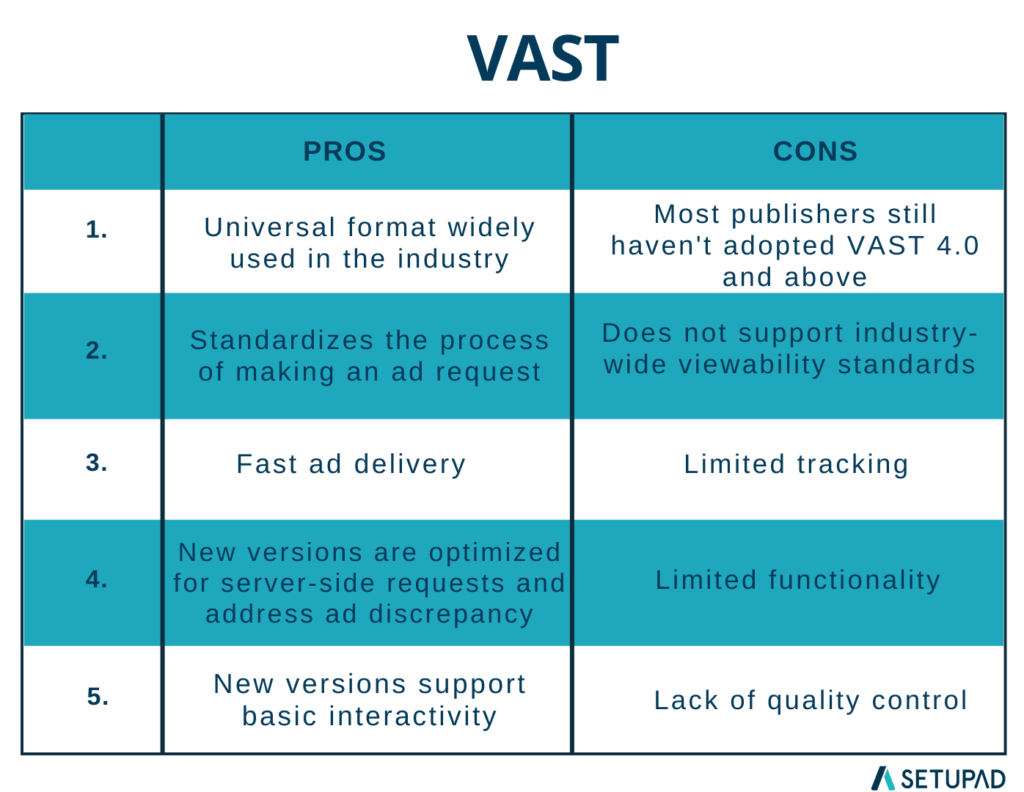 VAST Example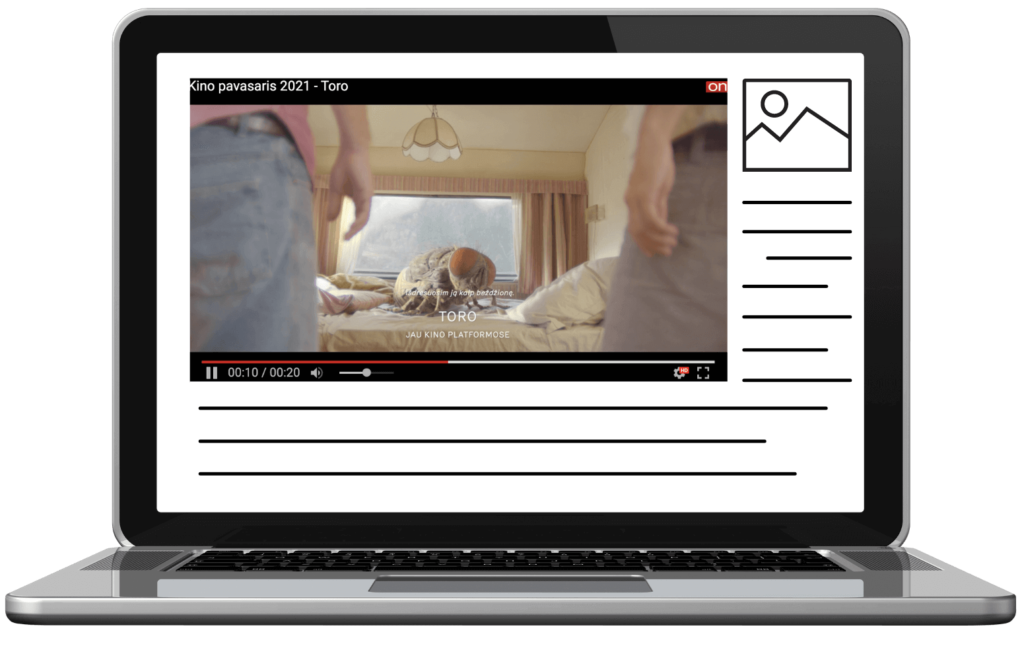 What is VPAID?
VPAID (a.k.a. Video Player-Ad Interface Definition) is an interface between video players and ad units that allows publishers to serve rich media, interactive in-stream video ads.
Essentially, VPAID was created to enable interactivity and a range of creative options for video. It also allowed advertisers to tap into ad viewability rates and measure users' interaction with the ads, which is especially useful for programmatic.
However, VPAID ended up causing a lot of problems for publishers and advertisers alike, such as long ad loading times, poor user experience, and low fill rate. Therefore, the industry has been taking steps to deprecate VPAID since 2017 by new standards such as SIMID (Secure Interactive Media Interface Definition) for interactivity purposes and Open Measurement SDK for measurement and verification.
VPAID Pros & Cons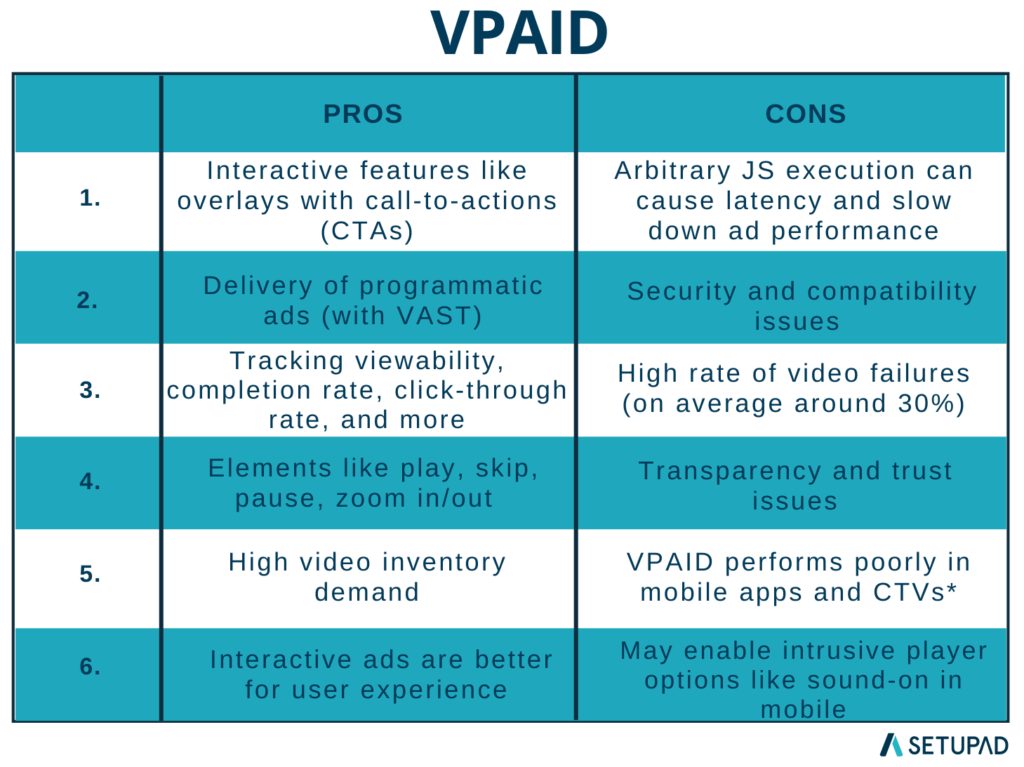 * MRAID (a.k.a. Mobile Rich Media Ad Interface Definitions), is an API that allows publishers to serve rich media ads specifically for mobile apps.
VPAID Example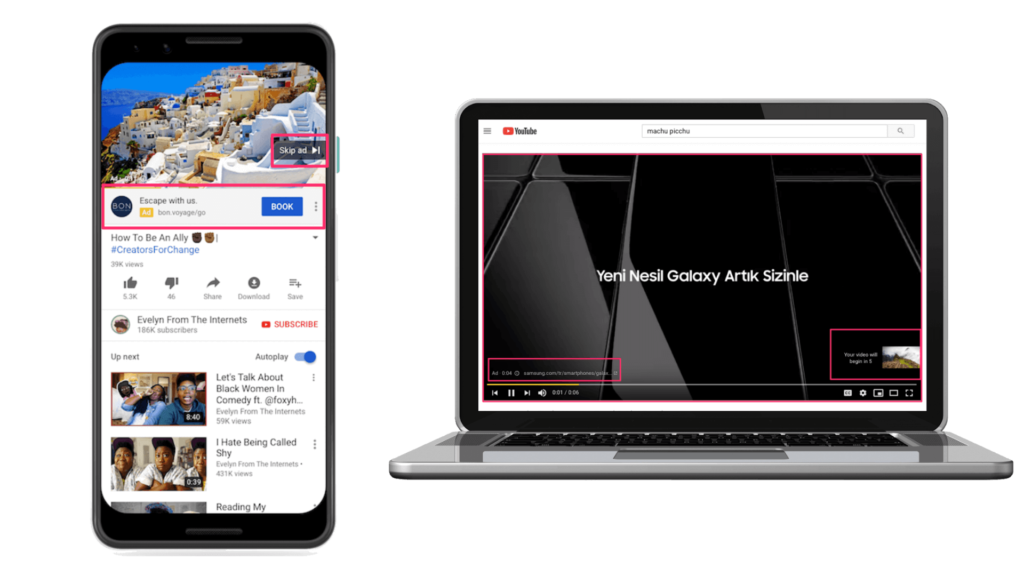 Difference between VAST and VPAID
VAST is an all-in-one service that provides an infrastructure for structuring ad tags, while VPAID offers additional customization options that sit on top of that infrastructure. VPAID is not a comprehensive solution and does not replace VAST.
The table below outlines the main differences between VAST and VPAID.
VAST
VPAID
Definition
The standard for serving and tracking video ads
The legacy standard that creates an interface between the video player and video ad units
Function
Enables the ad server and video player to communicate
Enables video ads and a video player to communicate
What Does It Do?
Transfers metadata from the ad server to a video player such as:
• Which ad should play
• How long the ad should last
• Can the viewer skip the ad
• What the URL should be
• How the ad should show up
Enables interactivity for ad units such as:
• Click on different tabs in the ad to see information
• Expand the view and zoom in/out
• Fill out a form
• Take a survey
• Interact with elements
• Play games within the ad
Prerequisites
VAST-compliant video player
Video player must support VPAID creatives
Ad Format Support
Supports relatively simple in-stream video ad formats that are not executable
Supports rich interactive in-stream video formats that are executable (i.e., require software logic to be executed)
Control
Publishers specify instructions to a video player
Advertisers can track and measure users' interaction with the ads
Reporting
Impressions, video clicks, video plays, video 1st quartiles /midpoints/ 3rd quartiles/ completes, video mutes, pauses, full-screen
All VAST metrics + rich media metrics + custom metrics
Why Should Publishers Care?
On its own, VAST is a fairly limited standard. Although newer versions (VAST 4.0 and above) contribute to better user experience and performance, there is still no industry-wide viewability and measurement standard. VPAID, on the other hand, opens opportunities for publishers to sell more instream video inventory because this is the only option for advertisers to accurately measure ad results.
With VPAID publishers bear the brunt of:
high video failure rates;
Each time the video fails to render, publishers are losing revenue. Some publishers never even adopted VPAID because of these issues.
Luckily, IAB finally developed a better solution–Open Measurement, which standardized measurement and viewability across web, mobile, apps, and CTV (connected TVs) environments. It also addresses the high video failure rate problem, at least to an extent.
Open Measurement is currently available as a beta, so publishers may wish to test it and measure the results.
The Future of Video
Onnetwork.tv Expert Opinion
Filip Pieczyński, CEO at Onnetwork Global: "We continue to see huge growth in demand for online video ads since the last year. The pandemic has accelerated the trend for increased video consumption even further. After a short drop in Q1 and Q2 of 2020, we observe stable growth of video ad spend across all markets.

Interestingly, a bigger and bigger share of video ads is delivered via programmatic. This means that video advertising follows the same trend we observed a couple of years ago in display advertising. Easy access to video player technology and video materials through tech providers like Onnetwork.tv finally makes it possible for smaller and medium publishers to join the video market and monetize their ad inventory successfully."
Whether or not publishers decide to opt in for Open Measurement and SIMID, the industry could phase out VPAID pretty soon, as it was trying to do for a long time. VAST versions 4.0 and above already include some of VPAID's measurement capabilities and support for non-VPAID architecture.
Currently, the biggest problem for the industry is the adoption holdup. Updating and switching to more modern versions of VAST and deprecating the use of VPAID can be costly and time-consuming. However, as advertisers are spending more and more money on video advertising, the need for well-functioning technology across all platforms is anticipated.