Seamless Implementation and 280% Ad Revenue Increase | Case Study
How Setupad gained the client's trust and managed to increase ad revenue by 280%?
About Thisisbarry.com
This Is Barry is a site that simplifies and explains films; it's a great place for movie enthusiasts founded in 2015. Fast forward nearly a decade, the site now features over 400 unique film explanations with critical analyses, illustrations and unique writers' perspectives.
The idea behind This is Barry was to serve users the most comprehensive and detailed answers and analyses of their favourite movies. But, unlike other movie blogs, This is Barry was created in a way readers can talk to writers and discuss their opinions via email, comments, and chat features. This is also the favourite feature of the website's founder, Barry. True cinephiles know how important it is to foster and promote a discussion when it comes to films.
The Challenge: Provide a better return on the inventory compared to Google AdSense
Like any content creator who puts a lot of work into creating high-quality content, Barry wanted to try out a more advanced monetization solution. After thorough research, Setupad was picked as a publisher's choice.
Founder of This is Barry, Barry says: "I had been reading up a bit on header bidding and have always wanted to try it out. While others had reached out earlier, I felt the trust with Edijs [Account Executive] and decided to go ahead with Setupad. I liked the fact that I was getting guidance on ad placement strategies and didn't have to do it all by myself."
For Setupad, it was vital to not only provide the client with better revenue results, but also show how important the individual approach is.
Therefore, personalized recommendations were given based on the publisher's site and audience. The implementation process was guided and seamless so that turning over inventory management to another ad provider wasn't stressful for the client.
"My calls with the folks at Setupad have been great and the migration was done step by step and wasn't rushed through it. All the inputs I received were personalised based on my site and audience."–Barry, Founder of This Is Barry.
For us, website monetization isn't just about growing the publishers' ad revenue, but also providing actionable tips on user experience and satisfaction, SEO, website traffic, and content creation, as well assisting the client with any technical issues he may encounter. 
The Solution: Ad refresh revenue, proven ad placement strategy, and easy implementation process
Long-form blog sites are Setupad's forte. We calculated the best placements and count for in-article ads so that ads can perform well and achieve a high ad viewability score despite the gradually decreasing attention span on long-form pages. As a result, the perfect balance of user experience and ad density was achieved.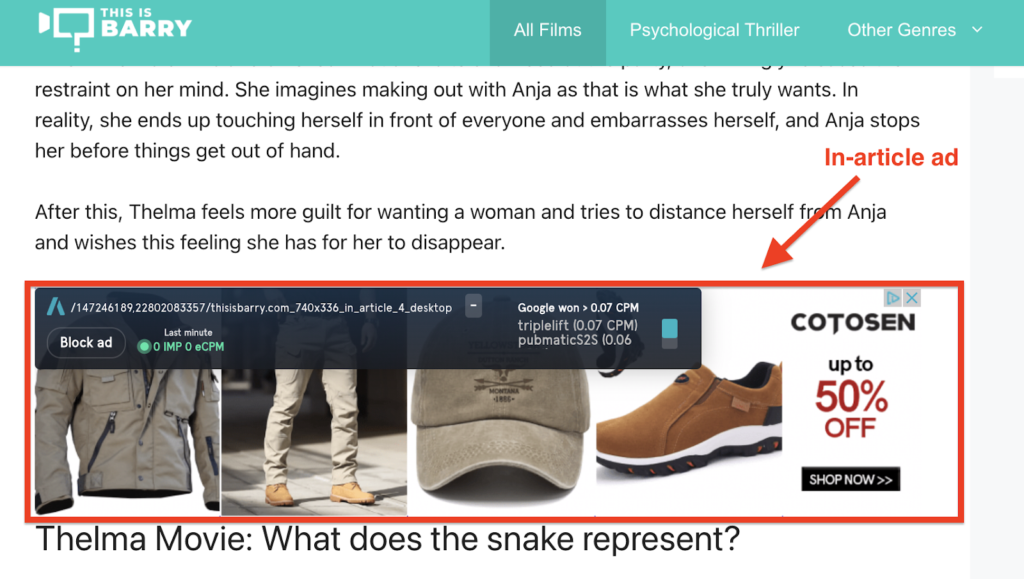 Related Article: How to Increase User Engagement on the Website? | 6 Key Strategies
Another addition to the website was smart ad refresh. Setupad smart ad refresh mechanism monitors ad viewability, while a tailored algorithm prevents decreasing the CPM price when the ad is refreshed. With the Setupad solution, ads only change when the next ad impression benefits both the publisher and the advertiser.
Refreshed ads usually have a higher CTR, especially if they're in the ad unit that's always in view (like anchor ads). Therefore, advertisers are willing to spend more, and publishers can earn more.
In April 2023, the ad refresh revenue accounted for 55.8% from the total ad earnings, which the publisher wouldn't be able to get if he were to continue using AdSense.
The Result: 280% ad revenue uplift, excellent website speed, ads.txt verification
The client gladly provided us with reports from his previous monetization platform. We compared it against the data from the Setupad reporting system to see how significant was the eCPM increase in May 2022 when the client was using Google AdSense compared to May 2023 when the client was using Setupad (after all optimizations).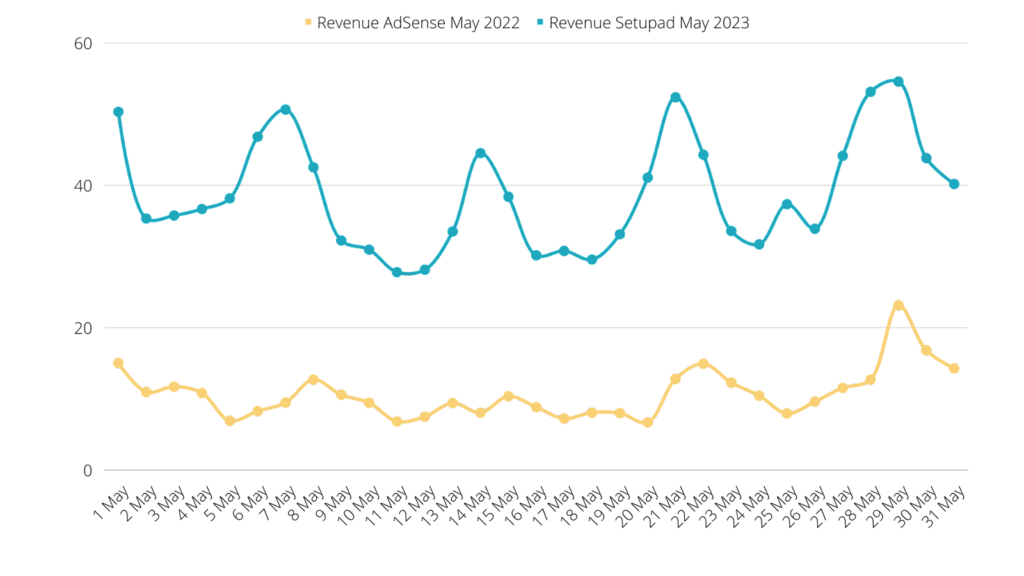 According to the graph above, our approach with This Is Barry resulted in a 280.69% ad revenue uplift and 179.43% eCPM increase after switching from Google AdSense to Setupad.
In addition, we increased the client's overall ad viewability by 26%. As most publishers are aware, ad viewability is one of the most important metrics in digital advertising, and the ideal ad viewability score should be above 70%.
The publisher was really impressed with the light header bidding technology that had no impact on the website speed, which can often be the case with monetization solutions.
"Setupad helped increase my ad revenue with the same website traffic because of higher CPMs and the ad refresh revenue, which is a very cool concept. The anchor ads perform much better too. Given that search engines have been very critical about site speed, it was very important that moving to a new ad provider has no negative impact on the website speed. Setupad's header bidding scripts are well optimized and cause no impact on the site speed."–Barry, Founder of This Is Barry.
Another feedback we received from the client was about the ads.txt verification feature which automatically keeps the publishers' ads.txt file updated and in check.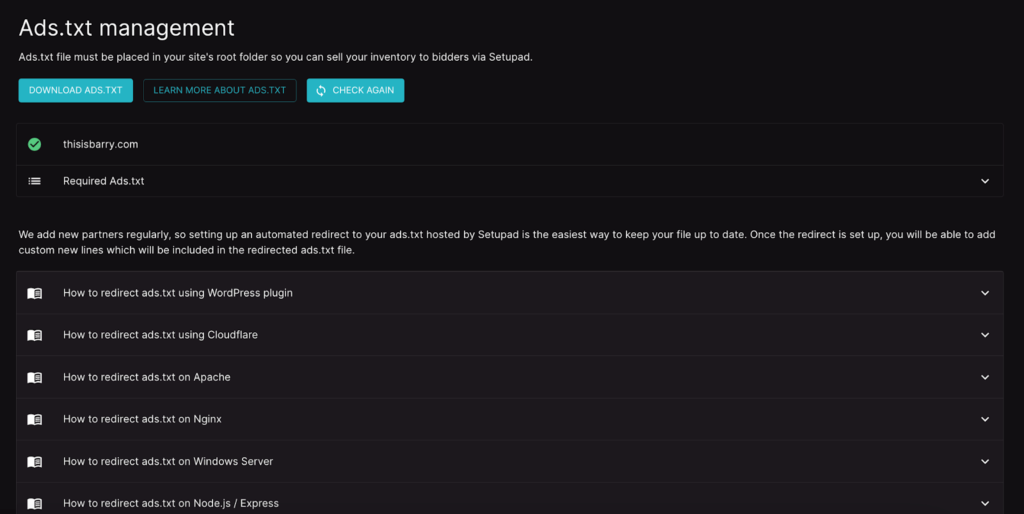 "I really love the Ads.txt verification. In case there is a mismatch, I immediately see it on the Setupad dashboard and I can take corrective action. Without this there would be revenue being lost and one wouldn't even know!"–Barry, Founder of This Is Barry.
Join Setupad and maximize your revenue today!