How to Make Money with Google AdSense in 2023?
You are probably familiar with Google AdSense. If not, here's a three-step recap for you:
Step 1 – You add your ad inventory
Step 2 – Advertisers bid on your ad spaces
Step 3 – You cash in your earnings
Our recent blog post covered which bid types are available in Google AdSense ads.
Today, we'll go through everything you need to know before you start making money with Google AdSense.
What is Google AdSense?
Google AdSense is one of the most popular Google monetization tools. It allows publishers to earn money from their content by displaying programmatic ads on their websites. It's a free platform connecting website owners with advertisers.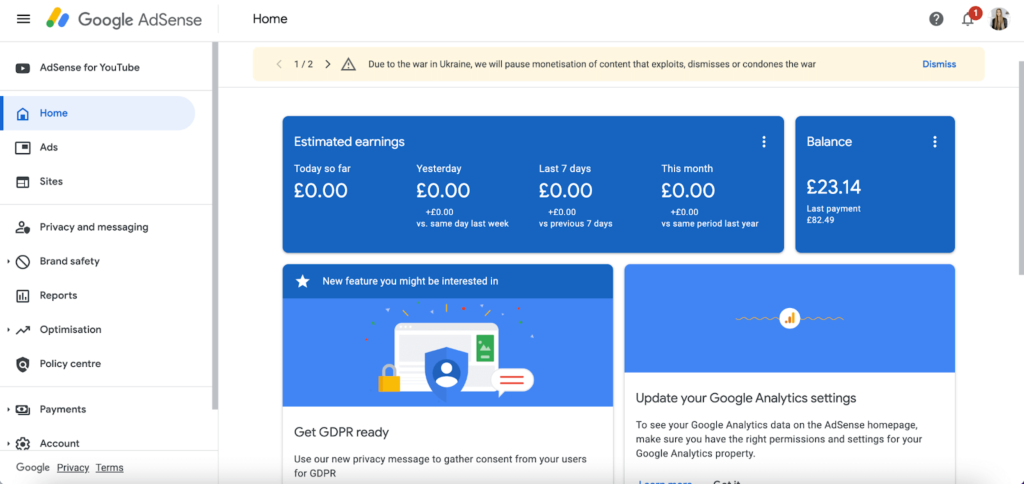 Advantages of Google AdSense
It's free to join.
Suitable for small publishers (<100k monthly visitors).
The setup process doesn't require technical knowledge.
Auto Ads option automatically tailors ads to your website and adjusts them to every screen size.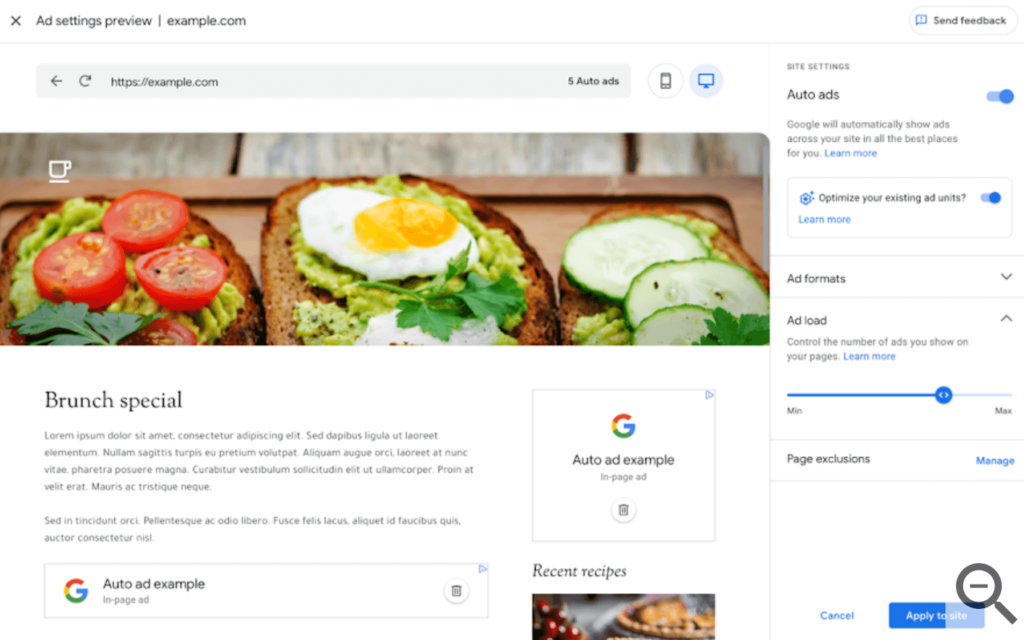 Can monetize multiple websites with one AdSense account.
It can be used to monetize Blogger.com or YouTube content (subject to requirements)
Disadvantages of Google AdSense
Only one demand partner (Google)–cannot sell ad impressions for the highest price like with header bidding.
Google takes 32% commission of the total ad revenue.
If you don't meet the AdSense payment threshold ($100 or €70), you won't get paid until the month when the overall earnings meet the threshold.
If your account is terminated, you won't be able to use AdSense again and, in some cases, monetize content with other Google products, like Google Ad Manager.
Google can terminate your account without warning.
Auto Ads feature can sometimes put two ads together or display a blank space instead of an ad, which is bad for the user experience.

How Does Google AdSense Work?
To get started, you need to create a Google AdSense account. Then, add a small piece of code to your website, and that's it. Later on, Google will automatically match the most relevant ads with your website and display them to your users.
Google states: "AdSense works by matching ads to your site based on your content and visitors. Advertisers who want to promote their products create and pay for the ads. Since these advertisers pay different prices for different ads, the amount you earn will vary."
These ads come from Google Ads, which is a platform used by advertisers. To decide which ad appears on your website, Google AdSense runs an auction where the highest bidder among Google Ads advertisers wins. You'll earn money each time someone clicks on your ad.
How do advertisers benefit from Google AdSense?
First and foremost, advertisers benefit from Google AdSense because the platform is connected with Google Ads which uses a pay-per-click model. This means that advertisers only pay when someone clicks on their ad, which is more cost-effective.
​​Websites in Google AdSense are included in the Google Display Network (GDN). Because GDN consists of 2 million websites, advertisers have a huge pool of potential customers they can target.
Besides, advertisers can target users based on their interests and demographics ensuring only relevant people will see their ads.
Advertisers can choose from a range of formats that best match their advertising message and the goal they want to achieve.
How to Set Up Google AdSense?​​
To set up Google AdSense, you first need to ensure you meet the eligibility criteria. After that, you can apply for an AdSense account.
What are the requirements for Google AdSense?
You must be over 18 years old.
You need access to the website's HTML source code you want to monetize.
Your website should have sufficient content.
Your website must have original, high-quality content.
You shouldn't generate or encourage invalid activity on your site (e.g., invalid clicks, invalid traffic).
Your site should be free from offensive, hateful, and adult content.
You must comply with Google News, AdSense Program, and Google Search Essentials (formerly Webmaster Guidelines).
Ensure that your site has good usability and is free from malware, malicious redirects, phishing, and other practices that cybercriminals can steal and interfere with website usage.
Avoid misleading headings or buttons that can be mistaken for ads. For example, don't name the section on your website as "Helpful Links" and prompt users to click on the ad.
In addition to the requirements above, some unofficial rules that might help you get accepted into AdSense.
For example, your website should be at least 6 months old and have technical pages such as Privacy Policy and About Us. Hence, it might be a good idea to tick off these boxes before you sign up.
How to apply for AdSense?
Here's how to join the AdSense program. First, you need to have a Gmail account. If you already have that, follow this sign-up link, and log into your account by clicking on the "Getting started" button.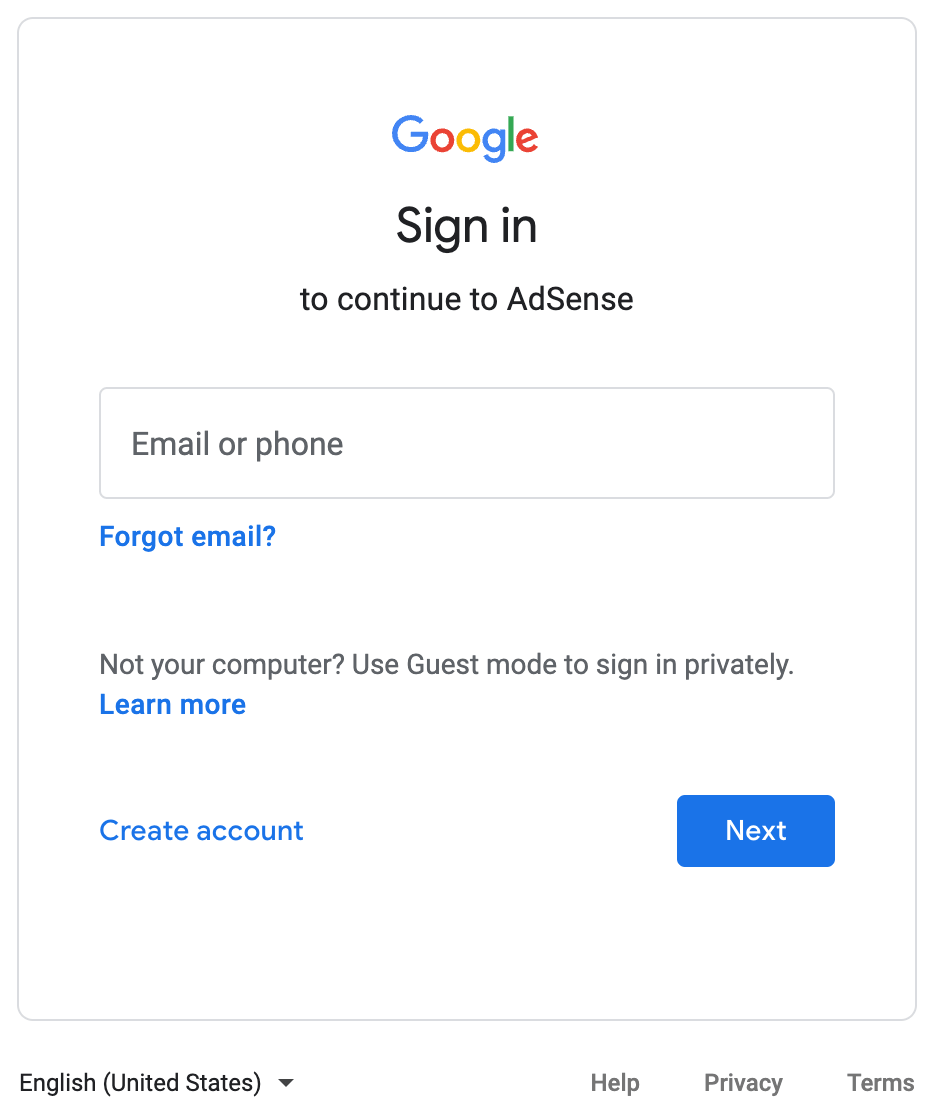 When you successfully log into your Google account, fill in a few more details about your website. Google allows you to join the AdSense program without a website. However, it's best if you decide to join when you have one, so you can use it straight away.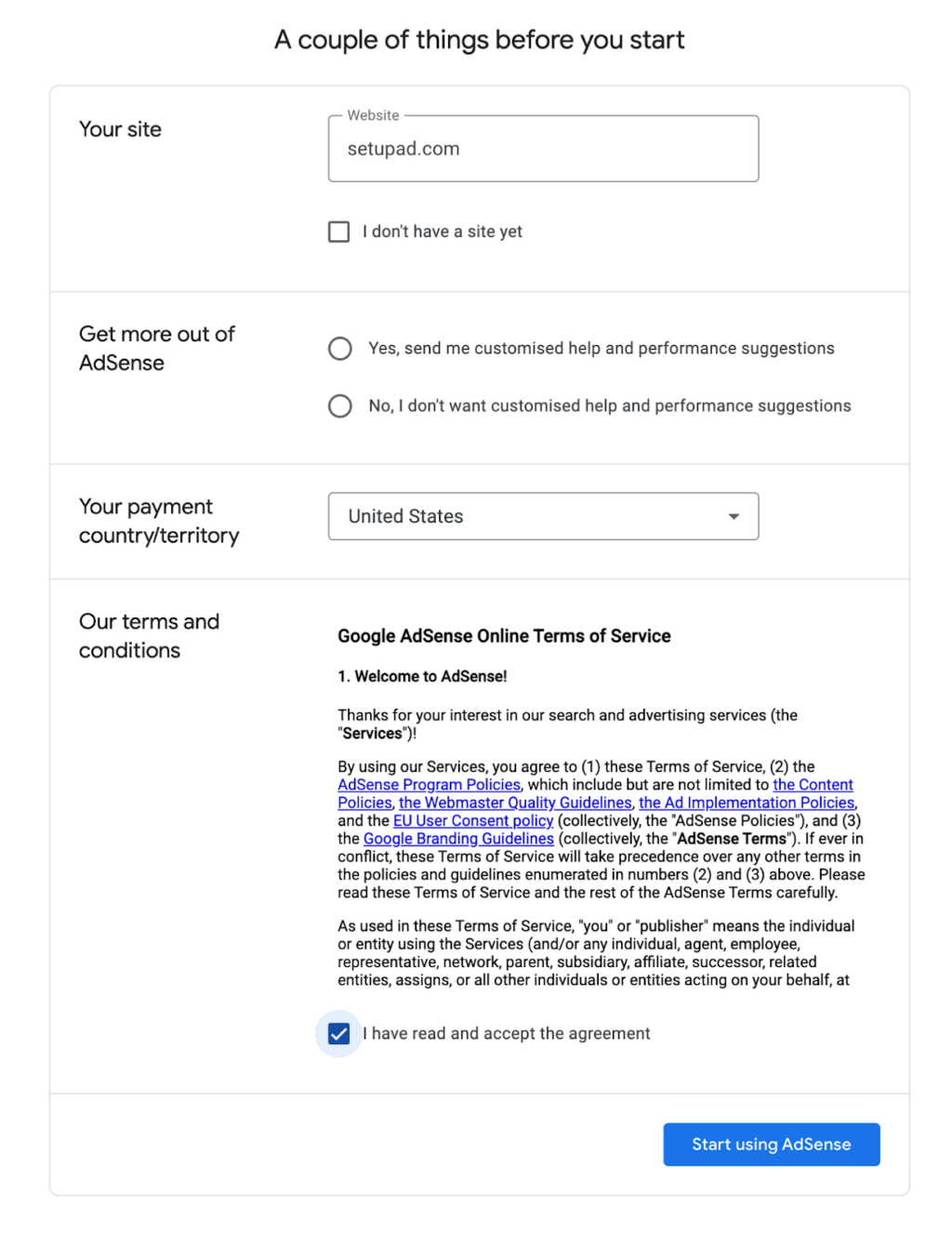 To finish up, you need to fill in some details about payments, set up your ads, and connect your site to AdSense. You can add more than one website to this monetization platform.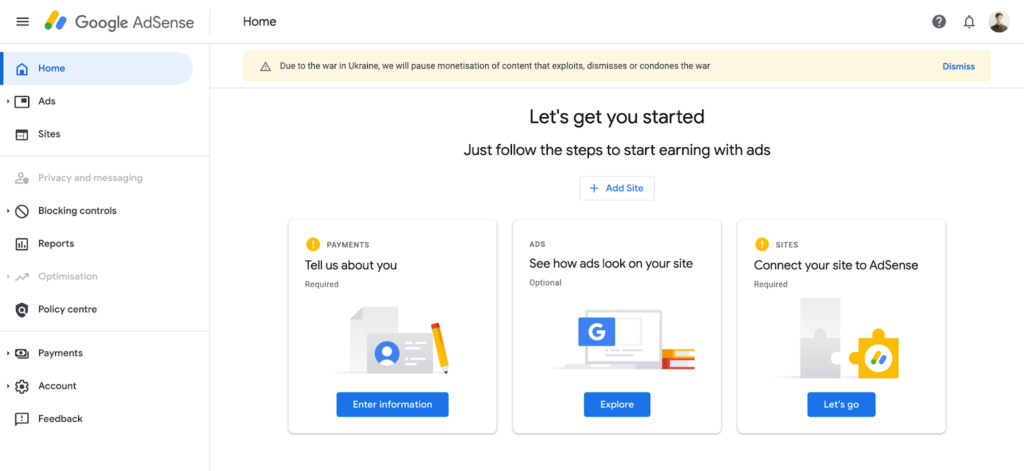 When you have done all of the above, you will receive a snippet code that you are required to insert in the <head> section of your website. Don't worry, AdSense will provide instructions on how to do that if you're unsure.
Once you have completed this step, the AdSense team will review your website, checking if it matches their requirements, and, if all is well, you are ready to monetize your website's traffic with the Google AdSense program.
From there on, you have more things you can do, like experimenting with ad placements and so on. You can try out the Google Auto Ads option if you're unsure about how to optimize your ad traffic.
How long does it take to get AdSense approved?
The time for AdSense approval varies. Anything between 24 hours and up to two weeks is an acceptable time window.
There are two stages for getting your website approved for Google AdSense.
The first stage is verification – you must send an application request.
This is done to verify that you own the website and consider your program eligibility.
The verification stage takes from 24 to 48 hours, or in some cases, up to a week. If it takes longer– feel free to contact Google AdSense support to find out why.
The second stage comes after your website has been approved. You will receive the ad code that you need to add to your website's <head> section.
During the verification stage, AdSense has already started scanning your website to determine what ad inventory and traffic you have so it can place contextual ads on your site.
Depending on how quickly AdSense can determine the best ad types for your website, it can take from a couple of hours up to a day to start seeing ads on your website.
Google AdSense Payments
Payment models (CPM and CPC)

Google AdSense offers different payment models for publishers. Publishers can choose to get paid based on clicks (CPC) or impressions (CPM). The amount of money earned per click or impression varies significantly.
Note that CPC ads and CPM ads compete with each other in Google AdSense. The ad which is expected to earn the most revenue for the publisher gets displayed.
Depending on your payment address, there may be several forms of payment available to you, including wire transfer, EFT, EFT via Single Euro Payments Area (SEPA), etc.
Publishers can set up their form of payment by signing in to their AdSense account and clicking Payments > Payments info > Add payment method.

The default and minimum amount for Google AdSense payment threshold is $100 (or equivalent). If your current balance hasn't yet reached the payment threshold, your finalized earnings will roll over to the next month until the threshold is met.
You can see the full payment threshold table here.
To receive your payment, you will need to:
Provide your tax information
Confirm your identity (verify your identity and address)
Select your form of payment
Meet the payment threshold

How Much Can You Earn From Google AdSense?
Your AdSense earnings will heavily depend on your website niche.
For example, the most high-paying AdSense niche in 2023 is the law niche. The highest CPC for a car accident attorney in the US is $294.52 (as of March 2023).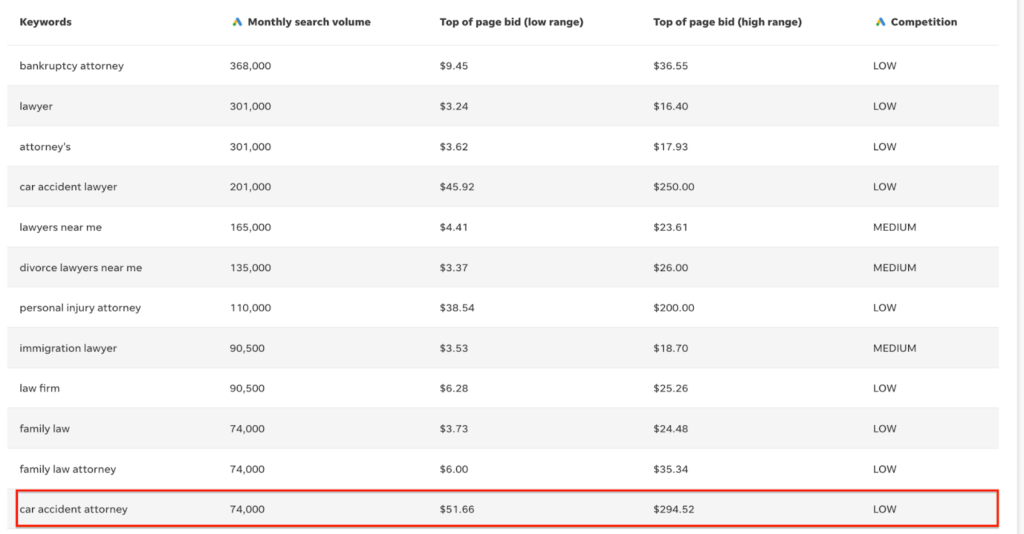 A close second is the automobile industry. Cryptocurrency, insurance, and technology are also among the top highest-paying AdSense niches.
These niches are so profitable because these businesses have a very high ROI (Return on investment) and each ad click has a high chance of converting into a sale.
How much does AdSense pay for 1 click?
AdSense is a CPC (cost-per-click) platform. Therefore, your earnings per click will depend on many factors, like the competition of your website's niche, traffic volume, geolocation, ad placements, CTR (click-through rate), etc.
In practice, most websites' price per click ranges from $0.20 to $15. You can try the AdSense revenue calculator for a rough estimate for your website.
Is AdSense still profitable in 2023?
For most new websites, AdSense can be one of the most accessible routes to start earning from ads. However, for a more established website, it's not the only one and definitely not the highest-paying monetization program out there.
For publishers with at least 100k monthly traffic, there are more advanced and profitable monetization solutions (like header bidding) that are normally developed by monetization platforms.
These platforms usually have value-added services like ad refresh, technical support, and more advanced ad formats.
AdSense Ad Types
There are several ad types in Google AdSense ads. All ad units are responsive by default to fit different screen sizes and devices.

1. Display ads
Display ads are standard banner ads that can include text, images, and video. While responsive by default, the publisher can choose a fixed-size ad unit for these AdSense ads. They're also compatible with AMP pages.

2. In-feed ads
In-feed ads are essentially native ads that appear inside a feed (for example, a list of articles) and resemble the look and feel of your website. They fit seamlessly into the content and are good for user experience.
In addition, in-feed ads are:
great for publishers who have editorial/product listings, product catalogs;
suitable for monetization of additional ad inventory;
highly customizable.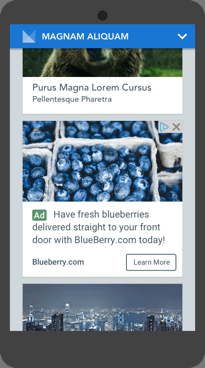 3. In-article ads
In-article ads are also a form of native ads that appear between paragraphs of text on your pages. They don't interrupt users' natural reading flow and are customized to perform well across all article pages.
In-article ads are:
better for user experience compared to standard display ads;
great for mobile;
useful for pages with long-form content.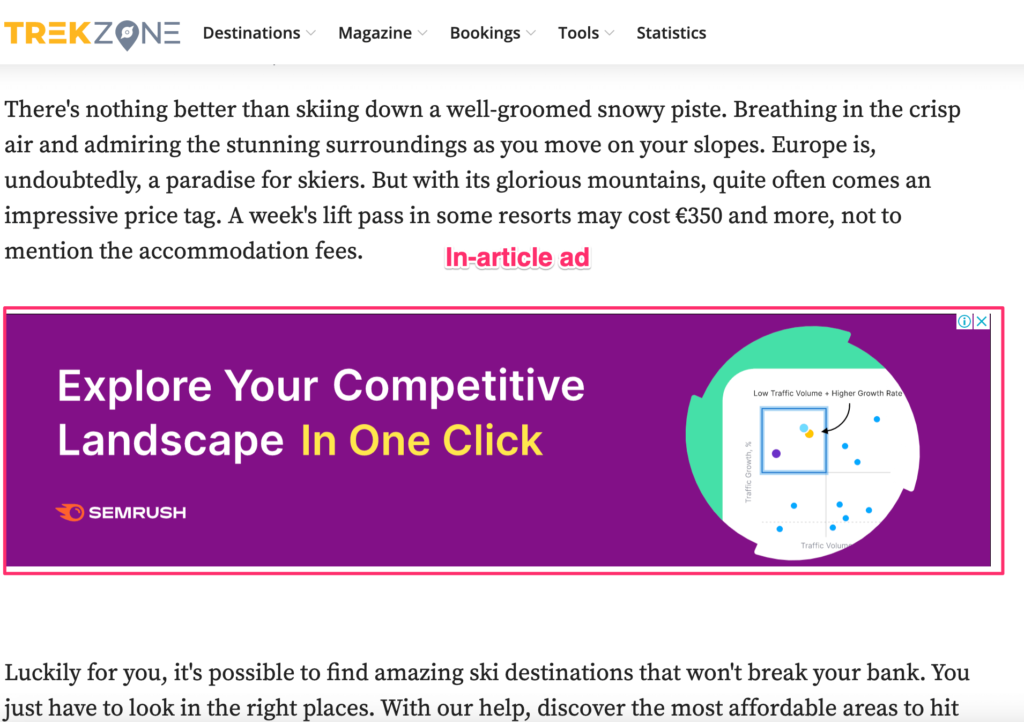 4. Multiplex ads
Multiplex ads is essentially a content recommendation widget in Google AdSense that displays native ads. This format is highly customizable—you can change the match to the style of our site.
Publishers often utilize Multiplex ad units at the end of articles or in sidebars.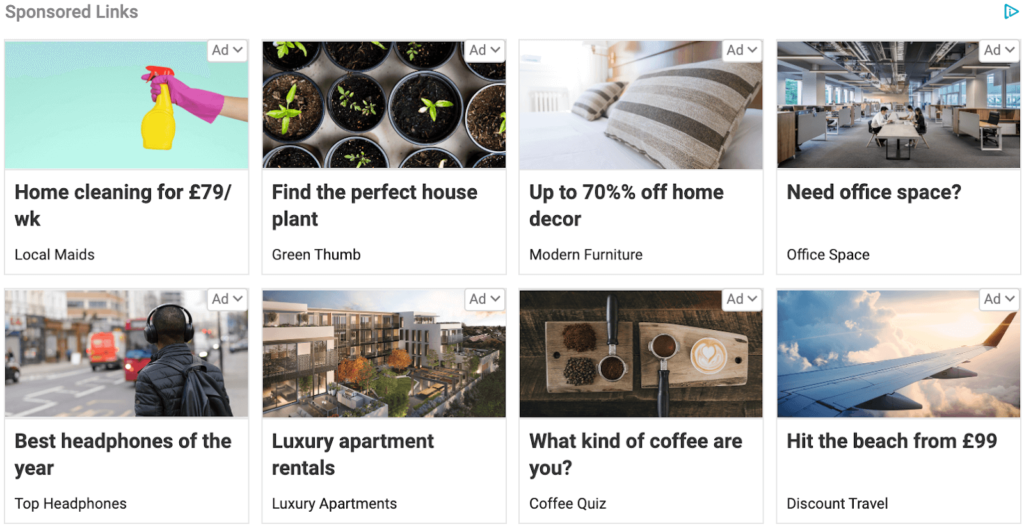 5. AdSense custom search ads
If your website has its own search engine, you can utilize Custom Search ads that appear within search results on your own website. You get paid when users search for something within your site and click on the ad.
In addition, you can customize the search results page by excluding specific websites or changing the color scheme.
Note, this option isn't available for all websites and a prior review of an AdSense representative is required.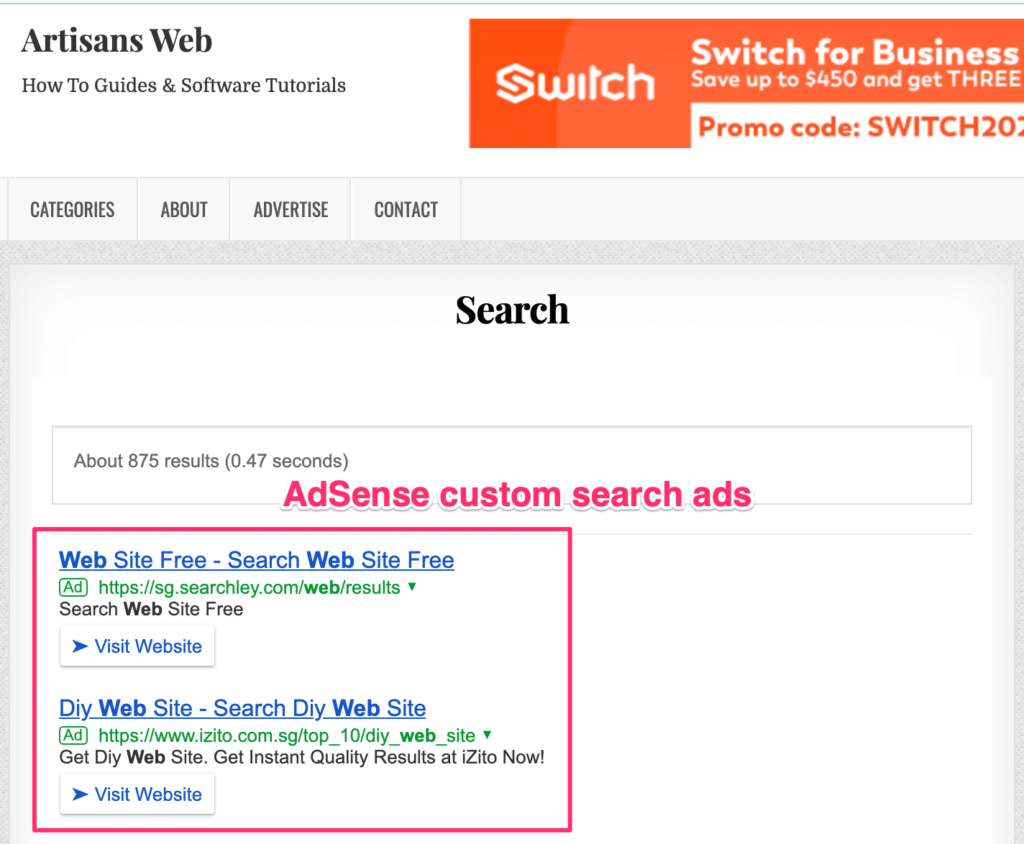 How To Make Money with Google AdSense?
1. Assess your website type
Certain websites perform better with Google AdSense than others. The types of websites that are easiest to optimize and generate good traffic are:
blogs;
media sites;
forums;
social networking sites;
online tools and games.
2. Don't incentivize clicks
This means you shouldn't click on your own ads or ask others to do it. Google is very strict about ad performance inflation, and such practices may suspend your AdSense account.
This may result in getting a Google two-click penalty which can significantly decrease your revenue.
3. Create high-quality content
High-quality content that resonates with your audience is essential. It is also the main aspect that determines your website search rankings.
Structure your content around user intent and update it regularly. In addition, follow SEO best practices to drive organic traffic to your website.
4. Add ads.txt
Ads.txt, a.k.a. Authorized Digital Sellers, is an IAB initiative that lets you declare authorized sellers of your ad inventory. You can download the ads.txt file directly from your Google AdSense account.
Skipping or delaying this step may result in ad revenue absence for up to a month.
5. Optimize for mobile
According to the data in February 2023, mobile accounted for 59.36% of the global web traffic. With mobile friendliness being an official ranking factor, you should aim for the best user experience for your mobile users.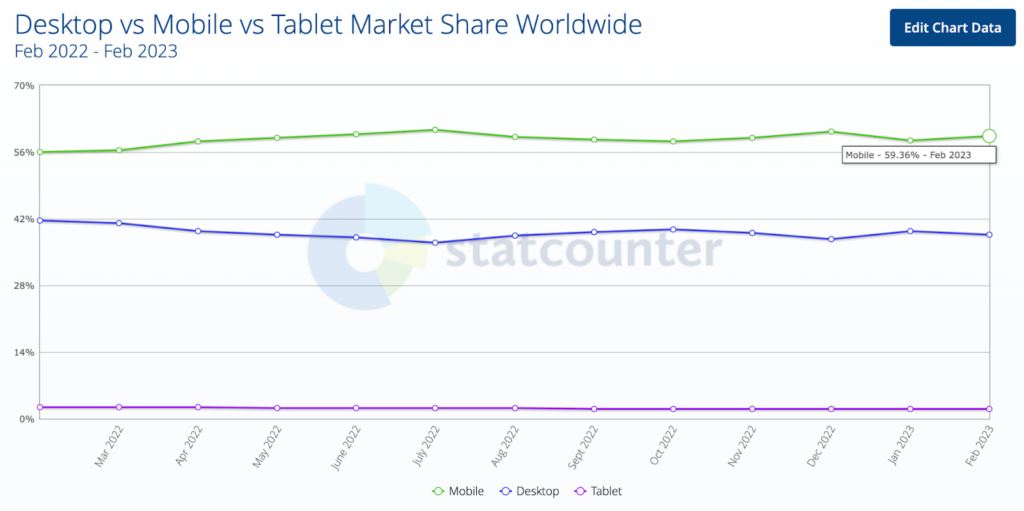 6. Ensure a great user experience
Ranking algorithms like Core Web Vitals look at users' experience with your page. To ensure that your website functions properly, consider these aspects:
responsiveness;
readability;
navigation and alignment;
website interface.
In addition, your ads must never exceed your content.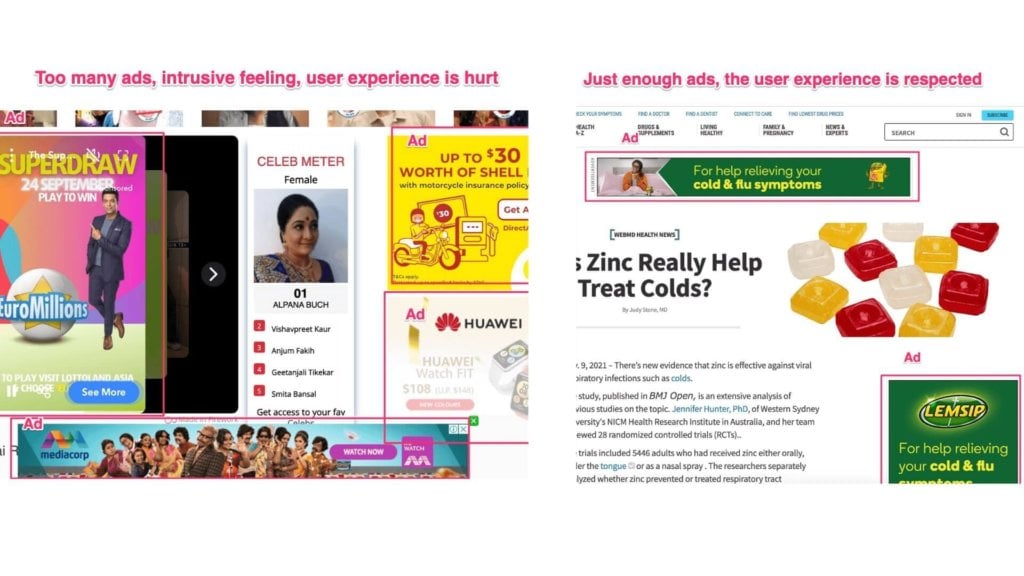 Related Article: 7 Tips to Improve User Experience with Ads
7. Choose the right ad format
Use ad placements and formats with high ad viewability rates, such as sticky ads, that stay in view for longer.
Since Google AdSense pays for clicks, you may want to try ad formats with high CTR, such as interstitial ads (called "vignette" in AdSense).
Common Challenges and Solutions
1. Low click-through rates (CTRs)
Keep in mind that your earnings in Google AdSense will depend on:
how high your CTR is;
the value of your audience.
The average CTR for display ads across all industries is just 0.35%. For AdSense to deliver the best results, your CTR needs to be over 1% and shouldn't fluctuate.
If your CTR is lower than 1%, but your audience is valuable, AdSense will still deliver pretty good results. That's because in the CPC models (default AdSense bidding model), the advertisers only pay for clicks. Because the clicks is the ultimate conversion KPI, Google Ads advertisers will bid with higher prices compared to the CPM (cost-per-thousand impressions) model where they don't know if their budget will actually be converted into clicks.
2. Competition among advertisers
As mentioned above, Google AdSense has only one demand partner (Google). Therefore, you won't be able to sell your ad inventory for the highest possible price like you would with header bidding, which connects your inventory with many demand partners (SSP and ad exchanges) before making a call to the server.
3. Ad layout optimization
To optimize ad layouts for Google AdSense, follow these tips:
Use responsive ad units.
Place ads above the fold (area of the page that's visible without scrolling). They tend to perform better than those placed below the fold.
Use recommended ad sizes, such as the 300×250 medium rectangle, 336×280 large rectangle, and 728×90 leaderboard.
4. Mobile version optimization
Ensure your website is optimized for mobile by:
Using a responsive design.
Compressing images.
Using legible and big enough fonts (at least 16 px).
Using a hamburger or a dropdown menu to save space and ensure easy navigation.
Sticking to a clean, uncluttered design.
Optimizing mobile page speed.
5. AdSense ban
There are a few things to tick off to prevent AdSense ban:
Adhere to AdSense Program policies.
Do not click on your own ads, and do not encourage others to click on your ads.
Check the quality of incoming traffic.
Do not use bots or other means to artificially inflate your website or app traffic.
Check the quality of incoming traffic in your Google Analytics account.
Do not use copyrighted, AI-generated, or scraped content.
Adhere to the code implementation guide.
Maintain optimal ad density (not more than 30% of ads to 70% of content).
Note, AdSense ban isn't always the result of your actions. It can come from invalid traffic that the publisher often has no control over. It can be time-consuming and often impossible to appeal the AdSense ban if you get it, so it's best to equip yourself with knowledge to avoid it
Related Article: AdSense Ban for Invalid Traffic – How to Appeal and Fix It
Setupad–The Best Alternative to Google AdSense
Setupad is an advanced monetization platform designed for publishers to earn more money through website monetization. Our flagship Setupad Header Bidding Wrapper solution can achieve at least a 30% revenue increase over Google AdSense thanks to a demand that doesn't just come from Google but also from 30 other demand partners (SSPs).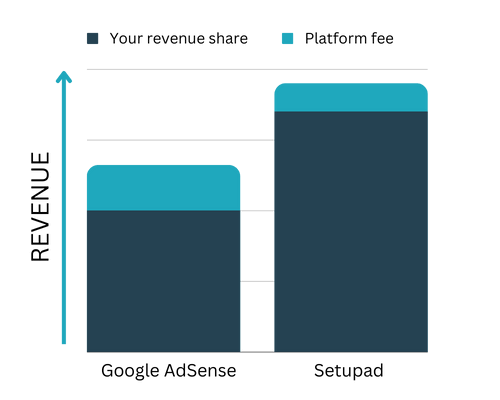 In addition, you can get access to Google AdX, which is a premium ad exchange where advertisers bid much higher prices than Google AdSense. Normally, a publisher must have at least 5M monthly pageviews and a minimum of 10M monthly ad impressions for at least 6 months. With Setupad Prebid Manage Account, you can get access to Google AdX from Setupad immediately, including Open Bidding, optimized price floors, and Setupad direct deals campaigns.
Setupad Prebid AdSense is another product we designed specifically for large AdSense publishers who want to combine AdSense demand with Setupad's Prebid demand from 30+ premium SSPs.
All our products are fully optimized with Google and have additional server-side integrations, which have a much faster bid response.
Final Words
There are no shortcuts to earning a lot of money with Google AdSense. You must consistently test ad placements and formats, optimize your website, and, most importantly, produce high-quality content.
We at Setupad believe that high-quality content should be rewarded. Our solution can significantly outperform Google AdSense and allow publishers to earn more.

Sign up today and help us unlock your full monetization potential!