How Can Publishers Prepare for Apple iOS 15 Email Privacy Update?
Apple's iOS 15 email privacy update will roll out in September 2021. The update will essentially transform the way publishers are going to use email to reach their subscribers.
To be more precise, the update is going to affect those publishers who regularly send out newsletters to their readers.
Let's unpack what this update is all about and how you can prepare for it.
What is the iOS 15 Email Privacy Update?
The update essentially builds on Apple's App Tracking Transparency feature from iOS 14, which provides users with more control and transparency over how and which of their data is used by apps.
Mail Privacy Protection–a new feature available on iOS 15 devices, will greet all users with a pop-up inviting them to protect their email activity.
Once enabled, the feature will privately load content in the background and hide users' IP addresses which help to determine user location and build user profiles.
This means that publishers won't be able to accurately track their newsletter open rate on Apple Mail.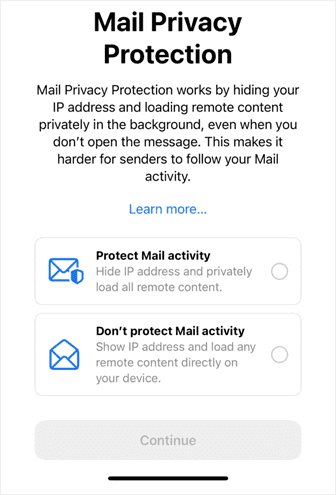 How Does Apple Mail Privacy Protection Works?
According to Apple, Mail Privacy Protection prevents senders from using tracking pixels that help publishers see which emails users are interacting with and how they're interacting with them.
Tracking pixels are tiny images embedded in the email and fetched from a server when the email is opened. Each pixel is tied to a specific reader's email address and can be used to see if the user opened the email.
Apple won't be blocking tracking pixels, but instead, will pre-load them every time a user receives an email. This means both total and unique email open rates will exponentially go up; however, these numbers won't represent the truth.
Which Publishers Will Be Affected?
Publishers should keep in mind that this feature will only be available for Apple Mail users on mobile, desktop, and tablet and only for those who enable it. However, it is safe to say that most users will enable the feature.
Moreover, Apple Mail is the most popular email client among mobile devices and the third most popular email client for desktop. If you have access to this data in your email analytics report, you want to pay attention to how many users open your emails on iPhone, Apple Mail, and iPad, respectively.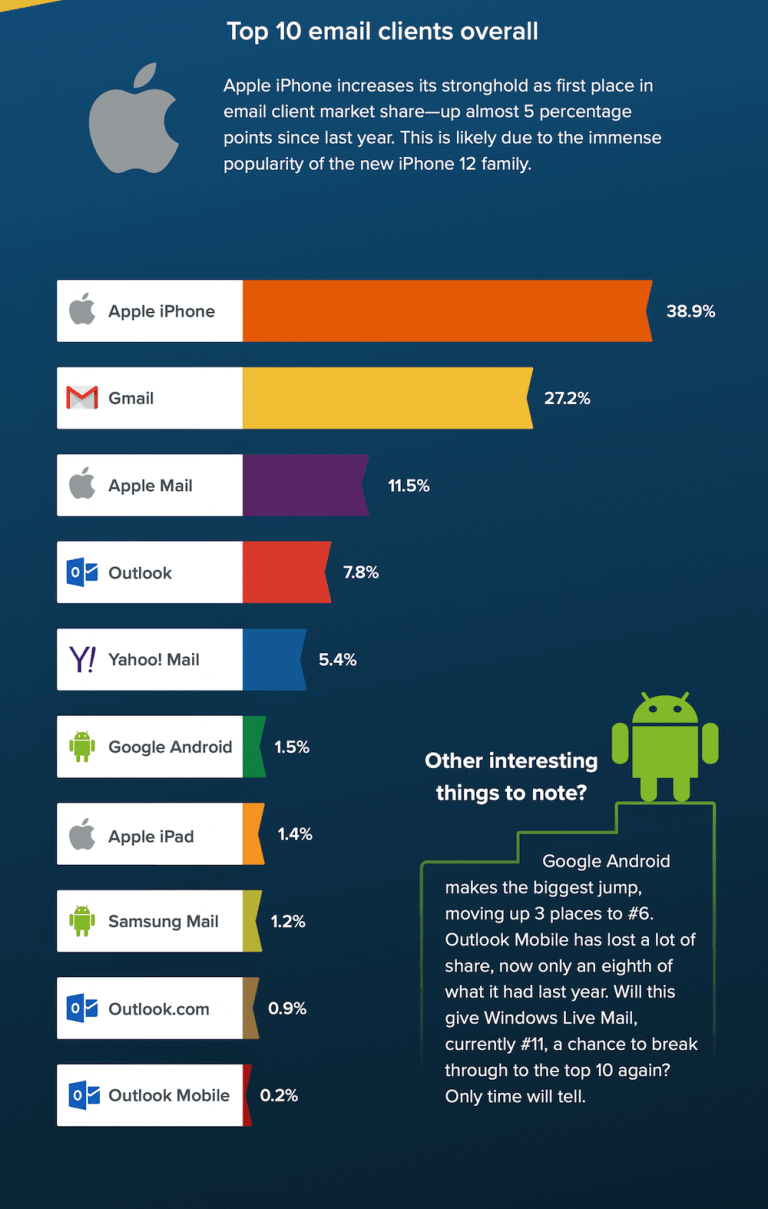 Experts say small publishers will struggle the most because sending bulk email newsletters is costly. Publishers often utilize the so-called "email cleansing process" to remove users who consistently don't open the newsletters.
When the iOS 15 email update is up, publishers will no longer be able to identify these subscribers.
Publishers who include sponsored and partner materials in their newsletters will also feel the damage as, without accurate open rate data, eCPMs will likely drop. Therefore, they should come to an agreement with their direct advertisers.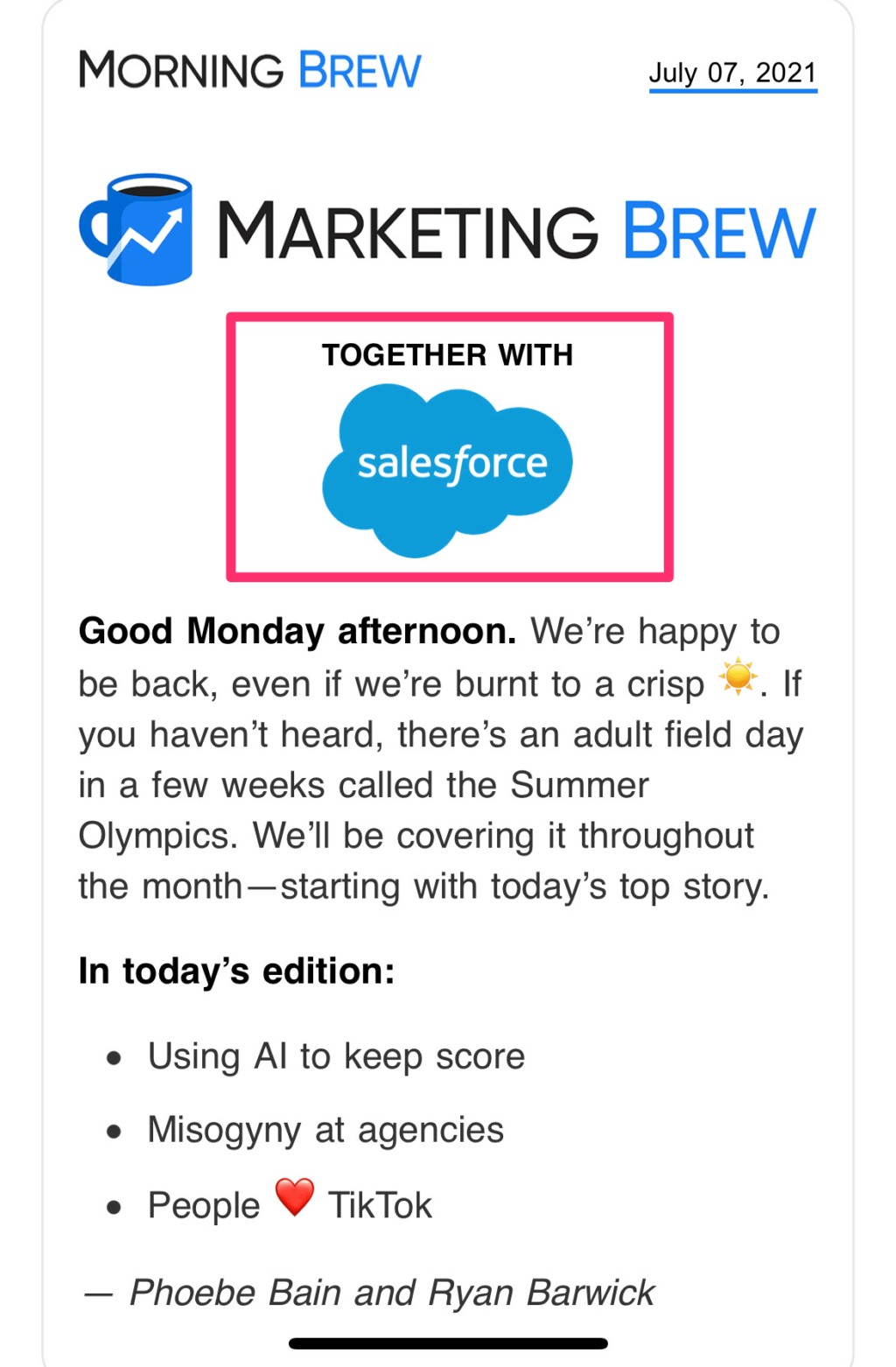 On the positive side, this change won't impact the click-through rate (CTR), so these numbers will remain unchanged in your analytics reports.
How to Prepare for iOS 15 Email Update?
1. Adjust your email reports
Consider segmenting your Apple and non-Apple mail recipient open rates. This will ensure your email report benchmarks are as accurate as possible.
For example, Litmus (email marketing tool) allows you to create custom subscriber lists for Apple and non-Apple email clients and use this data for reference.
2. Measure clicks and website visits
Since Apple's email newsletter update won't impact clicks and website visits, focus on them instead of open rates. Check with your email service provider (ESP) if they have an option to track different engagement metrics for different subscriber lists.
In addition, it's a good idea to conduct reader surveys to build a picture of your subscriber base. Luckily, this method does not rely on any tracking software.
3. Reassess the content of your emails
To make sure Apple Mail security update doesn't impact your KPIs too much, optimize your newsletters to encourage clicks.
This means finding a sweet spot between giving users enough value within the newsletter and driving them back to your website.
Takeaway
Although the Apple privacy changes will significantly disrupt publishers' email marketing efforts, this is in line with industry-wide privacy changes that have been happening for a while.
To go through the shift as smoothly as possible, take the precautionary measures that we discussed above before the update is live. And don't forget that you still have plenty of vital metrics to track, such as overall email subscriber growth.