Internal Links vs External Links | Differences Explained
Utilizing internal and external links are both great SEO tips to supplement your overall SEO strategy in 2023.
In this article, you will learn the differences between internal and external links, their benefits, and how these links can help you rank higher on Google in 2023.
What are Internal Links?
Simply speaking, these are links that are used to point to a page on the same website.
Let's look at the example from Setupad's blog article where we use internal linking.
In the picture below, the article on the domain setupad.com links to another article on the same domain (setupad.com).

What are External Links?
These are links on your website's page from another site. Also, if another website links to your website, it's known as backlinking.
What is an example of an external link?
Let's use an article about digital advertising trends from the previous example.
In this case, the article on the domain setupad.com links to an article on another domain (in this case, emarketer.com), leading users away from our website.

There are two most popular types of external links that instruct search engines about the relationships of one website with another–dofollow and nofollow.
What is a Dofollow Link?
A dofollow link is used to point from one website to another. If another website links back to your website using a dofollow link, it counts as a backlink.
By default, all backlinks are dofollow.
A website can have multiple backlinks from a single website. However, it won't have a big effect on SEO because the aim should be earning backlinks from high-quality domains that become your referring domains.
What is a referring domain?
Referring domain is a site from which the backlink came from. For example, if you have backlinks from www.wikipedia.org and www.britannica.com, you have two referring domains.
Referring domains play an important role in your backlink profile and definitely for better rankings. The more high-quality referring domains there are, the stronger your domain authority becomes.
For example, if you have 100 backlinks from 10 referring domains, it can represent a weak backlink profile if you don't follow what sites are linking to you.
If the referring domains have low domain authority (DA) scores, Google sees these links as toxic, thus lowering your rankings.
A study of over one billion web pages suggests that the more unique referring domains for a site there are, the more traffic it gets from Google.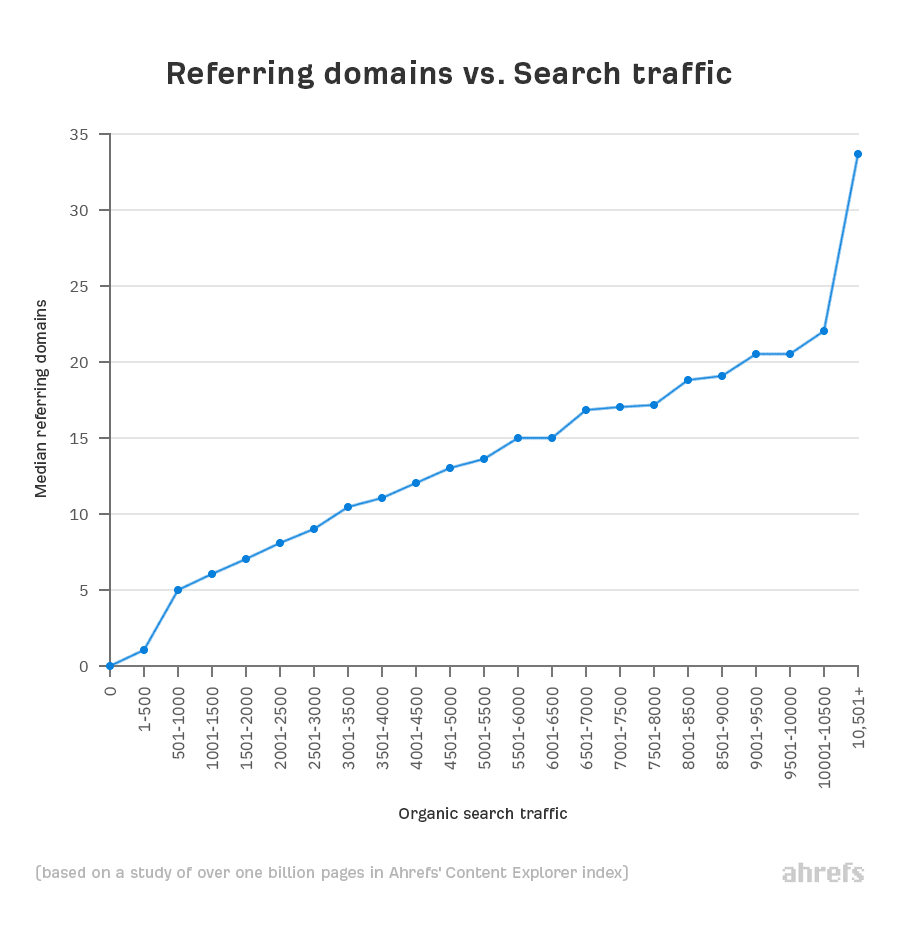 Mastering the link-building process will help your website grow traffic. Remember that if you grow your traffic, you can also increase your ad revenue.
What is a Nofollow Link?
A nofollow link instructs search engines to ignore the website's link that's added to the article. Publishers use nofollow links when they don't want Google to associate their site with a backlink or crawl that backlink's URL from their site.
According to Google's John Mueller, nofollow links don't pass any page authority but Google can still index these pages.
The easiest way to make a link nofollow is by using a Yoast plugin on your WordPress site. Simply toggle the nofollow button under the link you're adding to your article.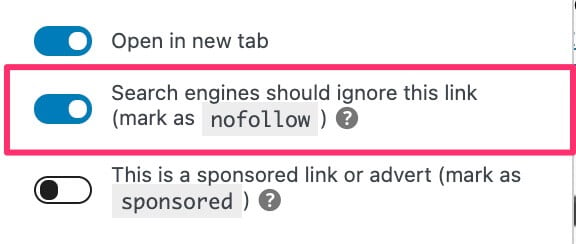 Remember, you should aim to give dofollow backlinks to high-authority pages because it will make your own content more credible. If you want to earn backlinks for your page, you should also give credit to other pages.
What are Internal and External Linking in SEO?
Internal linking is when a site links to URLs located on the same domain, whereas external linking is when a site links to URLs located on other domains.
Internal links help users and search engines better find pages within your site. They can help to increase rankings to other pages within your site.

External links are used to indicate that a page is credible to search engines. To make it clear, Google follows the content that's linked. In this way, it says to Google:

"Hey, this content is valuable and high quality; thus, it should be in the first position when people search for a specific query!"
Benefits of Internal Links
Allow search engines to better understand what your page is about and rank it higher. Make sure you insert internal links only when it's relevant and necessary. Otherwise, search engines won't understand the relevance of one page to another.
Internal links can build a great user experience and improve engagement because users can easily access all necessary information.


They pass link juice to other pages within your blog and help build authority for them.


They help drive organic traffic to your site by encouraging users to visit more pages within a session. 
Benefits of External Links
They can increase your domain authority, which measures your website's backlink profile. Meaning the more high-quality backlinks your website gets, the higher it will rank on search.


They help improve your website's trustworthiness and credibility.


They help search engines like Google or Bing better understand your article and add it to the high E-E-A-T (expertise, authoritativeness, and trustworthiness) knowledge graphs.
Internal vs External Links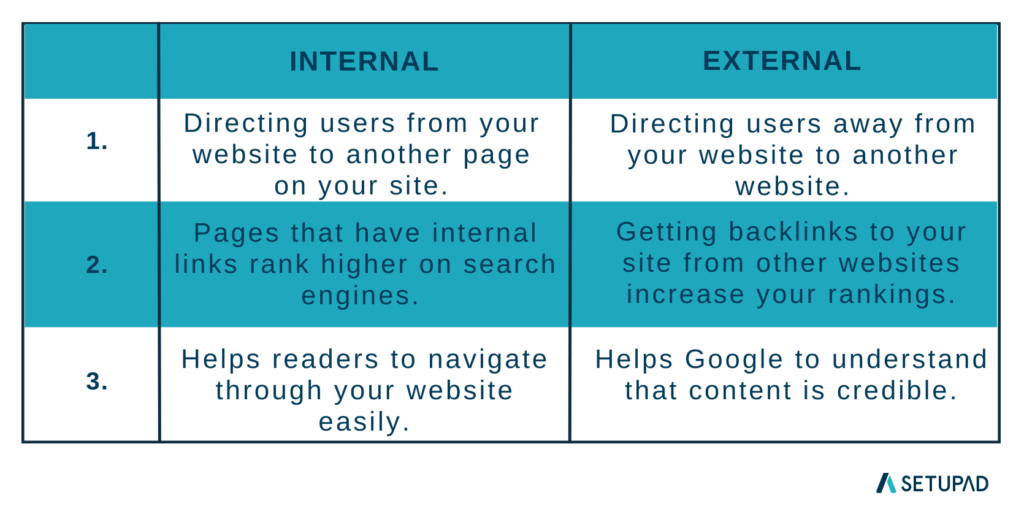 Does Linking To Other Sites Help SEO?
Yes.
By linking to credible sources, you make your content more unique and high-quality and help search engines understand what it is about, thus making your website more reliable. It shows your site's quality and will be vital to your blog's SEO in 2023.
It's only fair that you credit sites that deserve it, but most importantly, you also help educate your readers. And it should always be the key point–create engaging content and provide a great user experience.