Improved Ad Viewability with Fewer Ads | Case Study
How did Setupad help to increase ad viewability by displaying fewer ads on the website?
About New Club Penguin
New Club Penguin is a recreation of a popular Disney's Club Penguin. The publisher has created this engaging gaming website to enjoy a snowy virtual world and waddle around it with a friendly community of like-minded gamers!
The Challenge: Increase ad viewability with fewer ad placements and outperform existing monetization solution
How did the publisher's website look before Setupad?
Previously the publisher used Google AdSense, which was an excellent start. However, there was an issue in how the ads were placed. The chosen ad setup couldn't bring maximum ad revenue or achieve maximum ad viewability.
Before joining Setupad, the client's site had two 728×90 top banner ads and three 728×90 banner ads at the bottom–a total of 5 ad placements for the specific page (https://play.newcp.net/).
"Setupad has really guided me in the right direction. As soon as I started with them, I could tell that everyone at Setupad knew exactly what they were doing."–Founder of New Club Penguin
Why did this ad allocation not bring the best results?
First of all, if we take a look from a UX point of view – 2 top banner ads "pushed" the game lower and gave an intrusive feeling, thus increasing the chances of users activating an AdBlock.
Secondly, and most importantly, the publisher had placed 3 ads at the bottom that were not in view. This means that users couldn't see the ads or click on them. And, since Google AdSense pays on the CPC model, clicks on ads were crucial for the publisher.
Due to the low ad viewability, the publisher's ad inventory became less attractive for advertisers, thus causing lower ad revenue that could be avoided if the ads were in view.
The Solution: Reduce the number of ads, reallocate ad placements, and increase ad format variety to improve ad viewability
The main goal for Setupad was to explain that displaying more ads won't always bring the most ad revenue. It's important to optimize each ad placement to reach maximum ad viewability and constantly monitor ad viewability at domain-level. And for that, you sometimes need to get rid of poorly performing placements.
Founder of New Club Penguin says: "They know the right ad placements and the limits, which I was unaware of. The customer support has been the best; everyone I've come across has been really helpful and friendly."
Setupad replaced the two 728×90 top banner ads with one. And the three bottom ads were replaced with sticky sidebar ads on both sides, which have better CPM prices than banner ads. Additionally, ad sizes and ad format variety helps to bring more advertising campaigns in the header bidding setup.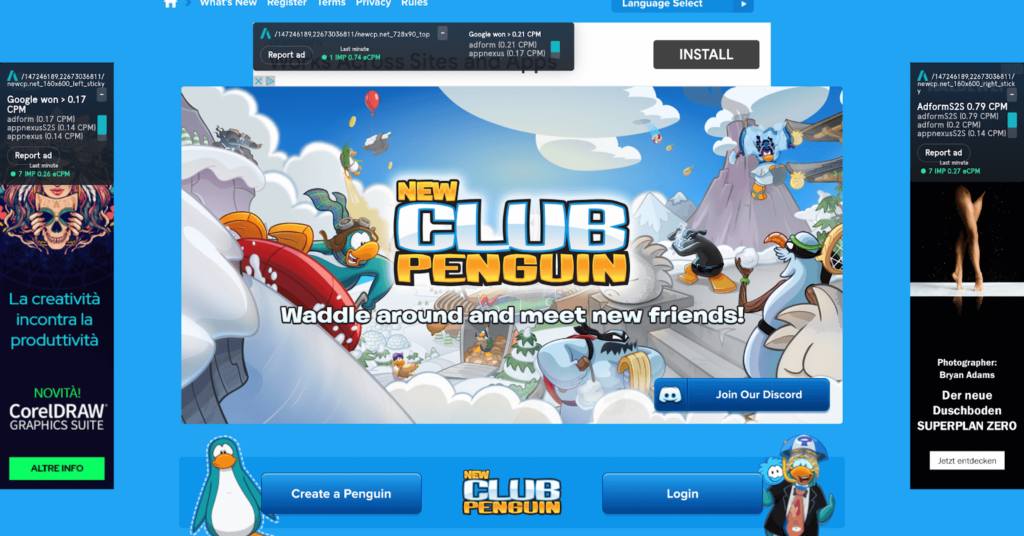 Another solution was to add the Setupad smart ad refresh feature (Viewable Bid Optimization) that highly benefits gaming websites. Usually, gaming sites have high average session duration, which helps to generate more ad revenue.
It's worth mentioning that the publisher's previous monetization solution didn't have the smart ad refresh functionality.
"I would highly recommend Setupad because they will always have the best suggestions for your website. In case of any technical issue, it's so easy to reach out to them, and they have remarkably swift responses."–Founder of New Club Penguin
Setupad smart ad refresh monitors ad viewability, while a tailored algorithm prevents decreasing the CPM price when the ad is refreshed. With the Setupad solution, ads only change when the next ad impression benefits both the publisher and the advertiser.
Refreshed ads usually have a higher CTR, especially if the user spends most time in one viewport (like in the case with New Club Penguin). Therefore, advertisers are willing to spend more, and publishers can earn more.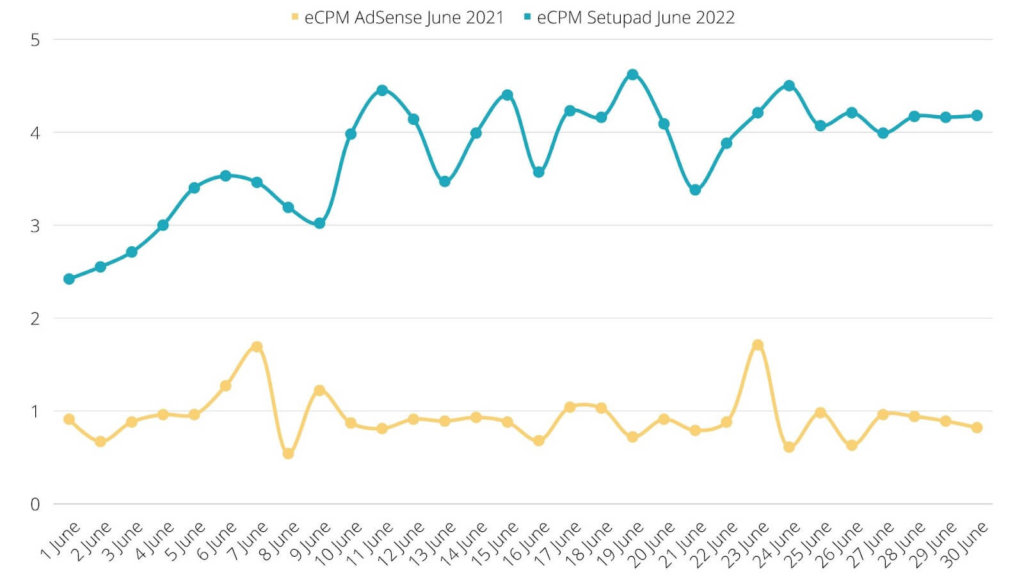 The client has gladly provided us with reports from his previous monetization platform. We compared it against the data from the Setupad reporting system to see how significant was the eCPM increase in June 2021 when the client was only using Google AdSense compared to June 2022 when the client was only using Setupad (after all optimizations).
According to the graph above, our approach with New Club Penguin resulted in a 300% eCPM increase after switching from Google AdSense to Setupad.
The Result: Reduced ad intrusiveness, improved ad viewability, 300% eCPM increase
In total, Setupad had reduced the number of ads from 5 to 3 and increased overall ad viewability at domain-level from 61% to 95%. Thanks to Setupad, the publisher now earns more money by displaying fewer ads.
Setupad managed to increase ad viewability by placing all 3 ads in the placements where they are in view for the whole user session duration. This improved the CPM price, and thanks to the smart ad refresh, the publisher generates more ad revenue per session.
Thanks to Setupad's server-to-server (S2S) connections, the client benefited from additional demand and generated extra ad revenue without compromising the website speed. In addition, Setupad's Prebid.js custom template could choose the optimal number of demand partners (SSPs) to reach the best results for each particular ad placement.
Are you interested to see these results for your website? Save your time by configuring optimal ad setup and work with a trustful monetization partner–Setupad. Join Setupad and test our solution for free!