How Will Automation Impact Digital Advertising?
[ Guest Post ]
Automation has a huge potential for the digital marketing and advertising sector. Digital ads have become an important part of business promotion, but they can become even more effective when adding automation into the mix.
It's no surprise that entrepreneurs are looking for viable ways to cut costs while improving performance—automated advertising checks all the boxes.

If you're looking to grow your business with automated marketing, where should you start? What does the future hold for automation in marketing and advertising? We'll answer those questions below.
Table of Contents:
Programmatic Advertising
One of the most important examples of automated marketing is programmatic advertising. It's an automated way of selling or purchasing digital ads through various platforms, like Setupad. Instead of going through this process manually, you can rely on platforms to do it for you.
For example, you could choose Private Marketplace Deals that will help you to reach the right audience without compromising your brand.
Programmatic advertising takes a lot of tedious guesswork out of the ad buying and selling journey. Whereas human ad buying decisions are often subjective, programmatic advertising collects and interprets data in a way that results in better use of your marketing budget.
Business owners, advertisers, marketers, and publishers turn to programmatic because it's more affordable and more efficient overall. It's not subject to human error and can get your campaigns quickly running. Overall, it tends to provide better ways to reach your target audience than traditional advertising.
In 2021 programmatic ad spend is predicted to increase by 24.1% compared to 2020.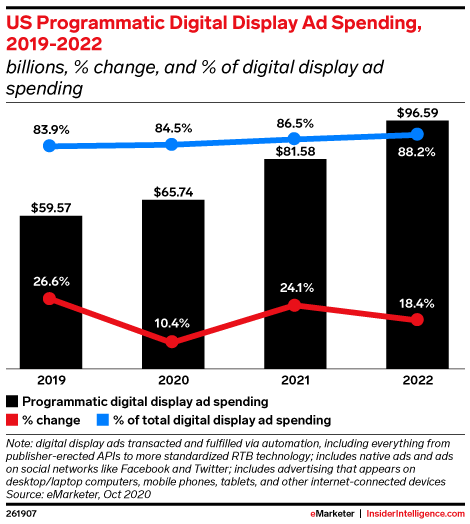 Source: eMarketer
Social Media Ad Automation
Backlinko reports:
Almost 4 billion people use social media on a global scale.
In 2020, the average person had more than 8 social media accounts.
Social media use has grown by 12.5% on average year-over-year since 2015.
What can you do?
Use LinkedIn Dynamic Ads
These ads are displayed for desktop users and are personalized. Once you write the content, LinkedIn can automatically customize (and even translate) your ads for each user.

Reconsider Facebook Ads
Facebook also offers automated features within its Ad Manager platform. You can essentially create "automated rules" that will monitor, notify, and even modify your campaigns as needed. All you need to do is set the criteria, the action that needs to be taken, and Facebook will do the rest for you.

It's worth mentioning that the latest iOS update gives users the ability to turn off Facebook data tracking, which may make ad campaigns on the platform less effective or more difficult to track. In fact, just 25% of users were opting into tracking. Without in-depth data insight, publishers are reconsidering whether Facebook ads are the right way to go.

Utilize Google Ad Manager
Google Ad Manager (GAM) can automatically help you find new opportunities to increase revenue potential while highlighting the most effective strategies within campaigns. You can also use the Ad Manager API to gain total control and integration.
While many aspects of the Google Ads platform require manual action, Google is taking steps to automate and help publishers to reach their goals.
❗Publishers who still want to display programmatic ads on their websites are required to have a GAM account. Read more about it here.
Automated Advertising Copy
If you're a traditionalist, you'll probably see the value in a great copywriter. But that doesn't mean you should rely on this wordsmith for everything. When you have a lot of different ads to run, you'll want to rely on their skills for only the most important projects. That's when automated ad copy can become handy.
You could use Artificial Intelligence (AI) to gather customer data and create more targeted ad copy. Alternatively, you could use something like Google Scripts or Google's dynamic search ads (DSAs) to generate ad content for your campaigns automatically.
Automated tools can help punch up your headlines and indicate the most valuable keywords.

Source: NeilPatel
Automation and Its Impact on the Advertising Space
Google reports that from May 2020 to May 2021, they have seen a 48% increase in reports created in Data Studio for Google Ad Manager.
It's becoming clear that publishers and advertisers alike want access to better data to do their jobs more effectively. Automated ads can provide that in-depth insight while removing a substantial burden.
Although interest in ad automation led to disruption within the sector early on, agencies and independent publishers realized what the power of automation could do for their businesses. Also, this brings a higher demand for skilled people working in the IT field to help assist and execute more complicated tasks.
Where is Automation in Advertising Heading?
As we continue to recover from our current health crisis and our dependence on technology continues to grow, businesses will likely continue to find ways to work more efficiently by having automation in place.
Experts predict automation will play an important role in the post-pandemic workforce in the marketing and advertising industries. Simply put, businesses are being forced to stretch their budgets further but with fewer resources.
In the future, industry professionals feel that automated tools (including AI) will become even more complex and provide better integration into existing technologies. This will lead to more widespread adoption of automated ads, as they will likely become more affordable, reliable, and versatile as time goes on.
Automated Advertising is Our Present and Future
While automation once seemed like a far-off fantasy, the reality is that it's already here–and most businesses are using it.
With automated ads, you can strengthen your campaign success while making the best possible use of all resources available to you.