Custom Website Optimization and Revenue Increase | Case Study
How did Setupad optimize the website and increase ad revenue?
About Einfachnurlecker.com
Einfachnurlecker.com is a German-based recipe website featuring a variety of recipes and cooking tips with a focus on simple and easy-to-follow instructions. Started in 2018, what initially seemed like a hobby quickly turned into a full-fledged business, with the current recipe count of 2656.
The literal translation of Einfach Nur Lecker is "Simply delicious" which illustrates the website premise really well–delicious yet simple recipes packed full of flavor that even a complete beginner can master in the kitchen.
The Challenge: Optimize the website for ads, fix Google demand, and increase ad revenue
How did the publisher's website look before Setupad?
Previously the publisher was using Google AdSense. The website has already been showing ads in different placements. However, the most notable changes included:
336×255 in-article ad size was replaced with 336×336 ad size;
instream video ad added;
"triple" banner (3x 336×336) added;
related article block (with more ad units) added.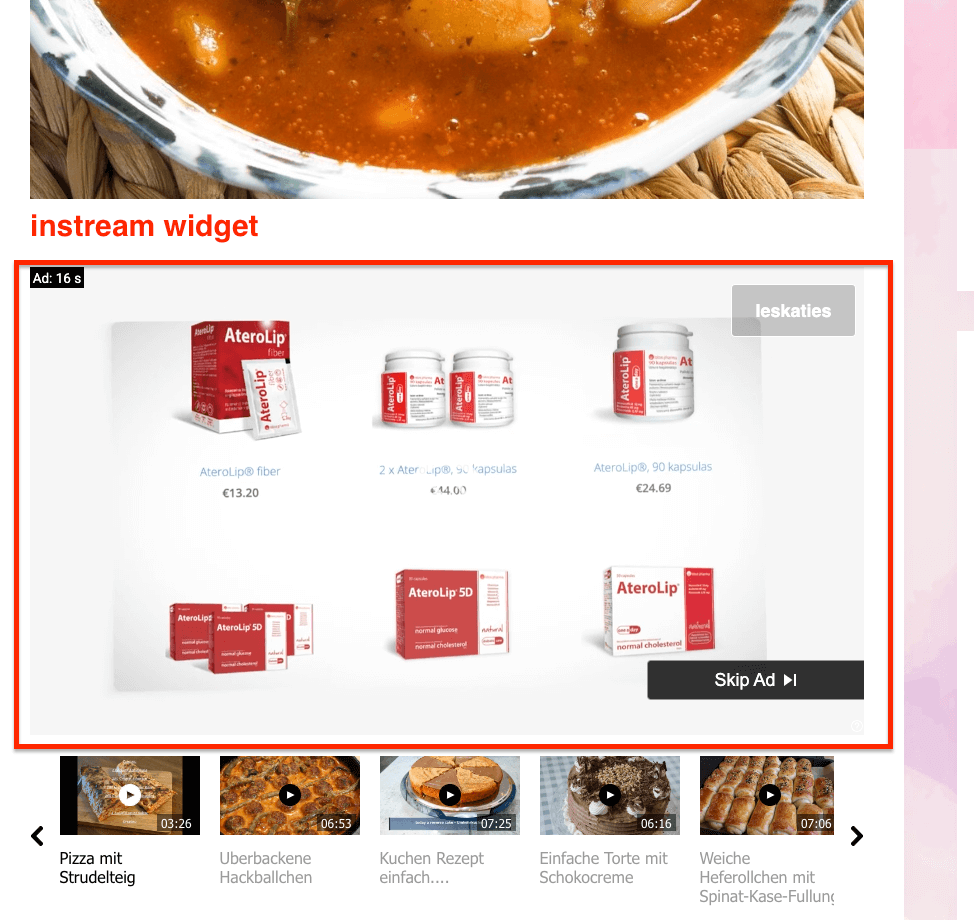 Additionally, Einfachnurlecker struggled with concerns of invalid traffic from AdSense, which had left the website owner without any revenue for 20-25 days. Since the AdSense team doesn't have dedicated support to reach out to, the publisher was left in the dark without any idea how to fix these issues.
With careful optimization and user experience improvement, Setupad has helped the publisher to fix Google demand.
The Solution: Development support, custom approach, and ad format and size testing
Due to the WordPress theme the website is built on, this case required custom tags for many of the ad units. 
Thus, the Setupad support team has optimized the CSS styles and formatting for the publisher, ad units' parent-div max-width settings.
In addition, since the majority of Einfachnurlecker traffic comes from mobile, our team performed a lot of testing and optimization for mobile ad placements.
Because many of the scripts were custom-made specifically for Einfachnurlecker, our team also created a WordPress child theme. A WordPress child theme inherits the functionality and styling of its parent theme but allows to make customizations without modifying the parent theme. That way, when the publisher would update its theme, none of the tags would disappear from the page.
"After using AdSense for a few years, I got a recommendation from a friend to try Setupad, and the only thing I can say is that I don't regret this decision at all. Everything started to work better. The ads are awesome, and the support is excellent."– Einfachnurlecker.com Founder
In addition, we regularly tested the instream video widget and ad units for the related article block to achieve the perfect balance of ads to content considering the layout of the page, as well in-article ad units to achieve the best performance whilst not sacrificing user experience.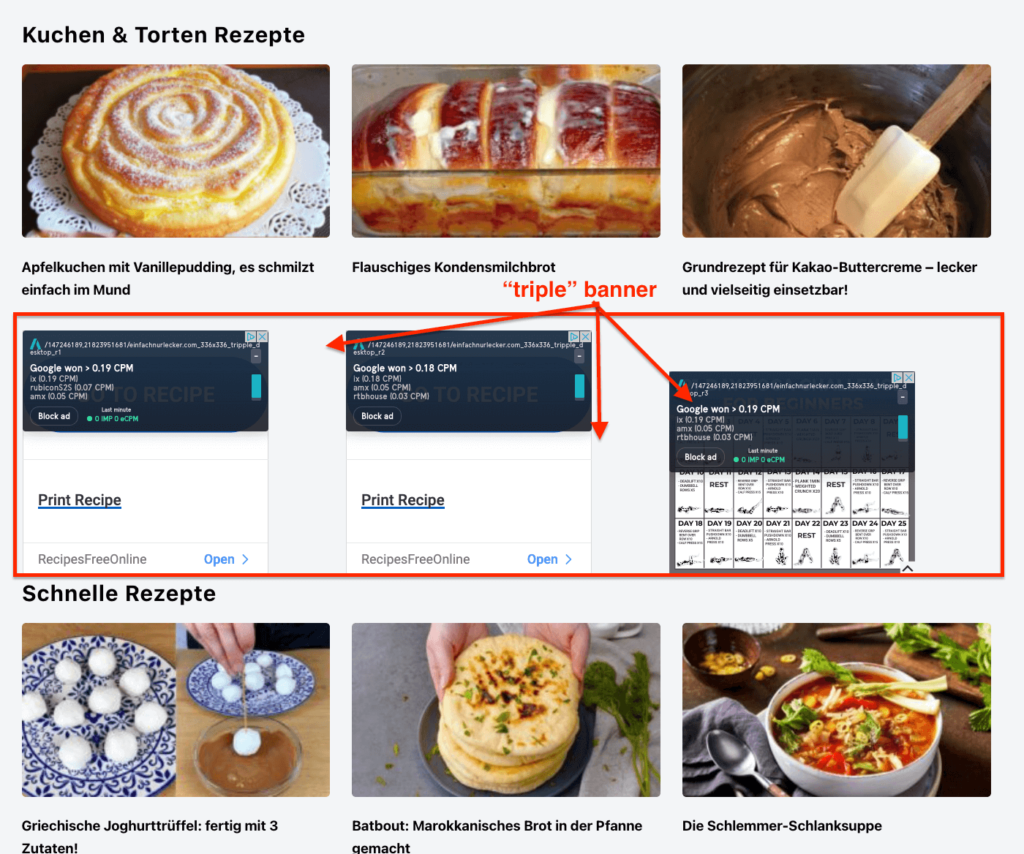 Since recipe websites are known for high user engagement, we decided to introduce a related articles block to encourage readers to browse more recipes that may spark their interest. However, we also placed additional banners inside it to generate even more high-value impressions. Since users stop to browse the related articles widget, they interact with the ads, too.
Besides, Setupad's Account Executive Kristiana has performed additional SEO and technical audit and website speed audit, as well recommended ticking off other key points that were missing on the website, such as an additional navigation bar, extra information in the "About Us" section, additional recipe categories for more advanced filtering and better user experience, and more.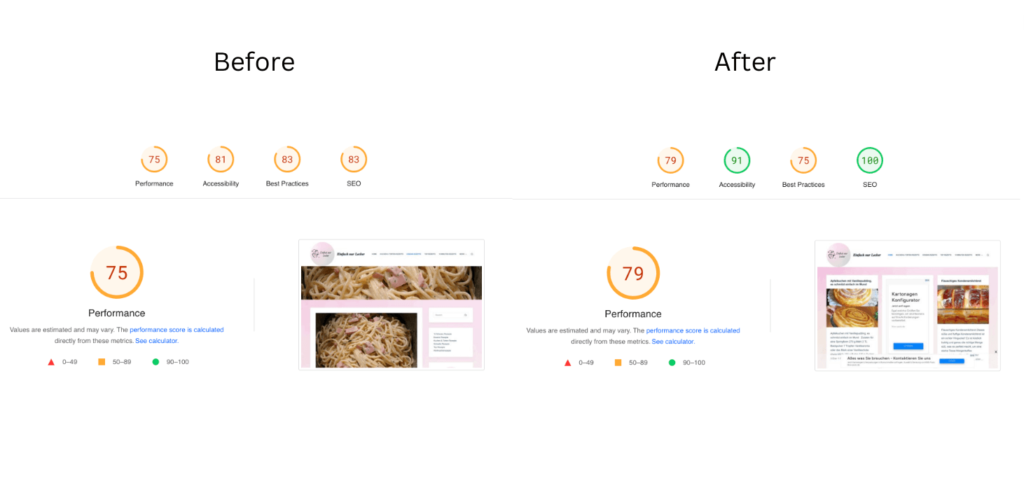 "I can only say Setupad is a whole new level compared to the other monetization networks I have been working with. Everything got improved on my website, starting with the ad revenue and website speed. The ads are performing fast and great." – Einfachnurlecker.com Founder.
The Result: Superb customer support, better website functionality, and a 60% ad revenue increase
The client gladly provided us with reports from his previous monetization platform. We compared it against the data from the Setupad reporting system to see how significant was the ad revenue increase in March 2022 when the client was only using Google AdSense compared to March 2023 when the client was only using Setupad (after all optimizations).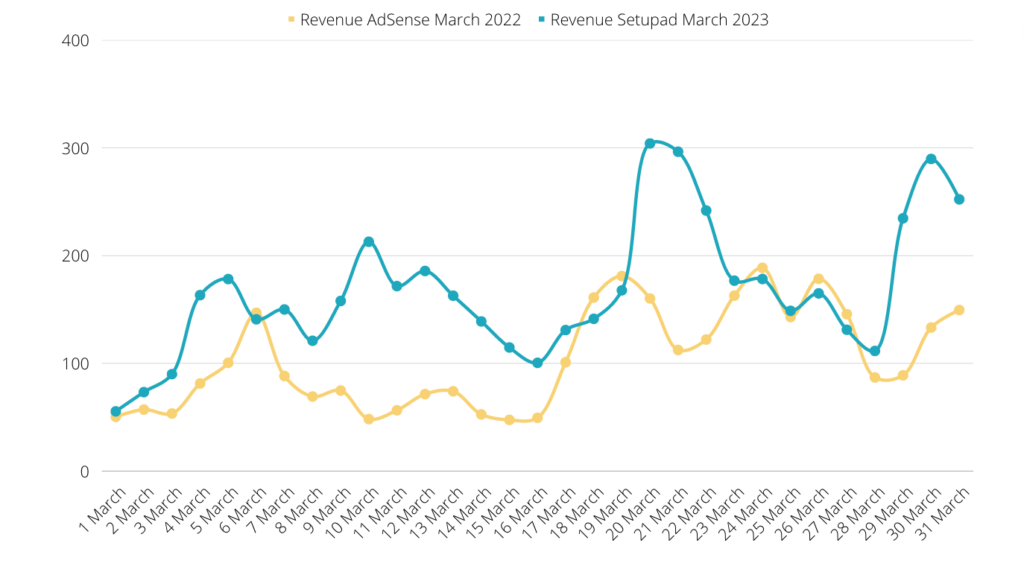 According to the graph above, our approach with Einfachnurlecker resulted in a 23.35% eCPM increase and 60.28% ad revenue increase after switching from Google AdSense to Setupad.
We also looked at the client's data for the past 7 months he was using Google AdSense alone and the last 7 months he was using Setupad* alone to find out to what extent Setupad delivered better results across eCPM, revenue, ad viewability, and CTR.
*The client joined Setupad in October 2023.
The findings were as follows: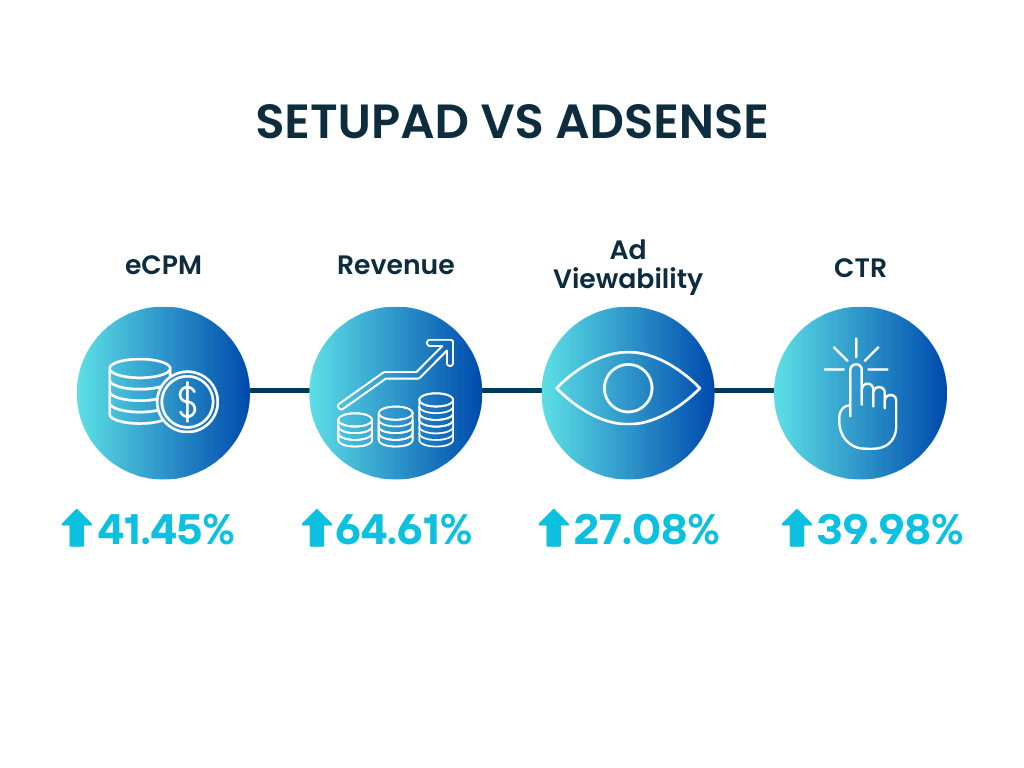 Moreover, thanks to our server-to-server connections and improved yield, the client benefitted from extra ad revenue without compromising the website speed.
"The cooperation with Setupad and Account Executive was great from the first email. Kristiana was very nice and patient from the beginning and helped me out with everything I needed to correct and set up. I'm very lucky to have her as an Account Executive." –Einfachnurlecker.com Founder.
All in all, Setupad has achieved the following:
Increased eCPM, ad revenue, ad viewability, and CTR.
Increased ad format variety.
Improved user experience.
Fixed Google's demand.
Custom-made WordPress child theme, fixed CSS issues, and created custom scripts for related articles block, CMP, and ads.
Gave suggestions on website speed improvement.
Generated extra ad revenue for the publisher.
Improved user engagement.
Generated additional demand from server-to-server connections.
Are you interested to see our technology in action? Join a trustful monetization partner like Setupad and test our solution with no risk!