144% Ad Revenue Increase with Fewer Ads | Case Study
How did Setupad increase ad revenue by 144% over Ezoic monetization platform with fewer ads on easilyfixit.com?
About Easilyfixit.com
Easily Fix It is a blog that aims to help users fix their common home appliance themselves using easy to follow guides.
Easilyfixit.com was created in December 2020 with a goal to provide users with straightforward answers to common questions related to their home appliances, including:
dishwashers
washing machines
refrigerators
dryers
Over the years, the platform grew into a trusted resource for readers worldwide, featuring 231 guides at the time of writing in a user-friendly format and an option to speak with a trained home appliances technician.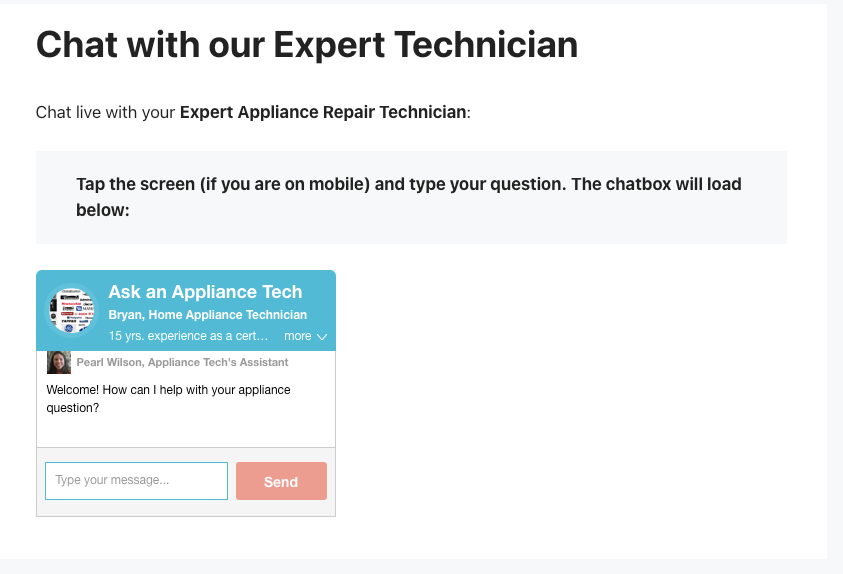 The Challenge: Balancing Ad Revenue with User Experience
Before collaborating with Setupad, easilyfixit.com had been in partnership with Ezoic. While Ezoic provided ad spaces, their strategy of saturating the site with ads led to a decline in user satisfaction.
The overwhelming number of ads not only disrupted the user experience but also resulted in significant site speed issues. Besides, the client didn't like that there were around 10 banners of different sizes on just one page, which was diminishing the ad inventory value.
The owner of easilyfixit.com has expressed great satisfaction with Setupad, especially with their dedicated Account Manager. This stands in contrast to their previous experience with Ezoic, which lacked dedicated support and had been a significant source of frustration during their collaboration.
"I am very impressed. My favorite part [of our collaboration] is the dedicated Account Executive, who is available via Skype as well. Very easy to get in touch with them, and always quick to respond. In fact, Linda [Linda Kolontaja, Head of Sales at Setupad] has been very kind and have been very co-operative during the ad implementation, and providing valuable suggestions that I believe are one of the major reasons behind this success." says the owner of easilyfixit.com
The ad placement strategy was worked out specifically to address viewability on long-form content pages, placing banners strategically between the content and utilizing always-in-view formats like anchor ads with minimum opacity.
The result is a clean page with ad density not exceeding 30% in the viewport (as per Better Ads Standards recommendations).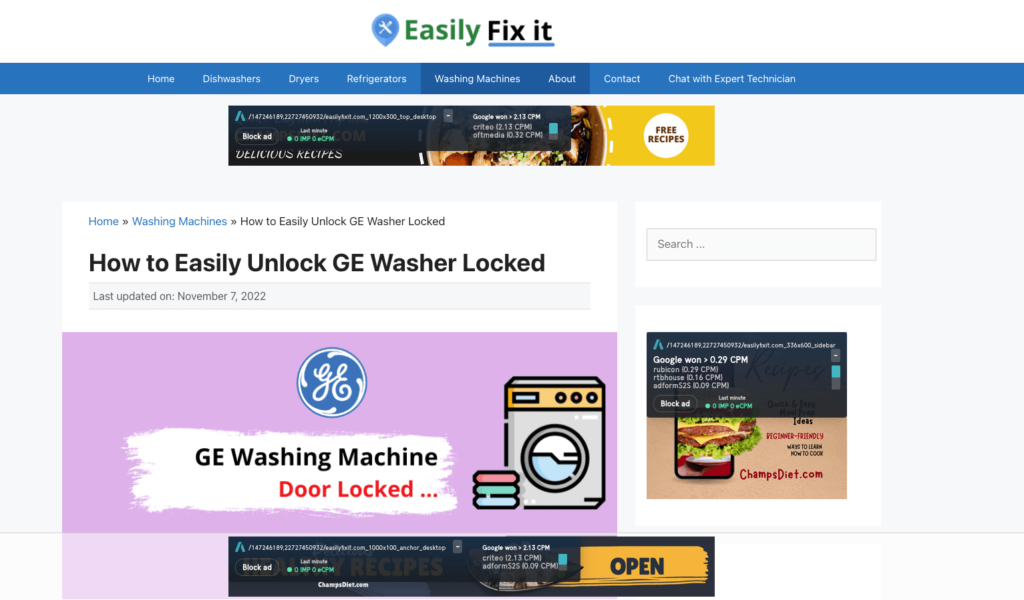 The Solution: Ad Inventory Value Increase with Fewer Ads
After a detailed analysis, Setupad recommended Header Bidding wrapper to address the challenges on easilyfixit.com. This solution promised better ad fill rates, enhanced site speed and user experience.
One of the standout features was Setupad's custom prebid.js template. Stored on a cloud ad server, this template optimized the necessary libraries for each user and ad placement, significantly boosting the site's loading speed.
Beyond ad optimization, Setupad offered insights to enhance the overall user experience. The owner of easilyfixit.com appreciated Setupad's holistic approach, especially the expertise when it came to improving the Core Web Vitals metrics.
First Input Delay (FID), which is one of the first metrics we look at to determine the website optimization strategy for the client, measures the time it takes for a website to respond when a user first interacts with it. It's part of Core Web Vitals, a Google ranking factor.
In simple words, it's the delay between a user clicks, taps, or presses a key on a website and when the website actually starts to do something in response. If the user is forced to wait until all ads load on the page before he can perform any action (like with Ezoic), FID scores will be much worse. A shorter FID means the site feels more responsive to the user.
We compared FID scores for the client's top 5 pages and the average improvement with Setupad over Ezoic accounted for 63.71% due to the fact that Setupad tags load asynchronously without impacting the page's functionality.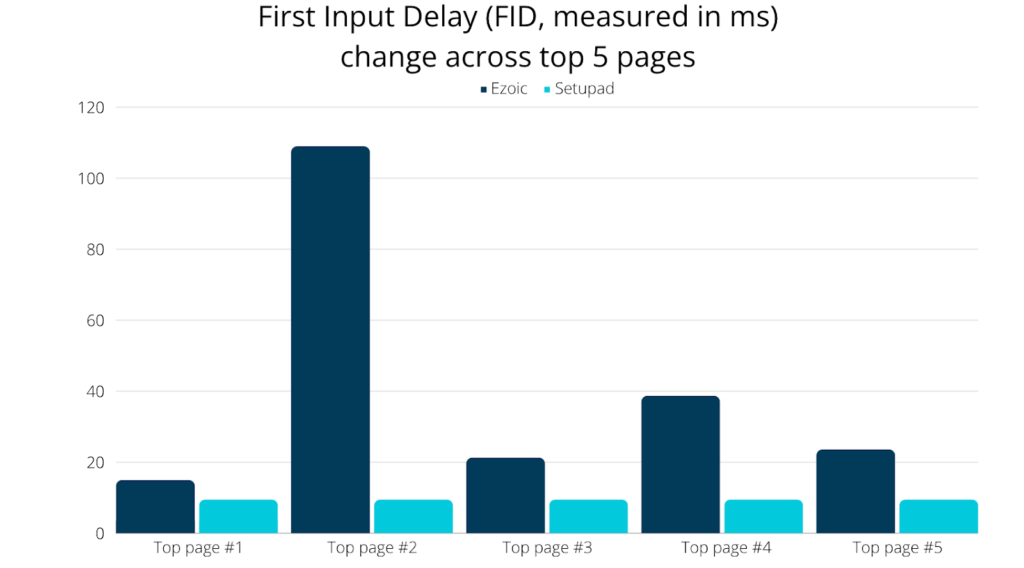 In line with easilyfixit.com owner's religious beliefs, Setupad ensured that certain categories were excluded from their Google Ad Manager, like betting, gambling, consumer loads, dating, religion, video games, etc.
This, however, didn't negatively impact the fill rate, which currently stands at 98,4% because careful optimizations performed by Setupad's Ad Operations Trafficker Līna Stiprā allowed to increase the overall value of the inventory. Additional server-to-server connections provided the client with extra demand and faster bid response.
The Result: 144% Revenue Increase and User Experience Enhancement
Switching to Setupad brought about remarkable benefits for easilyfixit.com. When comparing data between September 2022 (with Ezoic) and September 2023 (with Setupad), the site experienced:
A 144% revenue increase
A 383% increase in ad impressions
A 13% boost in ad viewability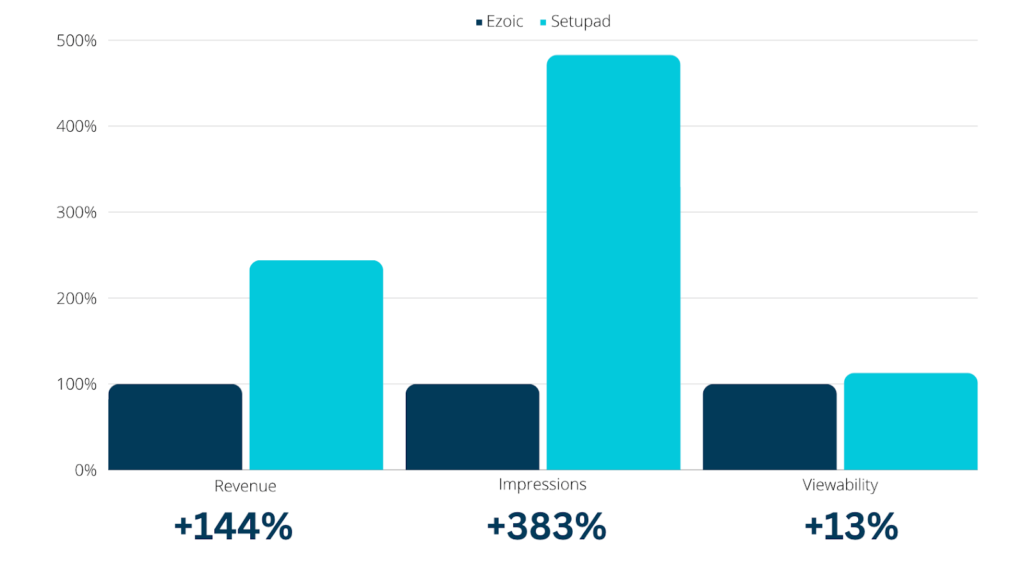 These impressive figures highlight the substantial improvements Setupad brought over Ezoic.
The owner of easilyfixit.com expressed satisfaction, stating, "The enhanced ad revenue, coupled with the site's improved speed and viewability, has been a game-changer. Our readers are happier, and our reach has expanded, especially in regions where site speed is crucial."
This case study demonstrates how poor ad placement strategy and lack of optimization can significantly decrease the value of inventory, even on websites with high-value traffic (the majority of traffic on easilyfixit.com originated from Tier 1 countries). In this scenario, the client was leaving more than half of his earnings on the table.
As a trusted website monetization partner, Setupad will ensure user experience on your site is preserved while you're getting the highest ROI from your ad inventory. Sign up today!