309% Ad Revenue Increase Over Google AdSense | Case Study
How did Setupad increase the client's ad revenue by 309% compared to Google AdSense?
About Ascii-code.com
Ascii-code.com was started in 2007 and serves a comprehensive hub for all things ASCII*-related. This included detailed information for each character, an array of diverse character sets, informative articles, historical data, and a glossary to clarify key terms.
As a developer himself, Ascii-code.com founder Joacim felt that the existing online resources fell short of his requirements, so he took it upon himself to create an ASCII table that was tailor-made to his needs. Initially, the project was dedicated to the ASCII table, but soon expanded into a more comprehensive resource on HTML symbols, color names, and HTTP status codes.
Today, Ascii-code.com houses over 800-character descriptions, 23 different character sets, and 60 distinct glossary explanations. Over the years, the site has evolved from a personal tool to a comprehensive resource for developers worldwide.
*ASCII (American Standard Code for Information Interchange) is the most common character encoding format for text data in computers and on the internet.
The Challenge: Provide a better return on the inventory compared to Google AdSense
The main task for Setupad was to optimize the client's ad revenue. The website already had great SEO scores, interface, and overall performance, so it was obvious that there was money left at the table with Google AdSense. As always, we began by working out the most optimal ad setup focusing on ad viewability.
Before the transition to Setupad, each page of the site was showing 2-3 standard banners, which is slightly below an optimal ad count for a webpage with this much content. Setupad introduced side rail ads on pages where the layout permitted it. We also replaced the top leaderboard ad with a more prominent billboard ad to improve viewability.
Additionally, we introduced anchor ads across all pages, creatively increasing the ad density in a user-friendly fashion. The ads per page number was increased to a range of 3-5 at no cost to the user experience. Alongside these changes, there was a series of minor adjustments to further optimize the ad placements.
"Even though I didn't really have any big problems before I started using Setupad, I was always trying to make my site more profitable. Setupad has helped a lot with this. After switching to Setupad, my site's ad revenue went up by more than 300%."–Joacim, Founder of Ascii-code.com.
The Solution: Ad-viewability focused approach, smart ad refresh implementation, ad setup optimization
As mentioned before, the introduction of new ad formats and careful ad placement selection resulted in a 28.48% increase in ad viewability. The current viewability score for Ascii-code.com stands at slightly above 70%. Viewability above 70% is considered a sweet spot after which the ad inventory becomes more premium and valuable in the eyes of advertisers.
With that being said, the ad layout didn't become more cluttered or annoying, because the effective website layout already utilized by the publisher was clean and had enough padding between the ads and the content.
"​​I'm pleased to say that transitioning to Setupad has not compromised the user experience on my site. Even though the number of fixed banners has increased, the overall feel of the site has remained consistent with what it was before. Initially, I had concerns that the increased ad presence might negatively impact the site's atmosphere. However, my fears were unfounded. The outcome has been truly satisfactory, and I'm impressed with how well everything has turned out!"–Joacim, Founder of Ascii-code.com.
A new format we introduced to the client was side rail ads, which are effectively sticky ads placed on the sides of the page introduced by Google at the end of 2022. The format is extremely popular and effective because the banners stay in view for the whole page session.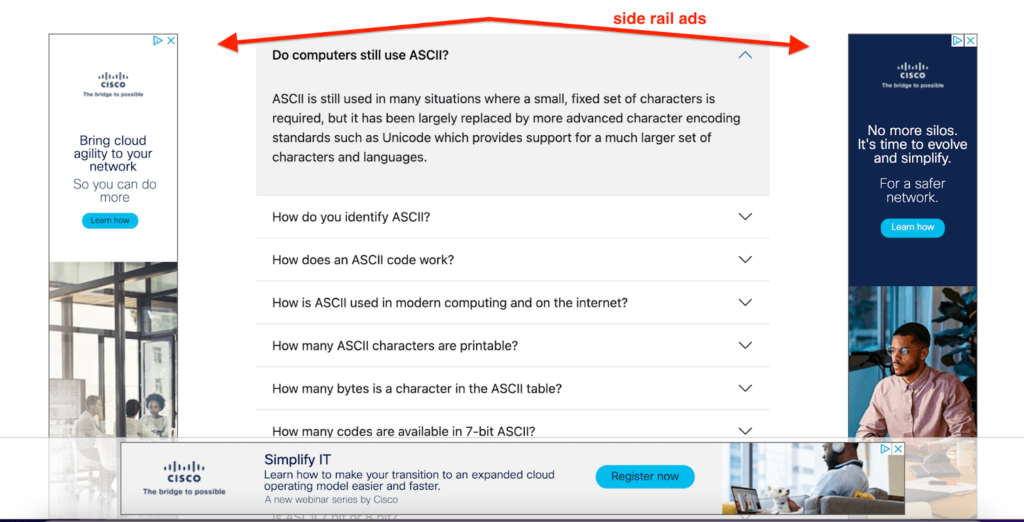 Another addition to the website was smart ad refresh. Setupad smart ad refresh mechanism monitors ad viewability, while a tailored algorithm prevents decreasing the CPM price when the ad is refreshed. With the Setupad solution, ads only change when the next ad impression benefits both the publisher and the advertiser.
Refreshed ads usually have a higher CTR, especially if they're in the ad unit that's always in view like with anchor and sticky side rail ads.
In fact, refreshed ads now account for more than 44% of the client's overall ad revenue, which otherwise would have been missed because Google AdSense does not have an ad refresh functionality.
The Result: 309% ad revenue increase
The client gladly provided us with reports from his previous monetization platform.
We compared it against the data from the Setupad reporting system to see how significant was the eCPM increase in the time period of 26.03-25.04.2023 (just before the client switched from AdSense to Setupad) vs 01.-28.06.2023 when the client was already using Setupad (the most recent data).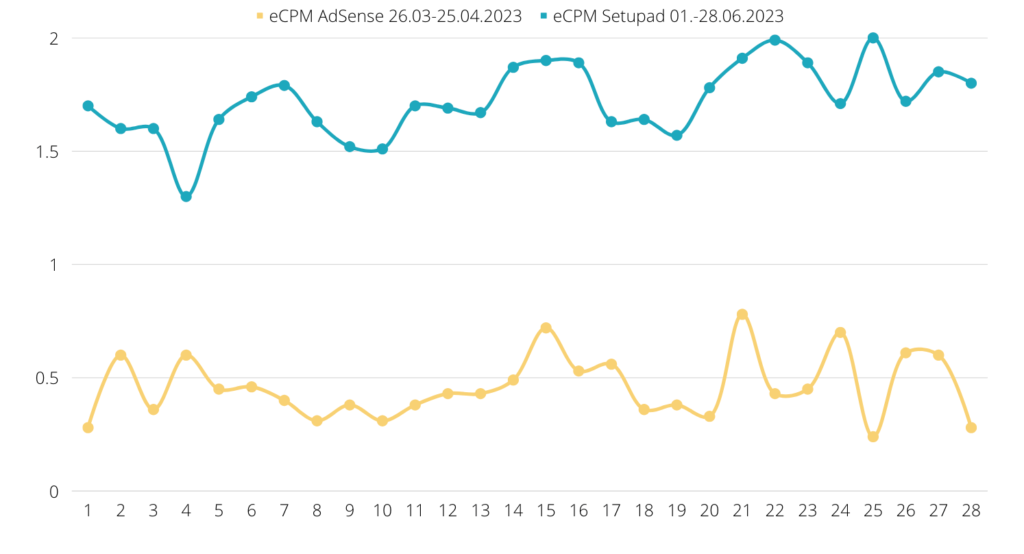 According to the graph above, our approach with Ascii-code.com resulted in a 275.67% eCPM increase and 309.02% ad revenue increase after switching from Google AdSense to Setupad. During the comparison period, there were almost no changes in ad impression number.
In addition, the client was extremely satisfied with Setupad's customer support, which we pride ourselves on.
"Our collaboration with Setupad has been top-notch since day one. The Account Executive [Mikus Legzdiņš, Account Executive at Setupad] has been pleasant and responsive to my needs and preferences about ad placements. He also provided valuable suggestions on how to optimize my ad strategy. In summary, the experience of working with Setupad has been both productive and enjoyable."–Joacim, Founder of Ascii-code.com.
As it was proven many times, ad optimization doesn't only depend on monetization metrics, but also on the audience metrics. We at Setupad always emphasize that it's the combination of both that will deliver the best results for the publishers.
Having connected his Google Analytics account to Setupad's dashboard, the client can now see how his ad revenue changes when he grows each component of the website yield formula by a certain % and can see custom recommendations to further grow his ad revenue.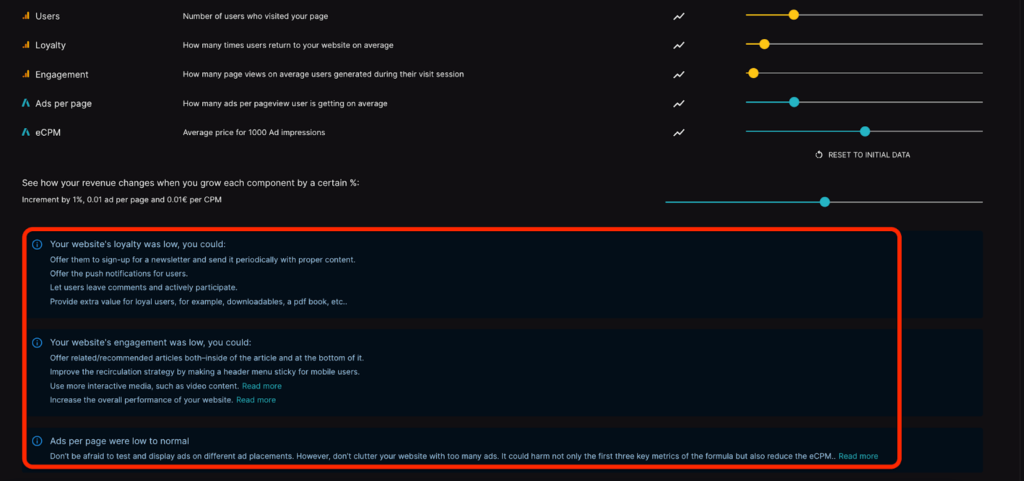 Overall, the result is a highly satisfied client with a huge revenue boost.
"Switching to Setupad was extraordinarily beneficial, resulting in a remarkable increase in ad revenue. Compared to standalone Adsense, our revenue skyrocketed by more than 300%. This increase was so significant, it could be described as a revenue explosion. Transitioning to Setupad has truly been a game-changing decision for us!"–Joacim, Founder of Ascii-code.com.
Join Setupad to become another happy client today.